News and Updates Archive
2/28/2009
Flamenco Vivo Carlota Santana is coming to Reston March 8th and Virginia Commonwealth University will be hosting its first Flamenco Festival the weekend of March 20th! Details in the calendar.
2/27/2009
Just added pics from backstage with Los Farruco at Lisner Auditorium.
Read the Washington Post review of the Wednesday night performance by Los Farruco at Lisner.
2/25/2009
Read the New York Times review of the New York performance by Los Farruco. Here's the iDANZ Critix Corner review.
2/23/2009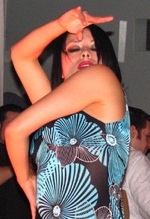 Just added pics from recent flamenco shows at Cabanas.
Read Nancy Heller's (a former DC flamenco) article about the Flamenco Festival.
Checkout the latest installment of Behzad Habibzai's Hear Here at the PhillyFlamenco website.
2/22/2009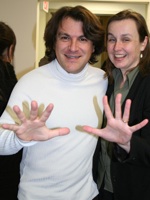 OMG, can you believe it? Two blog entries in two days! Just added pics from the Dorantes Arcángel concert at Lisner Auditorium.
Read the review of Estrella Morente's recent performance in Miami.
Read the review of Isabel Bayón's recent performance in New York.
Read the review of the Antonio Gades Company's performance of Carmen in New York. Here's the review from the show at Lisner.
2/21/2009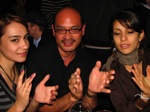 Finally, my first blog entry in almost two months: Flamenco night at Café Bonaparte.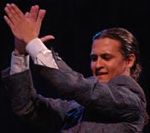 Check out this article by Mona Molarsky about Los Farruco, who will be coming to Lisner next week!
2/16/2009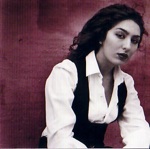 Some of my flamenco friends are driving up to New York City to hear cantaora Estrella Morente at Carnegie Hall this Saturday February 21st. You did know that she is performing, didn't you? Road trip anyone? :-)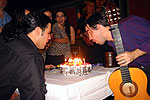 Guitarist Richard Marlow and dancer Jason Vera y Aragón celebrate their birthdays this week. Happy birthday guys!
2/14/2009
The winner of the Flamenco Festival contest is Ximena Sánchez. The prize: two free tickets to see Los Farruco in Lisner's Flamenco Festival 2009. Congrats Ximena!
2/13/2009
Going to see Antonio Gades Company interpretation of Carmen this weekend in Lisner's 9th Annual Flamenco Festival? Read this article from the Miami Herald for some background.
2/6/2009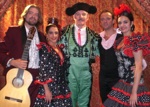 The movie Pink Panther 2 comes out today. It features a brief flamenco scene with USA-based artists you may recognize. ;-)
2/5/2009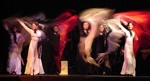 Just added to the Events Calendar: Furia Flamenca's upcoming production Lorca: Flamenco Poetry which takes place at the Alden Theatre in McLean, Virginia on February 28th.
This Friday February 6, 2009, I'll be announcing a contest with a very special prize: two FREE tickets to see Los Farruco in Lisner's 9th Annual Flamenco Festival. Stay tuned!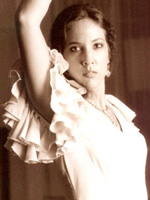 Dancer/teacher Flor Pérez Taboada is now offering classes in Falls Church, Virginia starting this Sunday February 8, 2009. More info at Flor's website.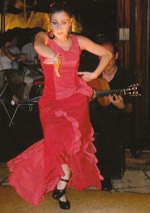 Just added contact info for dancer/teacher Emily Mazzotti to Teacher Directory. Emily is now available for private lessons. Class info coming soon!
Text and original images ©1996-2013 by . Please do not republish content from this website, including text and photos, in whole or part without prior written permission.