Backstage at Lisner: Los Farruco. February 26, 2009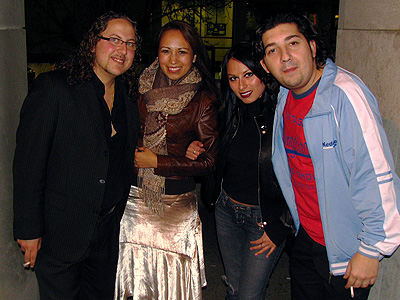 Singer El Rubio de Pruna, Isabelita Otero, Ginette Perea and guitarist Antonio Rey just outside the stage door at Lisner. February 26, 2009 10:18pm
It's 9-something am on Friday as I type these words. I'm at a loss for words to describe the inspiring performances last night at Lisner by Los Farruco. Those of you went to the same show I did, know what I'm talking about. ;-)
As usual I went backstage to meet the artists (Why? I explain in a previous blog). Anywayz, I got a busy day ahead of me, so the commentary will be minimal. Enjoy!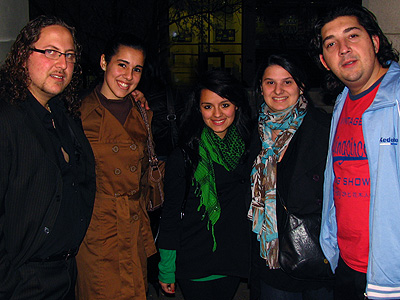 El Rubio de Pruna, Milagros, Laura, Ximena and Antonio Rey. February 26, 2009 10:21pm
Usually, I'm one of the few people that always goes backstage (my self-appointed duty to represent the DC flamenco community and personally thank the artists). But this time, there were quite a few local flamencos already congregated in front of the green room. So I took pics outside for awhile until the other artists such as Farruco and Farruca came out...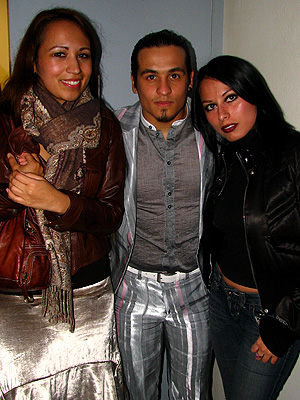 Isabelita, Farruco and Ginette. February 26, 2009 10:35pm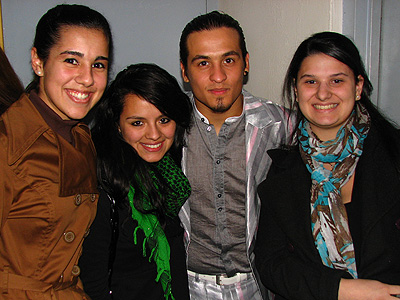 Milagros, Laura, Farruco and Ximena. February 26, 2009 10:36pm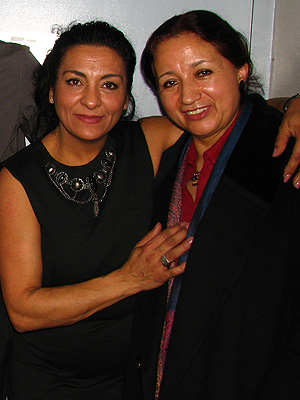 Farruca and Isabel Otero. February 26, 2009 10:37pm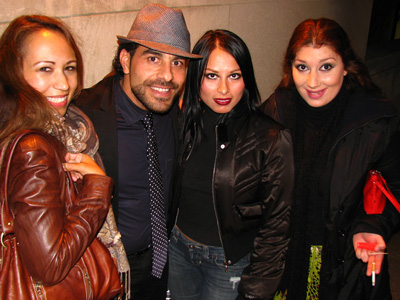 Isabelita, singer Pedro el Granaino, Ginette and singer Mara Rey. February 26, 2009 10:39pm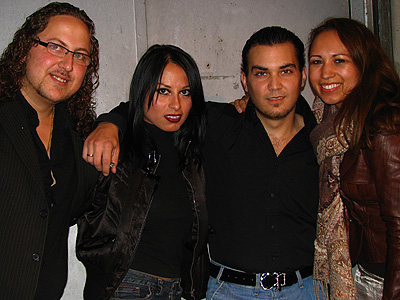 El Rubio de Pruna, Ginette, guitarist El Tuto and Isabelita. February 26, 2009 10:42pm
El Tuto y Miguelito. February 26, 2009 10:42pm
After meeting the artists, we headed over to Bodega, the usual after-concert hangout for local flamencos. I was starving and unfortunately the kitchen was closed (it was already 11-something pm), so I suggested to my companions that we go to a late night eatery down the street. Later we stopped by Bodega again and discovered, not surprisingly, that a juerga was in progress. By that time, a lot of local flamencos had arrived. I was so tempted to stay but I didn't (seriously needed to catch up on sleep). In any case, I'm sure I'll see a bunch of photos from the juerga soon. Here's one pic that was taken at Bodega: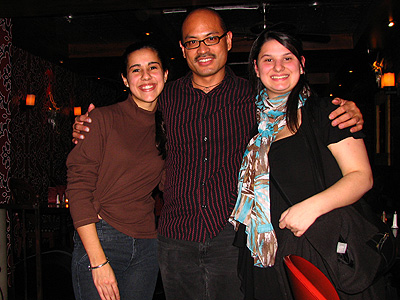 Milagros, Miguelito and Ximena at Bodega. February 27, 2009 12:32am
Saving the best for last, Los Farruco was the last concert in Lisner Auditorium's 9th Annual Flamenco Festival. Read Sarah Kaufman's review of Los Farruco in today's Washington Post. Can't wait to see what Lisner has in store for the 10th Annual Flamenco Fest!
Coming up this Saturday: Furia Flamenca at the Alden Theatre. I heard that it's nearly sold-out, so if you intend to go, buy your tickets now.
« Flamenco at Cabanas. February 6 & 13, 2009 | Main | Duende Camaron at La Tasca Old Town. February 27, 2009 »