News and Updates Archive
4/24/2009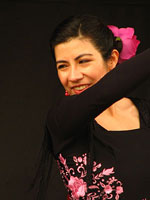 Added pics from Furia Flamenca's performance at the Cherry Blossom Festival.
4/23/2009
Mark your calendars....DC Dance Collective will be hosting its own Feria de Sevilla on Saturday May 30, 2009. More details coming soon!
4/22/2009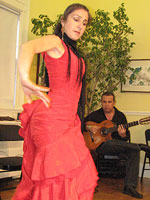 Added pics from Emily Mazzotti's performance at the Coprodeli fundraiser.
4/14/2009

Dancer teacher choreographer Anna Menéndez celebrates her birthday this week. Happy birthday Anna!
Gipsy Kings are coming to Wolf Trap June 12-13, 2009. Checkout the pics from when I hung out with the Gipsy Kings in 2000.
4/13/2009
Just heard from an official source. Bad news: Centro Español de Washington's annual DC Feria de Sevilla is CANCELED this year.
It's postponed until 2010. I know that so many people look forward to the Feria every year. Perhaps we can do a big juerga somewhere like Bodega perhaps? Any other suggestions? Email me.
Checkout these pics from the DC Feria in 2007
4/11/2009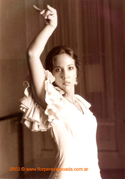 Starting Saturday April 25, 2009 5:00pm to 6:00pm DC Dance Collective will be offering a Sevillanas class taught by Flor Pérez Taboada. A perfect time to learn/review your Sevillanas steps and prepare for the DC Feria de Sevilla!

Dancer and teacher Cecilia Terrasa celebrates her birthday this week. Happy birthday Cecilia!
4/9/2009
Just published a blog titled Do what you love and the money will follow, well....
4/8/2009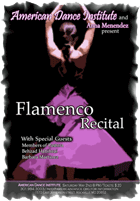 Just added to the calendar Flamenco Recital at American Dance Institute coming up May 2, 2009 featuring students of Anna Menéndez and guests: members of Pastora, guitarist Behzad Habibzai and singer Bárbara Martínez.
4/5/2009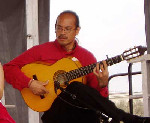 Checkout these pics when yours truly performed in the Cherry Blossom Festival in 2004. Furia Flamenca will be performing in the Cherry Blossom Festival this Saturday April 11th.
4/3/2009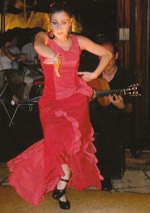 Added two new flamenco events for April featuring Emily Mazzotti and Furia Flamenca. See calendar.
Happy birthday to Carol Basilio, a Philadelphia-based flamenco and a webmaster colleague. She maintains the Philly Flamenco website.
Added a gorgeous pic by Jill Hatzai from Monday night's flamenco show at Café Citron. See blog.
4/1/2009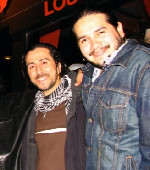 New weekly rumba show at Aroma in Olney, MD featuring guitarists Ramin Rad and José Oretea. Starts this Thursday April 2nd at 7:30pm. Call 301-774-6779.
New flamenco-related book coming out this month: Flamenco: Conflicting Histories of the Dance
by Michelle Heffner Hayes.
Text and original images ©1996-2013 by . Please do not republish content from this website, including text and photos, in whole or part without prior written permission.