Welcome to DC Flamenco - a first time visitor's guide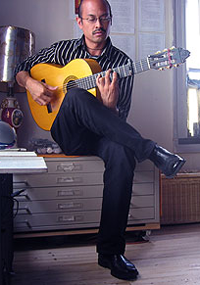 You're obviously here because you have an interest in (or more likely, an obsession for) flamenco. Chances are that either one of my colleaugues or even yours truly referred you to this website and I suppose you're wondering: "Who is this Miguelito?"
Miguelito is my nickname. My real name is Michael Perez and I'm the webmaster for DCFLAMENCO.COM. As one of the busiest flamenco guitarists in the area, I have played for just about every dance company and every dance teacher in the DC area. So I know just about everyone who is actively involved in the DC flamenco scene. That's me pictured on the left.
As one of the most well-connected flamencos in the DC area, I have taken the time to gather and organize all the news and info I hear about and update it nearly everyday. I have been doing this since 1996!
How to get most out of this website
This is the layout of the main page: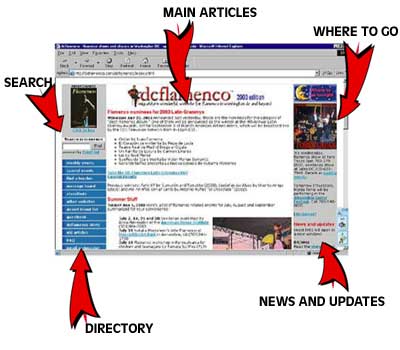 Where can I see a show?
If you're a fan of flamenco and just want to know where to find the performances, go to the section labeled DIRECTORY and click on Flamenco Events.
Another good place to check is the section labeled WHERE TO GO. If there something going on tonight, it will be announced there usually accompanied by a photo (taken by yours truly) to give you an idea of what to expect.
I want to learn flamenco.
So you've gone to a couple of shows, you're inspired and now you want to learn to do flamenco yourself. It turns out that most of the performers are teachers themselves. After the show, talk to one of them and inquire about classes. They'll either give you their class info or refer you to someone else.
Or you can just go to the DIRECTORY section and click on Find a Teacher to see a listing of instructors categorized under Dance, Guitar and Cante (flamenco singing).
I want to hire a flamenco group for a special event.
Again, the best thing to do is go see a couple of local shows. If a particular performer impresses you, talk to him/her after the show. If you don't have time to see a show, go to the DIRECTORY section and click on Find a Teacher. This section also functions as a performers directory.

You can also write to me directly at

and I'll put together a flamenco group for you or refer to someone who can.
I want to read about my favorite local performer.
Go the SEARCH section, type in the name of your favorite local performer and click on the "Find" button. The articles archive goes back as far as May 2001. The website has been in existence since January 1996 but I didn't realize the importance of an archive until much later.
I need to buy flamenco items.
Go to the DIRECTORY section and click on Other Websites. Click on either:
For guitarists to see a list of guitar dealers, places to buy CD's etc.
For dancers to see a list of places to buy dance costumes, castanets, CD's and more.
Now you're ready to go!
Go back to the main page and begin your exploration of the DC flamenco scene. Welcome! Don't forget to check the website frequently. I update it almost everyday and you don't want to miss out on any last-minute announcements.
This is a work in progress
I'll be adding more sections to this visitors guide periodically, but I need your input to make this website as user-friendly as possible. You can always write to me directly at
Text and original images ©1996-2013 by . Please do not republish content from this website, including text and photos, in whole or part without prior written permission.