News and Updates Archive
12/30/2008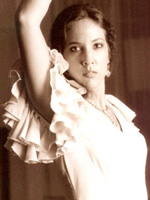 Dancer/teacher Flor Pérez Taboada celebrates her birthday this week. Happy birthday Flor!
12/29/2008
Read Ken McNaughton's review of GALA Theatre's Fuego Flamenco Festival in my blog.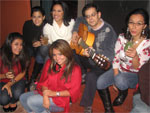 Start the new year off with some flamenco fun. This Sunday January 4th at 6pm, come to Miguelito, Hector and Naíto's juerga at Bodega at 3116 M St in Georgetown. For those of you on Facebook, here's the invite.
12/24/2008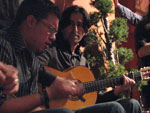 This Friday December 26th at 8pm, come to Ramin & Naíto's Juerga Flamenca at The Olive Lounge and Grill at 7006 Carroll Avenue in Takoma Park, Maryland. (5 minute walk from Takoma metro station on the red line)
12/22/2008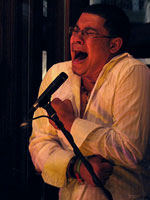 Singer Hector Márquez will be performing tonight (Monday) at Café Citrón with yours truly and dancer Sara Jerez. Remember: the showtimes are earlier now at 7:30pm and 8:30pm.
12/19/2008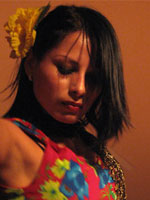 Slowly catching up to my blog: added pics from a flamenco show at Las Tapas from a few weeks ago.
12/16/2008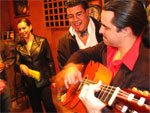 One of my flamenco photos was published in today's Washington Post Express. Every little bit of publicity for the DC flamenco scene helps! Pictured are guitarist Richard Marlow, singer Hector Márquez and dancer Tamara Sol Flys.
12/15/2008
It's time to send in your flamenco Christmas wish lists! Checkout this page from 2001. It's just for fun and it's a practical way to give your friends ideas of what flamencos like us want for Christmas. ;-)
12/11/2008
Read the Washington Post review of Edwin Aparicio's Dos Mundos performance at GALA Theatre.
12/10/2008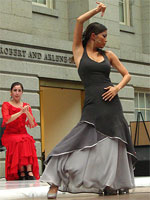 Dancer Kyoko celebrates her birthday this week. Happy birthday Kyoko!
12/9/2008
"...Edwin Aparicio...seems to have endless energy as he pounds the floor with cleated shoes and vibrates every muscle of his body to the awe of the audience."
Read Bob Anthony's review of Edwin Aparicio's Dos Mundos at All Arts Review for You.
12/7/2008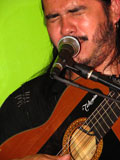 Singer José Oretea will be joining us onstage this Monday night at Café Citrón. Showtimes have been changed to 8:00pm and 8:45pm.
12/5/2008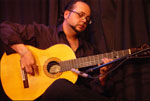 Just heard that the Basilio García guitar workshop has unfortunately been canceled. In case you didn't know, he'll be playing in Edwin Aparicio's Dos Mundos this weekend at GALA Theatre.
12/2/2008
Read the Washington Post review of Flamenco Vivo Carlota Santana's performance last Sunday at Strathmore. Yours truly was in the audience for the 4:00pm matinee and recognized onstage some dancers who have performed in DC previously with other groups: Rebecca Tomás, Fanny Ara, Julia Chacón and Antonio Hidalgo.
Text and original images ©1996-2013 by . Please do not republish content from this website, including text and photos, in whole or part without prior written permission.