Miguelito's Photo Diary and Blog
August 26, 2005 - September 1, 2005
Andalucía September 1, 2005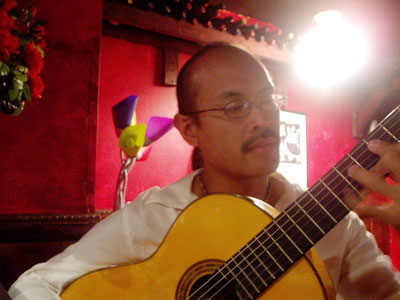 Warming-up while sitting at the bar. Behind me is a framed print of Picasso's Guernica which always reminds me of my visit to Madrid last June when I saw the original painting. September 1, 2005 7:08pm
Twice each month, I have the duty of booking a dancer for the show at the Andalucía Restaurant in Rockville. Fortunately, I have more flamenco contacts than anyone in DC. In fact, when my colleagues need a telephone number of a dancer or dance student for subbing, they call me first cuz they know that I almost always have the info they want.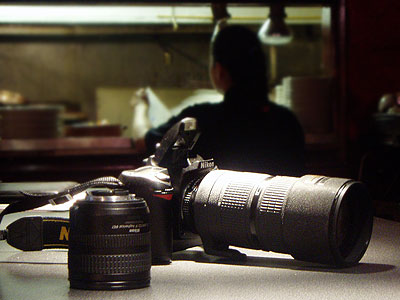 We had a photographer taking pics for a local hispanic magazine (don't know which one though). September 1, 2005 7:15pm
Despite my enormous contact list, it's still difficult to find dancers. I'm always striving to maintain the balance between keeping up the quality of the show and giving performance opportunities to fresh new talent.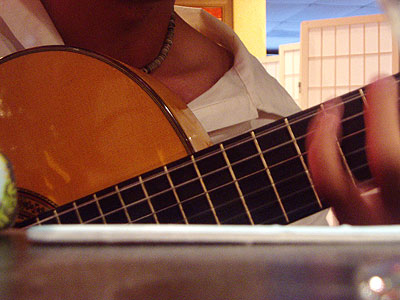 September 1, 2005 7:23pm
The last two times that dancer Julia Cristina performed here, it was very enjoyable for me and the audience seemed to like her too. So naturally I asked her to perform once again for September 1st and she said yes!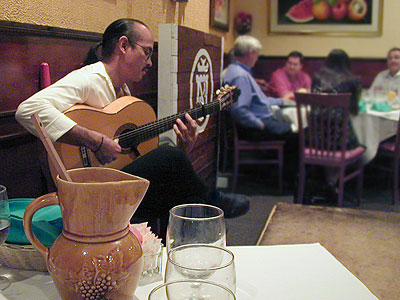 Miguelito playing a guitar solo to open the show. September 1, 2005 (photo by Anne Schmitt)
I was kinda hoping that Julia would've invited her friends to come see the show--partly cuz it's always good to meet new people, but I really was hoping to get some of her friends to take pictures for me. ;-)
Like I've mentioned many times before in this blog, the Andalucía isn't such a great place for taking pics of the show cuz just about anywhere you stand or sit there's always something partially blocking the view--it's almost as bad as Taberna del Alabardero when it comes to sight lines.
Fortunately, Julia's parents came and they got a table next to the stage. They took some great shots some of which are published here. Enjoy!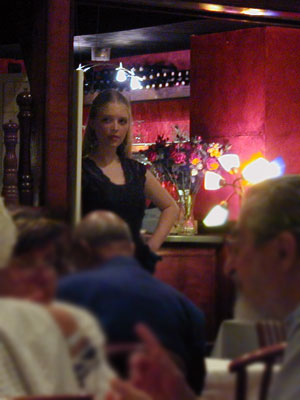 Julia patiently waiting for her cue to go onstage. September 1, 2005 (photo by Anne Schmitt)
Soleá por bulerías. September 1, 2005 (photo by Anne Schmitt)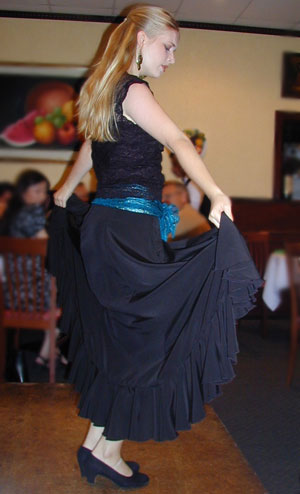 Escobilla. September 1, 2005 (photo by Anne Schmitt)
Just as I expected, Julia performed beautifully. In fact one of the regular customers came up to us after the show and told her that out of all the dancers she's seen at the Andalucía over the years, Julia was the most expressive. I've touched upon this topic before: as much as we all can appreciate good technique, ultlimately as a performer, you have to emotionally connect with your audience.
Unfortunately for her new fans here at the Andalucía, she'll soon be going back to school in California for the Fall semester, but I asked her to call me whenever she's back in town. I'll definitely try to incorporate her into one of my shows whenever I can. In the meantime, you can keep up with Julia's flamenco activities in California by visiting her website.
The Andalucía Restaurant features live flamenco guitar music by Miguelito every Thursday around 8:00pm. A dancer performs on the first and third Thursday of the month. Call 301-770-1880 to make your reservation.
Speaking of fresh new talent, I've invited dancer Cecilia Terrasa to perform at Cafe Citron this Monday September 5th with Sara Jerez. Singer Gerard Moreno is taking the night off to do another gig elsewhere. Come and show your support!
[Editor's note: we had a semi-celebrity in the audience. It was Matthew Lesko. He does those wacky late night commercials about free government money. And yes, he was wearing his costume! :-)]
Karma Lounge August 31, 2005
It's 1:17am on Thursday. Just got back home with only enough energy to edit the photos and paste them into the photo diary, but I gotta catch up on sleep. I'll add commentary when I wake up later this morning, OK? Goodnight!
---
OK it's 10:49am on Thursday. I'm up now. Let's see: what was going on in my life last night? Oh yeah...
My friend Karina Valverde and her fellow dance students were putting on an informal performance for the benefit of their many friends who didn't make it to the show the week before--yours truly included.
The location: Karma Lounge at 19th and I St NW. I've only been here once before and it was during the day when I met a friend for a cup of coffee. It was a calm, serene setting with natural sunlight filtered through the gauze curtains.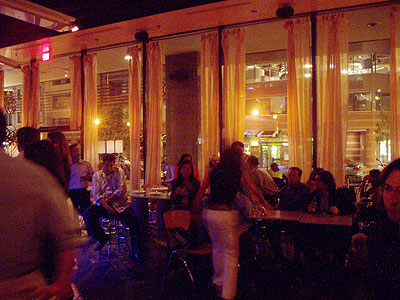 August 31, 2005 8:13pm
But, um, last night was not calm and serene. Nope. First of all the event took place at around 8:00pm so it was just getting dark outside and they had the mood lighting going. And there lots of people, presumably friends of the dancers. My friend Aref was there too and we shared a plate of cheeses, nuts and crackers with a cold beverage.
I ran into Karina and met some of her friends for the first time but already recognized them from their pics from Karina's Friendster profile. :-) I saw her friend Jenny too but didn't recognize her right away. Anyway, getting back to the performance...
Dance teacher Estela Velez has a performance class each semester at Joy of Motion which culminates in a (guess what?) performance with costumes, rehearsals and all but just for one dance.
This summer they worked on a Guajiras. You may have seen the pics from their class rehearsal in previous blog entries this past summer.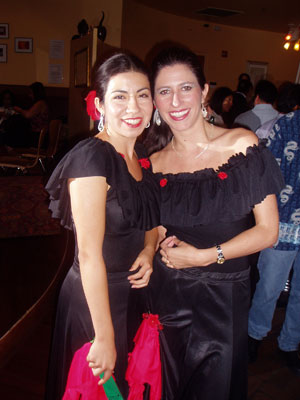 Karina and fellow dance student Mariana posing before the show. August 31, 2005 8:17pm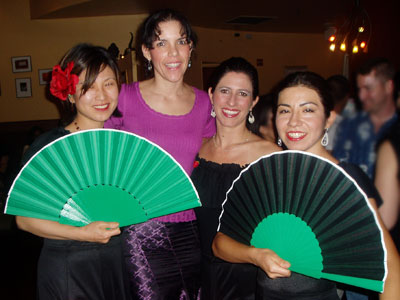 A very proud Estela with her students Yoon, Mariana and Karina. August 31, 2005 8:18pm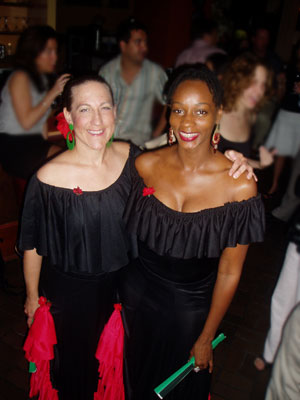 Lauren and Ramona. August 31, 2005 8:23pm
There was a little delay cuz the music CD was missing and someone had to go to their car to get a spare one. It was kind of ironic that a very capable guitarist (me!) was present while all this happened--and I had my guitar with me too!
When one of the dancers finally produced a CD, things got back under control and the dancers went back to putting the final touches to their costuming and make-up and got ready to go onstage.
A few minutes later, the show began...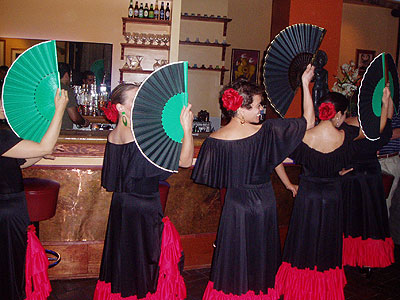 August 31, 2005 8:30pm
I had seen these girls work on this dance all summer and I can only imagine how exciting it must've felt like to finally present the results of all those hours practicing to such a receptive audience.
Karina even mentioned to me later that she was sort of glad that I missed the show at Joy of Motion and made it to the one at Karma instead. I'm sure the show at Joy of Motion went very well--they have great facilities and staff there. But, still, you can't beat the enthusiasm of an audience of friends and family.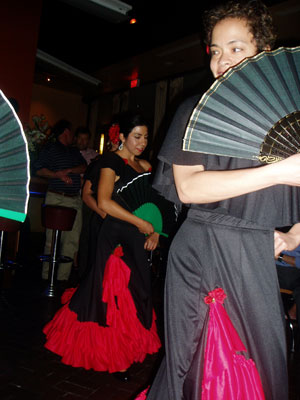 Karina and Nikki. August 31, 2005 8:30pm
My apologies to the other dancers if you're not in these pics. The place was so full of people that I had to plant myself in one location and stay there while I photographed the performance. Well at least I got a lot of pics of Karina.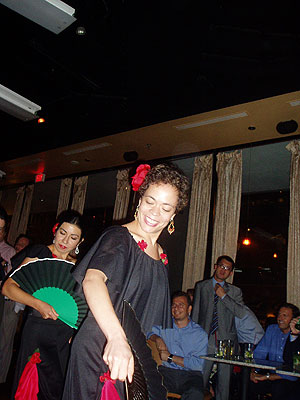 Karina and Nikki. August 31, 2005 8:30pm
I first met Karina at Cafe Citron after one of my shows last summer. At the time she had just taken a flamenco workshop and I asked her if she would dance Sevillanas on my stage but she politely refused. But I persisted and half-jokingly promised I'd have her on my stage by next summer.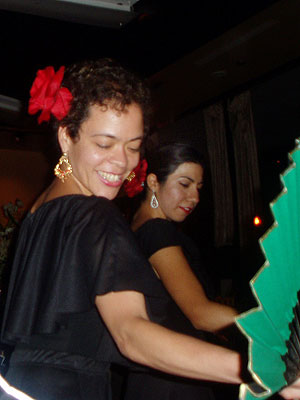 Nikki and Karina. August 31, 2005 8:30pm
Well, "next summer" has arrived and I still haven't gotten her to dance Sevillanas but I got something better. The tables have been turned: I'm in the audience and watching her perform! Congrats to Karina and her fellow students.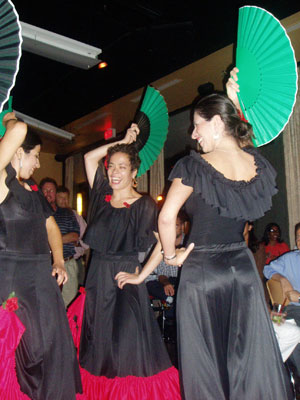 Karina, Nikki and Mariana. August 31, 2005 8:32pm
It's 11:37am on Thursday as I type these words. Yet another dancer wants to rehearse and she's picking me up in half an hour so I better sign off now and get dressed. I'll continue the commentary when I get back. Ciao for now!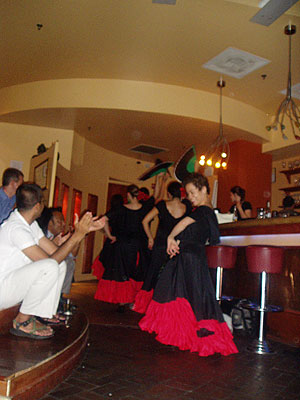 August 31, 2005 8:34pm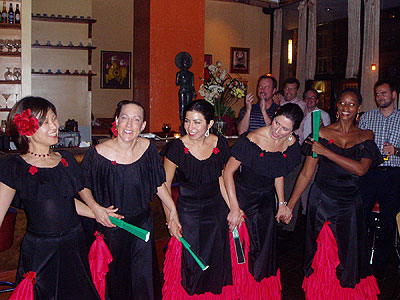 Yoon, Lauren, Karina, Mariana and Ramona taking a bow. August 31, 2005 8:34pm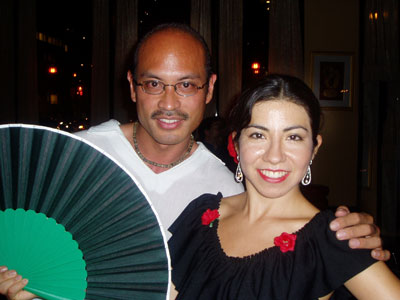 Miguelito and Karina. August 31, 2005 8:52pm (photo by Carlos)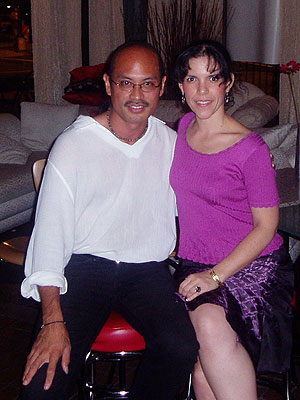 Miguelito and Estela Velez. August 31, 2005 8:58pm (photo by Aref)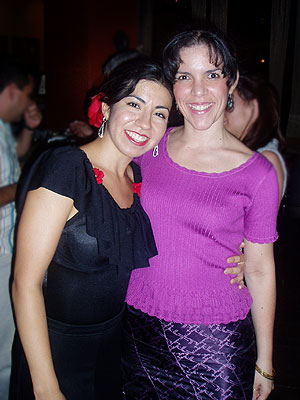 Karina and Estela. August 31, 2005 9:02pm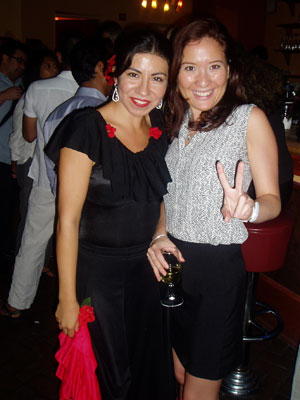 Karina and Jenny. August 31, 2005 9:03pm
Wednesday with Miguelito August 31, 2005
My computer finally crashed completely today from the JavaByteVerify virus. Ugh! Fortunately, my computer whiz brother dropped by with a new computer. Thanks Kevin!
Anyway, this afternoon I met up with dancer Julia Cristina at Joy of Motion for a lunchtime rehearsal. She's performing at the Andalucía this Thursday September 1, 2005. I like her. She's very professional, punctual, easy to get along with, concentrates and gets the job done--oh yeah, she's a good dancer too. :-) It was rather productive--we were done in less than half an hour. We basically did a run-through for soleá por bulerías. This'll probably be the last time you can see her onstage before she goes back to school again in California. If you can't make it, you always keep up with Julia by visiting her website.
After the rehearsal, I had some free time, so I took the long way back to the metro to pass by Middle C Music which is owned and operated by one of my first classical guitar teachers, Myrna Sislen. The summer I came back from living in Ghana, my mother arranged to have me take classical guitar lessons with Myrna twice a week when I was 17. My mom also setup a guitar scholarship fund at George Washington University, and NO, I didn't get this scholarship--I didn't even go to GWU. I went to Cal State Fullerton on the West Coast.
The latest news is that Myrna retired from the Guitar Department chair at GWU (Berta Rojas is taking her place) to devote herself full-time to her independent business, Middle C Music. I still stop by every now and then to say hello and thank her for giving my first guitar lessons. TIP: visit your old teachers every now and then and show your appreciation. They deserve it. Plus it never hurts to network. Who knows? Maybe they can give you some gigs.
Anyway, since I was in a music store, I did browse around a bit and ending up buying Volume 26 (Scale Syllabus) of the Jamey Aebersold
jazz improv books series to help me with my rumba leads.
Later, I walked across the street to one of my favorite Starbucks next to the Tenleytown metro where I almost always seem to run into people I know or make new friends as I practice guitar. I ended up practicing at one of the outdoor tables for about two hours as I enjoyed a doppio espresso. Didn't see any old friends but made a few new ones.
This one cute girl was sitting at the table next to me and she had earbuds on while listening to her Ipod. She left and came back about half an hour later and caught my eye as she sat in the same spot this time with her ear buds off. No words were exchanged, but I know she came back to listen to me. :-)
Surprisingly, the other customers inside behind the glass window could hear me cuz as I was packing up to go, one of them knocked on the window to get my attention and mouthed the words "thank you" and gave me a thumbs up.
Another person stood and watched me for awhile as I played a piece and when I was done, he asked me when I got started on the guitar. I said "When I was eight years old."
"That's not the answer I wanted to hear."
"Well, what did you want to hear?"
"I wanted some hope that a middle-aged person like me could learn to play the guitar like you."
"Oh," then I faked a smile and said nothing and let the silence hang until he was intimidated to leave. Actually I wanted to strangle this guy's neck. I mean c'mon. It's taken me twenty-five years of independent study, college music classes and stage experience to get where I am today. And this guy wants to know how to achieve it in a short amount of time? Call me old-fashioned, but today's society doesn't seem to appreciate the idea of delayed gratification. (I still prefer broadband to dial-up though. Hehe.) The lesson I learned is that if it's worthwhile, it takes time. What an idiot! Well, not really an idiot.
I don't expect people to bow down and kowtow before me :-) but I deserve some respect for what I've accomplished so far. It's like those people you meet at ritzy parties where I do gigs occasionally. Y'know where instead of complimenting you, they smugly say "Yeah, I used to play the guitar myself," as if to consider themselves in the same league as yours truly. Ugh!
Dancers, you know the type. I'm sure you've met people who come up to you after a show and say, "I used to take ballet as a child." In your mind, you probably looked her in the eye, and like me faked a smile and thought to yourself, "Well lady, it's a good thing you did quit, cuz you must've really sucked."
Uh-oh, I think it's the sleep-deprivation that's getting me all worked up. Anywayz, tonight I'm off again but a dancer friend of mine is putting on an informal show tonight somewhere at a DC area lounge and I'm going to take pics and offer my moral support. TIP: support student dancers cuz one day they'll be the professional dancers you'll be working with and they'll remember how you treated them when they were getting started. It's 5:47pm on Wednesday as I type these words. Signing off for now. Ciao!
Cafe Citron August 29, 2005
Seems like I wasn't in a picture-taking mood last night. Actually I wasn't in such a great mood overall, but not to worry. It's only a temporary condition as a result of staying out all night Saturday and not getting enough sleep the next day. The show was still good though--I can still perform even when I don't feel like it. But as soon as we were done, I briefly met up with some of my friends, thanked them for coming and left early for a change (i.e. before midnight).
The few pictures I did take don't seem to be in a logical sequence or closely-related. For a photo blog writer, this is kinda like one of those creativity tests where you are given a few random scribbles and have to somehow transform them into representational art.
When I get back in tonight from my gig at Las Tapas I'll think of something to write. In the meantime, enjoy the pics or come up with your own creative fictional commentary and feel free to email me. Who knows? I may even publish what you have to say!
---
OK it's 11:58pm on Tuesday and I'm back from Las Tapas. Here goes...
Seems like every week, there are a few friends that I ask to take pictures for me again and again. Most of the time they're happy to do it for me. But this week I didn't feel like imposing. I know what it's like to take pics--it takes away a little from the enjoyment of the show.
During the first set there weren't that many people. The manager said that the college kids are back in school and it'll pick up again in September. That might be true, but by the second set, the place was filled up quite a bit with surprise, surprise: college kids.
There was this one girl in the front who, instead of shouting "Olé!" would instead scream at the top of her lungs whenever Sara finished with a llamada. That with the thunderous applause sent the crowd over the edge. The first time she did it, I was startled. But she got the crowd all riled up, I was glad she was there.
We needed that energy to make up for the first show which wuz kinda subdued because of the poor attendance. I think when there are so few people, everyone is waiting for the other person to start the applause.
They got rid of the early evening DJ (either that or he too had to go back to school at the end of the summer) so the manager was in charge of cutting the music before the show. Trouble is that I gotta track him down whenever I'm ready to begin--and managers are always wandering around dealing with manager types of problems.
Needless to say, we got off to a late start...again. But while we were waiting for the manager to show up, I took a moment to take a picture of yet another one of Sara's new flamenco dresses designed and created by María Rosa in Sevilla.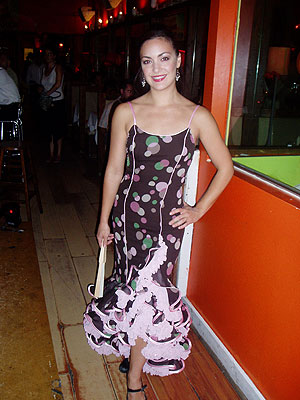 Sara Jerez. August 29, 2005 8:02pm
A number of my friends showed up including Sonia, Solange, Cecilia, Sarika and Roselle. Yeah this is the Sarika that organized the fundraiser yard sale I played at this past weekend. Congrats Sarika! Roselle also helped out.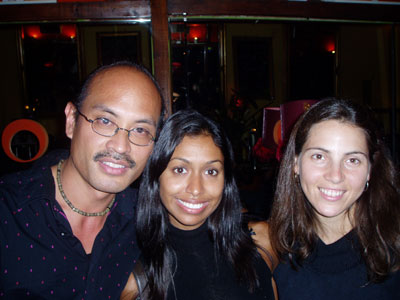 Miguelito, Sarika and Roselle. August 29, 2005 10:05pm (photo by Ramzi)
I look pretty good considering that I only had five hours of sleep since Friday, don't you think? Regardless of how I look, I was getting pissed off about normally petty things cuz I was sooo tired--irritability is a typical symptom of sleep deprivation.
For example, the manager was taking forever to cut the music after I told him we were about to start the second set. I tried strumming a few loud chords and turning on the stage lights hoping he'd get a hint. But that didn't work. So I just charged to the DJ booth and cut the music. I said to him, "Dude, from now on, I am going to do it myself!"
There was this one table of girls from Spain--word must be gettin' around. This is the second week in a row I've met a group of Spaniards here at Citron.
Anyway, the second show was especially good, so I was feeling a little better, but I so badly needed some sleep. Plus I was still hungry so I walked home through Georgetown and stopped by one of my favorite late night eateries: Booeymonger. This place looks so welcoming when you're hungry...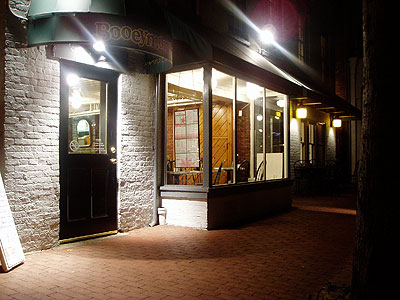 Booeymongers de Georgetown. August 29, 2005 11:14pm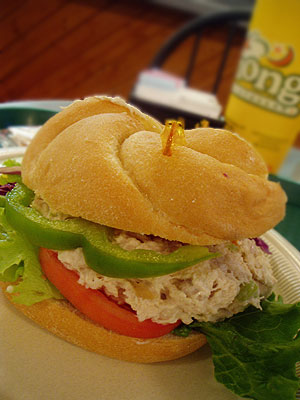 Tuna Turner sandwich. August 29, 2005 11:27pm
With my hunger satisfied, I was feeling much much better. I walked across the Key Bridge and was home in no time. I went straight to bed. Goodnight!
Ginette's Trip to Spain August 2005
Dancer Ginette Perea recently travelled to Spain for the first time and allowed me to publish some of her pics here. It's going to take a few days for me to sort through and annotate them. But here's one to give you a preview...
Pictured below is Ginette and Lisa in Jerez with dancer Juan de Juan and the guitarist and singer who accompanied the class. She and I met Juan de Juan for the first time last year while riding in the van together after the Gala de Sevilla concert at Lisner. Not surprisingly, he remembered Ginette and even mentioned my name too!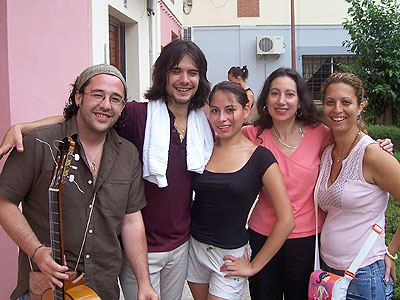 August 2005 (photo courtesy of Ginette Perea)
Um...I couldn't resist. Here's just one more pic. That's it for today.
You gotta admire a dancer who can play guitar too!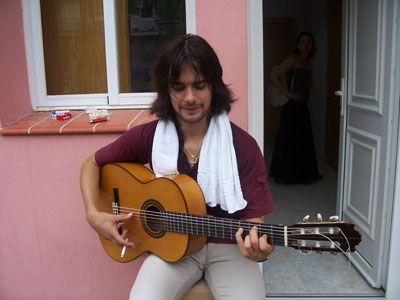 Juan de Juan. Bonus points for identifying the chord he's playing. Perhaps an inversion of a D dominant seventh? August 2005 (photo courtesy of Ginette Perea)
OK one last one before I sign off the computer and get ready for my show tonight. :-) In the Miguelito Photo Diary tradition, this one's a food pic. Yum! Thank you Ginette! :-)
Ginette went to the tablao Taberna Flamenca in Jerez and enjoyed dinner during the show. (She has some video clips that I might publish)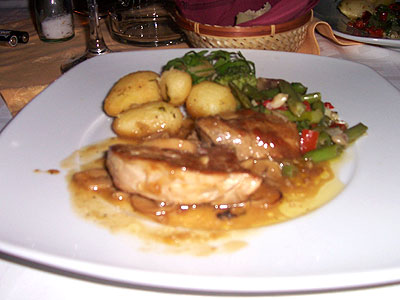 Pork medallions in sherry sauce. August 2005 (photo courtesy of Ginette Perea)
Notice the AA batteries in the upper left corner. Advantage: Ginette didn't have to worry about getting a European power adaptor to charge up her camera. Disadvantage: she had to carry a supply of these batteries everywhere plus her camera used up power like crazy!
More pics plus some video clips coming soon. Stay tuned!
Saturday with Miguelito August 27, 2005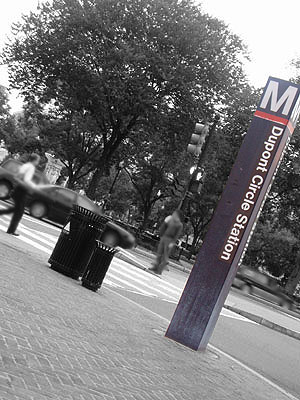 I had a day off from gigs finally. :-) Earlier this past week my friend Sarika Jain asked me if I'd play guitar at a fundraiser yard sale she was organizing. Since she's a friend and it was for a good cause, I said yes. It took place on Saturday near Dupont Circle and I showed up for the last hour.
Sarika. August 27, 2005 (photo by Chris Vojcs)
I've done background music gigs before. Truth is that it's the least stimulating kind of performing when people for the most part don't acknowledge your presence.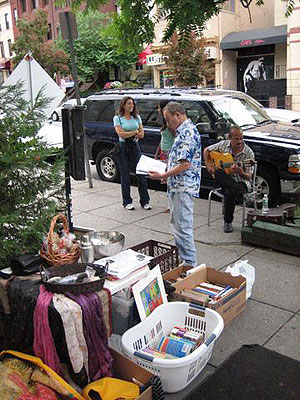 Roselle, Sarika, Miguelito and customer. August 27, 2005 (photo by Chris Vojcs)
But these kinds of gigs are the bread and butter of many professional musicians and you learn to deal with it when it's your living. But as for myself, I've been spoiled by doing countless flamenco shows with dancers and singers over the years. The wild applause, jaleos etc from the audience in flamenco shows makes background music gigs seem extremely boring by comparison.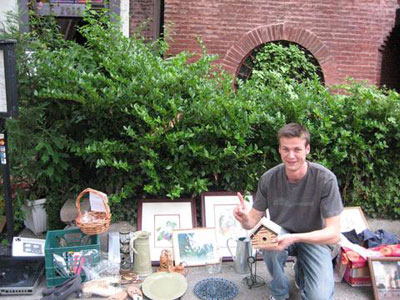 Chris. August 27, 2005 (photo by Sarika)
But boring or not, a gig's a gig, right? But guess what? My experience performing background music at Sarika's fundraiser was actually fun.
I don't know what sales were like earlier in the day, but as I played guitar, people who were walking down the street minding their own business suddenly wanted to stop and listen and check out the items on display. As one person stopped, another had to stop too to see what was so interesting. Soon there was a small crowd.
What was cool was that some of these people actually took a second to say hello, thank me or just give me a smile in appreciation for my music. Some of them actually bought items thereby contributing to the fundraiser which was the whole point of my being here. My music helped! :-)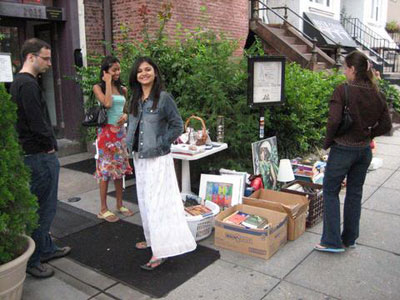 Sarika, Preetha and customers. August 27, 2005 (photo by Chris Vojcs)
This one guy recognized me as the guitarist from Cafe Citron, which incidentally was just a few blocks away. He said to me, "You're the guitarist from Cafe Citron, right? I've enjoyed your music over the years."
"Thank you," I said, "It'll be four years that I've been there as of next month." Then I went back to a granadinas I was improvising.
He couldn't believe that Sarika was able to get a professional musician of my calibre to play at a yard sale like this one. Of course she smiled proudly, patted me on the back and half-jokingly commented, "Yeah I hired him."
The guy added , "He's one of the best guitarists in DC!"
This one cute Italian girl bought some fresh-baked cookies that Sarika was selling. She apologized for interrupting my music as she handed me a plastic bag of still soft oatmeal raisin cookies (my favorite kind btw). That was nice!
Another girl who was dining at the cafe nearby caught my eye, as I was in the middle of a soleá, and mouthed the words "Thank you!" (I'm accustomed to lip reading cuz on stage dancers have to quickly tell me unusual last-minute changes in the choreography in the middle of a show.)
After an hour of playing, I told Sarika I had to meet another friend nearby at Teaism at 5pm, so I put my guitar away, said goodbye and walked off briskly. I was already running late!
An hour and a few coffees later, I said goodbye to my friend Aru who had to go to work for a weekend project. I was happy to know she spent an hour relaxing with me before reluctantly heading to the office. I would've walked with her but she was on a bicycle so I said goodbye and headed back from Dupont Circle towards Foggy Bottom and ended up passing by Sarika's again just to see if she was still there.
They were giving away cookie samples to get people to stop for minute giving her an opportunity to go into her fundraiser spiel. I took over cookie-sample duty to free up Sarika for handing out flyers and talking about the organization we were raising money for.
Later, it started raining so I offered to help carry the sale items to a dry area upstairs. When we were done, Sarika and friends were dead tired. Besides doing the yard sale all day long they partied all night the night before. So we ended up hanging out a little while and Sarika made some Indian style vegetarian food for all of us--I tried out some hot mango chutney--you know much I like spicy stuff. Counting up the cash, we raised about 2/3rd's of our goal. Pretty good for a few hours!
[

Editor's note: Just heard that Sarika followed up with another yard sale on Sunday and reached the financial goal of $1300. Mission accomplished!]
Dinner was good, but Sarika and friends were ready to crash so I said goodbye and headed to Bethesda for my friend Maynold's birthday party at Guapo's Mexican restaurant. (Sarika was on the invite list too, but had to pass this time.)
Maynold's the boyfriend of Nancy Medina who is a bartender/manager at Cafe Citron. Besides being a very cool guy, he happens to be a professional musician and a sound engineer so we instantly hit it off when we first met. He recorded the first track for my upcoming CD.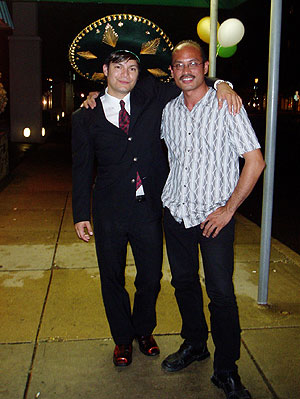 Maynold and Miguelito outside of Guapo's in Bethesda. August 27, 2005 11:05pm (photo by Sean)
I walked into the dinner party with no gift in-hand but I ended up giving Maynold a gift that you can't buy anywhere: a guitar solo by me improvised on-the-spot for him and his friends. He said, "Miguelito, my friend, I have one request."
"What's that?"
"Play your guitar for me."
I nodded yes and without losing I beat, I immediately opened my guitar case, pulled out my instrument and started tuning up as the room fell silent. I closed my eyes for a moment to get into a flamenco frame of mind, silently took a deep breath, and chose the palo: a soleá.
I made it short and sweet as I sped it up into a bulerías and closed with a llamada using a loud vigorous rasgueado. Applause, applause, whistles and a few bravos (surprisingly in this crowd of mostly Spanish-speaking people, no one used the word Olé).
I opened my eyes and saw the look on Maynold's face. He was very happy. I put my heart into the music and as a fellow musician he knows what it takes to be put on-the-spot (and he later apologized for it but it wasn't necessary). I told him that since I'm a performer that part of me is naturally exhibitionistic anyway. I really wanted to play and I was happy to do it but I just sort of played it off as if to say "Me? You want me to play?" :-)
As dinner came to a close, it was time to head off to Anzu Lounge in Adams-Morgan. Most of Maynold's friends decided to call it a night, so it ended up just being yours truly, Cindy, Maynold and Nancy. We went in one car. Logistically speaking this was a good thing cuz parking is a serious pain in the butt on a Saturday night in this part of DC.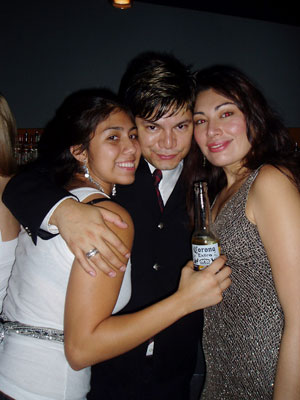 Cindy, Maynold and Nancy at Anzu. August 28, 2005 1:06am
As expected, Anzu was packed plus I was carrying my guitar which made navigating through the crowd even worse. We did some shots and headed to the back where there was more room. At one point a fight broke out and we quickly decided to move on someplace else. (A few years ago, I was offered a weekly flamenco gig with Tamara Sol at this place, but it never came to fruition.)
Down the block was Prince Cafe (formerly Belmont Kitchen). We sat down at a table and were a little disappointed they didn't serve alcohol. It was one of those place that serves shisha so it was cool enough and we decided to stay. I don't smoke, but generally I do shisha occasionally with friends. We told our waiter it was Maynold's birthday so he prepared a special flavor for the shisha. I ordered some Turkish coffee. Turns out our waiter was from Moscow, so I got to use my skills in russkii yazik.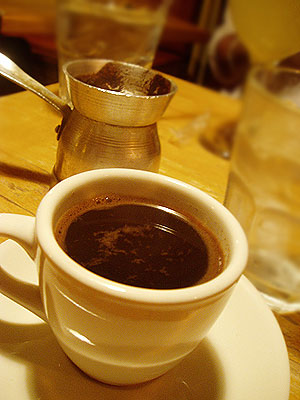 Turkish coffee. August 28, 2005 1:53am
Later, some more of Maynold's friends who work at Citron got off and joined us. Maynold asked me to play guitar again and we got a little party started that went on until the cafe closed sometime after 4:00am.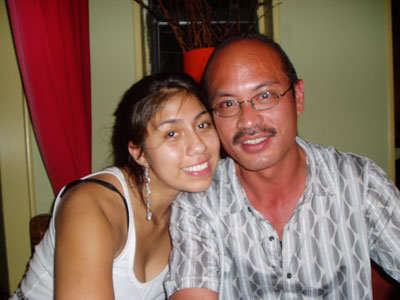 Cindy and Miguelito. August 28, 2005 2:00am (photo by Maynold)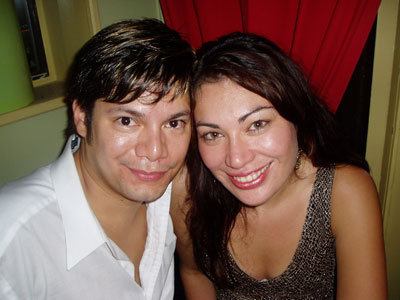 Maynold and Nancy. August 28, 2005 2:10am (photo by Artur)
I went to bed around 6:00am and set my alarm clock for 11:00am hoping that I would hear it. I woke up in time to meet up with Ginette at 1:00pm and got her pictures from her recent trip to Spain and interviewed her briefly. Got a lot of photo editing and writing ahead of me. Stay tuned!
Friday night with Miguelito August 26, 2005
I had a show with Arte Flamenco at Mason District Park in Annandale. It's a theater-in-the-woods kind of setting that I enjoy performing in especially when the weather is nice.
I've been performing at this place over the past ten years with different dance companies including Danza del Río, Spanish Dance Society and the past few summers with Arte Flamenco.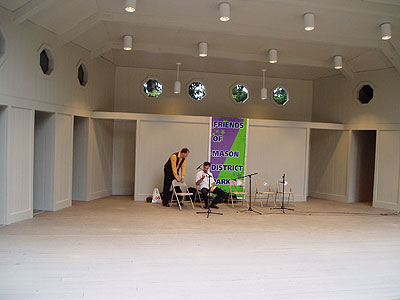 Soundcheck. August 26, 2005 6:39pm
As an experienced performer, my advice to those just starting out is to reserve some patience for the technical side of the performance. You may not always get exactly what you want or need especially if tech rehearsal is right before the performance and time is really tight. You take what you get and deal with it.
Uh-oh, I feel a lecture coming on...
I'm not saying that you should lower your standards. On the other extreme, God forbid should you become a diva and rudely demand perfection--you might get it but the tech crew will probably not like you. Remember the techs are on your team and generally people work better together when there is mutual professional respect. Find some kind of compromise because if you use up all your energy worrying about tech stuff, you'll have nothing left to put into your performance--that's not a good thing.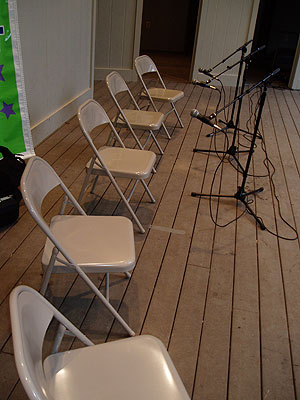 August 26, 2005 6:42pm
It's artistically challenging enough to think about accompanying dancers, singers and your fellow guitarists. But focusing all your energy worrying about sound, lights etc during the show is not going to help you give your artistic best to the audience that went out of their way to come out and hear you perform.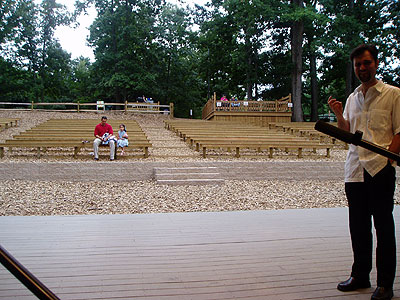 Quique. August 26, 2005 6:43pm
In most theatres, such as this one, there are two sound systems: front of house (FOH) and monitors. The sound you get in onstage monitors isn't necessarily the same mix that the audience hears through the FOH system.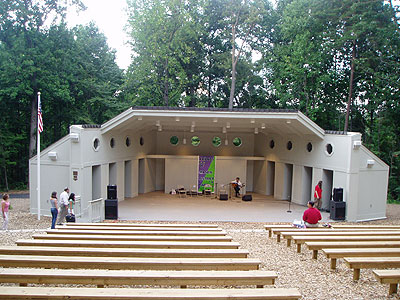 View from audience during soundcheck. August 26, 2005 6:49pm
TIP: when you're onstage during soundcheck, do not assume that the engineer can't hear your "private" discussion. He might have the sound in the monitors temporarily shut off but can still hear everything that the microphone picks up. Trust me on this!
ANOTHER TIP: during soundcheck, do not play your instrument unless requested by the engineer. Ditto for the dancers. Setting up sound on a large mixer can be confusing even for experienced engineers.
Anyway, we did what we could to get the sound right for the monitors but it was getting close to showtime (the theater seats were already filled with several hundred people impatiently listening to our soundcheck--not a cool thing), so we made our best effort to get the monitors to at least a passsable quality and went backstage for a quick moment to discuss last-minute logistics, relax and clear our minds in preparation for the show.
Despite, the sound quality in the monitors, I had to trust that the engineer was making us sound beautiful on the FOH system.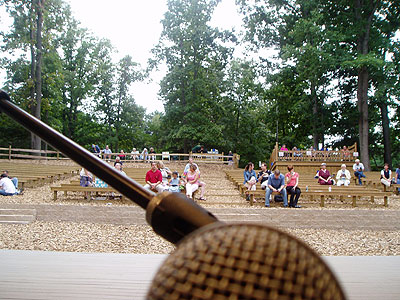 View from my seat during soundcheck. August 26, 2005 7:07pm
Ultimately, it's just you and the audience. They don't want to hear (or see) you stressing about lights, sound and all that technical stuff. They just want to be entertained, inspired and basically have a good time.
Remember, performing is another skill altogether. Reserve some patience and extra time (get there early!) for the setup of technical stuff, so that when the curtain goes up, you can give it your all and hopefully have a good time yourself. End of lecture. :-)
When we went onstage at 7:30pm, it was time to focus and give the audience our best and we did! Congrats to the members of Arte Flamenco and my fellow musicians Quique, Henry Jova and Javier Bustamante.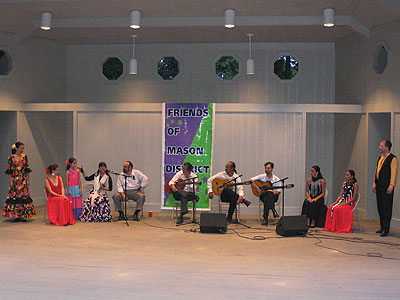 Sonia, Sarah, little Sonia, Natalia, Javier, Henry, Miguelito, Quique,, Marta, Pam and Carl. August 26, 2005 (photo courtesy of Sonia Small)
August 26, 2005 (photo by Ayhan Ozdag)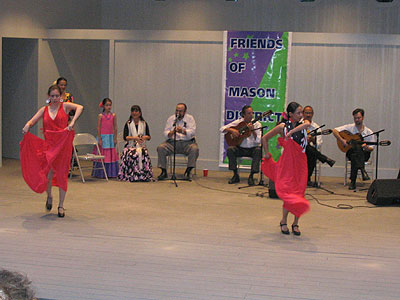 Sarah and Pam in seguiriyas. August 26, 2005 (photo courtesy of Sonia Small)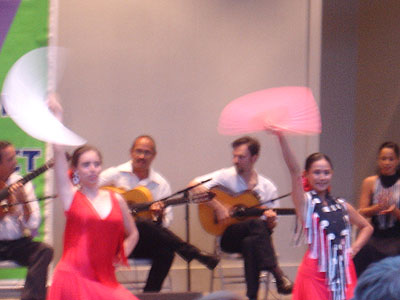 Sarah and Pam in tanguillos. August 26, 2005 (photo by Ayhan Ozdag)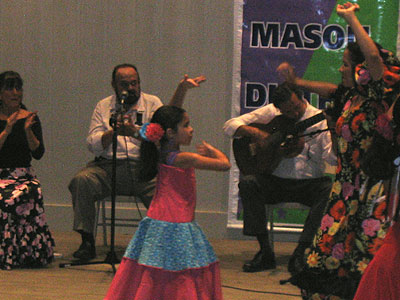 Little Sonia and Sonia in Sevillanas. August 26, 2005 (photo courtesy of Sonia Small)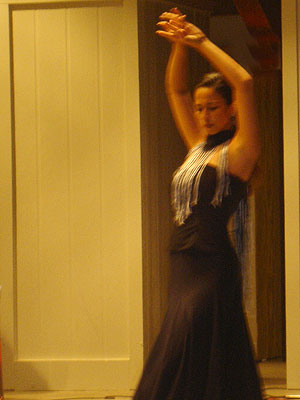 Marta in alegrías. August 26, 2005 (photo by Ayhan Ozdag)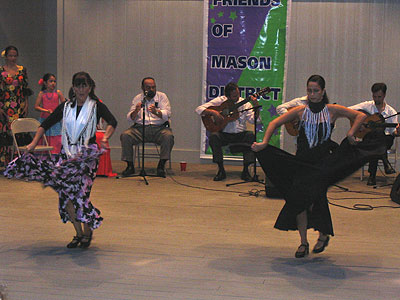 Natalia and Marta in tientos. August 26, 2005 (photo courtesy of Sonia Small)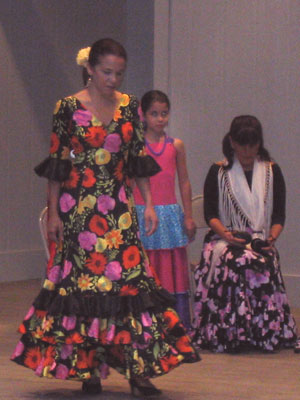 Sonia Small. August 26, 2005 (photo courtesy of Sonia Small)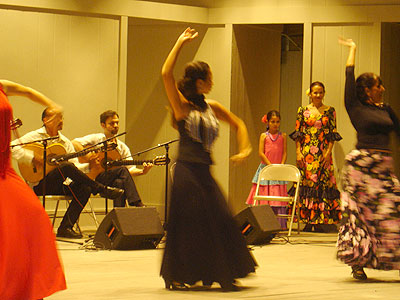 August 26, 2005 (photo by Ayhan Ozdag)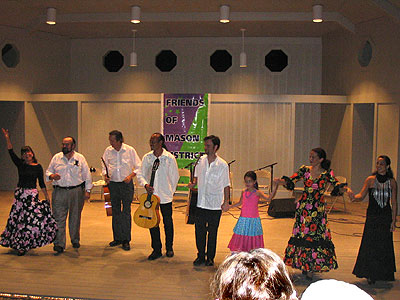 Final bow. August 26, 2005 (photo courtesy of Sonia Small)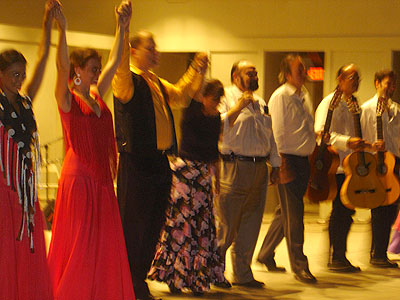 August 26, 2005 (photo by Ayhan Ozdag)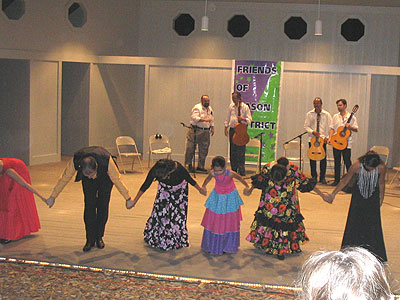 August 26, 2005 (photo courtesy of Sonia Small)
Here are some pics from two years ago.
Later we went to Taberna del Alabardero where there was a flamenco show being put on by some locals and a couple of visiting artists.
It was only 9:30pm when we arrived and the next show wasn't starting until 11:00pm-ish. So we said our quick hellos to the performers:
Pepe de Málaga, cante
Marija Temo, toque
Julia Chacón, baile
Anna Menendez, baile
Cantaor Manolo Leiva was originally scheduled to perform but he had accident and was unable to come so Pepe was called-in from Miami.
I'm happy to say that I'm doing well for a tablao performer here in DC but that doesn't mean I have to start dining extravagantly in a pricey place like Taberna. So instead of spending around $25 on a few small but nevertheless delicious plates of tapas and a glass of sangría, Quique and I walked a few blocks and found a more artist-budget friendly place to dine and returned to Taberna around 10:45pm with our hunger satisfied.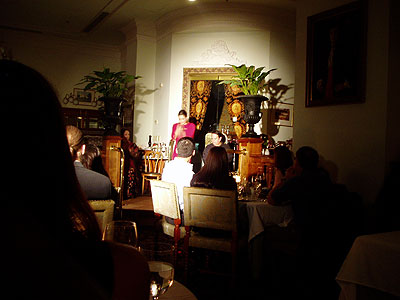 August 26, 2005 11:23pm
The show opened with Sevillanas then Anna performed the first solo: a soleá.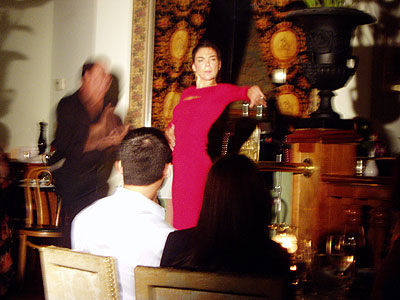 August 26, 2005 11:26pm
It was more or less the same soleá choreography that Anna uses in her other tablao shows. But it was especially refreshing to hear Marija's musical ideas for the accompaniment.
I don't have a guitar teacher right now so everything that I play is my own material inspired just by the dance itself. Since I'm a very spontaneous kind of accompanist, I'm sure bits and pieces of Marija's musical ideas that I heard will start to appear in my playing over the next couple of weeks.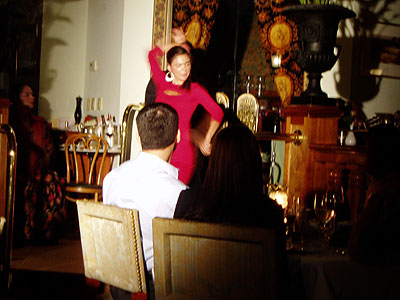 August 26, 2005 11:27pm
It was also very refreshing to see Anna from the audience's point of view. I've seen her perform like a million times, but she still impressed me. Anna's got the requisite technique and form that a professional flamenco dancer should have but, more importantly, she actually says something with her dance that emotionally touches the audience.
Unfortunately, the architects of Taberna didn't factor in that they'd have flamenco shows in the dining room. Only a few tables had a good view of the show. Worse, you couldn't see a very important member of the cuadro: the guitarist! Marija's on the right hidden behind the black vase.
Next up was Pepe de Málaga accompanied Marija Temo. He sang some Sevillanas and a rumba.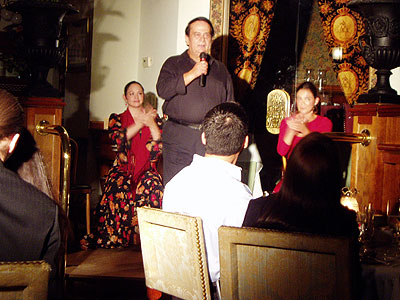 August 26, 2005 11:33pm
Next was Julia Chacón performing a tientos.
A little background on Julia: she attended Marija Temo's Flamenco Communication workshop in New Mexico about ten years ago. Marija noticed that Julia had that certain "spark" you see in dancers that tell you "She's got it!" Well, recently, Marija met up again with Julia and got to see her dance and was impressed. So one phone call and plane ride later, Julia arrived in DC to perform here at Taberna with Marija! Congrats to Julia and thanks to Marija for bringing in some fresh new talent.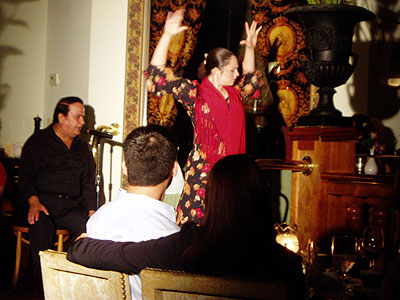 August 26, 2005 11:41pm
Another cool little fact: Julia is a friend of dancer Tamara Sol Flys who was in the audience. The two performed together at various venues while in Phoenix, Arizona.
The show ended with a bulerías.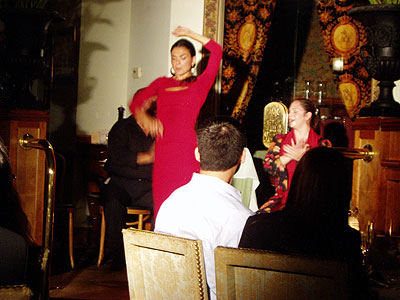 August 26, 2005 11:51pm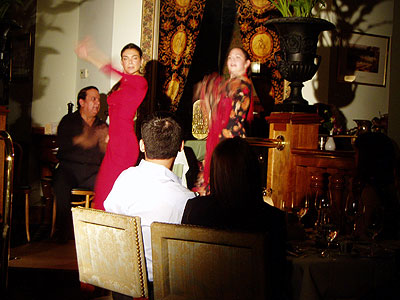 August 26, 2005 11:56pm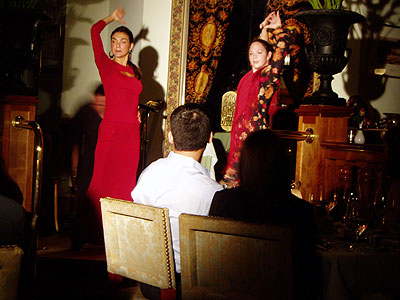 August 26, 2005 11:57pm
I took advantage of the moment to get a quick photo with Julia. She scored extra points with me for knowing my website. Flattery will get you everywhere. :-)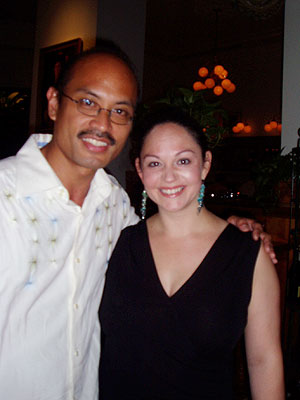 Miguelito and Julia Chacón. August 27, 2005 12:21am (photo by Natalia)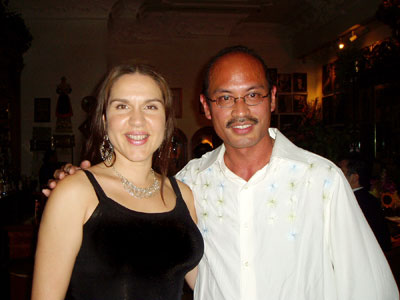 Rocio Carrera and Miguelito. August 27, 2005 12:57am (photo by Karine)
Rocio is a dancer based in San Diego. We have lots of mutual flamenco friends. Remember? I got my start in flamenco in Southern California. She raved about dancer Ricardo Chavez. Just so happened I mentioned him in my blog on Friday (see below). What a coincidence!
---
---
Photos taken with the Olympus Stylus 300 Digital Camera
Text and original images ©1996-2013 by . Please do not republish content from this website, including text and photos, in whole or part without prior written permission.