Miguelito's Photo Diary/Blog
August 21, 2005 - August 26, 2005
Practicing at home August 26, 2005
For the past couple of weeks, one of my friends would call me on Thursdays as usual and ask me, "Hey Mike, are you going out tonight?"
Usually on Thursdays after my gig at Andalucía, I go to Guarapo's in Arlington to hear Duende Camarón perform. It's good to get out and socialize and perhaps make a few new friends, right? Nowadays, I'm getting into that frame of mind where sometimes I'd rather go home and play my guitar.
Another friend of mine was going to Cafe Citron last night (and I almost never go there on a Thursday). It was so tempting to join her and her friends cuz I was dying to go out to some place different--yeah I know I work there (at Cafe Citron) but it's really a different crowd and ambience on the other nights.
So guess what I did? Despite the two tempting options, yup, I still went straight home for a change and played guitar for a few hours. Might as well take advantage of this streak of inspiration while it's still in me.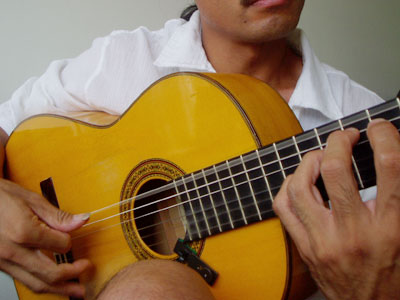 August 26, 2005 12:08pm (photo by Y.T.)
I woke up this morning (Friday) around 8:00am and tried working on my website, but I just wasn't feeling in the mood. So I grabbed my latest book, Mozart in the Jungle: Sex, Drugs, and Classical Music
by Blair Tindall, and headed over to Starbucks to get a doppio and find a comfortable corner on the outdoor sundeck to settle in and read for a few hours.
The title certainly titillates but truth is that the "amorous" descriptions never get graphic beyond say PG-13. What is scandalous is that the author, a classical musician, names the people she used to get ahead--but in all fairness, she too was used in the process.
Some of the chapters deal with the politics of how classical musicians get gigs by kissing up etc to their more established colleagues. Other chapters give you the state of affairs of arts funding in the USA and how it got there.
When she didn't make the cut in a career-making audition, she confessed (on page 161):

"In the days following my Philharmonic audition, I was paralyzed by a musical form of postpartum depression. Now that it was over, I had no direction. Although I loved classical music, I had never honestly been interested enough in the field to make it my career. I simply got hooked as a teenager because it earned me attention. Knowing I'd have to make the best of it, I felt stuck in a life that was wrong for me."
Hmmm...I wonder how many professional flamencos think that same thought? Are they in it for the attention or do they truly love flamenco enough to make it their career?
As I sat there at Starbucks I took notice of all the "office cubicle types" acting all important wearing their photo ID tags around their necks (aka "wage slave noose"). I'm thinking that could've been me. Whew!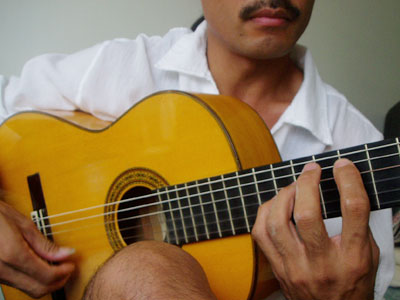 August 26, 2005 12:09pm (photo by Y.T.)
As a classical guitar performance major in college, I never really considered myself part of the same world as my, shall we say, orchestral instrumentalist peers. At the time, I did see myself working as a classical performer unlike my more practically-minded peers who decided to get a degree in music education as a safety net. I respect teachers of course, but c'mon man: if you're a performer then you should be onstage and not withering away in a teaching studio wishing you were someplace else.
Upon graduation, I had already been working as a flamenco guitarist in California for about a year with the Blanca Luz Dance Academy in Buena Park (some of the dance students at Blanca Luz from those days have gone on to become pros such as Ricardo Chavez) and practically stopped playing my classical repertoire--most of it is gone now. But I'm not regretful about that. Flamenco has been good to me.
Reading this book has transported me back to those days when I was slaving away day after day sometimes late at night in the practice rooms on the third floor of the Performing Arts building at Cal State Fullerton.
We guitar majors pretty much stuck to ourselves. Although being the friendly person that I am, I did befriend a few other music majors outside of the guitar circle but I can't say I've kept up with them over the years.
I'm sure a few them have been steadfast in their career choice and have become full-fledged professional classical musicians, such as former fellow guitar majors Robert Torres and Mark Small. My guitar teacher at Cal State Fullerton, David Grimes, has expanded the guitar program much more than it was when I was a guitar major there.
I remember doing a small tour of California with the Cal State Fullerton Guitar Ensemble which I thought was a big deal--it was at the time. I can recall doing a daytime concert at the University of California in Santa Barbara and afterwards literally walked a few feet to the sandy white beach on a sunny day where some of the students were already partying (you know how much I love the water). Ah, good times.
One of the guitarists brought his wife along for the tour and we had to be on "good behavior" while she was around. In retrospect, we should've just been ourselves. He should've known that college boys will be college boys dirty jokes and all. She should've conformed to us, not the other way around!
Of course to get back at him, I drove this guy crazy by constantly practicing my rasgueos on my leg while we were in the van for hours between tour stops--I was already making my inroads to the flamenco world at the time. He'd yell at me, "Will you stop doing that?!?" I'd stop for a few minutes and start up again. ;-)
TIP: on tours, leave the girlfriend, wife whatever at home.
Anyway, David went on to develop a guitar orchestra that did a three week tour of Greece a few years ago. Congrats David! I'm proud to have been a part of the Cal State Fullerton guitar program--although I wish we could've gone to someplace cool like Greece. Oh well. :-)
I proud to say that I followed in the footsteps of my mom who also was a music major in college. She went to the University of Southern California majoring in voice. I'll definitely give her the book when I'm done with it. I just hope she doesn't make me squirm with her scandalous stories of life as a struggling classical musician. :-)
OK, it's 1:12pm on Friday. As you might expect, I am practicing! I have a gig with Arte Flamenco tonight at Mason District Park. I better get some lunch and get back to practicing. Ciao for now!
Cafe Bonaparte August 24, 2005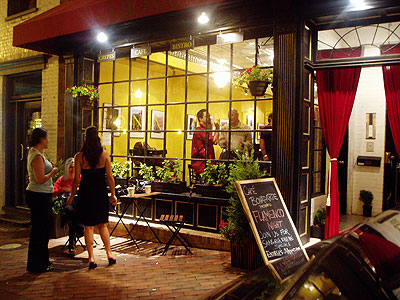 August 24, 2005 11:35pm
When you perform almost everyday (knock on wood) you start to notice what would otherwise be very subtle differences in your playing and in the responsiveness of your audience.
As for last night, technique-wise, I was at about 90%. Inspiration-wise was about 60%. Behzad and I make up the rumbas throughout the evening and we had a few musical moments that made me want to say "Olé!" but still, the audience just wasn't picking up on our vibe.
The artist part of me doesn't mind a dead audience every now and then as long as I have the satisfaction of extemporaneously creating some cool musical ideas a few times during the evening. There's also the professional performer part of me that wants to make sure my audience has a good time.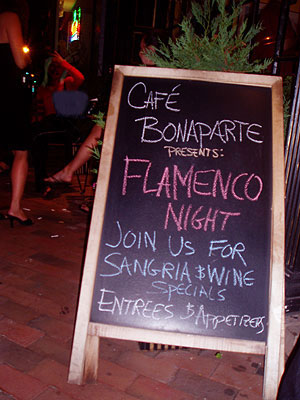 August 24, 2005 11:36pm
Ideally, I want to consistently satisfy both parts, but tonight was more artistically satisfying then professional. Oh well, it's different every night, but that's what makes life interesting: challenge and variety.
During the last half hour of our last set, a bunch of our flamenco friends showed up. We ended the set with an extended bulerías with Carlton singing, Behzad on cajón and yours truly on guitar. Sara Jerez got up and danced a little bulerías. I did a few falsetas etc. And all our friends provided some great palmas.
All in all, the bulerías was about 10 minutes of pure flamenco bliss. Question is: did it make my night? Absolutely!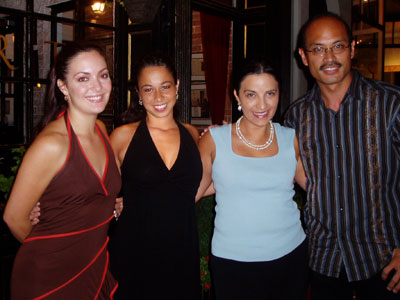 Sara Jerez, Marta Chico Martín, Soheila Nassiri and Miguelito. August 24, 2005 11:39pm (photo by a friend)
Oh yeah, for you fellow musicians out there: my friend Richard Marlow showed up and brought his new condensor mic that he used in his show at Las Tapas earlier this evening, AKG C 1000 S. I plugged it into my sound system and Behzad played his guitar and cajón through it. I wasn't optimally positioned in relation to the speaker to give you my judgment on the sound quality, but according to Richard it sounded great. It brought out the mid-range frequencies in a good way.
Cafe Bonaparte has its flamenco night every other Wednesday. The next show will be on September 7, 2005. Call 202-333-8830 to make your reservations (highly recommended).
Tuesday with Miguelito August 23, 2005
I had a few errands to run today but during a brief lull, I walked into a bookstore and came across an interesting book titled Mozart in the Jungle: Sex, Drugs, and Classical Music
by Blair Tindall (released July 2005, hardcover, 318 pages). It's a memoir by an oboist covering her twenty-five-year career in the classical music industry. It reveals a first-hand account of the more scandalous side of a professional musician's life.
I never went to a conservatory like the author did, but as a college graduate who majored in music (B.M. in Classical Guitar Performance at Cal State Fullerton), I could relate to her experiences.
Anyway, I picked it up and started reading a chapter and couldn't put it down so I went ahead and bought it. It was $25 (yikes!), but I'll deduct it as a medical expense for musician's psychotherapy. :-)
Dancers might enjoy this book too. If nothing else, it'll make the politics and backstabbing in our local performing arts community seem tame by comparison.
I was supposed to meet a client-turned-friend for coffee at Juan Valdez Café near the World Bank. (Interestingly, there are only three of these cafés in the USA. The rest are in Colombia.)
She was running late due to a meeting that ran overtime. So I went ahead and ordered my current favorite: macchiato arequipe with a double-shot of espresso of course! It gave me some time to relax and enjoy the next few chapters. The fourth chapter gives a quick history lesson about arts funding in the USA.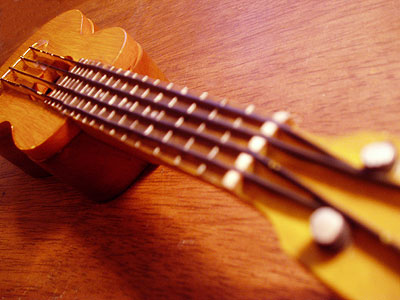 A little after 5pm, my friend showed up and apologized for being late. She bought me a drink--I asked for another double macchiato arequipe. Plus she gave me a cute little gift from her recent trip to Hawaii: a hand-carved ukelele-shaped jewelry box.
Anyway, we quickly caught up on each other's lives before she sent me off on my way to Las Tapas for my usual Tuesday night show.
On the way to the metro, I passed by Tower Records and decided to step inside for a few minutes to get a shot of inspiration from the Mártires del Compás CD again.
I also checked out the new CD by Yerbabuena titled Island Life
. They're a grammy-nominated group whose music one critic describes as "Afro-Cuban framwork with cumbia, salsa, merengue and flamenco rhythms." Guest artists include Diego El Cigala, Montse Cortes and El Niño Josele.
I got carried away and listened a little longer than I should have considering that I had to be onstage at Las Tapas in about an hour. I arrived just in time to setup the sound system, tune up and relax for a few minutes before showtime.
The dancers were Edwin Aparicio and Anna Menendez. The first set went well, although I noticed that my hands were a little shaky from all the caffeine I had earlier so my picado and arpeggios were a little off but my rasgueados were just fine.
I drank a glass of red wine after the first set and I was mellowed out enough to play with control but pumped up enough to keep up with these two athletic performers!
August 23, 2005 9:26pm
I didn't have time to eat dinner since I had to leave by 10pm in order to meet a friend at 11pm. So I hung out briefly with Edwin and Anna and just enjoyed a plate of olives and a glass of beer (just like in Madrid!) before heading out.
Tower Records in DC August 22, 2005
It was a good enough night at Citron. I got the sound system to "behave" this time--turns out the problem last week was a couple of worn-out microphone cables. Anyway, with that out of the way, I was able to devote all my attention to the music and it paid off.
There were a few friends in the audience including Chris Kobar and Lillian Wade. Speaking for myself, I usually perform better when I know there are aficionados amongst the people. Overall there weren't that many spectators but the few that were there paid attention (by actually shutting up during the show!) and gave us good applause.
During the break after the first set in walked a group of girls from Spain. Naturally I had to ask them if they knew how to dance Sevillanas. Two of them said they know how but they'd get up onstage only after a couple of drinks. Pfft! Oh well, whatever.
After the second set, Chris and Lillian left. The manager quickly paid us without me having to ask (I like that) and soon afterwards, Gerard and Sara took off too.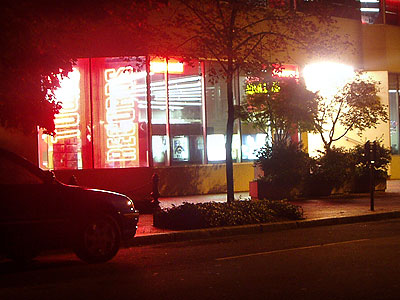 Tower Records near Lisner Auditorium. August 22, 2005 10:21pm
It was early (10:00pm) and since the weather was so nice, I figured I'd walk home and enjoy the fresh air. Perhaps I'd stop by the Georgetown Harbour and play guitar for myself while watching the people go by. But of course I got sidetracked and decided instead to visit Tower Records and do some listening-station-surfing.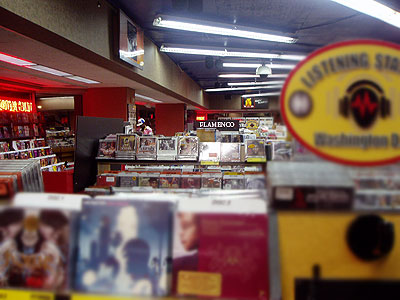 August 22, 2005 10:38pm
I headed straight for the world music section. (I'm still on that flamenco-inspiration buzz that started a few weeks ago.) I noticed that Mártires del Compás came out with a new CD titled No Papers
. Last I heard, this group was in DC about four years ago.
The first track is titled "Petebulería" and that's what it sounds like: a Peteneras sung like a bulerías. I listened to the whole CD. Some of the tracks are clearly recognizable as flamenco some are not. There's one that even sounds like bachata. Not that this group pretends to be a flamenco. Not at all. In fact, I remember the lead singer Chico Ocaña describing it as "flamencobilly."
It was enough to inspire me to want to go home and play guitar for a few hours. So I quickly left the store (without buying any CD's) and got on the metro.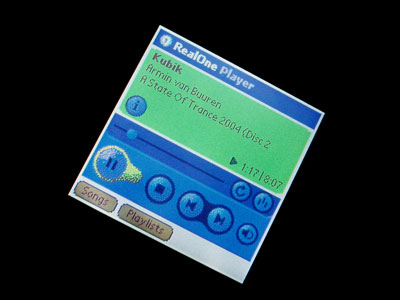 August 22, 2005 11:32pm
I left my Ipod Shuffle at home but fortunately my Palm Zire
plays mp3's. I don't have any flamenco on it, but instead I had some of my favorite trance tracks which was perfect for the ride home. Train's here. Goodnight!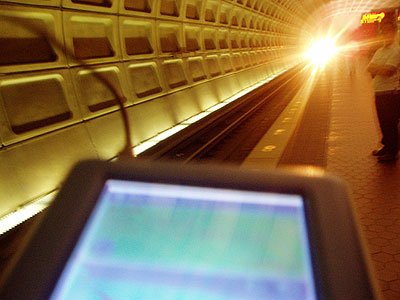 August 22, 2005 11:34pm
Estela Velez's Performance Class at the Jack Guidone Theater August 21, 2005
Estela writes:

Miguelito, On behalf of the JOM Guajiras (performance class), we want to say thank you for your message yesterday wishing the ladies good luck.
The two performances, Saturday and Sunday evening, were a true success and the ladies did a wonderful job and looked absolutely beautiful! The ladies performed a Guajiras (as you know) and the audence was very impressed with their performance.
Here are some pictures of the performance. Unfortunatley they are not the best quality, but they still show some of what happened. BTW, the ladies were so excited about the dance that an encore presentation is in the works. I will let you know when and where in case you can come see them!
[Editor's note: Estela's website is at www.furia-flamenca.com]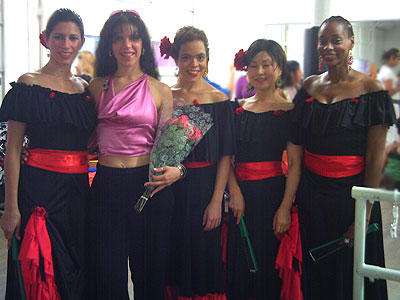 Mariana, Estela, Nikki, Yoon, Ramona. August 21, 2005 (photo courtesy of Estela Velez)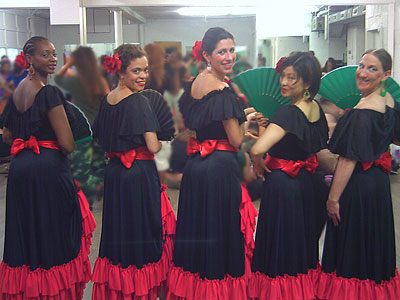 Ramona, Nikki, Mariana, Yoon, Lauren. August 21, 2005 (photo courtesy of Estela Velez)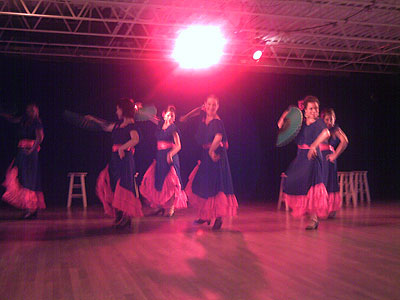 Ramona, Yoon, Mariana, Lauren, Nikki, Karina. August 21, 2005 (photo courtesy of Estela Velez)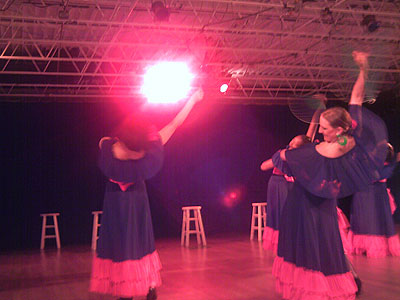 Yoon, Ramona, Lauren, Mariana. August 21, 2005 (photo courtesy of Estela Velez)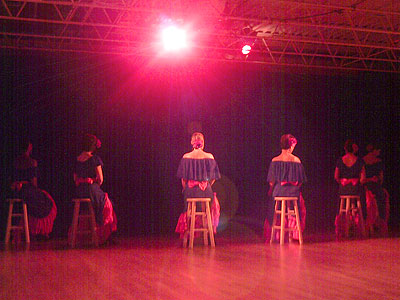 All of the ladies at the beginning of the dance. August 21, 2005 (photo courtesy of Estela Velez)
This performance took place at the Jack Guidone Theatre, Joy of Motion, Friendship Heights.
Festival Hispano in Millsboro, Delaware August 21, 2005
According to the program, our company's name is Micaela y su Conjunto. Truth is that we're really just a group of friends that dancer Micaela Moreno put together especially for this performance:
In the pic below from left to right...Micaela Moreno, Marta Chico Martín, Cecilia Terrasa, Miguelito, Carlton Ashton, Pam de Ocampo and Alex Woodward.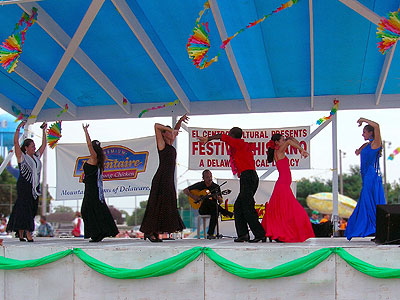 We opened with Sevillanas. August 21, 2005 (photo courtesy of Cecilia Terrasa)
The Festival organizers were so impressed with our performance last year, they asked Micaela to bring a larger group for this year.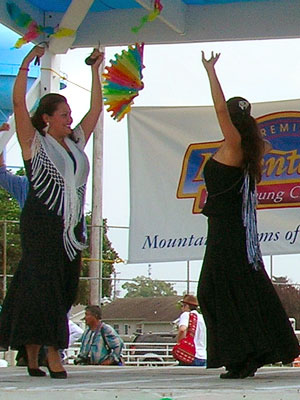 Micaela Moreno and Marta Chico Martín. August 21, 2005 (photo courtesy of Cecilia Terrasa)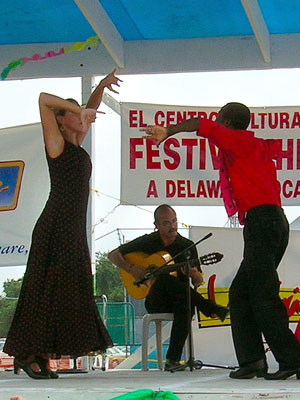 Cecilia Terrasa and Carlton Ashton. August 21, 2005 (photo courtesy of Cecilia Terrasa)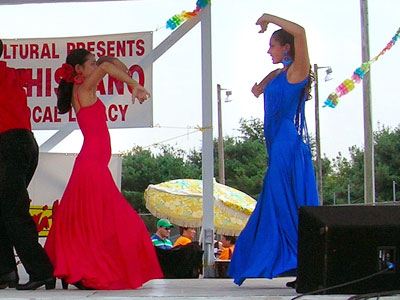 Pam de Ocampo and Alex. August 21, 2005 (photo courtesy of Cecilia Terrasa)
Cecilia performed a tangos sung by Carlton. Towards the end, Carlton got up and danced the salida with her.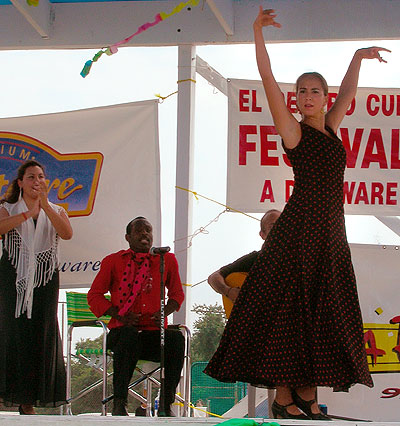 August 21, 2005 (photo courtesy of Cecilia Terrasa)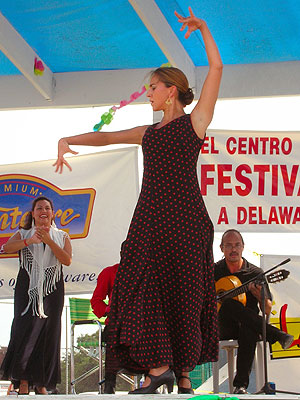 August 21, 2005 (photo courtesy of Cecilia Terrasa)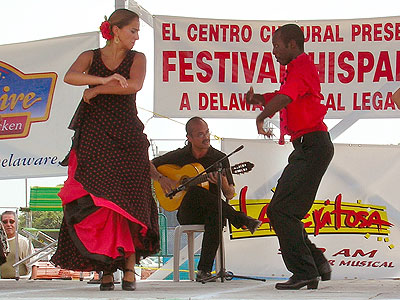 Cecilia, Miguelito and Carlton. August 21, 2005 (photo courtesy of Cecilia Terrasa)
Next up was Pam de Ocampo and Alex Woodward in a seguiriyas.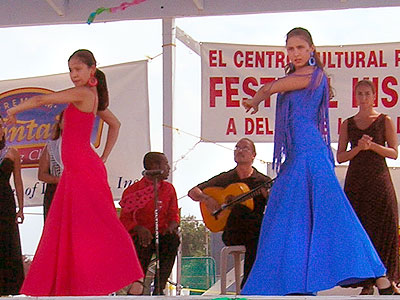 Pam, Carlton, Miguelito, Alex and Cecilia. August 21, 2005 (photo courtesy of Cecilia Terrasa)
Unfortunately, the organizers cut our show short and we had to skip Micaela's and Marta's solos and finish the show early with the fin de fiesta bulerías.
Yeah it's a disappointing not to present our complete show but we were professional about it. The last thing you want to do is make a scene--a sure way of NOT being invited to perform next year.
The important thing is that we made an impact on the crowd as people came up to us afterwards and showered us with praise. Some asked where they could take flamenco dance classes.
Unfortunately, to my knowledge, there are no classes in Delaware...yet. I say "yet" because Micaela lives here and could potentially start teaching in this area if there's enough interest. But, she's busy enough as it is since she is starting her own business (and the grand opening is this Friday August 26th). Congrats Micaela!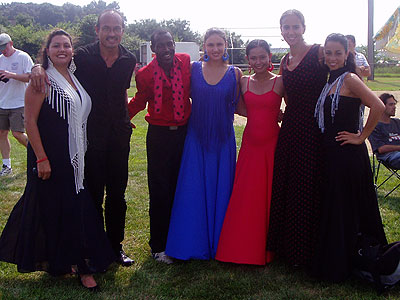 Micaela, Miguelito, Carlton, Alex, Pam, Cecilia and Marta. August 21, 2005 3:07pm (photo by Raydaun Page)
Afterwards, the dancers went off to change into street clothes. Meanwhile, I stood around "backstage" to wait for them and took a couple of pics to keep myself entertained: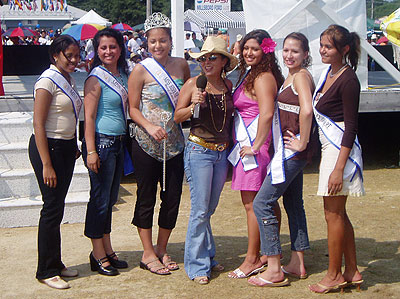 Miss Hispanic Delaware winner and fellow contestants. August 21, 2005 3:11pm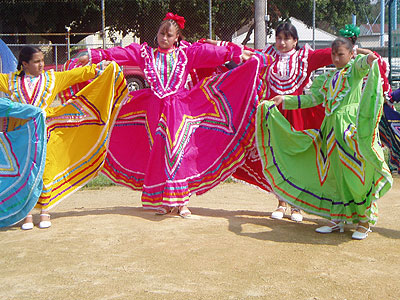 Members of Citlalli de México. August 21, 2005 3:15pm
Around 3:30pm most of our group left to drive back to the DC area early before the Sunday night rush of beach traffic got worse.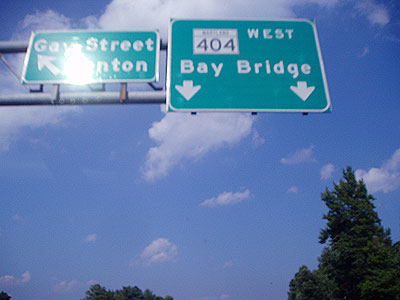 August 21, 2005 4:32pm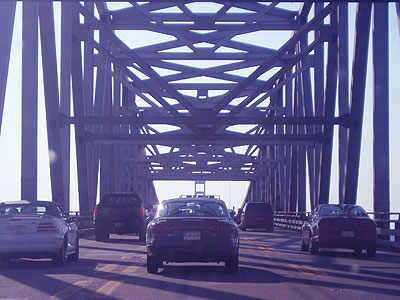 Chesapeake Bay Bridge. August 21, 2005 5:42pm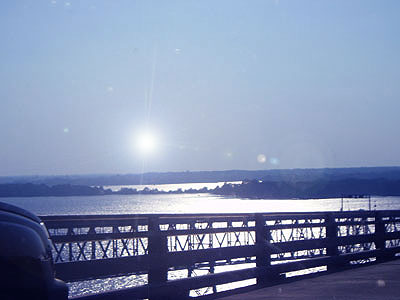 August 21, 2005 5:45pm (photo by Carlton)
---
---
Photos taken with the Olympus Stylus 300 Digital Camera
Text and original images ©1996-2013 by . Please do not republish content from this website, including text and photos, in whole or part without prior written permission.