You never know...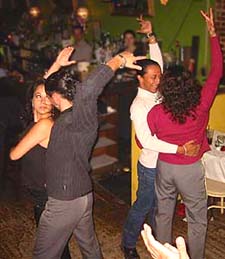 (Monday October 22, 2001)

L

ast Monday, I was performing as usual at Café Citron (202-530-8844) and was pleasantly surprised to see DC flamenco dancer Edwin Aparicio walk in.

He's currently touring the USA with a handpicked flamenco group directed by guitarist Reynaldo Rincón.

Edwin just happened to be in DC that night since the group was performing at Andrews Air Force Base the following day.

I'm sure many of you would have wanted to stop by Cafe Citrón that night to say hello to Edwin, but sometimes you never know who could show up at any of the local shows. We DC Flamencos usually visit the other tablaos to support our fellow performers.

Although the day to day life on tour can be grueling, Edwin seems to be enjoying himself. He will be back in DC in late November when he will be resuming his teaching schedule.


Letter from Spain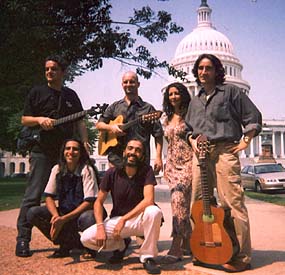 (Monday October 22, 2001) The group Los Martires del Compás (pictured right) performed in DC late August 2001.
Flamenco guitarist Manuel "Noly" Soto (pictured far right) writes:
"Hola Miguel, en primer lugar quiero disculparme por no haberte escrito antes, también quiero agradecerte el que te hayas esforzado por informar de nuestra gira en norteamerica, la cuál nos vimos obligados a quedarnos una semana más por los acontecimientos ocurridos en EEUU.
Afortunadamente todo salió como estaba programado desde un principio, de hecho, los ultimos 20 dias de la gira estuvimos en L.A., donde también hemos sembrado algo importante para regresar de nuevo el año entrante.
En estos momentos estamos preparando otra gira, que comenzará en una semana desde Barcelona a Madrid, pasando por el Pais Vasco, la cuál tendrá una repercusión importante sobretodo la de Madrid, ya que actuaremos tres dias en la sala Galileo....
Espero que estemos más en contacto estoy encantado de tener un amigo allá en Washington, y disculpa mi ausencia prolongada.
Un abrazo."
NOLY
Singer Chico Ocaña (pictured front row center) describes the music as "Flamencobilly." Find out what he means by listening to a few tracks from their CD Mordiendo el Duende

Flamenco for a day in Bethesda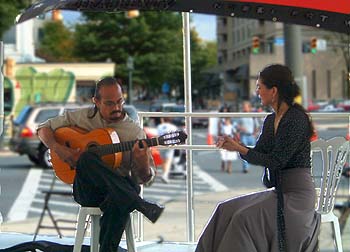 (Monday October 15, 2001) This past weekend, yours truly had the pleasure of accompanying dancer Anna Menendez in performance at the Bethesda Row Arts Festival.
It was a short program that included a bulerías guitar solo, danced soleá, granadinas guitar solo and closed with a danced alegrías.
Between numbers we talked about basic flamenco concepts such as the trilogy of cante/baile/toque, llamadas, improvisation and we of course promoted the local flamenco shows. (For this show, I used a lavalier mic which eliminates the visual distraction of a microphone stand.)
Anna teaches at the American Dance Institute in Rockville, Maryland. She regularly performs on Wednesdays at Toro Tapas (703-379-0502) and Thursdays at Bambule (202-966-0300).
(My thanks to Kyoko for the photo.)
---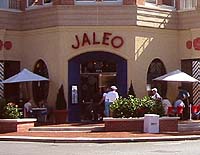 I say "Flamenco for a day in Bethesda" because there currently is no flamenco in this area. Ironically, our performance took place just a block or two away from two very good Spanish restaurants: Andalucía de Bethesda and Jaleo--neither features flamenco.

Jaleo in Bethesda (301-913-0003) however does have excellent Sevillanas floor shows on Monday and Tuesday nights. The food is very good--yesterday I had the baby spinach/beet salad with orange segments, steamed mussels and a tall glass of beer accompanied by fresh bread and olive oil. Yummy!



"...you've learned it before...let me find something harder..."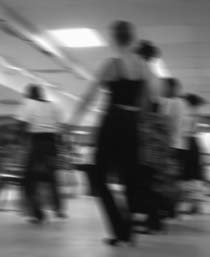 (Friday October 12, 2001) A few of us were fortunate to have seen Gypsy Caravan II this past Wednesday at the Clarice Smith Performing Arts Center at College Park. Fewer were most fortunate to have attended the workshop by Antonio El Pipa. Natalia Monteleón writes:
"Just a quick comment about the hastily thrown together dance class with Antonio el Pipa...
What a shame we locals didn't have more advance warning, about this extraordinary and handsome dancer, so that more could have experienced his unique blend of charm, class and elegance of style.
The class was attended by a handful of people who were able to make it out to Laurel in the late afternoon. Antonio focused on upper body movement for the first 15 minutes. He has a very particular style of moving his arms, and upper body, exploring space, and making use of space, all of which are new to us in DC.
Don't get me wrong - he is highly traditional, from Jerez, however, his tall body, and long arms must have led him to a more developed upper movement style.
He paid close attention to each of us, giving pointers and hints directed at each persons' particular needs. This was done in a generous and caring way, that many teachers could do well to learn from! Each person felt that they received his personal attention.
I think he 'tested' us at first to gauge our level and was suprised at how quickly we learned (yay us!). He then gave us some bulerias, which were charming, and playful, and again, a bit different than what we've recently experienced with La Tati.
Just to give an idea how concerned a teacher he was - when he taught a step that everyone got immediately, he said something like 'well you all know this - you've learned it before. Then I'm not interested in it - let me find something harder, that you don't already know!'
We all loved him to pieces, and wish we could have more time with him. I think a serious workshop may be in store for the future, if at all possible.
Many thanks to Aleksey Kulikov, who knocked himself out trying to make this happen. I came up with the idea, dropped it in Aleksey's lap, and he did all the work!"