Edwin Aparicio's Selected Works at Gala Hispanic Theatre/Tivoli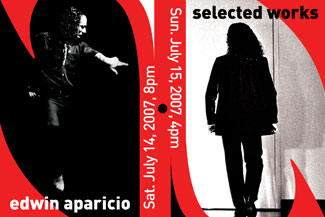 July 9, 2007 Here's a brief interview with Edwin Aparicio to give you some insight on what to expect with his upcoming show this Saturday and Sunday July 14th and 15th, 2007.
Miguelito: With "Selected Works" this is the first time you don't have a theme or creative title. Or am I wrong? What's the concept behind this production?
Edwin: "Selected Works" is a compilation of some of the strongest pieces from my repertoire. In this performance, I am taking a look back at my productions Bailes Inéditos (2003), Encuentros (2004), Camino / al flamenco (2005), Íntimo (2005) and Entresueño (2006) and let the audience and myself re-live some of the best moments. My goal however is not to make the pieces identical to the original. I've let the them evolve as I too have evolved.
M: I was at the rehearsal last Sunday and saw some new faces (new for an Edwin Aparicio production). Tell me about the cast members and what motivated you to select them.
E: I am very happy and proud that Washington DC has some of the best flamenco talent in the US. There are for sure more good artists in this city than I can fit on a stage, so I had to choose. In addition to their ability to simply learn the steps, I chose dancers who really want to learn and who are willing to challenge themselves.
In addition to some DC crowd, I've invited Ricky Santiago and Rebecca Thomas from New York City to join us. Both of them are great dancers, wonderful people and share my passion and commitment to flamenco and to excelling in this art form. It's wonderful to see such dedication!
M: You've been choreographing and producing for a couple of years now. In what ways do you think you've matured as an artist? What are your strengths? What are your areas you feel need a some extra effort?
E: Over the years, I've learned to cherish inspiration and to allow myself to get inspired and to channel it through flamenco. Dance for me has always been a way to express my inner world and the world around me as I see it, but it was not until later in my career that it became a conscious process. I get inspired by other art, be it music, fine or performance art. I've been enriching my palette as an artist by going to dozens of shows and exhibits and learning from other artists over the last few years. And it's not only art that inspires me; it is really everything around me - events, people, objects, feelings...
Contrary to many people's belief, flamenco is not about uncontrolled emotion or raw expression. It's about letting yourself feel intense emotions and then having the skill and the aesthetics to express it. "Go as wild as you can" simply does not work for me. There has to be substance, technique and control - that's what makes it beautiful, that's what makes it art.
What interests me a lot and what I need and would like to explore more are the boundaries of flamenco. It is wonderful to see flamenco evolve, yet there seems to be a line -- that is not always clear --between something being or NOT being flamenco. I do not believe in modernizing for the sake of modernizing so my goal is to modernize when it makes sense and without being untrue to flamenco. It's not an easy path and there's a lot to learn...
M: Any interesting stories about the rehearsals that might shed some light on group's and your creative process?
E: I am thrilled and honored by the dedication among the artists in this production. It's been a bit of a boot-camp for everyone and I am so glad to see them excel and enjoy the process.
Rebecca and Ricky have been coming to DC from New York City every weekend for the past couple of months to rehearse. Wow! And the DC folks rehearse almost every day! Cecilia, Dana, Carmel and Yolit have small kids, Tamara has her PhD thesis, everyone in the group has their life that is busy and at times complicated. Yet, they are all here, working very hard and having fun through learning together and through becoming really good friends.
---
From the press release:

Two heart-stopping evenings of must-see flamenco
In Edwin Aparicio: Selected Works, flamenco performer and choreographer Edwin Aparicio has curated choreographies from his acclaimed repertoire alongside new evolutionary material. Among the highlights of this production are the expanded corps de ballet, featuring some of DC's most dynamic talent, original musical compositions and arrangements of traditional flamenco music, and a solid foundation of the authentic flamenco song.
The rising popularity of flamenco and a concentration of gifted artists has made Washington DC one of the epicenters of the Andalusian art form in the United States. Edwin Aparicio, described by critics as being "the most amazing dancer seen in years," having "hellfire footwork" and choreographies with "beautiful, evocative imagery," is at the forefront of the U.S. flamenco movement. His five original productions (Bailes Inéditos, Encuentros, Intimo, Camino/al flamenco and Entresueño) presented in a constellation of US cities earned accolades from flamenco connoisseurs as well as from the mainstream audience for their quality and passion. In the Edwin Aparicio: Selected Works, Aparicio revisits his best original choreographies as he continues to distill the essence of flamenco, stripping away the meaningless trappings and allowing the audience to experience the art in its pure essence.
The production highlights the individual and collective mastery of the fifteen flamenco performers ranging from highly acclaimed singer Jesús Montoya to the rising stars of flamenco in the US, "La Genoveva" and the New York City-based Rebecca Thomas. Original musical arrangements and compositions by the Afghani-born guitarist and percussionist Behzad Habibzai add a fresh layer of art to the choreographic canvas of Edwin Aparicio's work, which is steeped in years of mastery and talent.
One of the pieces in the production is "Martinete," originally created for Aparicio's Camino/al flamenco, and inspired by the choreographer's personal quest for identity sparked by the Civil War in his native El Salvador and the immigration which followed. "Alegrias" from Encuentros is the artist's signature work, incorporating eleven years of Aparicio's experience as a performer, teacher, and choreographer. "I am particularly excited about this presentation of "Alegrias," as I take it to a new level, pushing the limits of my movement and inspiration, and amplifying it through the expanded corps de ballet."
Set in Washington DC's historic Tivoli building, which has been revitalized with the artistic spirit of the GALA Hispanic Theater, Edwin Aparicio: Selected Works is guaranteed to inspire and wow the audience. With only two presentations (Saturday, July 14, and Sunday, July 15, 2007), this is a must-see performance.
WHO:
Edwin Aparicio: Selected Works featuring Edwin Aparicio and Guest Artists
WHAT: Two performances in Washington, D.C.'s Gala Hispanic Theater
WHEN/WHERE: July 14, 2007, 8:00pm
July 15, 2007, 4:00pm
Gala Hispanic Theatre/Tivoli
3333 14th Street NW, Washington DC 20010 (Map/Directions)
TICKETS www.boxofficetickets.com or call 1-800-494-TIXS (8497)
$35 General Admission
Ulrika Frank and her final show in DC: Café Flamenco
March 2, 2007 If you haven't heard already, yes it's true. Dancer/teacher/choreographer Ulrika Frank will soon be leaving DC for her native Sweden. Last Wednesday night, Ulrika arranged for me to attend a rehearsal of her company Mirada Flamenca in preparation for her final show in the DC area: Café Flamenco which takes place on Saturday and Sunday March 10-11, 2007 at the American Dance Institute in Rockville, Maryland.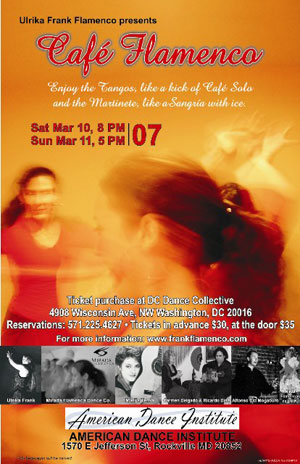 (Ticket info at Ulrika's website) During a break from the rehearsal, Ulrika spoke to me about her feelings about Mirada Flamenca.
Ulrika: I'm really hoping that Mirada Flamenca can keep doing this, keep developing what they have learned as a group because I'm seeing myself as the mama chicken and they are under my wings, but sooner or later, if they would stay with me, they would leave me. They would say, "Well I've been with Ulrika, three, four, five years." Then they would leave me. Then I would feel, "Yes! I have succeeded!" Now they're ready to go out on their own. Maybe they'll start their own companies. They'll start teaching. They're full-blown dancers. They don't need to be in a group. That for me would be great. Unfortunately, now I won't see that, because I'm leaving before them. But they are all extremely capable.
They all started at various levels. And they have managed to come to one level. Some of them were much more advanced because they had, like Olivia, their own companies. Debra's been performing a lot. But they're lacking maybe some other theoretical information. The others maybe have not caught up as quickly because they learned the theoritical information along with the technique. So they have leveled out as one good company. And I really just wish them the best. And when I told them that I was going to move back to Sweden, we had a disaster hour [laughs]. I really hope they can still keep at it. And I know it's hard without a leader.
That's also why Café Flamenco is so important to me. Even if I'm saying goodbye to the DC flamenco community, for them it's like saying, "Hello. Here we are. We're more than capable to be hired by people." They can go as two dancers or all seven. Three or four or whatever. We had one dancer pregnant. And now we have another. That's just a part of being a flamenco woman—all of sudden being a flamenco mother, like I am.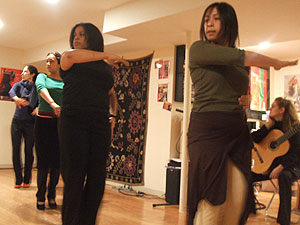 But I must say that overall, I have been very well greeted by the DC flamenco community. There's politics going on all over the world. All over the flamenco world. It's not only DC or Sweden or Atlanta. But you know all about that. I don't need to give you any more feedback on that. It's just that it hasn't felt that way here. Also when I stepped in, I purposely never really entered because I knew that when stepping into a new community, you've got to take mini-steps. One by one and not interfere with the locals and stay in the perimeter, watching and looking. That was fine for me. Also I had been doing so much performing [in Atlanta] especially tablao things although that was something I never really felt, "I really need to do that."
But I felt the need to do shows. I really wanted to say something in flamenco. And that you can only do on bigger stages. On a tablao, you're more restricted. You can't come in and do the full-blooded martinete for ten minutes because the people will leave. They'll go, "This is not festive. We want alegrias or sevillanas..." Or whatever. So you know all about that from playing in the tablaos like every night. Don't you get tired?
Miguelito: Yes, of course.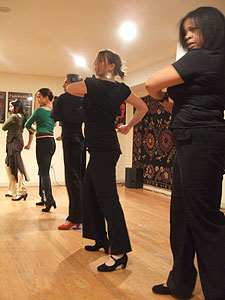 U: I mean, it sucks something out of you. And if you've done it for so many years and you feel like after awhile, "Wait a minute. I need a break here." To just do something of your own. Have you done your own shows?
M: Not really. Other than just doing concerts in theatres with three or four dancers which was basically a tablao show but much longer. Someday perhaps. And when that day comes that I feel the artistic need to put on my own shows, you'll definitely read about on my website.
U: You have much experience. You are definitely capable to put on your own shows. But to do it, to produce it, it's a HEADACHE! Not the dancing part. Or the company part. Or the choreographic part. But the other parts around it like the PR, getting people there, get the word out, and get the tech and get the dress rehearsal fixed, and who's going to do this and all of that surrounding it. That's when the organizer part kicks in for sure.
And I started producing my own shows in Stockholm in 1995 or 1996. And when I did, I never ever thought it was going to be so much work. And after the first one was very successful, I said to myself, "Never again. Never again!" It's too much work. Both the dancing, the choreographing and being the director and to be the producer. But here I am. Ten shows later. [laughs] And I'm still doing it! Because it's worth it. Even if I'm going to be "dead" on March 12. I'll be out of this world. I'll just zone out. But it is worth it.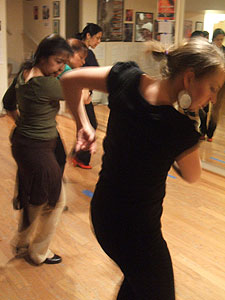 And I said hello to the DC community last year with Dentro and unfortunately I would have loved to say hello again but it's not going to be like that. It was too soon to move for us. We wanted to stay but the chance that my husband got is just too good. And the flamenco level in Stockholm is very high because it is so close to Spain. People just go constantly. Just fill-up their material, their knowledge, their "backpack" with all the flamenco stuff. It's constantly new. So that's going to be good and interesting.
But it's going to be hard too because I have to start over, again. I started everything in Stockholm. Left. Started in Atlanta. Left. Started here. Leaving. And now I'm going back. So everybody's asking, "What are you going to do when you go to Stockholm?" Well I don't know. Take a vacation first of all. [laughs]
But I'm very proud of this company. Mirada Flamenca has managed to accomplish a lot. And I'm very pleased with the girls because when I came here what I wanted to do was start teaching of course, because I can't avoid that. It's what I love to do. I wanted to perform, but more on a theatre stage, not in tablaos. And I wanted to start a company. And I've done all three. And it feels good. DC feels like a place where I want to come back and do something more. So we'll see what happens.
M: Tell me about the concept of your upcoming show, Café Flamenco.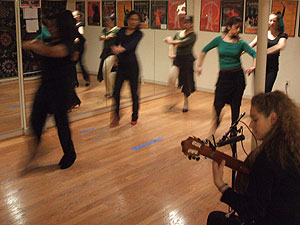 U: Every time I do something on a show, I will try to present something new. Nothing is new in this world because it's always been such that someone has tried this or that before and if they haven't done it this year, they did it maybe four years ago. It's like the bata de cola. Bata de cola is all of a sudden in fashion. Nobody used it ten years ago. That was out of style. Now everybody's using it.
So I wanted to state something like I did for the shoe last year in Dentro. You know, I was painted on a shoe. So the concept was "in the shoe." What is dentro [inside] the shoe? What is the meaning that I want to show? This time I don't want to do a show that is like a cabaret. One number after the other. Solo here. Company here. Guitar solo here. Cante solo here. How can I change it to do something else?
And of course I am extremely into the cante. That for me is more important than the dancing and the guitar. Sorry no offense. The cante is the caramel in my caramel macchiato. You have your hot chocolate, but the caramel macchiato at Starbucks, wow. [laughs] That's my favorite. If I had the coffee with lots of cream on top of it, that would be nothing. If you don't have the caramel, or the cante, in flamenco, you're really lacking a big part. So when I'm watching videos—you see all these flamenco videos on the Internet—as a dancer everyone thinks I'm just going to watch the dancing but I'm watching a lot of cante. Even when I'm watching dancers, I want to see what the dancers doing to the cante.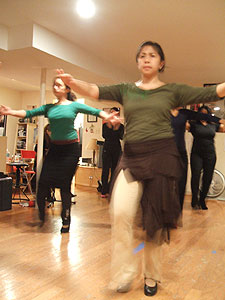 I love to watch Farruquito for example. When he's dancing, how he's totally in tune with the cante. I saw a performance with the two brothers. And the little younger brother was so eager to start, to go forward, but the older brother gestured, "No. Wait." You could see what he's communicating to his brother, "Wait. Wait. Not yet. Listen...NOW! Let's do the remate." And that's so fascinating. Completely fascinating.
And how I got into it was when I was on tour in Sweden with a singer Antonio de Córdoba. He grew up in Granada in those caves, never went to school, grew up with his grandmother, then flamenco. He could never read and write and still today as an adult still has problems spelling. Because they only spoke Caló. They spoke the gypsy language. And they hardly knew how to speak Spanish. So he's all about cante. And when I started with him, I was very nervous. Because I felt that this guy is so ahead of my level that I can't keep up with him. I don't know what to do. But then I just decided OK, I'll just relax and see what I can get out of it. And that's how it started, my feeling for the cante.
And we really connected. Me and this guy. I asked him so many questions. And he would tell me, "No you can't dance like this," or "No, you can't do that..." and I'd say, "WHY?" and he'd ask, "Don't you hear it?" And I'd say, "No." And he'd say, "Well, listen again." And it was like this on and on and on. And after awhile I'm starting to grasp that is actually that important for me to dance and to follow and to interpret and of course to be able to improvise and anticipate and that takes years and I'm still learning. And I'm never going to be an expert. It's just a lifetime thing to learn.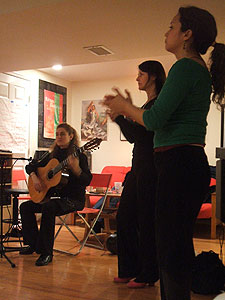 But that thing with the shoe, Dentro, what is inside of me: it's all the love for the cante. So this time I wanted to think about: how can I say I love the cante so much? Well I can think about the café cantante. But I can't produce something like that. That was like 200 hundred years ago. Let's do a more modern version of café cantante where people come and go and that's how it started. You know, make it like a café.
People are sitting on stage like you for example. You're going to be sitting on stage when you come in. You won't sit in the audience. I can't of course have the whole audience on stage. That doesn't work. I think ADI would probably fire me. [laughs] It would be a fire hazard or whatever. So we'll have a regular audience so it'll be more accessible for people to watch. But there will be people on stage and some of the artists will sometimes stay onstage even if they're not there [to perform]. And ushers and friends of the company members, they will come in and stand and watch and then they leave and they come and go. It'll feel like a live thing.
In one number, the company will come in and dance in their work clothes. Like they came straight from work or rehearsal, and say, "OK, let's dance!" So it's not going to be such that we have a new costume, perform, get out. Another new costume, perform and get out. And so I want it to be lively in between the numbers to make it feel like a café. But not only to focus on the cante but on the dance and the music.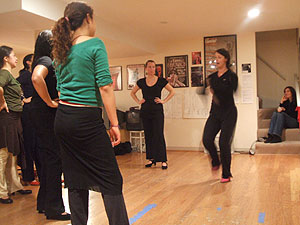 So that's the idea. And I'm thinking to myself, "Have I seen this before? Have I heard about it?" But it's like getting the tablao feeling but on stage. And next time I'll probably think of something else. How can I say something as opposed to doing just numbers? You can. There's nothing wrong with that. It's a pleasure to watch. I mean, I love the flamenco festival. They just give you one number after the other. It's great. They're here for two days and have to go on [to another city]. They can't put a café stage with all kinds of props and things. But we can since we're doing only two shows. So that's Café Flamenco.
Editor's note: Café Flamenco will take place at the theatre of the American Dance Institute in Rockville, Maryland on Saturday and Sunday March 10-11, 2007. Order your tickets early! More info is available at Ulrika Frank's website.
This is just part one of the article about Ulrika Frank, her company Mirada Flamenca and Café Flamenco. Stay tuned. In a day or two I'll publish a continuation of the interview with Ulrika, an interview with the members of Mirada Flamenca as well as with guitarist/singer Marija Temo. In the meantime, read this other interview with Ulrika from October 2004.
Special thanks to Vivienne and Nicole for transportaion to and from Ulrika's home studio.

[earlier articles][later articles][main index]