Noche de Sevillanas and Verano Flamenco coming to DC Dance Collective this Summer!
May 22, 2009 As a dance student, (and I know there are many of you out there!) it can be a lot of fun learning technique and choreography in class. But it's even more fun to put all that dance class training to practical use, right? But where? Well, dancer Flor Pérez Taboada is trying out a couple new event ideas where you might be able to do just that: "Noche de Sevillanas" and "Verano flamenco." I'll let her explain...
Miguelito: What is a "Noche de Sevillanas?" And what makes this different from the typical DC flamenco party?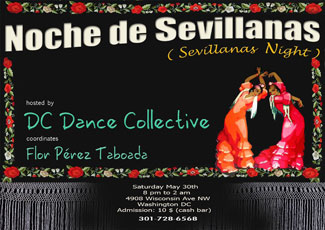 Flor Pérez Taboada: Haha, OK! I'm laughing because I'm not sure what a "typical DC flamenco party" is! Remember I'm pretty new here, and I don't go out very often—I can tell you what DC Dance Collective is going to offer: that "Noche de Sevillanas."
As the annual "Feria de Sevilla" is been canceled this year, it's nice to have somewhere we can meet people, drink, dance and get together as lovers of Spanish culture. Sevillanas is a very typical and, for me, fun and beautiful folk dance. It's not in every Spanish restaurant or bar that you have the opportunity to dance Sevillanas here in DC!
And don't forget about wearing the "trajes de gitana," and drinking "tinto de verano," and "claras con limón!" We'll have all that! There'll be the second "caseta" where musicians can play, and people also can dance rumba flamenca if they don't dance Sevillanas. The music I'm getting for the party is from the latest trend being heard in the flamenco bars in Spain, but never forgetting about Macarena, and Rosarito, and other classics, haha.
I think that people are going to have a lot of fun—that's the spirit!!
M: I notice that the Noche is being hosted at DC Dance Collective (aka DCDC). So is this event open to the general public? Can students from other dance studios attend? What if I don't know Sevillanas or rumba? Will I still enjoy the party?
F: Not only can they come, but I'm expecting everybody to come!
DCDC is making the party open to the whole Spanish and local flamenco community. It's not a private party or "student festival."
I'm inviting my neighbors 'cause I live near the Strathmore Hall, and the whole neighborhood is accustomed to enjoying a typical "Sevilla experience" every year. So, they also will come to "Noche de Sevillanas." What I mean is that everybody is very welcome!!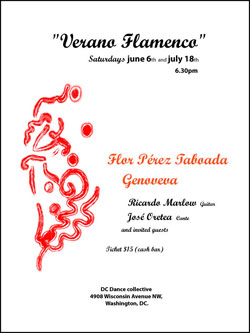 May be you don't dance Sevillanas, but everybody can dance rumba flamenca, there are no "steps," just dancing like in a club!
M: When is a good time to arrive? Will there be food? Do you recommend eating dinner before the Noche? Is this open to both children as well as adults?
F: A good time to arrive is 8:00pm! I think that families will come early with their kids. At least my dauhgter will visit us for an hour and then go home. I leave that for the parents to decide.
We started with the organization for this event only a month ago, so we decided to keep it simple not to get into the "gastronomy world." I recommend eating before, and getting ready to drink all the Spanish drinks we'll have available.
M: Have you hosted Noche de Sevillanas before when you lived in Spain, Argentina or in New York? Can you tell us any funny or interesting stories about previous Noches?
F: No, it's my first time as PR and DJ haha! DCDC is hosting, I'm coordinating the event.
What I've done in Argentina and New York was directing and producing my own "off Broadway" flamenco shows, since 2001.
Then in Madrid, I hosted "Juglar por flamenco." The concept is an "open tablao," where pre-professional or foreign bailaoras, for example, can ask for a show date and perform with great musicians in front of an appreciative audience. Now everyone who knows the Madrid flamenco scene knows about Juglar. 'Cause in Madrid, as here, there are very few opportunities to perform on a real stage with great musicians without being at an advanced level and with lots of experience. Juglar has been going strong every Sunday since 2003, and "Genoveva" was there when I started!! In fact, the first month of Juglar she performed with me!
M: If this Noche is successful, do you intend to host one regularly...such as every month?
F: Now we are starting something here called "Verano Flamenco." It's the same concept, and we'll start this summer to see how it works.
Genoveva and I, are going to invite, this time, four bailaoras. Unfortunately, only two dates available at DCDC to do the shows this summer. In September, we'll come back and the "open tablao" will really work.
The details:
Noche de Sevillanas
WHEN: Saturday May 30, 2009 from 8:00pm until 2:00am
WHERE: DC Dance Collective 4908 Wisconsin Ave NW Washington DC (nearest metros are Friendship Heights and Tenleytown on the Red Line)
ADMISSION: $10 (cash bar)
Verano Flamenco
WHEN: June 6th and [CANCELED] July 18th 2009 6:30pm
WHERE: DC Dance Collective (see above for address)
ADMISSION: $15 (cash bar)
Introducing Emily Mazzotti
May 21, 2009 It seems that the DC flamenco community is growing little by little as new artists arrive from other parts of the USA, such as dancer Kyoko who came from Miami, and other parts of the world, such as dancer Emily Mazzotti who came all the way from Lima, Perú! In the DC Flamenco tradition I try to keep up with all the new arrivals. And Emily was kind enough to let me interview her recently so that you, the DC Flamenco community, can get to know more about her artistic background. Enjoy!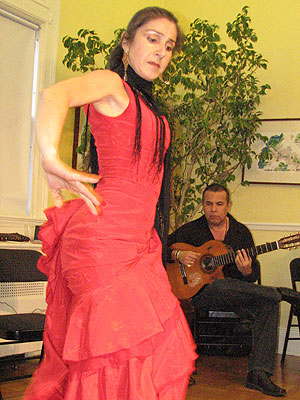 Miguelito: How did you first get involved in the DC Flamenco scene?
Emily: I arrived here [in DC] a year and a half ago in July 2007. And my first contact with the flamenco community here was at Café Citron. Sara Jerez and you were there and I was so excited to see the show and Sara overheard that I was a professional dancer so she asked for my contact info so that she could call me if she ever needed a substitute dancer some day. That's the way I started. Very casual. Very spontaneous. And that's how I started dancing here.
I'm really happy that I now know all the artists here. Each time that someone, like Edwin Aparicio or you, needs a dancer I'm really happy that I'm now a part of this really nice community.
M: When you moved here, was it your intention to work as a flamenco dancer?
E: That's a good question. I didn't really intend to be a flamenco dancer when I arrived here. Because at the time I was in transition. I totally changed my personal life. Most of the people here now know me. I'm not a teenager. I'm not 20. I'm not an old person. I'm 45 years old. I danced a lot in my country. I was a teacher of many dancers there. I built something very nice. I made a school. Then I fell in love and got married and came here. So now I need to be the housewife, the wife, to take care of my husband. It was totally a different world for me. I change my life. Left my country, my family. Left everything and started a new life. I didn't think I would be a flamenco dancer. But of course I don't want to lose the contact with this art. But here I think the public knows more than the artists on the stage. And for me it was wonderful that I can continue to do it. It's a passion inside me when I am on the stage. It is something that I discovered with this opportunity. And I know that I'm not young anymore but if I can do it and do it well and I can grow then I would like to continue. But it was not my first thought really. I originally thought my life here would be as a housewife.
M: Tell me about flamenco in Perú in particular the level compared to here, compared to Spain and how long were you involved in the flamenco scene in Lima? And tell me about the annual flamenco festival in Lima that you started.
E: There [in Lima] are a lot of dancers. More than musicians. More than guitarists and singers. In comparison with the level in Spain, it's impossible to compare. Spain is Spain. It's the root. But in Perú there are many good dancers. They are very well prepared. They travel every year to Spain. There are great musicians too. Guitarists, very very great. They work with dancers, perform in concerts and in international festivals. There are two guitarists that are traveling all the time to various countries. And there are two or three that mostly stay in Perú to support the companies. Everybody works together. And at the same time every body has independent projects. And that gave me the idea for the festival which I started in 2004.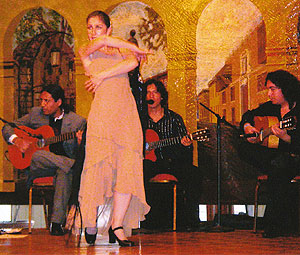 With the old schools, there was the old-fashioned mentality about flamenco where one school would consider the other the competition and therefore feel the need to not associate with the other. But this is not right, in my opinion. We can share. We are in the same country. The reason why I started the festival was to get all my fellow artists to work together, even if they have their own schools. I'm here. I'm open. I will work with you. Come to dance! I wanted to break the wall. It was my first objective to break the wall, to bring together the people, to build relationships and foster a new generation of flamenco dancers because it's like a family. If the daughter and son see the the parents fighting, they will do the same when they get older. And I wanted to promote professionalism, work with integrity and the idea that we can all be friends and that we can all work together too.
And another benefit for the people is that they can perform because you want to be your best. Each week in the festival was focused on a particular company. Everyone wanted to perform their best choreographies. The 2004 festival was so important. Because I worked so hard and these people were trusting me—I was building the trust—that I wouldn't betray them. It's not a trick. It's not that I want to do something. This process was so hard but after the first festival, everyone realized that everything was positive for everybody. They realized that my intention was good. It was for everybody because maybe some company that doesn't have that many opportunities in an important cultural center now has that opportunity. And everyone has that same opportunity with the same conditions, to advertise, to give classes, everything! So 2004 was hard but successful. Then 2005, 2006, 2007. I continue every year with the important cultural center of the Catholic university.
Of course I had some problems along the way. There was always some jealousy or envy where someone would say, "Why does she have the idea?" and I started to have some problems. So in the last festival, a lot of young dancers became independent and I started giving them a spot in my own show. And the problem was that some people didn't like that. Because the festival shouldn't always feature the same companies every year. There has to be change. So Emily has to dance every year? No. Maybe certain years, my company and I will not participate and give the chance to another school or another artist. That's the way I was thinking. But some people didn't agree with that.
But I overcame this problem and the people realized that to give a chance to the new people, they don't really lose anything because the older companies already had 20, 30, 40 years of reputation. But there's always a challenge each year and every time I tried something new, it was a shock. Then I would go through this transition and the problem would disappear.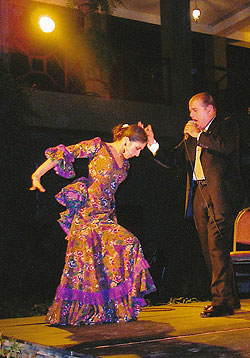 The last festival I made with different companies and gave a chance to the musicians to have one day, new dancers and a company. Also I tried including other artists related to flamenco like writers and poets.
The flamenco festival pushed. It was like a machine. It pushed everyone to start making shows. Not only with the students at the end of the semester. But everyone made shows throughout the year. Originally companies made shows just for the flamenco festival once a year. But now they were making shows all year long in different theaters. That is something good too!
So I planted the seed and everybody developed for themselves. And I feel very proud about that. But now that I am here in DC, it's so difficult to organize the festival in Perú, but I will try. But my first idea when I came here [to DC] was to build a bridge and create a cultural exchange and invite people from here to come to my country and to share our art. And that's my idea, to try connect and grow the market: globalization [Laughs].
With the level here, yeah, I've met great dancers like Sara Jerez, Edwin Aparicio, Genevieve, Anna Menéndez. They are great, great artists, professionals, very serious. And with this younger generation that I have a pleasure to work with, I feel like the mama. And with time as they develop they will have a lot more to give. They need to keep growing. It's like a fruit. Necesita madurar.
As a teacher I like to see this process. I love to see when people grow. I've seen this with this girl Sarah Hart with whom I've had the opportunity to dance. I saw her grow. And also with the others like Pam de Ocampo and with Ginette Perea. There's something different from when I saw them dance for the first time. This is good. They are growing.
As for myself, maybe I will not change my style. But I'm in a different stage of life.. It's different when you are 20 and different when you are 45 and taking a class. But I still want to learn something different. It's to my benefit. But here I have found a really great level of dance. Always I talk about dance because I'm a dancer. Like you, Ramin Rad, Richard Marlow, Behzad Habibzai. There is a lot. Hay mucho arte. There is a lot of potential here. You work so hard. Everybody works everyday. And I'm glad to have had the opportunity to be a part of, to be connected with this community.
[Editor's note: this is first installment of a two-part interview. In the meantime, you can learn more about Emily Mazzotti by visiting her website at www.emilymazzotti.org]. Emily's contact info: or (703)638-0320.
Lisner Auditorium's 9th Annual Flamenco Festival - February 2009
February 6, 2009 Most flamenco aficionados in the DC area know about the Festival already and in fact anticipate it every year, saving up for the tickets, rearranging schedules to make sure they can go, coordinating with fellow flamenco friends where to meet before and after the concerts. This is not to say that DC doesn't have flamenco events the rest of the year...we do have a lot going on all the time. But this is the one time of the year when all of us local performers, aficionados and fans come together and checkout some of the best artists from the birthplace of flamenco: España!
Here's the lineup for 2009: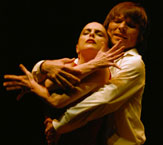 8:00pm Thursday February 12, 2009 - Noche de Sevilla: Arcángel, Dorantes, Rosario Toledo
This captivating concert of vocals, piano and dance features award-winning artists from the prestigious Bienal de Flamenco de Sevilla. Sharing the program are Arcángel, a powerful and passionate vocalist who was described as "one of the most promising flamenco artists seen in recent years;" Dorantes, an extraordinary pianist who uses flamenco as the foundation for his work; and the explosive young dancer Rosario Toledo, who has worked with Manuela Carrasco, Miguel Poveda and Joaquín Grilo, among others. More info and tickets.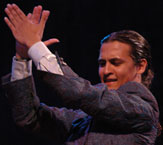 8:00pm Saturday and 8:00pm Sunday February 14-15, 2009 - Antonio Gades Company: Carmen
Based on Carlos Saura's Oscar-winning film and performed by one of Europe's premier dance troupes, Carmen is the masterpiece which catapulted choreographer Antonio Gades and his company to international fame. Carmen stars over 30 dancers and musicians, including the earthy and sensuous Stella Arauzo, who appeared in many of Gades' productions, and the formidable Adrian Galia, who has worked with the National Ballet of Spain and Enrique Morente. The score includes some of the most captivating melodies from Bizet's opera, plus music from the popular zarzuela El Gato Montes. (Sunday's performance will include Spanish cheese and ham tasting at 7:00pm) More info and tickets.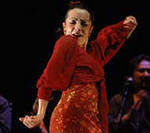 8:00pm Wednesday and 8:00pm Thursday February 25-26, 2009 - Los Farruco
Los Farruco - the first family of flamenco dance - is a famous flamenco dynasty known for its electrifying performances of Spanish Gypsy art. Conceived and directed by Farruquito, grandson of the legendary patricarch El Farruco, this program features La Farruca, daughter of El Farruco, noted for her passionate dancing; La Faraona, dubbed "the mother of bulería" by her father El Farruco; Barullo, grandson of El Farruco, who maintains the elegance of traditional flamenco dance; two guitarists; and three singers. (Wednesday's performance will include a Spanish cheese and ham tasting at 7:00pm) More info and tickets.
All the performances will take place at Lisner Auditorium which is located at the corner of 21st and H Streets NW in Washington DC a few blocks from the Foggy Bottom metro on the Orange/Blue Line. Directions.
Hmmmm...something's not quite right here. ;-) Knowledgable flamenco aficionados will have noticed something wrong with the pictures above. Truth is that they are not correctly matched with the corresponding shows. This was purely intentional. Just wanted to check if you're paying attention and it's also an excuse for a contest: if you think can correctly match the photos with the right shows, you could qualify for a drawing for two free tickets to see Los Farruco on Thursday February 26, 2009 at Lisner Auditorium!
On Friday February 13, 2009, one winner was randomly chosen: it's Ximena Sánchez! Congrats Ximena! The prize: two free tickets to see Los Farruco at Lisner Auditorium at 8:00pm Thursday February 26, 2009. [the contest is now officially over, but in case you were still wondering what the correct answers were, here they are in order: Antonio Gades: Carmen, Los Farruco and Noche de Sevilla: Arcángel, Dorantes, Rosario Toledo.]
Thanks to Edwin Aparicio for donating the free tickets! Checkout some pics from Lisner's Flamenco Festival 2008.
Fuego Flamenco IV coming to GALA in November/December 2008
November 19, 2008 From the press release:

Heat up your holidays with FUEGO FLAMENCO, a sizzling festival exploring the diversity and depth of flamenco, the passionate and time-honored Spanish art form that has captivated audiences worldwide. During this three-week festival, GALA will showcase different forms of flamenco through the works of two artistic companies featuring outstanding international, national and local artists, as well as offer a program of lecture demonstrations. FUEGO FLAMENCO is part of GALA's ArteAmericA Series presented in collaboration with the Washington Performing Arts Society. All performances and activities take place at GALA Hispanic Theatre 3333 14th Street NW Washington DC 20010 (near Columbia Heights metro on Green/Yellow Lines).
FUEGO FLAMENCO opens with Ida y vuelta presented by Fundación Conservatorio Flamenco Casa Patas of Madrid, Spain. Choreographed and performed by Guadalupe Torres with musical direction by Luís Miguel Manzano, Ida y vuelta will be performed on Thursday November 20th, Friday November 21st and Saturday November 22nd at 8:00pm, and Sunday November 23rd at 3:00pm.
The festival continues with Flamenco en Familia, a FREE day of interactive demonstrations in flamenco footwork, fans, castanets and guitar on Saturday November 29th from 11:00am to 4:00pm.
The festival ends with the world première of Dos Mundos choreographed by Edwin Aparicio and performed by Flamenco Aparicio Dance Company featuring the renowned artist from Spain, La Tati. Performances of Dos Mundos are Saturday December 6th at 8:00pm and Sunday December 7th at 3:00pm.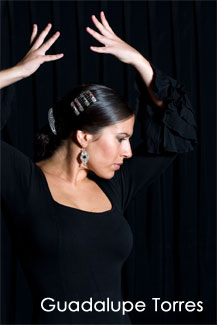 Lynne and Joseph Horning are Honorary Producers of FUEGO FLAMENCO. The festival is made possible with the generous support of the National Endowment for the Arts, DC Commission on the Arts and Humanities, Tivoli Partners Commercial, LLC, Fundación Conservatorio Flamenco Casa Patas, the Embassy of Spain in the United States, and Spain's Ministry of Culture. Edwin Aparicio is the festival resident coordinator.
Ida y vuelta will feature flamenco dancers Guadalupe Torres and José Maldonado; singers Francisco Luís Trinidad Angel (El Trini de la Isla) and José Anillo; guitarist Luís Miguel Manzano; and saxophonist and flutist Diego Villegas. Casas Patas is a world-renowned Madrid tablao, hosting some of the best and most authentic flamenco in Spain. Famous groups and new talent sometimes share the same stage to create memorable productions. The Fundación Conservatorio Flamenco Casa Patas grew out of this club and today sponsors workshops, seminars, and exhibitions promoting the art of flamenco.
Guadalupe Torres obtained a degree in Spanish Dance from the Real Conservatorio Profesional de Danza de Madrid and has studied with Rafaela Carrasco, Eva la Yerbabuena, Rafael Amargo, Bélen Maya, Farruquito, La Farruca, and Aïda Gómez, among others. She has appeared with Compañía de Nuria Pomares and Compañía Andaluza, with which she toured to New York, Boston and Washington DC. She has appeared in festivals throughout the world, and was awarded Second Prize for Choreography by Teatro Albéniz.
El Trini de la Isla was born in Cádiz, where he studied with master artist Manuel Soto El Sordera. He has worked at such renowned tablaos as El Cordobés in Barcelona and Los Gallos in Seville. He also has performed with flamenco artists such as Juan Ogalla, Rosario Toledo, Mercedes Ruíz, Andrés Peña, and La Chiqui de Jerez, among others.
Luís Miguel Manzano (Musical Director, Guitar) began studying guitar at the age of 16 with Aquilino Jiménez "El Entri" and made his professional debut at 19. A member of the Pelá family, his great grandfather was Tío Pelá, who played for Carmen Amaya; and his father was a flamenco guitarist and his mother the dancer Loli, La Pelá. He has performed with Merche Esmeralda, Domingo Ortega, María Pagés, Los Farruco and El Güito.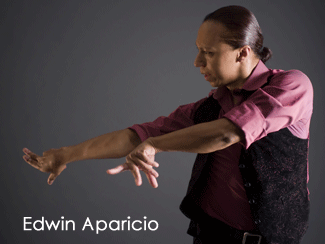 GALA's free flamenco for all ages, Flamenco en familia, will take place on Saturday, November 29th in two sessions: 11:00am-12:30pm, and 2:00pm-3:30pm. Through interactive demonstrations, audiences will have the opportunity to learn about zapateo, popular classic Spanish dances, castanets, and guitar and to participate on stage with leading local artists and teachers. Directed by Edwin Aparicio, the program features bailaora Sara Jerez as the lead dancer/teacher, and acclaimed guitarist Michael Pérez, who will also provide guitar demonstrations. Although free and open to the general public, registration is required by calling 202-234-7174.
The third and final weekend of FUEGO FLAMENCO will feature Flamenco Aparicio Dance Company with the acclaimed artist "La Tati" from Spain. The company will present a new work, Dos mundos, on Saturday December 6th at 8:00pm and Sunday December 7th at 3:00pm. Aparicio and La Tati promise to raise the roof with their fiery foot stomping and dazzling musicality.
Edwin Aparicio is an internationally acclaimed dancer and choreographer who has shared the stage with such renowned artists as Carmela Greco, Chuscales, and Silverio Heredia, among others. He studied flamenco in Spain with "La Tati" and Tomás de Madrid, and in 2001 made his flamenco debut at Casa Patas in Madrid. In Washington, DC, he studied with Ana Martínez and performed with the Washington Opera at the Kennedy Center in El Gato Montes (1997)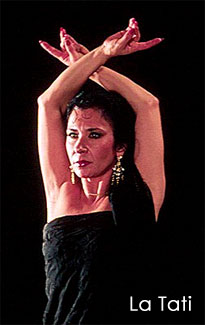 and Don Giovanni (2003). Mr Aparicio toured the United States with Reynaldo Rincón's Romería Flamenca, was the featured artist in 2002 and 2005 at the Chicago Flamenco Festival, and appeared at the 2004 and 2005 Flamenco in the Sun Annual Festival in Miami with Bélen Maya, Pastora Galván, Pedro Cortés and José Luís Rodríguez. In 2005, he also performed with Jóvenes Flamenco as a soloist and a company member at the Centro Cultural de San Bals in Madrid, Spain. Aparicio was the choreographer for GALA's première production in its new theater in 2005 of Yerma by Federico García Lorca. For the past four years, Aparicio has been the coordinator and a featured performer for FUEGO FLAMENCO.
La Tati, known by many as "Madrid's flamenco dancer," began performing professionally at the age of 12 at the famous Tablao Zambra in Madrid, where she was introduced to artists of the purest flamenco traditions. At age 15, she toured Europe with Festival Flamenco Gitano and has toured to Africa, Asia, Australia, and the United States since. In the late 1980's, La Tati founded her own company and her productions have been praised for their wealth of ideas and innovation and the beauty of her interpretation.
TICKETS: Single tickets are $30 and Student Tickets are $20. A Discount Festival Ticket is $50. The Noche de GALA for FUEGO FLAMENCO is Friday, November 21. Noche de GALA tickets are $40 per person and $75 for couples and include the performance and post-performance reception.
FOR TICKETS CALL (202) 234-7174 or 800- 494-8497 or visit www.galatheatre.org
Introducing Flor Pérez Taboada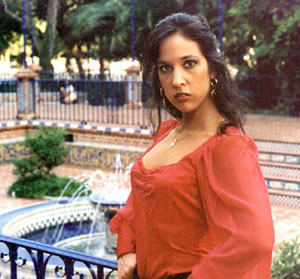 April 10, 2008 Sometime last Fall I interviewed Flor on a cold Saturday at the DC Dance Collective. She had recently arrived to the DC area. Flor contacted me via email about the DC flamenco scene and I agreed to meet up with her and offered my assistance in getting her settled into the local community. My original plan was to take some publicity shots of her class but because of the snow that day and the fact that not too many people knew about her yet, nobody showed up. But since we were both there sitting comfortably on the couches at the DC Dance Collective with nothing else to do, I pulled out my digital voice recorder and did a quick informal interview on-the-spot.
Miguelito: Where did you begin your flamenco studies?
Flor: I started in Argentina fifteen years ago and after five years I decided I wanted to go to Seville because in Argentina I had already studied with everyone and was ready to do something more professional. The first time I went to Seville it was for three months. When I returned again to Argentina we were very fortunate that Spanish teachers were starting to come all the time. For example, one month was La China, the next month was Isabel Bayón. For a couple of years, having all these Spanish teachers here made it feel like were like living in Madrid. Every now and then I would go to Seville sometimes for three months, four months or six months. When you add it all up, it was about a year. The Seville style is what I like the most. Of course, I went to Jerez and learned about bulería de Jerez.
In Madrid I didn't like the classes as much because I think it's a very different style. I studied with Joselito Maya Romero. Every time he was teaching I was with him. But I didn't try a lot of teachers in Madrid.
M: Whom did you study with in Sevilla?
F: It's a long list!
M: Give me a short list.
F: Manuela Ríos, Torombo, Concha Vargas, Manolo Marín, Toná and Juana Maya. Most of all it was Manuela Ríos. I was doing private classes with her because she was unknown at the time. It was like ten years ago. So it was the first time someone was asking her to teach. And she was like, "Oh I don't know. I'm not a maestra." So I said, "OK, but I like your style very much." And now she's teaching a lot. At that moment, she wasn't so expensive to take private classes. That was great because I was by myself and she was giving me all the tips to get the Seville style. But I also love Torombo, his philosophy, the way he talks in the class helped me a lot to understand a lot of things.
M: What brought you to Washington DC?
F: My husband was transferred. He worked in a hotel that's nothing to do with flamenco. And he was working in Madrid and that hotel closed. So we had to move. That brought me here.
When I lived in New York, I was by myself. I was single. I had a best friend from Argentina and she had an apartment in New York. I just had appendix surgery and had to rest for one or two months. So she said come and you will live at my house. And when I was there I wanted to rest from flamenco but one day I visited a flamenco tapas bar. I was curious about the flamenco in New York. So I went. And that day everybody was telling me, "Why don't you dance because if you dance there you will be something new. It's always the same people. You will find work in all the tablaos here.î And somebody from Argentina gave me all the names and telephone numbers. Five days before I was going back to Argentina and I called this one tablao and they said I could come and they'd give me a month contract at Mesón Flamenco--it was the main place at that time. Now it's closed. It was a very nice offer and my best friend offered to let me stay in her house again. So I came back and I was working there and all in all it was two years. I started school. I was working. I was doing my own small company. It's a different situation then now.
M: Tell me about your teaching style, you teaching philosophy, how you do your classes.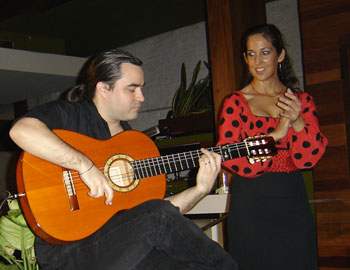 F: That's something that I'm trying to change now. I was always teaching beginners before. And I was working a lot with the technique of María Magdalena and now I want to do something more, not technique or choreography. I want to work with people that are more intermediate or advanced, ones that already know more or less how to dance. But they want to know something more about how to find their own style, how to create their own choreography, how to improvise. Things like knowing the traditional structure of alegría for example while not being such a slave to the teacher's choreography. If you don't finish the choreography in the class you can still work with it. They should be able to take their favorite steps from various teachers and put them all together. Things that will help to find your own style and inspire you to create your own choreographies.
Also I was studying theatre and musical theatre. And it helped me a lot to learn how to be onstage in a different way than what you learn just by going to flamenco class. How to get up from the chair, how to project your energy. Being onstage is another part of what I want to work on in class. How to walk onstage. How to feel the space. I also will work with the choreographies because you need the material to explain the different ideas. But I will go into how people dance with weight, with peso. What can you do to get that sensation? Being more flamenco or more modern or andaluz. Small things that you don't usually see in a class. There are things that I have learned with my experience but nobody told me. And now I can pass on this knowledge. But I don't want to do a very technical class like a lot of footwork. But I know this is all very abstract so I'm afraid that people won't understand. So I want people to try it. Come and try one class so they see how it is.
When I started, the teacher had no levels. So I was doing my first classes and it was for soleá and the students with me were dancing for six years and it was my first month. But it was a good thing because I didn't have in my mind, "OK if I'm a beginner I have to do Sevillanas and then the following year I will do tangos." It's not really necessary to go about it that way because for me it was simply like, "What is a soleá?" And I was learning every movement alongside the more advanced dancers. It was more natural. It was like a Montesorri. Now my baby is going to Montesorri and they put all the students of all ages together. The younger ones follow and interact with the older ones. So that's how it was for me. But I think that when you are a beginner, you still need to focus on how to do planta, tacón, golpe and how to move your hands, just basics of technique.
M: Do you think there is a way to teach about cante in the beginning stages or is it better to wait until later on?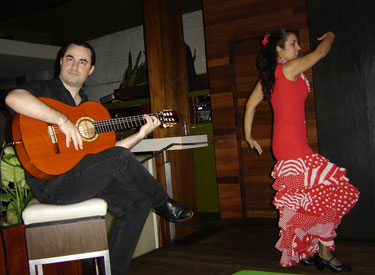 F: I think you have to explain to the students that there is more than one way to do a choreography. You have to explain when you need a llamada, when you need the cante, when you need the cierre, escobilla. However, nowadays it's not so strict. You can change things. You can mix different palos. Still you have go back to the traditional structure for beginners because for them it will be crazy if they think they can change anything.

In my description for the class I start by asking, "How can one do a tablao show with no rehearsal?" You have to very clear in the structure of your dance so that the musicians can follow you. You cannot have some arrangements like, "When I do this, you stop and when I do this, you sing." You have to be very clear in your dancing. The other thing is that you have to learn how to mandar on the stage. If the musicians feel that you are confident and that you are secure they're going to follow.

At the beginning when I started dancing I was afraid to lead because I was like, "I'm nobody. They know a lot and they've been musicians longer than I've been a dancer." So I was not very secure. So at the end I discovered that it's easier for everybody if you are more clear, even assertive. They need that. It's easier for everybody. In that moment, that's what we call mandar en el escenario. In flamenco it's to be very clean and to be very clear for example when you want to communicate, "Now I want to speed up." Of course, you do it in compás little by little and they will understand if they're good musicians because if not then it will be a mess. But if everybody knows what they have to do, the singer knows where to come in and if he doesn't know, you can turn and say, "Sing!" but ideally you have to know how to communicate through your dancing without having to say it verbally. There are things you learn when you perform and when you work with different musicians. So it's not so bad when that happens. It's a learning experience.

M: What do you want to do artistically here in DC? Do you want to eventually start a company?

F: I don't want to start a company. I'm in a situation where I'm not very sure what I want to do. Lately I have an interest in the production side of putting on shows as well as artistic direction because I love to design the dresses, lights and the program and the carteles. I love all that, sometimes more than when I have to dance. [Laughs.] I love to dance but I also love the whole theatre thing. But I will leave in two years. So I don't know if I have the time to build-up a company. So maybe I can do things little by little here with people that are already established, help them or they can help me and we can do some things together. But I'm not going to stay here very long.

[Editor's note: for more info about classes and performances, visit Flor's website.]



[earlier articles][later articles][main index]