Going backstage at Lisner's flamenco festival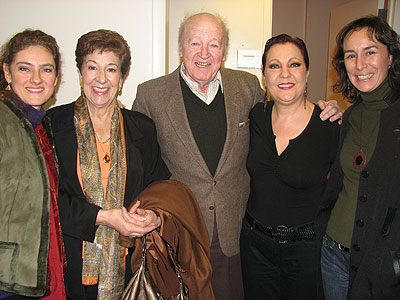 Marija Temo, Nati Leiva, Manolo Leiva, Carmen Linares and tour manager Lola in the green room at Lisner. February 9, 2008 10:11pm
It's 7:45am on Tuesday as I type these words. Yeah, believe it or not, I'm really up at this hour mostly because I came home before midnight last night for a change. Cafe Citron was a blast (stay tuned for a blog later) but my usual stop at Ozio afterwards didn't happen cuz they were closed for the President's Day holiday. Ugh.
Since I'm up I might as well publish some backstage pics from the flamenco festival. For those of you who weren't aware, Lisner Auditorium hosted their 8th annual flamenco festival last week. This was the schedule:
Saturday February 9, 2008 Cuatro Esquinas featuring Carmen Linares, Miguel Poveda, Juan Carlos Romero and Pastora Galván.
Sunday February 10, 2008 Tomatito Quintet featuring Tomatito, El Cristi, Lucky Losada, La Tana and José Maya
Tuesday February 12, 2008 Gala Flamenca: Mujeres featuring Merche Esmeralda, Belén Maya, Rocío Molina and Diana Navarro
Thursday and Friday February 14-15, 2008 Ballet Flamenco Eva Yerbabuena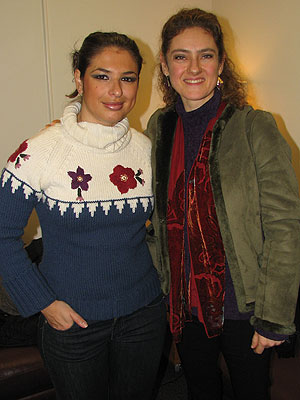 Pastora Galván and Marija Temo. February 9, 2008
I've been helping with promotion of Lisner's Flamenco Festival from its beginnings. (I can even remember helping out with promotion of Paco Peña's Flamenco Fire at Lisner in 1991 way before the flamenco festival existed!) So in exchange for all my hard work (website announcements and pounding the pavement dropping off festival flyers where flamencos hangout etc), I get a few comp tickets. Unfortunately, one of the drawbacks of being one of DC's busiest flamenco performers is that I'm usually working on the nights when the flamenco festival concerts take place.
The opening night of the festival, my singer friend Hector Márquez and I left Tapeo right after my gig and made it backstage at Lisner right as they were doing the fin de fiesta encore. We couldn't see the stage, but we could hear the music, dancing and the enthusiastic applause and jaleos. So Hector and I were the first ones to congratulate the performers as they made their way to the dressing room. Being performers ourselves (of course not in the same league as the likes of Carmen Linares, Miguel Poveda etc) we knew to stay out of their way. All I did was drop a simple "Felicitaciones!" as they whizzed by. There would be time for pictures and chatting later.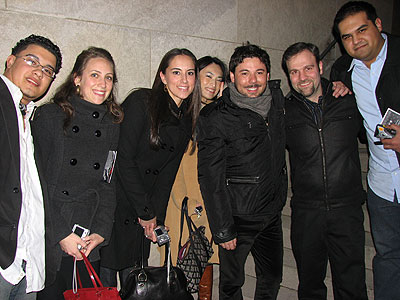 Hector Márquez, Emily, Cecilia Terrasa, Midori, Miguel Poveda, Kike and Behzad Habibzai on the steps just outside the stage door at Lisner. February 9, 2008 11:19pm
So you must be wondering, "What do you say to the artists when you meet them backstage?" I used to dwell on that thought long ago, but since I've been doing this a lot over the years (going backstage), it's no big deal anymore. A simple congratulations will do. Think about it. The artists are usually exhausted from the performance but they also realize that these backstage meetings are important too. Celebrities (like Jaleo's José Andres), Spanish dignitaries (like the ambassador of Spain) and other VIP's usually come backstage and schmooze and besides, they do represent organizations that sponsor the festival!
Other people such as myself and other local flamencos come backstage to shake the hands and thank these amazing artists who have been an inspiration to us. So just relax, say what you want to say and don't overstay your welcome. Of course, in my case, I do have the self-appointed duty of documenting these backstage visits with pics. Besides the bragging rights of being able to say "I met so-and-so backstage," I believe it's important that these artists are made aware of the fact that we do have an appreciative and knowledgable flamenco community here in DC.
And yeah, I know that the taking of pics of the artists can be an imposition. I probably know that more than anyone else since I take more pics of flamenco performers than anyone in the DC area! But I gotta do it. Sometimes I ask first. Sometimes I just do it cuz if I ask, they'll say something like, "Well, let me check if it's OK with the tour manager," and then as I wait, the photographic moment is lost. In any case, I don't just randomly point my camera and press the shutter button every two seconds. No way. Anywayz, you get my gist of backstage etiquette.
Carlos Grilo and Behzad Habibzai. February 9, 2008 11:37pm
So this past Friday, my gig at Cabanas was cancelled for a private party and as a result I was freed up to attend the concert by Ballet Flamenco Eva Yerbabuena, yay! I called up my dancer friend Cindy, invited her to join me, met up at Lisner, picked up our free tickets (thank you Carl!), grabbed our seats and, just as we expected, enjoyed a very inspiring performance by Eva Yerbabuena and company.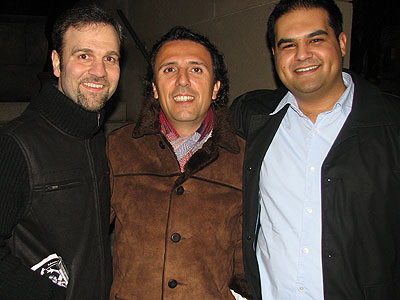 Kike, Juan Carlos Romero and Behzad Habibzai. February 9, 2008 11:51pm
Ninety minutes later (there was no intermission) the house lights came back on and the crowd (a full house) exited to the lobby. Cool thing about the flamenco festival is that it brings out the whole DC flamenco community. There were many many faces (and you know that I know a LOT of people) that I hadn't seen in a while. The problem though is that I can't catch-up with everyone. While I'm chatting with one old friend, I see a whole bunch of others out of the corner of my eye. Five minutes later I look again and they're gone or deep into a conversation with another friend. Ugh. Half-an-hour later after catching up with a few local flamencos, Cindy and I head backstage.
Of course by this time, they have the security guard standing at the backstage door. Strangely, there were no other people waiting--I figured they were already backstage. So I tell the guard, "Good evening, we're here to meet the artists."
"Sorry, can't do that without authorization."
"It's cool. I'm a member of the press. Check with Carl or Rosanna. They know me."
"Sorry sir, I can't communicate with them right now. You'll have to wait for the artists to come out."
"OK, we'll wait," and sure enough someone (not one of the artists) came out and I shouted, "We're here to meet the artists."
"What is your name?"
"Miguelito."
Five minutes later, someone comes out and motions for me to come in. We go backstage and pause for a moment before entering the green room (it's where the artists hang out backstage) to compose ourselves. I assumed that a bunch of the local flamencos were in there already schmoozing with the artists and that I'd just go around the room and casually ask to take pics etc.
I entered and the room fell silent. I looked around and it was just the artists including Eva Yerbabuena herself! All eyes were on me and I had to think of something to say and sure enough I did. I impressed myself with my Spanish speaking ability and said something like:
"My name is Miguel Perez and I represent the flamenco community here in Washington. Just wanted to say on behalf of the community 'Congratulations.' The concert this evening was very inspiring. Forgive me for not knowing all your names. From where we were seated I could not clearly see all of your faces."
Actually I could see their faces, but I wanted them to introduce themselves. Guitarist Paco Jarana came forward shook my hand and introduced me to everyone including Eva herself. I simply said "Felicitaciones" to each of the artists and quietly left the room. It did cross my mind to pull out my camera but I didn't.
So Cindy and I stood just outside the green room for a few minutes--she confesses she is a bit anti-social (read: shy). I could see Eva sitting comfortably on the couch probably glad to finally sit down and relax after the evening's performance. She got up and walked in our direction. I assumed she was going to the stage area to talk to the staff or something.
Eva stopped in front of us and extended her hand to Cindy and thanked her for coming backstage. Wow! I was floored. The star of the show came to us! I explained to Eva that Cindy is a local flamenco dance student. The conversation continued briefly but I was still in awe of the fact that Eva came to us. Hmmmm...while I am a member of the press, and a representative of the local flamenco community, I can't deny the fact that I am, just as many of us are, still just a groupie! :-)
Haven't found a review of the Eva's DC performance, but here's one from the Boston show and another from the New York show.
As for tonight (Tuesday) I'll be performing at Las Tapas (703-836-4000) with Sarah Hart and Claudia. See you there!
« Flamenco at Tapeo and Jason & Richard's birthday at Bambule | Main | Flamenco gig in New Jersey »