Announcing the United States Tour of "Entresueño"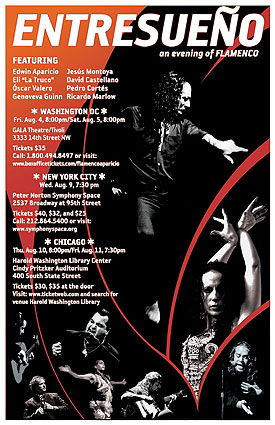 July 10, 2006 Unless you've been living under a rock, you already know that local dancer Edwin Aparicio has been keeping himself pretty busy producing flamenco concerts in the DC area and around the United States the past few years and making quite a name for himself. We here in DC are very proud of all his accomplishments thus far.
As the flamenco info guru for the DC area, I'm always looking for flamenco events and pieces of interesting news to announce. As a personal friend and a local flamenco, of course I want to promote all of Edwin's shows (as well as those of our other local flamenco colleauges), but if you know anything about promotion and business, you gotta do more than that. You gotta find something special about each event that answers the question, "OK, so what's so special about this one?"
I'll let Edwin answer that question himself in this press release:
Edwin Aparicio's new flamenco production Entresueño explores the frontier of consciousness where memories blur and mix with imagination, where reality gives way to dream. Entresueño is the transition from awareness to sleep - the period when imagery is exaggeratedly vivid and the boundaries of time and space disappear.
Mr. Aparicio, America's most celebrated male soloist, whose performances have been described as having "hellfire footwork" and "evocative imagery," presents an exciting production that features world renowned flamenco celebrity Eliezer "La Truco" directly from Madrid. Joining Mr. Aparicio and "La Truco" are flamenco dance prodigies Óscar Valero and La Genoveva; guitar virtuosos Pedro Cortés and Ricardo Marlow, along with singers David Castellano and Jesús Montoya (El Genio Gitano), both highly regarded for their authenticity and passion.
The show is divided into two parts: La Penumbra, and La Aurora. La Penumbra represents the entresueño before entering sleep, while La Aurora explores the entresueño before awakening. Ironically, it will be the intermission that symbolizes the period of sleep.
This vision provides the perfect context for the expressiveness of flamenco, since the experience of hearing, seeing and performing this art form could be seen as parallel to the intensity of the experience of entresueño. The performers of flamenco are often described in terms of duende, or being possessed, and over time flamenco has developed an association with a trance-like state of being.
"I selected the artists for this production based on certain criteria," says artistic director Edwin Aparicio. "It is of utmost importance that the technical skills of each artist be superb. For the dancers, my choreographies are very challenging and require great command of the body. For the musicians and singers, superior technique allows us to focus more on the lyricism and musicality of the pieces. While all of the pieces are choreographed, there is room in all of them for improvisation - otherwise it would not be flamenco - which requires the highest level of professionalism."
"The artists' knowledge of flamenco repertoire and familiarity with the culture are very important. The subject matter of this production is quite complex, and in our collaborations we are searching for the perfect elements in the melody, rhythm, and lyrics to express the concept. It is no surprise all the artists in this work are either from Spain or have spent an extensive amount of time there, immersed in the flamenco culture."
Aparicio continues, "A very important requirement for the dancers in all of my works is their interpretive ability. They have to be able to emote so that even from the last row of the theater there would be no doubt about the sincerity of the presentation. I have worked with the artists in this production on numerous occasions. The rapport and trust we have developed are of primary importance as we work together on stage, especially in flamenco, where communication is paramount. I am very proud to have brought together in this new work some of the finest flamenco professionals performing today. Their achievements as individual artists assure the collaborative success of Entresueño."
The world premiere will be here in Washington DC on August 4-5, 2006 at the GALA Theatre/Tivoli. Call 1-800-494-8497 or visit www.boxofficetickets.com/flamencoaparicio. For info about the performances of Entresueño in New York and Chicago, click here.
---
Happy Tenth Birthday DC Flamenco!
January 10, 2006 I know it's hard to believe, but this website has been around for that long! It was one of the first flamenco websites on the Internet when it was first launched January 10, 1996 when a search for flamenco on Webcrawler (the big search engine of the time) resulted in one page of search results! It has become the model which inspired other flamenco community websites--and to this day, there is no other website which covers a local flamenco scene with more depth and currency. Because of my website, noone has an excuse for not knowing what's going on in the DC flamenco scene. Anyway, I already know the positive impact my website has made over the past ten years, but let's hear it from the community itself. Here's what some of my supporters have to say:
In the last ten years, Michael has brought an awareness of Flamenco and all its forms to the people in the Washington, DC area. His objectivity in representing and visiting not only the area's flamenco events but presenting to the public the teachers, their classes, workshops and the like was a job that he took on with great fervor. I for one received many telephone calls and e-mails from people wishing to take classes and workshops who had found my name on the DC Flamenco website. His hot link to my website was also a great help to me. Michael's website represents his love and passion for the art of flamenco and the many area people associated with it. While Michael is himself a working, knowledgeable musician and flamenco guitarist, he found the time and energy to give of himself in creating and maintaining the best flamenco website on the east coast. I look forward to at least another ten years of fruitful work from this charming and modest man we know and respect.
Ziva (Potomac, Maryland)
Dear Miguelito,
I remember when you began DC Flamenco. We were both learning and performing together. You had an idea and you pursued it with great vigor and passion! Through your tireless work You have done something quite remarkable. You have opened up an art form and cultural world that is notorious for being shrouded in mystery. You have made this word accessible to anyone, without pretense. Your site has lifted the veil and we are all thankful for the forum you have created. DC Flamenco keeps the art of Flamenco alive and relevant. The Flamenco gods are smiling down on you.
Melissa Gilbert- Ichiuji (Virginia)
Your fun-filled site has enriched my flamenco experience from my beginning in this mysterious art. When, after my first few dance lessons, I asked fellow flamenco buff Marlene English where to find info about local flamenco events, she seemed surprised that I even to ask. Thus informed, I visited your site to find times of local shows. Even after I've practically memorized your schedule, when things get too boring at work I find myself perusing your blog to vicariously live the life of a full-time flamenco. Since I can never get out to shows as often as I'd like, I relish photos of local performers and am always happy to see a familiar face. The photo diary offers a veritable biography of a few locals, and it is a treat to watch some dancers' progress before I ever knew them. Indeed, it is almost like a family album for DC flamencos. Your site also serves as a daily reminder that flamenco happens every day here in DC. Without your photos, flamenco would feel like something that only really happened in Spain, or other far off locales. But seeing photos of local people singing, dancing, and playing the guitar every day reminds me that even if fame and fortune elude nearly all of us, even DC bumpkins such as myself can absorb and master the earthy yet ethereal rhythms of flamenco.
Lillie (Washington, DC)
Hi, dude! Congrads on number ten! I'm a student of flamenco guitar in Toronto, and I frequent your site to glimpse an example of a healthy thriving flamenco community, for which I suppose you can take much credit! I am acquainted with Richard Marlow, Behzad, and Ramin Rad, and I can only imagine the vibrance that you guys and many others bring to what would be my kinda of flamenco utopia!
Best wishes and many true ole's,
-Conrad Adams from Toronto
Dear Miguelito,
I have recently moved to DC, and I can't tell you how happy and surprised I was to find out that the flamenco vibe is so strong in this town that there is actually a website listing events and teachers. Of course, that is a testament not just to the flamenco community but mostly to you for making it. I really do appreciate the time you put in to gather all the information that I would have to seach out myself, and which I'm sure contributes to making flamenco aficionados in this city a real community. Please keep up the good work!
Anonymous (Washington, DC)
Dear Miguelito,
I am so happy to thank you for your 10 years of dedication to spreading the word about flamenco with DCFlamenco. Even though we are here in Philly, the majority of our students, many who have become dear friends, wouldn't even know about us if they hadn't found us through your site. If it wasn't for you we wouldn't have had the great pleasure of working with DC flamenco artist Edwin Aparicio or of meeting wonderful flamenco people such as Anna Menendez, Richard Marlow or YOU! Through your "news and updates" we have found out about flamenco events and had our events publicized. Through your photo blogs over the years we have been seen by flamenco people all over the world, and seen pictures of other artists that we may never have known about. As I have said before-in one of your articles!-flamenco is a personal expression, but it is a GROUP experience, and your site has been absolutely essential in bringing flamencos from all over the East coast together so we can help each other, learn from each other and enjoy and celebrate our Arte. !OLE MIGUELITO!
Un abrazo muy fuerte, Anna y Tito Rubio (Philadelphia)
Congratulations Miguelito on the 10th year of DC Flamenco!
Since I'm "old" I get to tell a story about the old days.
When I was living in New Orleans, in the early 90's, and had not yet had any contact with the internet, a friend of mine told me they found a website (I don't think they even used that term yet) about Flamenco in Washington, DC. I was originally from this area, and knew the flamenco scene here pretty well, and I couldn't even imagine what they were referring to. Real flamencos don't know anything about computers or the internet; they stay up late at night, drink lots of sherry, and get their info by word of mouth. Internet – how silly! (thought I)
Was I wrong or what?
Over the years I've watched this site turn into something really useful to all of us, and entertaining as well. Upcoming shows and dance class schedules are publicized for free! I don't know how many students have told me they found out about my classes on Mike's website. And then when I've really needed a special helping hand, DCFlamenco has offered the opportunity to advertise for a fee, to promote via personal interviews, and to drum up interest via "quizzes".
And best of all - I think my students and company dancers love to see their photos on-line. Many of them are from other countries, and it's cool that their families in Spain, the Philippines, or Brazil can view their photos on the web.
Nowadays – when I want to find out how to get tickets, and what shows will be coming to the Flamenco Festival – I go to DCFlamenco.com. No need to deal with the Washington Post!
Thanks again Miguelito for helping to bring flamenco into the 21st century.
Natalia Monteleon (Laurel, Maryland)
Dear Miguelito
Your website is awesome! I am a dancer with the Ensemble Espanol Spanish Dance Theater in Chicago and love Flamenco and Spanish dance and have been to Spain several times to study at Amor de Dios.
Even though I live in Chicago I check your website often to keep up-to-date on what's happening in the Flamenco community in DC and beyond. I also know many other dancers in Chicago who refer to your website often!
I hope to make it out to DC sometime soon and check out a few of the tablaos. It seems like a thriving flamenco community.
Jose Torres (Chicago, Illinois)
Dear Miguelito,

Where do I start? Well, actually, I started about a year and a half ago. I had been back from Sevilla for 3 years and wanted desperately to hear and see some flamenco in the area, besides the annual festivals in Feb. And there was your website, coming through in my time of need! I was amazed to see how big the DC flamenco community was--which was evidenced by your photo blogs and events calendar. I remember taking my friends to one of the Mon shows at Citron (which I heard about on the site). I recognized you immediately from the site and thought, Oh my God, it's "THE" MIGUELITO! This guy is FAMOUS! After that, I was hooked. I used your site to find a teacher, links, events, and pretty soon I found myself being caught on camera and featured on there. I feel so famous whenever I show my friends and co-workers. ;) Gracias, Miguelito, for your friendship, sincereity, help, tremendous guitar-playing talent, and your website. Without your site, I probably would have never known the DC flamenco community. Perhaps I would never have started dancing, since I wouldn't have known that was here, either. Your website has done so much for me and I really appreciate your hard work on it. Can't wait to read more blogs and see more pics!
Tu amiga,
Lola Jenifer :) (Washington, DC)
From the very beginning of my flamenco journey, dcflamenco.com has been crucial in providing me information about flamenco happenings in the Washington DC area. It was where I went to find my first flamenco teacher, to find out about workshops, and to find out about shows that are coming into town. Now that I am teaching, most of the students that come to my class find me at dcflamenco.com just as I have years ago. As a student, teacher, and performer, I would like to say THANK YOU for your dedication and passion for keeping this website going. Congratulations on it's 10th year anniversary and may it have more years to come!!!
Maria Roncal (Washington, DC)
Mike, as you know your website, which has become the official website of the DC flamenco community,basically saved my soul while I was stuck in upstate New York for four years. Being able to keep tabs on what was happening here with Flamenco was a needed reprieve from tough classes and what at times was a very isolating kind of place. As I've said to you so many times before, in person and here on the site congratulations on 10 years of hard work and dedication...and for the next ten, keep up the outstanding work.
Anonymous (Washington, DC)
Dear Miguelito,
I have now been teaching in the DC area for a little bit more than a year. During that time, I have been teaching at JOM, DCDC and at my home studio. I have been greeted very nicely by a lot of dancers, students, musicians, andaficionados, something I highly appreciate. I would like to especially thank you, Michael, who introduced me to the DC flamenco community on your site with an article about me and my career. You came to the JOM studio to take pictures and were kind enough to also play at my class. Since I haven´t been in this area so long, I cannot completely grasp how much your site has meant for DC, but I do know this: a web site like yours is a huge project to run, especially to always keep it updated like you do. You are doing a master job, and I, and many with me, thank you for devoting your time to once and for all keep Washington DC on the world´s flamenco map! I wish you all the best and a continuing success with dcflamenco.com
Sincerely,
Ulrika Frank.
Dear Miguelito,
I wanted to congratulate you on continuing to keep the flamenco community updated and connected. I can't speak for anyone else but I log on the web site frequently to check addresses, phone numbers, email addresses, class schedules and links to other web sites. It's very informative and keeps me updated. You always have the information I need. I appreciate all your time and effort and wish you many more years of continued success.
Cecilia Terrasa (Washington, DC)
Dear Miguelito,
As you know, you have had a direct impact on the flamenco scene in Philly. Ever since I went searching on the web two years ago for a flamenco teacher, and found your website, I've been hooked on flamenco. It's changed my life, for sure. And beyond that you inspired me to launch the PhillyFlamenco.com website, which, though modest it may be, has become a useful tool for flamencos in my area. I don't know if it is a coincidence or not, but since the launching of the Miguelito inspired PhillyFlamenco.com site, flamenco has really flourished up here. Furthermore, I continue to enjoy the commentaries and photos on your website! Thanks a million Miguelito and Feliz Cumpleanos!!!
Anonymous (Philadelphia, Pennsylvania)
Dear Miguelito,
Thank you very much for making the dc flamenco scene available to us, the flamenco people from other states and all over the world. I also wanted to tell you that even though I left DC 7 years ago, the DC "aire flamenco" is still strong in my heart and my home thanks to you. Not enough words to thank you! Congratulations in your 10th Anniversary, you are doing a great job and I really appreciate it! VIVA FLAMENCO!
Alma Terremoto (New Jersey)
Dear Miguelito,
CONGRATULATIONS on this amazing event! Have you really been doing your website for a decade? Wow. That's very impressive, especially considering the tremendous service you've done, all these years, for so many flamenco aficionados both in, and far away from, the DC region. Many thanks for all your fine work, and best wishes for the NEXT 10 years!!!
Cheers,
Nancy H (Philadelphia, Pennsylvania)
Dear Miguelito,
I was inspired by your article, Just get up and do it written in 2001. I had been taking flamenco dance lessons for less than 1/2 a year when I first read this article. I remember looking forward to the day, when I too might have the knowledge and ability to participate in the Sevillanas dance. I thought that day would never arrive. Little did I know, that years later, I'd be dancing at parties and occassional local venues. Your website, allows dancers/performers some history to the local scene of flamenco, and also provides a reference point of how far they can possibly grow within their own framework.
Your flamenco events page helps me determine nightly outings on a regular basis. I love the photo diary/blog too, because I can keep up to date on performances that I may not have been able to attend.
Access to the teacher information has allowed me the opportunity to study with several professionals in the area as well as attend workshops by Tati, Carmela, Truco, Vargas, etc.
Thanks for all of your hardwork. We are lucky to have your website to help provide a central page for flamenco information to support our community. Keep up the good work.
Many Thanks!
Anonymous (Washington, DC)
Dear Miguelito,
I first learned of your website when I met you at Las Tapas in 2001. I was visiting my family which had moved to Virginia. I was moving there too, but a year later (summer of 2002). Anyways, the night I met you in 2001, you gave me your website address (when it was on geocities), that night when I got home after following you and the other performers to Gua-rapo, I checked out the website and was up until just about the sun was coming up. I found myself fortunate to have had my family move here and to know I was moving for good the next year. When I went back to Portland, Maine (my hometown), I habitually would visit your website. Atleast two or three times a day. I could not wait until you would update the site and put something new on there. Everyone on your site became kind of like celebrities to me, I had not met them but knew so much about them and what they were doing. Though leaving a "paradise" such as Maine was painful for me, knowing that flamenco was waiting for me in D.C. made me really happy. I took two years off from school. I went to atleast two tablao shows a week, though usually three for four times. I considered this my education. Going to the shows and really studying what was going on on stage, and then hanging out with the artists (who quickly became close friends) and picking their brains with all the information they were willing to give me. This is the best (and the first) of any website I have ever seen. You must be proud to have a website that has affected so many people, and I consider you and this website a huge part of the life force of flamenco in D.C. How else would I know who's who and where is what? I'm proud to say that I STILL visit the website atleast twice a day. This website and you played (and still plays) an integral part in what I do. Thank you, and keep it up!!!
~Behzad (Sterling, Virginia)
Dear Miguelito,
Happy 10th Anniversary! I am a flamenca of 8 years, and also a daily reader of your flamenco blog. I thoroughly enjoy your wit, stellar photographs, but most of all, your knowledge of Flamenco. I get a lot of inspiration through the photographs of the dancers you work with, and also your philosophy of the Flamenco lifestyle. For me, it's not just a dance form - it's part of my essence,of who I am. I also feel that you and your friends adapt that mindset as well.
I am sure it takes a great deal of time and effort to put together such an indepth website.I have turned on fellow dancers to your site, and I hope you realize the impact you make on other aficionados' lives.
Continued success in your career as a North American artist and upholder of this style of guitar, dance and life.
Gracias y Ole!
Anonymous (Canada)
Dear Miguelito,
Congratulations on the 10th anniversary of dcflamenco.com. What has the site meant to me?
For me, dcflamenco.com is the one-stop shop for what's happening in flamenco in the DC metropolitan area. It's all there. In addition to the regular and special events listings, and your never boring photo diary/blog, I found my first flamenco guitar teacher there, and met people like you who are now good friends. I can't imagine what life would be like without dcflamenco.com!
The only thing I would change is to add a reading list to the site. I know you have sprinkled "book reports" throughout your diary/blog, but it would be nice to be able to go to one place and see them all at a glance. If you've already done this, then please forgive, but I couldn't find it, and maybe a strategically-placed link would do the trick...
Anonymous (Gaithersburg, Maryland)
From time to time, the flamencos where I live would refer to Michael Perez's DC flamenco website. We have a flamenco community of our own, but not as tight-knit. We would look at the DCflamenco website for inspiration of unity and progress. The pictures show happy people, unity, and excitement. The website provides lots of information for flamenco aficionados. My friends whom visited Washington D.C. always mentioned great things about the community, especially of Michael who takes the time to give mini tours!
As for myself, I finally made it up to DC to experience the flamenco scene.
First by catching the tail end of the Las Tapas flamenco show. This is where I met Michael. He invited me to another flamenco outing where I would have the opportunity to meet other flamencos within the community. This outing was not published on his site therefore, it was not initially planned in my itinerary, but I was more than happy to make adjustments in my schedule. For flamenco, anything.
On the evening of the outing I was feeling homesick. I was on the phone with a close friend who is also flamenco. He and I were reminiscing about past events and experiences. My spirits were low and I was deciding if I should attend the outing. I decided to go and see where the night would lead.
As I walked into the Sala Rociera, I saw people dancing sevillanas. Some of the flamencos greeted me at the door. Just to see many flamencos in one room dancing and enjoying each other's company was inspiring in itself. I did not sense division between people especially since one knows there are different circles within the flamenco community. This was impressive to me.
After this experience, I called my friends back home and told them that DC flamenco lives up to what it promotes because of its accuracy. DC truly has a united flamenco community. Although there are differences of opinion and a hierarchy between artists, I believe that ultimately we should unite because of the common art flamenco. It's not about me, you, or the other person, it is about EL Arte. Punto. Thank you DC flamenco community for the warm welcome and inspiration!
Marsha Bonet (Alexandria, Virginia)
Dear Miguelito,
My words are too weak and could never express the appreciation that I feel in my heart, but I will try. I guess the words I can use are, outlet, communication, community, resourse, informative, evolving, and definitely user friendly. This site is truly a hub for the flamenco community and it is a space where you can not only learn about the flamenco community, but you can also learn how you as an individual can contribute to the evolution of the community. And it is so wonderful to read about and see so many talentend people expressing themselves through Flamenco, I mean all the beautiful smiles on their faces. This website is surely a resource that we should take advantage of by all means, a place to connect and share and help each other grow as artist. And how can I thank you enough Miguelito for letting run my mouth on the message board always putting my two cents in, I just gotta have the last word :). Happy tenth to Miguelito and dcflamenco.
Jamahl (Owings Mills, Maryland)
DCFLAMENCO.COM is the heart of flamenco in the DC Metro area. Miguelito, it is thanks to you that we, the teachers and performs in this area, are able to share our passion and love of flamenco. It was thanks to your website that the flamenco program at one of the schools I teach finally took off. When you saw the word was not getting around you helped by doing a write up on me which spread the word and made it possible for the classes to take off. Many a students have come to my classes thanks to your website. When our dance company, Furia Flamenca, was established, your website played a pivotal role in promoting us. Through the years I have seen DCFLAMENCO.COM evovle and expand. All of us in the DC flamenco community have come to depend on your website for all of the latest information on shows, workshops, classes, etc. The flamenco community in DC is one of the biggest and most widely known in the nation, and we owe it all to YOU! THANK YOU!!!! for your hard work and dedication. May there be not only just 10 more years, but decades of continued success!
Miguelito's website is a vehicle through which I got introduced into the D.C. Flamenco community. When I moved to D.C. four years ago, I was walking by Citron and saw a poster advertising Flamenco shows on Monday nights. I came by on Monday night and saw Micaela Moreno perform. I asked Micaela if she could recommend any Flamenco teachers or schools, and she directed me to Miguelito's website. Thanks to Miguelito's website, I quickly tracked down Edwin Aparicio, started taking classes with him in Laurel, MD, and then joined Natalia Monteleon's company, Arte Flamenco. Miguelito's website enabled me to take these formative steps immediately after I moved to D.C.!
Subsequently the website has become a mechanism to stay up-to-date. I check the website every day to make sure I know about the workshops and performances taking place in the area. Also, I enjoy going there just to check out the pictures and see who is going what. It is nice to see all the familiar faces. Plus, it is a great distraction while working on the computer!
The website provides us all with publicity and connects us to the Flamenco communities outside D.C. Two years ago, I was taking Omayra Amaya's workshop at Fazil's in New York. A dancer came up to me, identified herself as La Gata (she maintains the NYC flamenco website,) and told me that she knew me (or knew of me.) I was stunned! How? She told me I was featured on Miguelito's website when I performed my tablao debut at Las Tapas.
I also use the website as a fun learning tool. I enjoy reading the interviews and Miguelito's on-line "lectures." (I definitely enjoy the humor.)
Beyond that, the website has a broader mission. It unifies distinct segments of the D.C. Flamenco community and brings us all together.
Thank you, Miguelito.
Mariya Kostytska (Washington, DC)
Thanks for the message and thank you for the invitation to the party but I was away on vacation, as I mentioned in my last email. In that emailI forgot to congratulate you on 10 years of DCflamenco. I know that keeping the website up to date and with as much information as it contains requires an enormous amount of work, constancy and dedication. I enjoy visiting the site and being brought up to date on goings ons (and on some of your pet peeves!) and it certainly is a service to all of us in the area that have an interest in flamenco. Look forward to seeing you soon - and maybe trading some falsetas.
Anonymously (Washington, DC)
Mike,
Congratulations on the tenth year. It was fun seeing old frends at your party once again. I looked back through my pictures and was surprised that seven years had passed since I first contacted you through DC Flamenco. I had explained that I played solo flamenco for several years and wanted to play for dancers. You met me at a Tati workshop and invited me to learn accompanyment alongside of you at Viva Flamenco. Marija Temo provided the theory, Ena Camargo and her students the dancers, and you the mentoring. Mike, I've pretty much played at least once a week for one or more studios every week since then, and don't intend to stop. Substituting for you at 'the restaurant' will always remain among my finest memories, and it never would have happened if I had not contacted you via the website. I surely hope to play alongside you again one fine day. Keep up your enthusiasm.
Lee Aube (Annapolis, Maryland)
Dear Miguelito,
Your DC flamenco website has certainly had an effect on my life. Through this site, I have learned of the wealth of flamenco in DC. For a long time, I had wanted to live in a city with a large flamenco population. I had considered, and rejected Seattle and New Mexico (too far), and New York City (too expensive). I came across your website in 1998, and thought to myself, "DC is not very far from Virginia Beach. This will work!" I now work in DC, and hope to move to the City in a few months. I can't wait to experience the DC flamenco scene! I owe it all to your DC Flamenco website!! Many thanks, again.
Ana (Baltimore County, Maryland)
Congratulations on your 10th anniversary! Many thanks for a wonderful party the other night. I think Marsha expressed it best about how much you've done for the flamenco community and it was an amazing story to hear how you and she met. You've helped many dancers and teachers through your website and helped anyone who is interested in seeing a flamenco show figure out where to go any night of the week. Also, the personal touch through your diary entries keeps it very interesting. It's great the way you've managed to keep it up to date day after day. Many thanks for all of your efforts over the years helping the flamenco community flourish!
Best wishes, Lisa (Washington, DC)
Dear Miguelito,
Hi Mike! I finally have a minute to relax and think. I want to thank you for all of the hard work you put into your website for us! It really helps us on so many levels, from finding out what flamenco events are going on this area to teaching us tricks that help us with our flamenco dancing, singing, guitar and performances! I love the interviews...you should get a few more in there with our local guitar and dance teachers (easy for me to say, right?). I really love your website and I wouldn't change a thing about it! Happy 10th Anniversary, DC Flamenco!! Ole, viva tu!
Anonymous (Washington, DC)
Dear Michael:
Congratulations on the 10th anniversary of your website. I remember about 7-8 years ago (I'm starting to loose the count) when I first moved to the area, I was very excited to find a flamenco community in this area through your website. We even kind of knew each other before I moved here. Thanks for all the hard work, and all the cool pictures on your website. Happy 10th Anniversary!
Shahram Tehranian (Washington, DC)
Hey Mike,
You don't get paid enough for what you do. Thank you for a great job running dc flamenco for the past ten years, a well earned congratulations!!
Anna Menendez (Washington, DC)
Congratulations "Miguelito"!! My friend back in Arizona had met you through your website, so she introduced me to you when we came out for the Flamenco Festival in 2002. I was also interviewing for grad school, so there was the possibility that I would move out here, which I did. So through your website I was able to see what flamenco was going on in DC, and I was able to meet all the wonderful flamenco people here! I was so worried I wouldn't have a flamenco family the way I did in Arizona, but I was wrong! I know what you do takes a lot of work - I don't know how you do it!! Congratulations!!!!
Tamara Sol Flys (Baltimore, MD)
When I lived and worked in DC, I had mixed feelings about the combination of flamenco and personal web pages. Traditionally flamenco has remained sincere by relying on intimacy and word of mouth. Actually, while living in DC, I did not own or use a computer. I had only looked at the dcflamenco website a few times in the nine years it had existed. So, I was not fully aware of all the time and effort you put into it, how it does impact the DC community, the service it does for teachers, dance studios, restaurants and establishments that offer weekly flamenco shows. Not to mention being a great resource for beginning students who need trustworthy advice on where to buy shoes, skirts, CDs, etc. Ironically, when I moved to Chile last May and finally became computer literate, I started to look at DCflamenco to stay connected to so many people that I love and miss in DC. That's when I realized how incredible your website is. I had no idea before of all the archives and old photos! I could re-visit sala rocieras, ferias, great nights at cafe citron, workshops at DCDC, etc. I could also stay updated on positive new developments like newer dancers developing more as soloists, beautiful new costumes brought back from Spain, seasoned dancers presenting new productions, old and new commercial establishments offering more flamenco entertainment, etc. Flamenco is definitely at a commercial highpoint in DC right now. Partly due to the affluant economy, partly due to the marketability of the artform, and mostly due to the professional artists who, through their hardwork, talent, and integrity, have kept this artform so beloved and respected. The dcflamenco webpage is definitely an important part of that vibrancy. Congratulations Mike, for having had the "arte" to conceive of it, and the "tecnica" to have created it.
Love, Sara Candela, and Jordi, too! (Santiago, Chile)
Sorry Miguelito, I was unable to thank you for the invitation to the party to celebrate your 10th years of DCFlamenco website. As I have told you in the past, you are a wonderful person. You are always trying to help everyone, especially the flamenco students by donating your time to practice and also by doing what you are doing with your website. It is very hard to keep it updated, go around and take pics, looking for information etc...and do not get paid!!!!!!!that is incredible!!!! "hay que rendirte el sombrero" Your web provides us with a lot of information of what is going on in the DCarea and not just DC but in other parts of US. Again, Miguelito thank you for your hard work and dedication.
Love, La India Gitana (Washington, DC)
Miguelito Perez,
Your site and your entire approach to flamenco is an inspiration. You've contributed immensely to to the Flamenco community, and you're practically a one man out-reach program, I hope you get the funding you deserve.
Keep up the good work,
Gerardo Moreno (Washington, DC)
Miguelito: You do an excellent job, and many of us have come to depend on your website for flamenco information. Thank you for keeping us informed, for uniting the community and for making us look good in every way.
Un abrazo, Sylvia (Springfield, VA)
Michael,
Congratulations on the 10th anniversary of dcflamenco.com! Thank you for all of your dedication and hard work!
Keeping up this informative website is a very hard work and you have done an outstanding job! The flamenco community in DC has grown significantly in the past few years. You have kept us informed of concerts, workshops, and many other important events that come through the city annually in addition to providing quite interesting information about the life of flamenco in DC. You are truly the official "DC Flamenco Cyber Ambassador"!
Keep up the great work!
Edwin Aparicio (Washington, DC)
---
NOTE: if you have a testimonial you'd like to add. Just email me.

[earlier articles][later articles][main index]