Miguelito's Photo Diary/Blog
June 25, 2005 - July 9, 2005
American Dance Institute July 9, 2005
Between going to Spain last month and having gigs almost every weekend, I haven't been playing for classes here for about a month in a half! It was good to be back...the spaciousness and pastel color scheme of American Dance Institute (ADI) always has a soothing effect on me.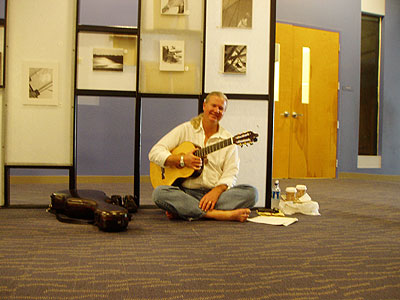 Marty Dow. July 9, 2005 11:27am
Since I hadn't been here for awhile, I forgot about the schedule changes, so I arrived an hour too early. It gave me time to sit down, relax, enjoy some coffee and catch-up with my guitarist friend Marty Dow.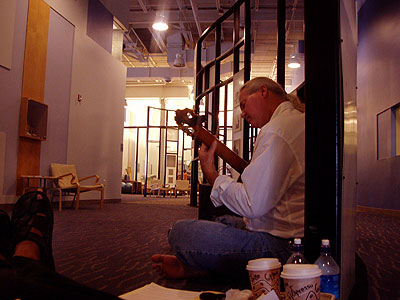 Marty has a full-time job during the week, but Saturday is always a special day that he looks forward to every week. It's the day he devotes to learning about and enjoying flamenco. July 9, 2005 11:38am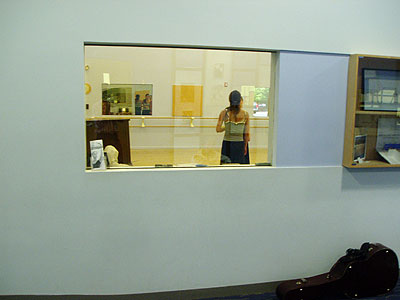 Observation window. During ballet classes, lots of parents crowd around this window to proudly watch their children. The dancer in the studio is Anna Menendez as she gives a class in Sevillanas--hmmm I wonder if it's too late for me to join this class? July 9, 2005 11:38am
At noon, Marty and I entered the studio and started accompanying the first of two classes for the day. But I just took pics of the advanced beginner class which goes from 1pm until 2:30.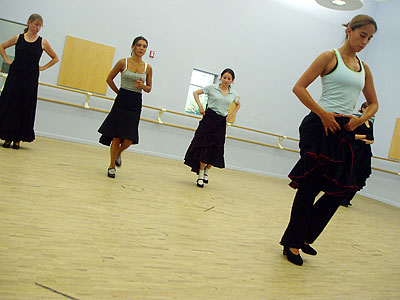 Anna's reviewing a footwork exercise in soleá por bulerías. July 9, 2005 1:28pm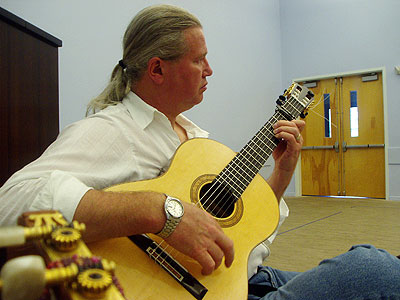 Marty accompanying the dance students. He plays on a Thomas Rodriguez classical/flamenco hybrid. July 9, 2005 1:28pm
It was a long but enjoyable day and as much as I love flamenco, I had my fill of it for the week and I needed to catch up with my non-flamenco friends for a change. I spent the evening in Adams-Morgan. Unfortunately I didn't remember to stop by Churreria to check their late-night schedule. Oops! :-)
La Tasca Clarendon July 8, 2005
It was my night off and I was going to catch up with my non-flamenco friends but I couldn't resist checking out the Friday night Sevillanas show at La Tasca Clarendon--it's walking distance from where I live.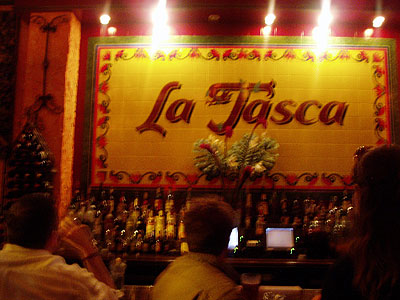 The sign above the bar boldly announces where you are in case you've had too many drinks to remember. :-) July 8, 2005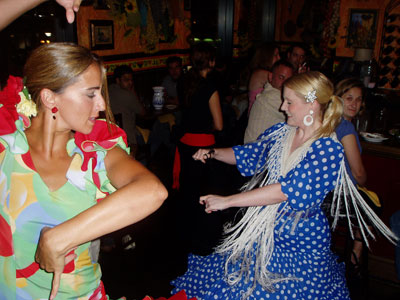 Dancers Cecilia Terrasa and Renee start the first show on the third floor of the restaurant. July 8, 2005 9:00pm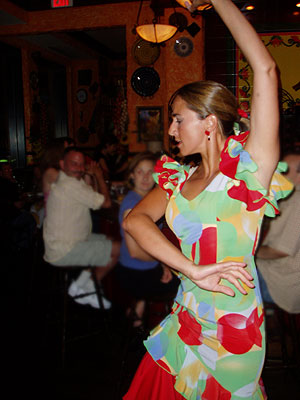 July 8, 2005 9:00pm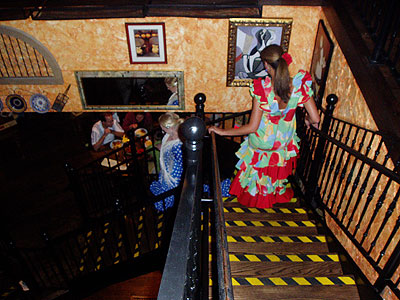 Down one set of stairs to the second level where they have just 4 or 5 tables of customers. Do one copla of Sevillanas. July 8, 2005 9:01pm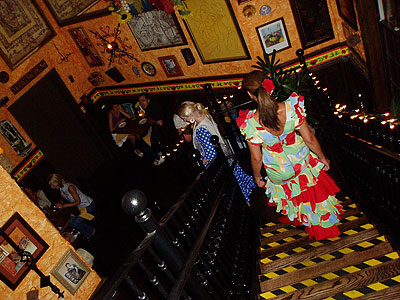 Then down another set of stairs to the street level. July 8, 2005 9:02pm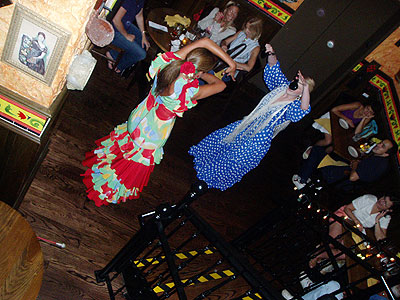 And do a few more coplas. July 8, 2005 9:02pm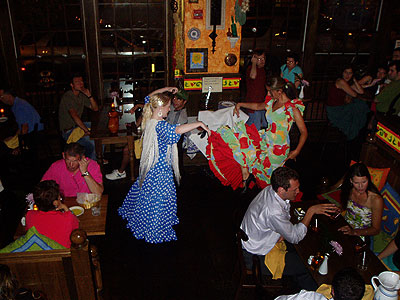 The steet level is the largest and so they do the most coplas down here. July 8, 2005 9:04pm
Lots of readers seem to enjoy my food pics, so here you go...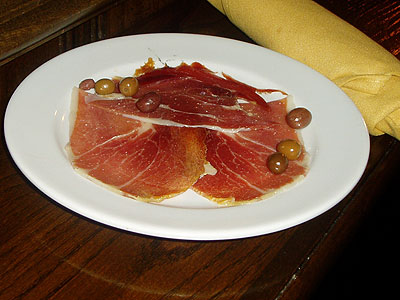 Jamón Serrano. At $6.25 for three slices, it's kinda pricey, but it's the real thing. July 8, 2005 9:21pm
Around 9:45pm, they began the second set of Sevillanas.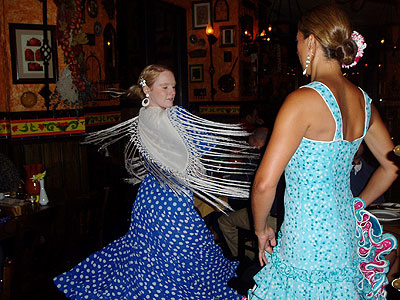 July 8, 2005 9:47pm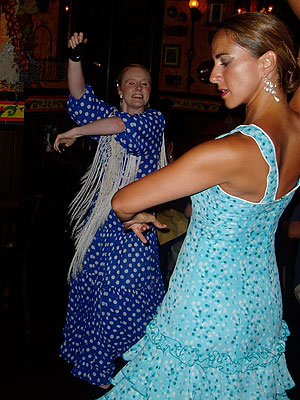 July 8, 2005 9:48pm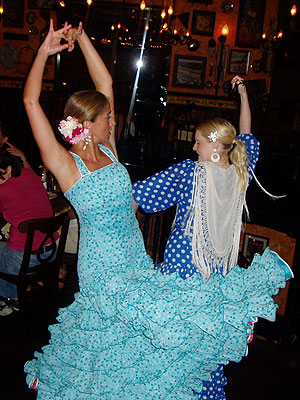 July 8, 2005 9:51pm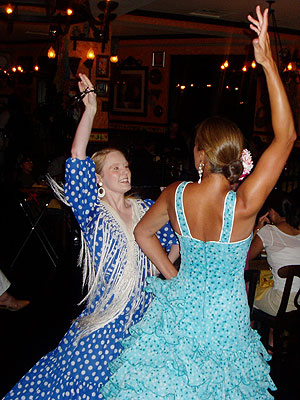 July 8, 2005 9:52pm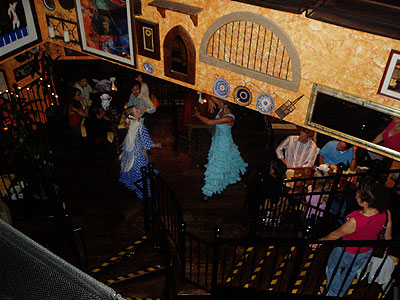 Cecilia later commented (and she's a former athelete) that with all this non-stop dancing and stairs, it's a good workout! July 8, 2005 9:53pm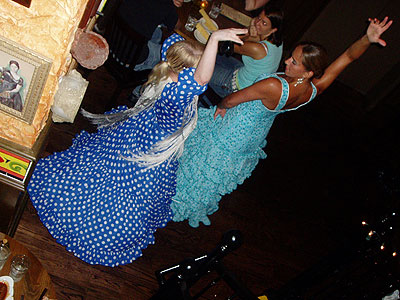 July 8, 2005 9:54pm
After the show, I got a call from my friend Behzad Habibzai. He was on his way here bringing along Carlton Ashton and Michelle Goldin.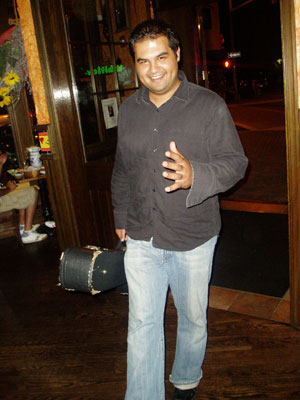 Behzad makes his entrance. Oh did I mention this place is guitar-friendly? Ahem! Unlike that pretentious new club in Georgetown harbour, yes you can bring your guitar inside La Tasca! :-) July 8, 2005 10:55pm
Carlton, Cecilia and Behzad. July 8, 2005 11:05pm
We got some dinner. I already got my fill of protein from the jamón earlier, so I went vegetarian with Cecilia for the evening and ordered grilled asparagus drizzled with butter and mushrooms sauteéd in garlic and olive oil. (sorry no pics)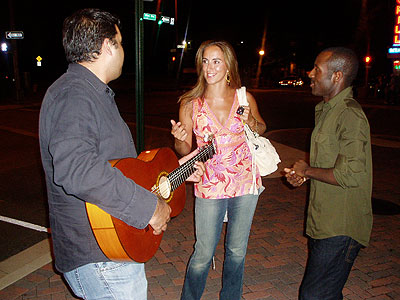 We had a session outside where Carlton demonstrated a bulerías choreography that incorporated some Sevillanas steps. July 9, 2005 12:50am
I know of someone who uses jota steps in bulerías. Seems like anything goes in bulerías. Speaking of fusions, as I type these words (9:45am on Sunday), I'm listening to Endivia by Ketama which on the CD it's labeled bulesalsa.
When some Camarón (accompanied by Tomatito) started playing on the house speakers, Carlton and Behzad literally ran inside to listen and play/sing along.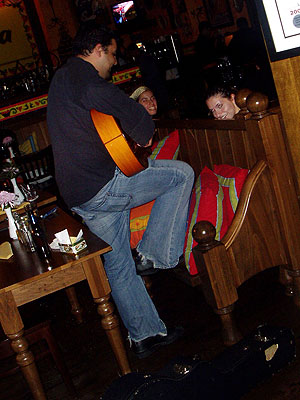 Behzad playing while Brigitta and Michelle listen. July 9, 2005 12:53am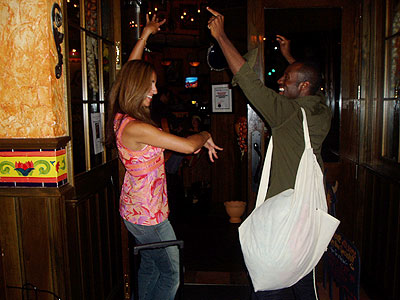 Bulerías in the door. July 9, 2005 12:53am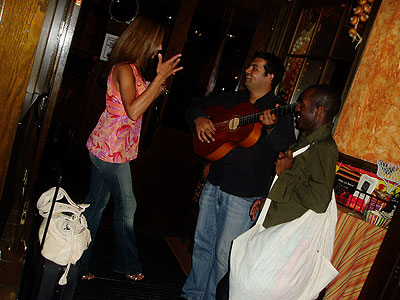 July 9, 2005 12:55am
When it came to closing time (sometime after 1am), we lingered in front of the restaurant saying goodbye to Michelle, Brigitta and Joana probably for half-an-hour. I was hoping we could all go get some churros and chocolate, but I wasn't sure if Churrería Madrid (in Adams-Morgan) was open this late. Didn't happen but I'll keep it in mind next time we stand around like this deciding where to go next.
Andalucía/Guarapo July 7, 2005
Arrived at Andalucía especially early, setup my sound system and chilled out for awhile. It makes logical sense that I ended up playing especially well last night: arriving early leads to ample time to prepare leads to relaxed state of mind leads to ability to focus on music leads to good performance, right? I perform almost everyday, so you'd think I've got it down to a science but it's not the case.
I have a well-known reputation for getting to gigs early. But the few times, I arrived late, I got a little stressed cuz it takes time to setup a sound system in a rush. Despite the stress, I still manage to surprise myself when I played beautifully. Sometimes, I admit the stress did get to me and adversely affected my playing.
It's not that I'm full of myself when I get surprised by my own playing. Since I perform all the time, I notice those things in my playing that are better than the day before but in a extremely subtle way. Artists are supposed to be very self-critical. As professionals, we're expected to put on an inspiring performance night after night despite what's going on in our personal life etc. But how do we do it?
The point I'm trying to make is that playing the guitar, dancing or singing is one skill. But, the art of performing is a completely different skill. And it can only be learned by doing it...a lot!
While in college (where I majored in classical guitar performance--as opposed to music education cuz I wanted to perform not teach), I found a good book called The Inner Game of Music
by Barry Green which talks about the psychology of performing--yeah it's a variation on the sports psychology book called Inner Game of Tennis.
Basically what throws us off is that our subconscious is so busy hyper-analyzing and self-criticizing that we have insufficient brainpower (concentration) left to pull off a good performance. It's constantly churning out thoughts like: "here comes that hard part " "I always mess that part up" etc etc.
One exercise is to keep your mind so busy that your subsconscious has no opportunity to interfere. For example, if you're a guitarist, while you're performing, you could do something like concentrate on the texture of the strings against your fingertips as you play melodic passages. Notice the gracefullness of your rasgueados. Stuff like that. Choose something to focus on cuz if you let your mind wander it will most likely drift to negative thoughts that will derail your performance.
I'm assuming of course that you have basic techniques mastered and you know your material well enough that you can concentrate more on self-expression.
There are many other performance psychology techniques. For example, I know of people who clear their mind by practicing Tai-Chi or meditate before a show. Unless you're a natural onstage, just realize that performing is a completely different skill. Figure out what works for you and put it to use.
---
Whoa...did I digress or what? :-) Getting back to the Andalucía, I ended up hanging out while waiting for the rain to stop--didn't want to walk to the metro and get my sound equipment all wet. My friend Monica was kind enough to drive me to Virginia to drop off my equipment and since we were in Arlington, we went to Guarapo and had a few drinks and enjoyed the music of Duende Camarón.
I was supposed to meet a friend (whom I hadn't seen in awhile), but when I arrived at Guarapo at 11:45pm, she was already gone. Sorry Madiha!
Hey, I've just been confirmed for a performance in Maine later on this month. I've never been to that state before, so it should be fun spending a weekend there and exploring. I'll publish details soon!
Cafe Bonaparte July 6, 2005
I imagine PR professionals would advise musicians like me to just tell the public (in other words, lie) "Yeah, we always pack the place" when promoting our own shows. First of all, none of the local venues are "always packed" and secondly, it doesn't really matter: people who truly love flamenco will come no matter what, whether the venue is always packed or not.
In the case of Cafe Bonaparte, we were at 75% capacity last night, less than normal. But what made it special was not the quantity of people but rather the quality: we had a lot of old friends (and some new ones too) in the audience who know how to appreciate flamenco.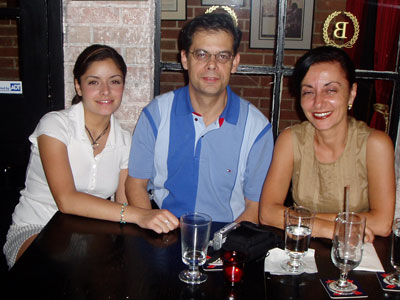 The Ozdag family: Esin, Ayhan and Bedriye. July 6, 2005 10:02pm
Ayhan studies guitar, Bedriye takes flamenco dance classes. Esin's not studying flamenco (yet) but she's still cool cuz she's in a creative field, film, and hopes to direct movies someday.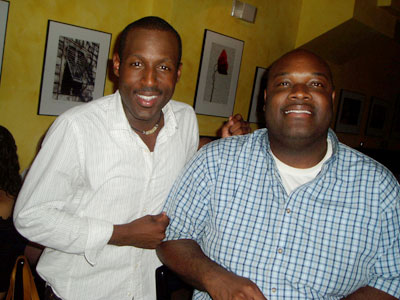 Carlton Ashton and friend. July 6, 2005 10:05pm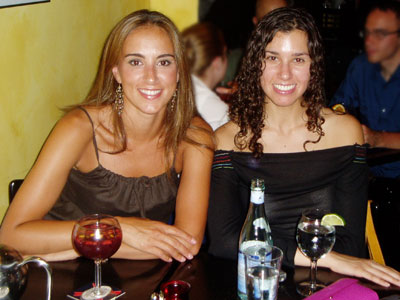 Cecilia Terrasa and Brigitta. July 6, 2005 10:12pm
Cecilia needs no intro. This Friday night, she'll be dancing Sevillanas at the Arlington branch of La Tasca (nearest metro is Clarendon). Call 703-812-9120.
Brigitta recently graduated from GMU majoring in dance. She's a regular here and she absolutely loves flamenco--and it's my prediction that you'll see pictures of her dancing flamenco in this photo diary a year from now. :-) In the meantime, Brigitta has kindly volunteered to take pics for me whenever she comes to Bonaparte.
There were other friends who came but I didn't get around to taking their picture.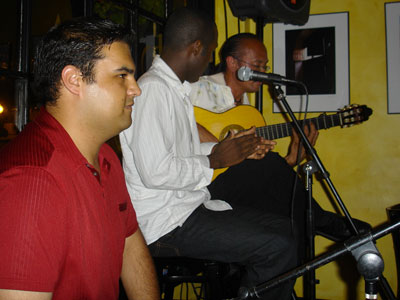 Behzad, Carlton and Miguelito. July 6, 2005 10:17pm (photo by Esin)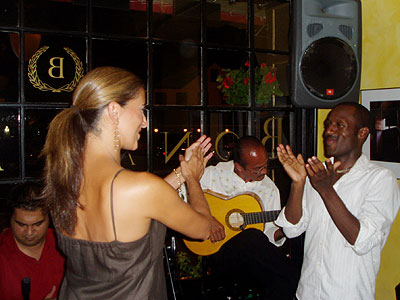 Cecilia and Carlton dancing Sevillanas. July 6, 2005 10:18pm (photo by Brigitta)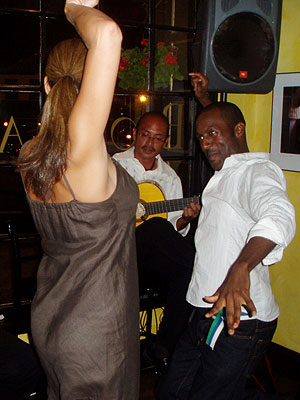 July 6, 2005 10:18pm (photo by Brigitta)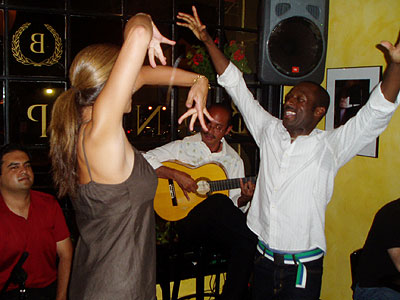 July 6, 2005 10:19pm (photo by Brigitta)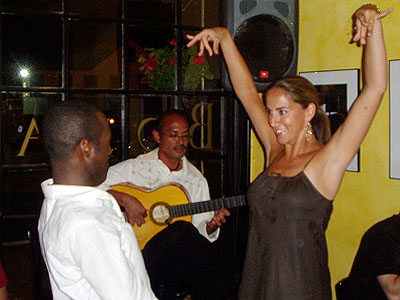 July 6, 2005 10:19pm (photo by Brigitta)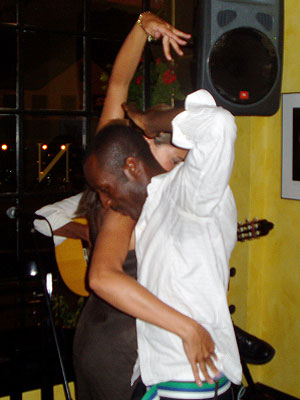 The way men and women are supposed to do the Sevillanas pasada. July 6, 2005 10:20pm (photo by Brigitta)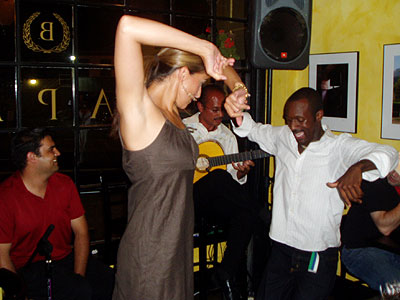 July 6, 2005 10:20pm (photo by Brigitta)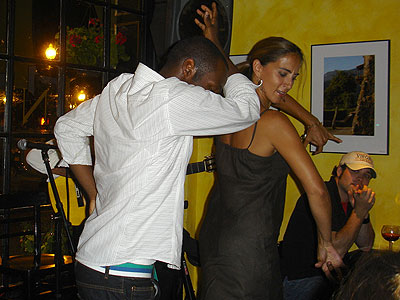 July 6, 2005 10:21pm (photo by Esin)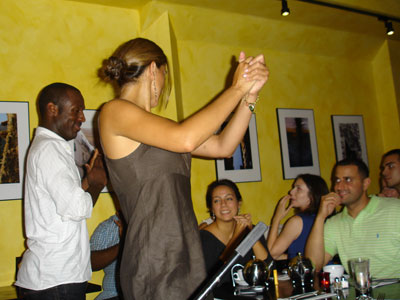 July 6, 2005 10:22pm (photo by Esin)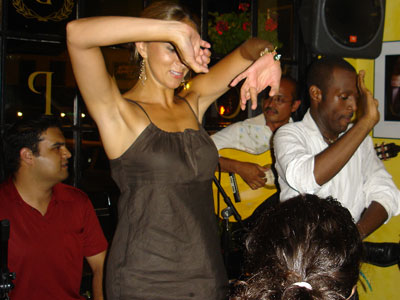 Fin de fiesta bulerías. July 6, 2005 10:55pm (photo by Esin)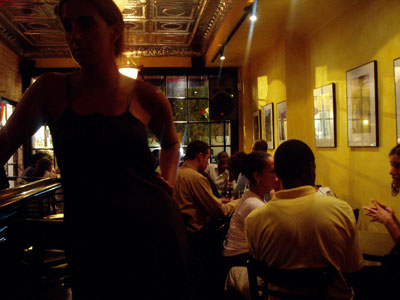 July 6, 2005 11:27pm
---
Yeah, Behzad, Cecilia and I tried getting in to Maté afterwards but my previous good impression of this club vanished instantly because the manager insisted we couldn't bring our guitars inside "for security reasons."
Kinda dumb considering Behzad and I were just in this club Monday night with our instruments and that we're frequent customers at owner Mauricio's other clubs like Guarapo, Aguardiente and Chi-Cha where we can bring in our guitars with no problem.
Yeah we were snubbed, but it's not to be taken personally. It happens. A common tactic of newly-opened clubs is to turn away people occasionally to build an aura of pretentiousness and exclusivity--or in this case stupidity. :-) Too bad. Since I have my guitar with me all the time, I don't think I'll be bringing friends to Maté again anytime soon.
Carmen de Vicente's Requiebros dance group at Gunston Theatre June 25, 2005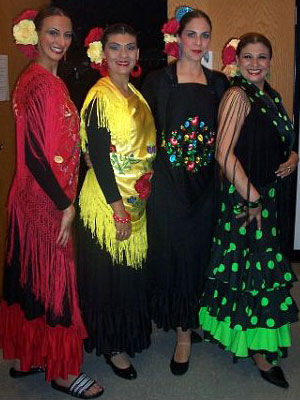 Click on picture to enter special feature photo gallery.
I have many more pics that people have sent in from other events that I have yet to catch up on. Please be patient. Thanks!
Private gig July 4, 2005
Yeah, so I "worked" on a holiday. Sometimes at party gigs like this one, we just do our show and leave. Other times the host invites us artists to stay and enjoy the party. Fortunately, it was the latter!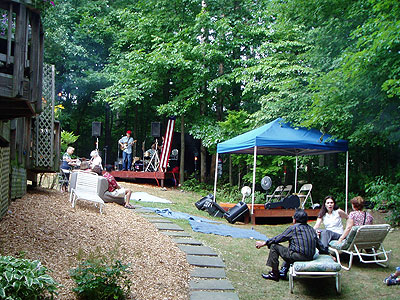 They had two stages: one for the rock band and the other (with the blue tarp roof) for us flamencos. July 4, 2005 5:41pm
The host built the second stage just two days before the party. But the rock band snatched up the new bigger stage before we got there. Oh well.
This guy had plenty of food including 100 pounds of filet mignon, 2 bushels of maryland crabs and more plus an endless supply of beer, soda and wine!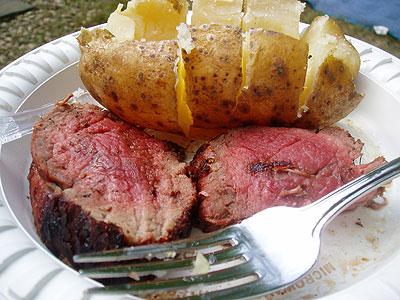 One of several servings of filet mignon--yeah I like it rare. Yum! July 4, 2005 6:05pm
Between sets, we escaped to the comfort of the air-conditioned house and nibbled on the munchies in the kitchen (see below).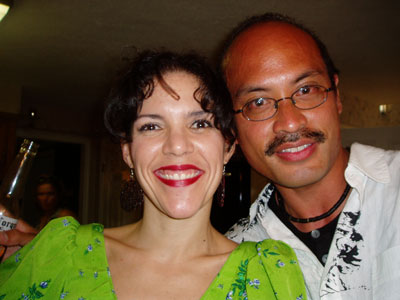 Dancer Estela Velez and yours truly. July 4, 2005 6:22pm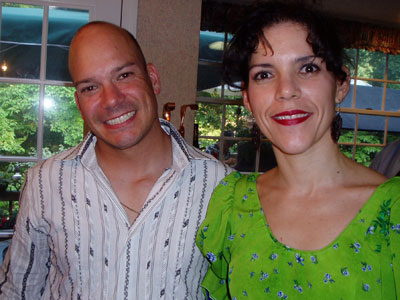 Guitarist RJ Uebersezig and Estela. July 4, 2005 6:23pm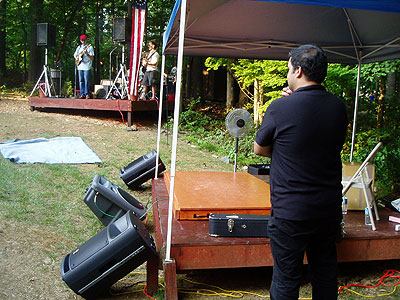 Guitarist Behzad Habibzai checkin' out the excellent band, Bill Kirchen and Too Much Fun. The rock tunes provided a nice contrast for the flamenco. July 4, 2005 6:27pm
Aside from the band taking "our" stage, they're really cool guys who have a great time doing what they love to do.
The tablao is the same one we use in the shows at El Manantial. RJ built it himself. We were going to put the speakers on the stage itself, but there was so much flex in the wood that they would've bounced off the stage during the footwork sections.
Yeah, we thought of putting them on stands on the grass but we were on a hill and the stands would've tilted over.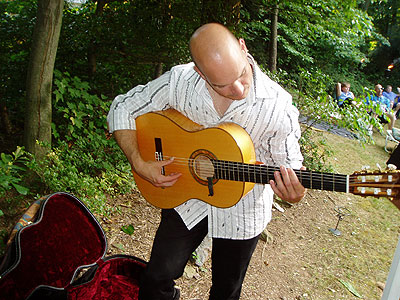 RJ tuning up his Thomas Rodriguez guitar. July 4, 2005 6:36pm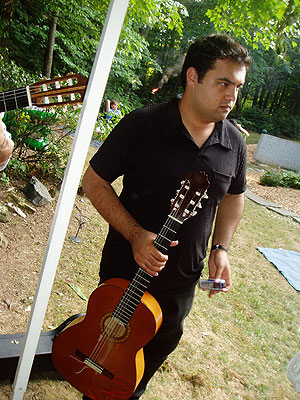 Behzad holding his Ricardo Sanchis Carpio guitar (available from La Falseta). July 4, 2005 6:36pm
Not pictured: yours truly plays on a guitar by Valeriano Bernal.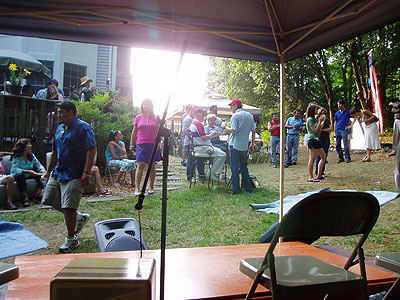 View from the stage. July 4, 2005 6:37pm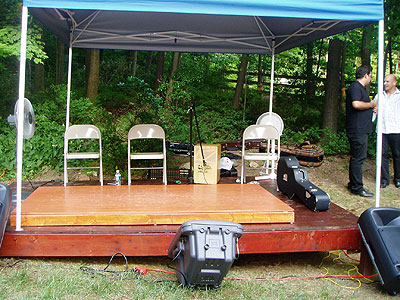 Notice the electric fan on the left. For outdoor gigs on hot humid days, this is an absolute must! (Thanks to Marcie for the fans!) Onstage, that's Behzad's cajón made by Mario Cortés. July 4, 2005 7:18pm
I wasn't keepin' track of time, (I recently misplaced my phone, which I use as my watch) but I think we started our second set around 7:20pm.
I started off with a guitar solo, then we did Sevillanas. Estela danced an alegrías. Shahram danced soleà por bulerías followed by Estela doing fandangos de Huelva. Then we closed the show with a bulerías.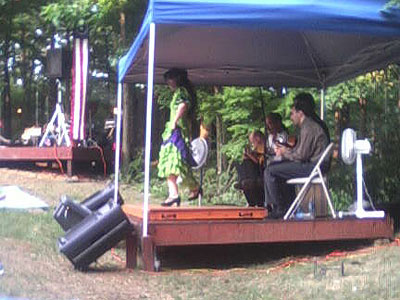 July 4, 2005 7:31pm (photo by Katherine)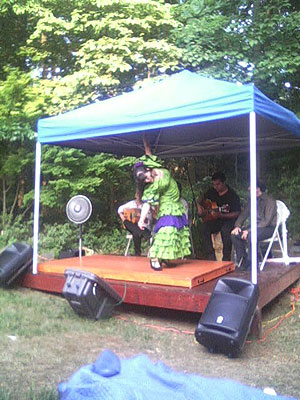 July 4, 2005 7:32pm (photo by Katherine)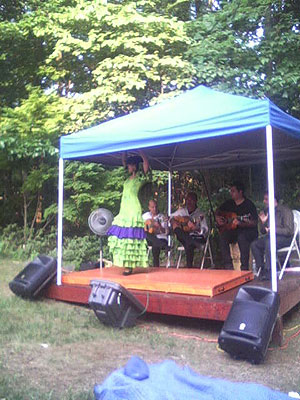 July 4, 2005 7:33pm (photo by Katherine)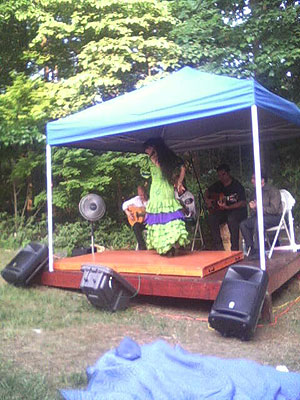 July 4, 2005 7:34pm (photo by Katherine)
Usually the second set is better for some obvious reasons: being warmed-up, more relaxed, accustomed to the heat and humidity, had some delicious food, having friends in the audience etc etc. I can't speak for everyone else, but I was comfortable, plus RJ turned up the volume on my channel, so I didn't have to play so hard.
After the show, I went back for seconds and thirds on the filet mignon--there was plenty of food (except for the crabs which disappeared in a matter of minutes).
Of course, no Fourth of July party would be complete without fireworks and our host had every intention of outdoing his neighbors in their annual friendly competition. Checkout the pic below. This is just a small part of his "arsenal" for the party.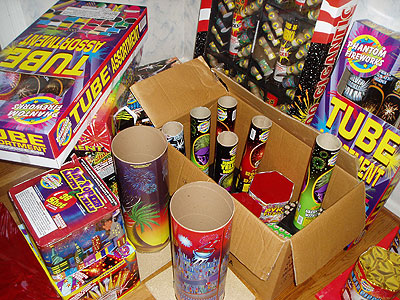 July 4, 2005 8:01pm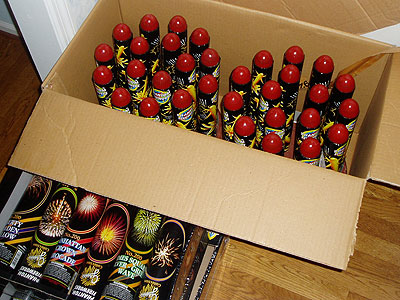 July 4, 2005 8:02pm
The fireworks started around 9:00pm but I didnt' start taking pics until 9:15 or so.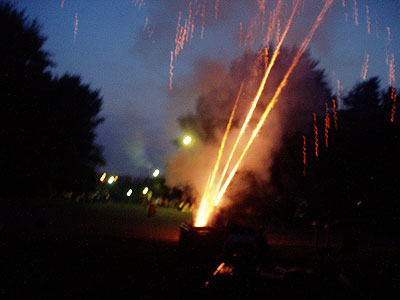 I took a lot pics at the ground level. It was cool watching the fireworks launch off. Kinda made me think of how science-fiction filmmakers created laser effects in the movies before computer animation was invented. July 4, 2005 9:15pm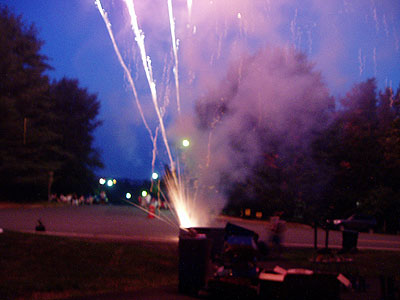 July 4, 2005 9:21pm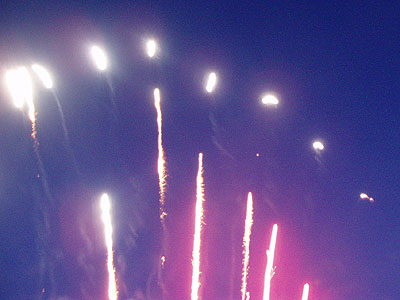 All the fireworks were pretty cool, but the ones with multiple explosions were the best. July 4, 2005 9:21pm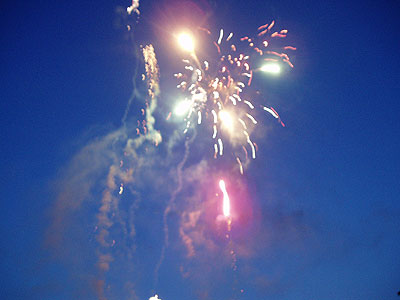 July 4, 2005 9:21pm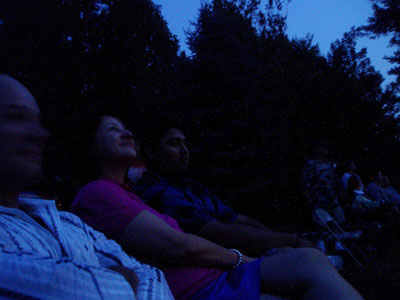 The show, which lasted about an hour (that's better than DC's 20 minute show) kept everyone looking skyward. There was a constant chorus of ooooohs and aaaaahs. July 4, 2005 9:36pm
The neighbors across the street alternated shooting off their fireworks. July 4, 2005 9:41pm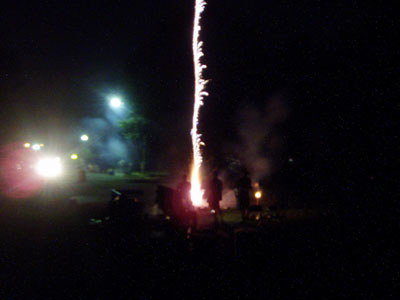 Then our host "answered back" with his explosives. July 4, 2005 9:41pm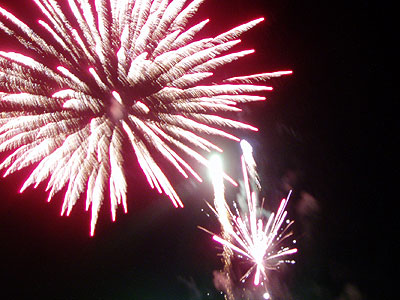 July 4, 2005 9:41pm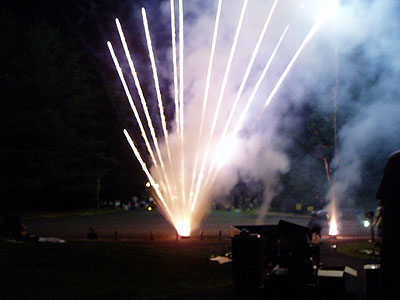 Saving the best for last. The multiple-explosive shot off 11 (count 'em) missiles at once and when they reached their peak several hundred feet in the air, they exploded and turned the night into day (see photo below). July 4, 2005 10:01pm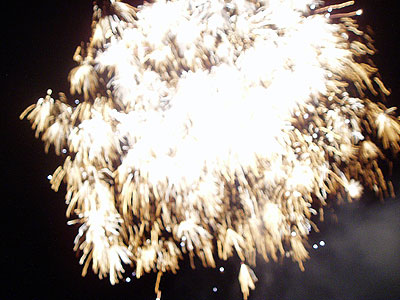 July 4, 2005 10:01pm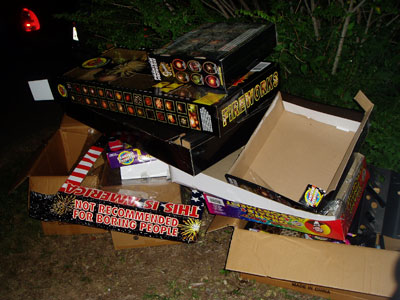 July 4, 2005 10:19pm
Afterwards, I went back to DC around midnight with Behzad and Carlton to checkout the newly opened club, Maté, near the Georgetown Loewes Theater (brought to you by the same people who created Chi-Cha, Guarapo, Aguardiente, Gazuza etc).
After last call, we went to the Harbour and jammed for awhile on bulerías for a small audience of passersby enjoying a late night walk by the water. It was a beautiful night. (Sorry no pics...my camera battery ran out of juice)
After my show at Cafe Bonaparte this Wednesday, I'm planning to go back again to Maté and also get some pics so you'll know what it looks like. Very cool place.
Rehearsal at Joy of Motion July 3, 2005
It was yet another beautiful day to be outside--a great weekend to spend at the pool! One of the few things that can convince me to spend time indoors on a day like this is, you know what. ;-)
I got to the rehearsal early so I could check out Estela Velez's performance class. They were working on Guajiras when I arrived. One of my friends, Karina, was in the class.
When I met Karina for the first time at Cafe Citron a year and six days ago, I tried to convince her dance Sevillanas onstage, but I wasn't successful. But I haven't given up yet. Now that she's taking classes regularly she should at least know Sevillanas well enough to get up and do it onstage at a tablao, right? I'll see if I can convince her next time she comes to my show. :-) Oh yeah, the show is cancelled for today (July 4th) but we'll be back on again next Monday.
Anyway, us three guitarists and Estela got together to rehearse in preparation for Monday's performance which will be at a private party. The client's going all out by building two stages: one for the flamenco and the other for a rock band. It'll be a blast I'm sure. Hopefully, I'll find someone to take pics for me.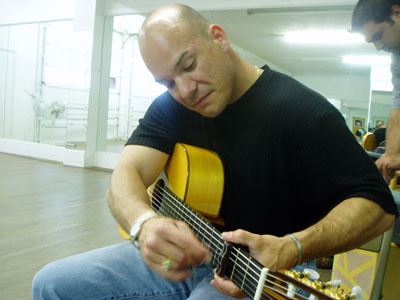 RJ putting on a cejilla. July 3, 2005 3:05pm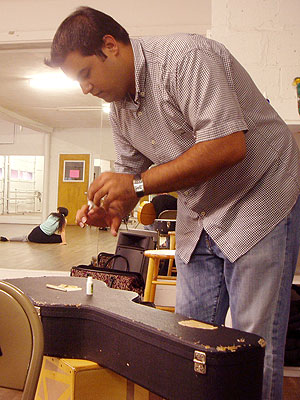 Behzad preparing his nails. July 3, 2005 3:06pm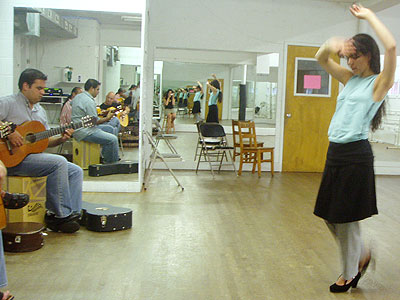 Estela Velez going through her choreography. July 3, 2005 3:39pm (photo by Karina)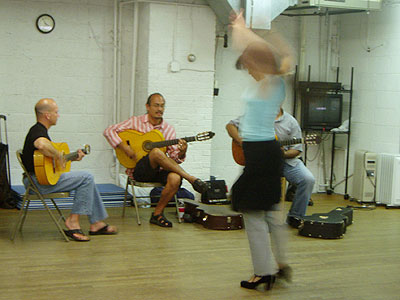 July 3, 2005 3:54pm (photo by Karina)
In some ways, it's so much more fun to play when there are other guitarists playing alongside you. Because the sound is so full, you can play around with different musical ideas while the other guitarists hold down the basic beat.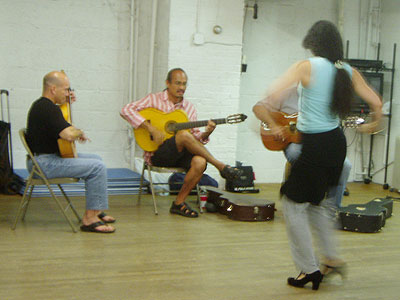 July 3, 2005 3:55pm (photo by Karina)
In an ideal situation, we guitarists try to complement each other's accompaniment usually by using different chord voicings and strumming patterns that sound good together.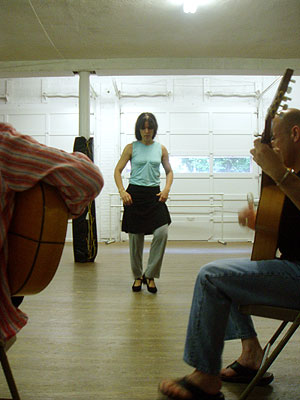 July 3, 2005 3:56pm (photo by Karina)
In other ways, it's more difficult because your attention is divided between accompanying the dancer/singer and your fellow guitarists.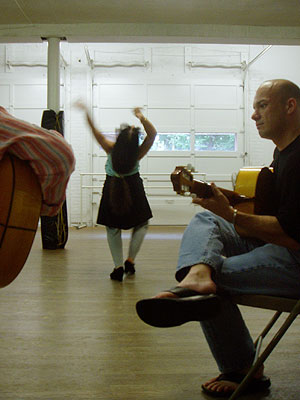 July 3, 2005 3:57pm (photo by Karina)
It's 1:14am on Monday as I type these words. I spent the evening at my favorite summertime hangout...you know where that is. ;-) There were so many people partying at Georgetown Harbour.
Happy Fourth of July! I'm thinking of going to the National Mall to checkout the Folklife Festival again. There's this one booth that serves Peruvian corn, yum! (I'll take pics) Then I got my party gig in the afternoon. Ciao for now.
Turcuisine July 2, 2005
For the past few months, it's become RJ and my ritual to grab a bite of Turkish food here at Turcuisine (571-323-3330) before our gig at nearby El Manantial. The decor is modern and cool. They play trance music sometimes. And yeah, the waitresses are pretty too. ;-)
We promised the owners we'd stop by with our guitars sometime and play a little bit just for fun (kinda like an informal audition). Normally, this place would be packed on a Saturday night but we figured it would be better if we stopped by when it was quieter like on a July 4th weekend so the owners and staff could relax and enjoy our music.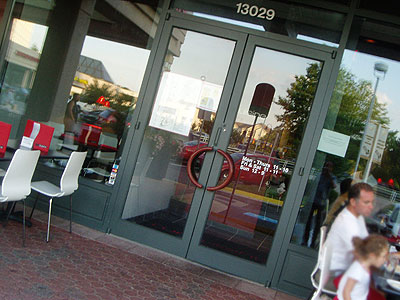 Entrance to Turcuisine. July 2, 2005 7:36pm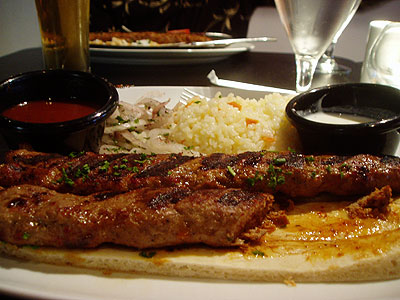 My dinner...spicy Adana Beef and Lamb Kabob atop fresh pita bread with rice, onions and yogurt. Yum! July 2, 2005 8:10pm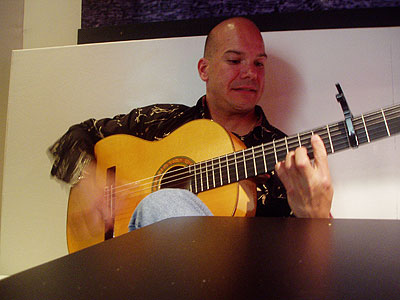 After dinner, RJ was the first to pull out the guitar. I joined him shortly afterwards. July 2, 2005 8:41pm
There were still some other customers in the restaurant, but most of the staff and a few friends sat down with us and listened as RJ and I improvised a few rumbas. People started walking in (probably seeing us playing guitar) to check the place out and before we realized it, we had a small crowd of people giving us applause after each song.
Of course, I was busy playing guitar so I didn't get around to asking someone to take pics for me during our little show. Oh well. I can't promise anything, but I have a feeling RJ and I will be getting a gig here soon. Stay tuned!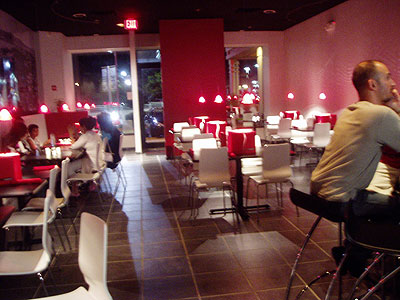 Just before we left, I took one last pic to give you an idea of the ambience of Turcuisine. July 2, 2005 11:01pm
It's 10:58am on Sunday as I type these words. I have a 3pm rehearsal at Joy of Motion but in the meantime I have to do some packing since I'll be moving to Chevy Chase later on this week. Ciao for now!
---
---
Photos taken with the Olympus Stylus 300 Digital Camera
Text and original images ©1996-2013 by . Please do not republish content from this website, including text and photos, in whole or part without prior written permission.