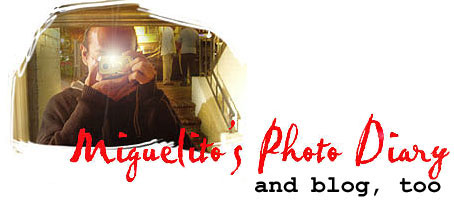 [
2005 Index
][
previous week
][
home
][

]
About the author/photographer: My name is Michael Perez, but everyone calls me Miguelito. I'm a full-time flamenco guitarist based in Washington DC, USA. This is a self-published account of my day-to-day life. It's meant to be educational and inspirational for my readers and therapeutic for myself--a way of reflecting on each day and recounting the good and not-so-good parts and how I can learn from them and grow. Happy reading!
Sunday with Miguelito February 5, 2006
It's 2:25am on Sunday as I type these words. I got home a short while ago. Yeah, it's been a few days since my last blog entry. But I've been busy dealing with personal stuff and trying out...
[to read more, visit the new version of the photo diary!]
Monday with Miguelito January 30, 2006
It's 9:12am on Tuesday as I type these words. My photographer friend Niko Alexandrou came to the show at Cafe Citron last night and got some great pics with his new camera. He just sent me a text message a few minutes ago instructing me to stop by the his hotel's concierge desk to pick up a CD he burned for me. So I'll have those pics up sometime when I get home tonight.
For now, here are some from earlier on Monday.
Normally I leave my sound system at Cabanas after my show on Fridays. It frees me up to go out with my friends afterwards (c'mon it's Friday night!). So when Monday comes around, I stop by Cabanas early in the day to pick it up. This particular Monday the weather was warm and sunny which put me in a great mood. Checkout this morning view of the Georgetown Harbour...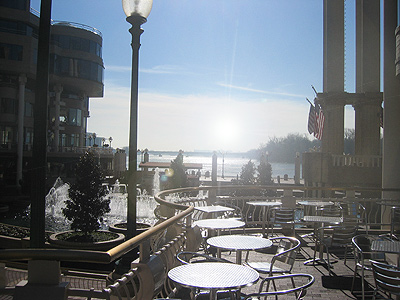 January 30, 2006 11:45am
I picked up the sound system and took it to Cafe Citron in Dupont Circle and headed to the National Gallery of Art to checkout the new Paul Cezanne exhibition.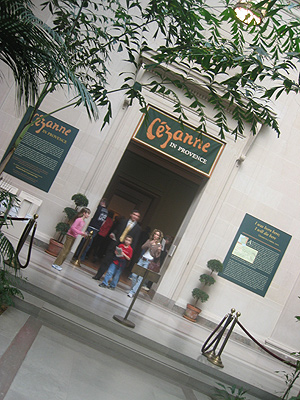 January 30, 2006 12:45pm
I've been blabbing on and on about art the past few weeks which you probably don't care to hear anymore. Anyway, a security guard politely informed me that photography was not allowed in this exhibition. Oh well, I took this pic anyway.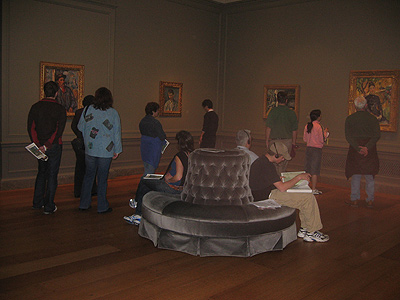 January 30, 2006 1:02pm
What I'm learning from my art history readings isn't so much a bunch of facts to regurgitate later but really just information to understand why Cezanne is considered an important artist and a pioneer bringing visual art into the "modern" stage. Bear with me.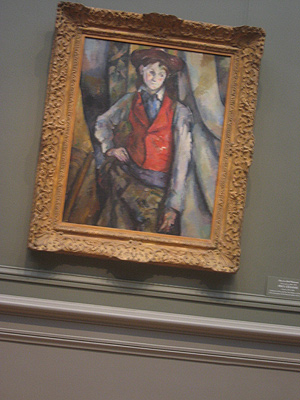 January 30, 2006 4:08pm
An up-close glance at his paintings show rapidly applied splotches of solid color instead of meticulously brushed gradual shades that give three-dimensional quality. The impressionist idea of the painters of this time was not to document strictly a visual record but to portray the overall sensory (visual and psychological) experience.
If you notice in the painting above, Cezanne used for the face and hands colors that are not normally associated with flesh. The choice of colors has something to do with the feelings that he's trying to portray.
The result of the impressionist approach is more of a flat two-dimensional quality that was a precursor to modern art and an influence on later artists such as Picasso. Here's an even better example at the National Gallery website.
It's not so much that Cezanne decided one day, "Hey, I'm going to introduce a new style that will foster in the new era of visual art." No, he just followed his artistic heart's desires and because he was well-off financially, he didn't necessarily have to think about what sells well.
OK let's get back to flamenco. Thinking about artistic pioneers like Cezanne kind of makes me think about what kinds of future developments we will see in flamenco. Who are the current artists that are experimenting with new ideas? Are there really new ideas in flamenco or are current artists just rediscovering old ones and presenting them in a new way? Just stuff to think about on this rainy morning.
This is a view just outside the National Gallery looking westward towards the National Monument...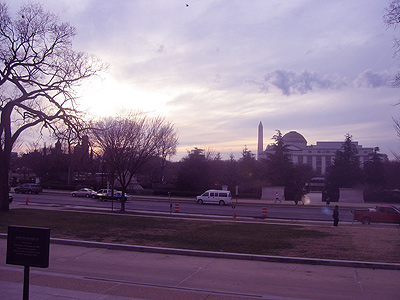 January 30, 2006 4:28pm
Here are some of the pics from Cafe Citron taken by my photographer friend Niko Alexandrou. He was trying out a new digicam: Canon Powershot S2 IS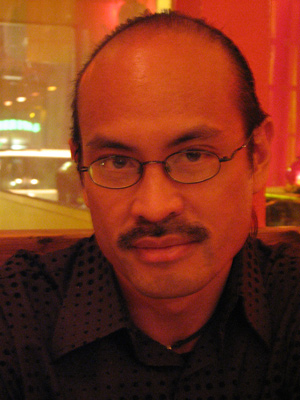 Miguelito. January 30, 2006 6:51pm (photo by Niko Alexandrou)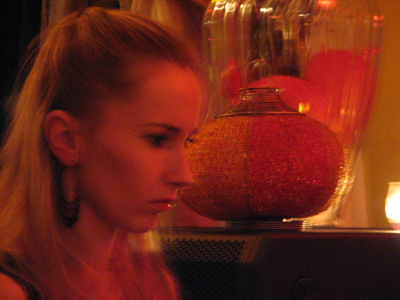 Mariya. January 30, 2006 8:32pm (photo by Niko Alexandrou)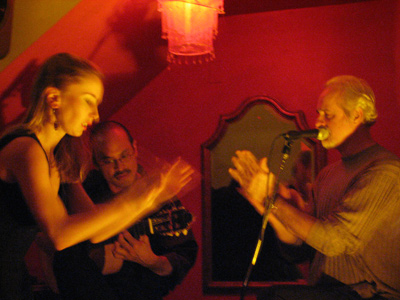 Mariya, Miguelito and Gerard Moreno. January 30, 2006 8:36pm (photo by Niko Alexandrou)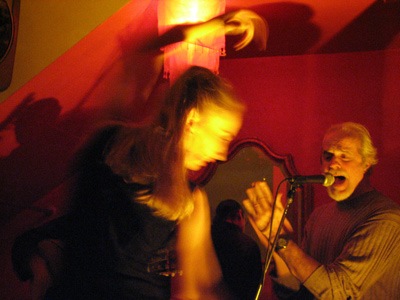 January 30, 2006 8:37pm (photo by Niko Alexandrou)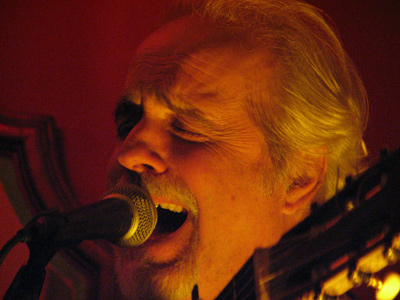 January 30, 2006 8:41pm (photo by Niko Alexandrou)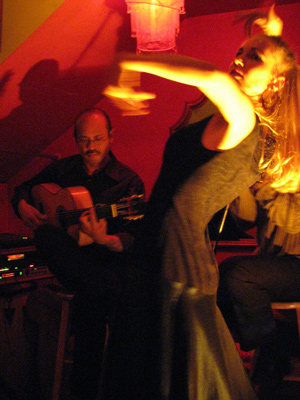 January 30, 2006 8:49pm (photo by Niko Alexandrou)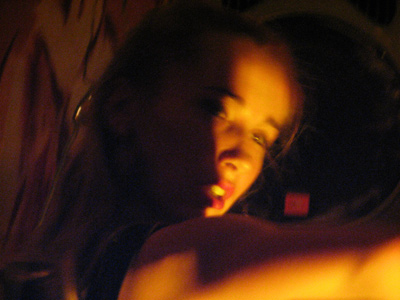 January 30, 2006 8:50pm (photo by Niko Alexandrou)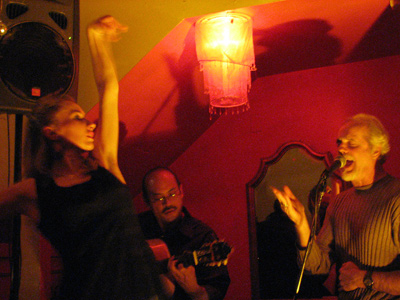 January 30, 2006 8:57pm (photo by Niko Alexandrou)
I had a number of other friends in the audience including Jesus Montoya, Nora Lopez, Keith, Susan and Joy. My friend Steve Svoboda and his wife Courtney were there too. He lent me his Sony TCD-D8 Portable DAT Recorder
so that I could digitally record directly from my mixer. I'm sure the microphones picked up the sound of the applause our screaming fans. :-) It was my first professional-quality live recording, yay!
Sunday with Miguelito January 29, 2006
It's 7:36pm on Sunday as I type these words. It's been a lazy non-flamenco day which is fine cuz I need a break every now and then.
About an hour ago, I had a couple of local tangueros here at the Pink Flamenco checking out the dance studio. Apparently, they found out about the Pink Flamenco through my blog and inquired about renting it out for an Argentine tango workshop.
Of course, they loved it! OK, so it's not fancy-schmancy but we have an advantage over the local dance studios: lots of open time slots on the weekends. Available time slots are typically hard to come by at other local studios with usually are booked solid with dance classes on Saturdays and Sundays. Plus we have our own parking lot!
What else do we have to offer? We have a contact person, yours truly, who is sensitive to what dancers want and need.
OK, enough of the sales talk. :-)
How did I spend my day? Woke up around noon, got dressed and headed to Fronteras University for some study time. Read a few more chapters in an art history primer which covered formalism and interpretation of art based on contexts such as history, artist's psychological profile etc. All this new stuff that I'm learning is getting me excited about going back again to the National Gallery of Art--which I haven't been to in about a week. The new Cezanne exhibition opened up today--which I'll check out on Monday mornin' to beat the crowds.
(From what I've read so far, Cezanne, 1839-1906, was financially supported by his father and likely didn't have to cater to the public's whims about art. Do you think this financial freedom allowed him to focus on his artistic vision later elevating him to the status of the father of modern art? By the same token, do you think that starving flamenco artists produce "better" art than well-off flamenco artists? There's no right or wrong answer--just something to consider.)
Back to my day...obviously I didn't make it to dance class as I originally planned. I volunteer my time at Joy of Motion and DC Dance Collective. The flamenco teachers and students at these respective studios are always happy to have me there and are very appreciative of my donated services. But sorry not today.
I have an ulterior motive when I do show up at class. Actually, it's part of my master plan to spoil all these dance students with live music so when the time comes when they have to choose between CD's and live guitarists in the performance, they'll make the right choice! :-)
---
It's 1:27am on Monday as I type these words. Just got back from Chi-Cha Lounge where I was hanging out with my photographer friend Niko Alexandrou. There wasn't much of a flamenco crowd which was fine cuz it gave me a chance to catch up on what Niko's been up to since I last saw him a few months ago.
Anyway, he's a flamenco photographer (try googling his name with flamenco) and currently his work is in an exhibition in Boston. Some of the photos in this exhibition include yours truly Miguelito, Ginette Perea, Anna Menendez, Natalia Monteleon et al. Here are just a few of his many previous pics in my photo diary. He'll be at Cafe Citron tonight (Monday) trying out a new camera. Just a heads up in case you want to look your best should your pic show up at a future photo exhibition. :-)
As we were about to leave Chi-Cha, this girl that I had been standing next to most of the night said "Excuse me." as she referred me to her friend, Susan.
This girl Susan recognized me from my photos on DCFlamenco.com and it turns out has been using my website for the past five years (!) to keep up with the local flamenco scene. This was the first time we met and she wanted to take a moment to thank me for all my hard work over the years. Awwww!
Here's a pic of Susan and her friends...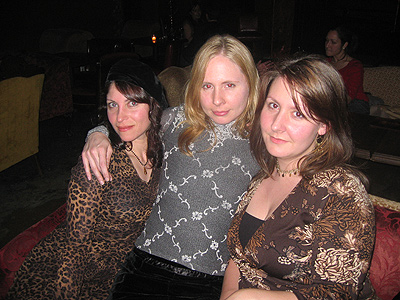 Joy, Susan and Joya. January 30, 2006 12:43am
Previously, Susan studied flamenco in New Orleans with Lali Solangel Calix. Currently she studies Cuban dance and the classical Persian musical instrument tar.
(Natalia wrote a review of Lizt Alfonso Dance Cuba about five years ago.)
Party for Jesus Montoya January 28, 2006
It's 2:53am on Sunday as I type these words. Got home a few minutes ago.
Singer Jesus Montoya is in town for the week for several performances and workshops. Local flamenco promoter Nora Lopez decided to host a small "meet the artist" party in his honor during his short stay here in DC.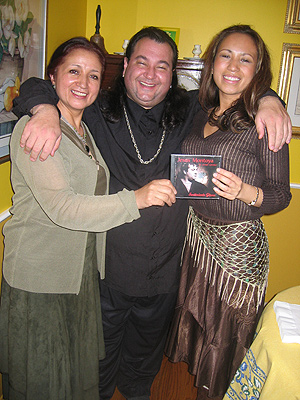 Isabel Otero, Jesus Montoya and "Isabelita" Otero. January 29, 2006 12:11am
Isabelita (that's my name for her) is an up and coming student dancer that I've had the pleasure of working with at the Andalucia restaraunt this month. She took Jesus' workshop and was very impressed with his teaching. What's special about his class, aside from the fact that Jesus is a gypsy from Sevilla, is that he can tell you, from a singer's perspective, how to dance with cante--and demonstrate it!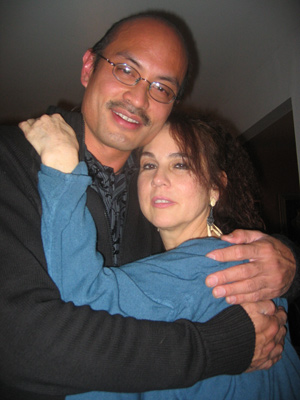 Miguelito and party hostess Nora Lopez. January 29, 2006 12:20am (photo by Juan Martin)
Nora performs ocassionally in the DC area but lately she's been known for putting her excellent organizational skills to use in putting together workshops, tablao shows and concerts. Everyone agrees that to be successful, you need to have a vision, a clear goal. But more importantly, it's essential to actually get off your butt and do what it takes to make that vision a reality. Nora is one of those successful people!
Anyway, back to the party...sooner or later at a gathering of flamencos the singing and dancing begins except we had one small problem: lots of guitarists but no guitar. My friend Juan Martin was kind enough to drive back home and pick up his instrument and sometime after midnight the jam session segment of the party began...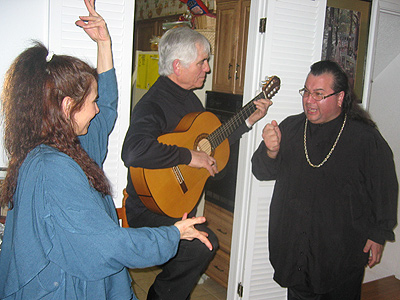 Nora, Torcuato Zamora and Jesus. January 29, 2006 12:23am
My friend who gave me a ride had to go early (she had an early day at work Sunday), but I couldn't leave without at least accompanying Jesus once before saying good night. At his request, I took the guitar and accompanied Jesus in tangos.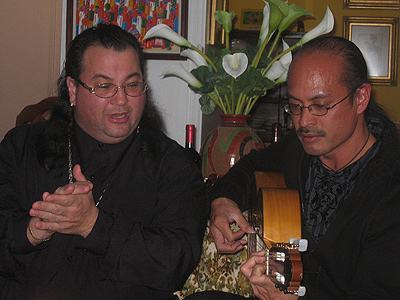 Jesus and Miguelito. January 29, 2006 12:28am (photo by Cecilia Terrasa)
In the few years that I've known him, it was my first time to accompany him--no, actually he stopped by Cafe Citron a year ago when he got up onstage for an impromptu bulerias. OK, so it was the first time I accompanied him in a private party. :-)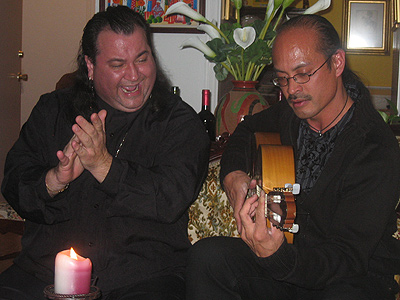 January 29, 2006 12:33am (photo by Cecilia Terrasa)
He sings, dances and does percussion but surprisingly doesn't play guitar. Well, playing guitar is not necessary for someone like Jesus. Why? Being the great flamenco singer that he is, Jesus is always in the company of some of the best flamenco guitarists!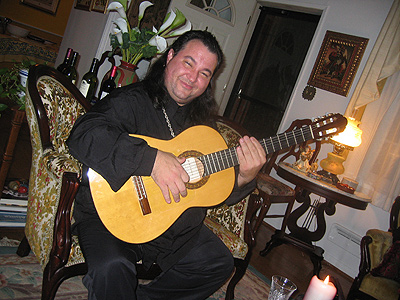 Jesus. January 29, 2006 12:38am
He gave a bulerias dance workshop this past weekend that was very well received. Another workshop is scheduled for this Wednesday February 1st. (Details)
It's 2:58am on Sunday. Hopefully I'll wake up in time to make it to Joy of Motion at 12:30pm (the studio is a 10-minute walk from my house) and see if I can play for Estela Velez's Basics class. OK, time for bed. Good night!
Friday with Miguelito January 27, 2006
It's 7:19am on Friday as I type these words. I woke up a few minutes ago having gone to bed at a conventionally decent hour, for a change. Although, this morning's rehearsal is at 11:00am all the way out in Alexandria, I still feel like squeezing in some studying at nearby Fronteras University which opens at 9:00am.
I'll just take a quick shower to wake up, get dressed and treat myself to a good breakfast around the corner at Panera where I always order a double espresso. The barista there seems to give me two extra shots, I think, just to make the regular coffee mug look a little fuller. I'm not complaining.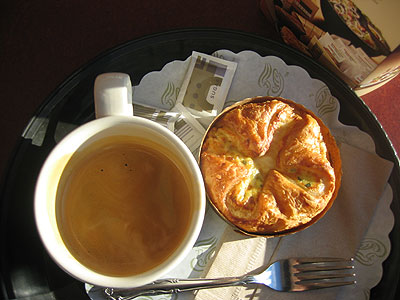 January 27, 2006 8:59am
At least that'll keep me awake on what I like to call the "morning drain train"--you can sense the collective gloominess of all the passengers dreading 1. Having to go to work 2. Having to go to work so early in the day. Just being in the presence of all those frowning faces is enough to sap me of what little energy I have.
OK, time to go. Hopefully I'll update this blog when I get back from rehearsal in the afternoon. Tonight, I'll be performing at Cabanas with Mariya and Ginette. Ciao for now!
---
It's 5:18pm on Friday as I type these words. Just got back from rehearsal. We finished at around 3:00pm but I stopped for a late lunch along the way.
It was a good rehearsal today--we were both mentally focused and since the studio was empty we had no interruptions (very important). However, we're human therefore every now and then we have less than ideal rehearsals--usually due to insufficient sleep, bad mood etc. The important thing is to acknowledge when it's not going well and take a break and come back refreshed and ready to work. Or in a worst case, just call it day.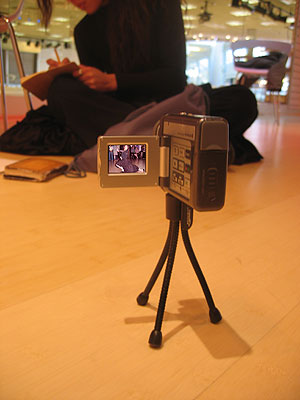 January 27, 2006 2:09pm
Since we meet only once a twice a week, we use the help of modern technology to make the most of our time, in this case: the Mustek DV4000 MPEG-4 7-in-1 Multifunctional Digital Camcorder
. It's compact so you can throw it (well not really) in your dance bag and with a 256MB memory card this camera can hold about an hour's worth of video--probably more than you'll need to record in a single rehearsal anyway. You can even archive the videos on your computer.
So we just set the digicam on record and freely jammed on solea escobilla rhythm patterns. We were able to relax cuz we knew that all the ideas we came up with would be on tape. This way Marsha can review the video later and pick out the more interesting footwork patterns and polish them up in time for our next meeting. Pretty cool, huh?
The next four week class sessions at Alliance Dance Institute start the beginning of February. Marsha teaches Beginning Flamenco, Sevillanas, Castanets and International Body Movement (dance aerobics using Capoeira, Flamenco, Arabic belly dance and Bharatanatyam yoga movements). More info at their website or call 703-354-6000.
It's 5:57pm on Friday. Time for me to pack up my sound equipment and head to Georgetown for my Friday night gig at Cabanas. For reservations, call 202-944 4242. See you there!
---
It's 11:01am on Saturday as I type these words. Just got up a short while ago and I have only a few minutes here before I have to go to my 12:00pm dance class so this will be short and sweet. :-)
Last night was fun at Cabanas. Funny thing is that one of my lights broke so we were left only with one I and I decided to use the amber filter which resulted some very dramatic lighting. Check it out:
Ginette improvised with a fan for this dance. Good job Ginette!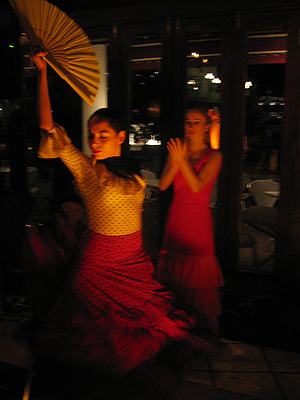 January 27, 2006 (photo by Keith)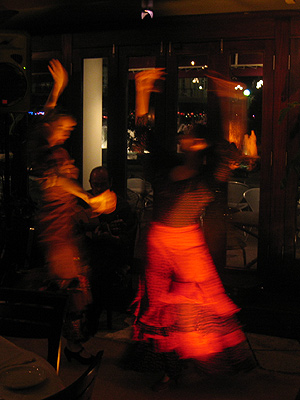 January 27, 2006 (photo by Keith)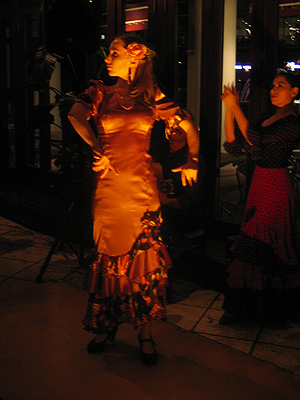 January 27, 2006 (photo by Keith)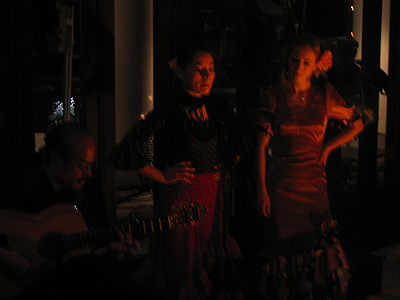 January 27, 2006 (photo by Keith)
Gotta go. Dance class starts soon and I still have to get dressed. Ciao for now!
---
---
Photos taken with the Olympus Stylus 300 Digital Camera
Text and original images ©1996-2013 by . Please do not republish content from this website, including text and photos, in whole or part without prior written permission.
[
2005 Index
][
previous week
][
home
][

]