Thursday May 8, 2003--A few years ago, I interviewed dancer Alma la Terremoto before she moved away to New Jersey. After more than ten years of involvement in the DC scene, it seemed appropriate to give Alma a chance to say goodbye and inquire about her thoughts on the DC community. I decided it's time again to do the same for another one of my friends.
Dancer Kyoko was in DC for just a few years, however, just as she announced her plans to move to Miami, things picked up: she was called upon more and more to perform at local venues and substitute teach at local dance classes. Also, last year she organized Omayra Amaya's first DC area workshop. Not bad for just a few years!
I'm sure that many of us in DC will miss her very much. Fortunately, just before Kyoko left, I had the pleasure of spending some time with her to do a brief interview.
---
How did you first become aware of the DC flamenco community and did you find that you were easily accepted?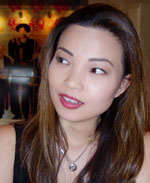 It depends on how you define "DC flamenco community." If you are talking about those who enjoy, either professionally or non-professionally, the art of flamenco in the DC-area broadly, I would say that I first became aware of it through your website. If you are referring to a particular group of people, I became aware of them later on in my DC flamenco journey, through attending classes and performances.
What did you personally want to accomplish by attending flamenco classes and social gatherings?
It goes without saying that by attending flamenco classes, my goal was, and still is, to improve my skills and learn more about technique, style, palos, choreographies, etc. I was fortunate to have been nurtured by several high-caliber teachers both in DC and in Spain, who did not hold back in teaching us what they know. They also encouraged me, and even facilitated in, to start performing in public, which is a whole different learning experience that one cannot attain from simply taking classes.
As for the social gatherings, well, they are just pure fun! When I finally learned how to dance the Sevillanas, it was a lot of fun to participate in the spontaneous Sevillanas sessions. It is wonderful to spend time with those who love flamenco and appreciate it so much.
What did you like the least about your experience here in DC? What did you like the most?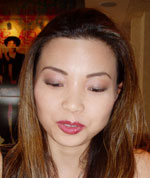 For a city this size, DC has a vibrant flamenco community, and we have been fortunate to have many world-class artists performing here. I have mentioned my teachers earlier, but one thing I very much appreciated was the fact that they encouraged me to study with different artists and they were all supportive in my going to Spain every year. I also like the fact that I befriended so many people from all walks of life, both professionally and culturally, who shared the same passion for the love of flamenco.
I suppose one of my least favorite experiences was the fact that I came across a few people who were insecure about themselves and/or resented others, and the fact that this was negatively reflected in their treatment of others around them. Flamenco is not a competition, and there is room for everybody to grow and enjoy. The worst thing one can do to oneself, and onto others, is to shut out the rest of the flamenco world and expect everyone else to behave the same, or to purposely interfere with someone who is trying to improve in their own way. It saddens me to see and hear people backstabbing one another.
I also wished that there were more singers available, to hear perform and to perform with.
What ways do you hope the DC community improves?
I hope that my friends will continue to improve, grow and that there will be more new talent. Because the community is so small and because everyone knows everybody, I hope that there will be less bitterness between people and more cooperative effort by everyone.
The word is slowly getting out there worldwide that DC has a vibrant flamenco scene, and I hope that it will continue to nurture new talent and grow in its significance and quality.
What do you enjoy about performing? What do you dislike?
I don't know if I would call it a dislike, but I'm always extremely nervous before a show or a solo tablao show. I always feel like I'm not prepared enough. There are lots of positive things about performing, but it is certainly a very exhilarating experience.
Tell me about your tablao debut with dancer Edwin Aparicio. How did you feel that night?
(Laughs) When was that? That was last year in the Fall [2002] when I was subbing for Mica. Mica called me a week or two before she was leaving town to ask if I would sub for her at Las Tapas in Old Town Alexandria. I knew that I was performing with you and Edwin and I was really really nervous. I could hardly sleep for about three days and I lost about five pounds because I was so nervous. I practiced my dances over and over and over, and although I had choreographed pieces already in my head, once I was actually out there performing, I quickly realized that certain things needed to be altered as I went along. It was not the same as the practice session. Some things went better than expected. Some things went worse than expected. So it was a good challenge and a good eye-opener.
Are you already in contact with the Miami scene?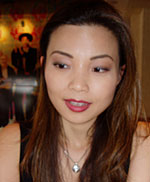 I have already begun my research into the Miami flamenco scene. And yes, I actually have a friend that lives there who is a flamenco dancer and teacher so I guess you can say that I am already in contact with the Miami scene. Apparently there are almost twenty tablaos there, and quite a few flamenco troupes in the area. I intend to check out each and every one of them!
Do you intend to bring some DC artists to Miami to give workshops?
Well, as soon as I'm settled in my home there, I intend to fully explore the Miami flamenco scene to see what's out there and what kinds of artists are there. I would be delighted to facilitate workshops or performances by DC-area artists in Miami!
What are you most going to miss about the DC flamenco scene when you move to Miami?
My friends. The access to good teachers. Opportunities to perform. Opportunities to teach.
Do you think you might consider making a Miami flamenco website?
Yes! (Laughs) Definitely! Along with my tienda!
Any last words for the DC community?
I would like to say that the DC flamenco community has been a very large and important part of my life for the last couple of years, and I want to thank you for accepting me with open arms. I will miss all of you very much!!
---
[Editor's note: My thanks to Kyoko for granting me this brief interview. You can email her at Update (April 2008): Kyoko has her own well-known flamenco website that has been keeping the southern Florida flamenco community well-informed for the past few years. Congrats Kyoko!]