Mystery singer




(Friday December 21, 2001)

A

friend of mine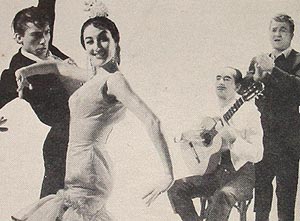 who works in a public library set aside for me some flamenco records that were recently donated.

I took a look at one of them, The Soul of Flamenco (Nonesuch Records HS-72002), and had one of those rare moments where I could name drop. So I said, "I know _____ _____, he's the singer on this record."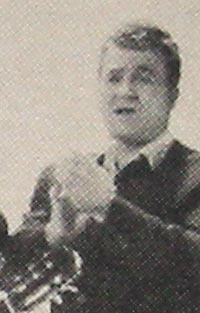 Not being flamenco aficionados themselves, my friends never heard the name before but they were nonetheless impressed. The above photo is from the back of the record jacket. The dancers are Pepa Reyes and Angel Mancheno. The guitarist is Juan García de la Mata.
Who is this mystery singer?
For a hint, here's an excerpt from the bio in the liner notes by Cynthia Gooding:
...He has run a restaurant in Paris (where flamencos make a better living than they can in Madrid) where he was chef and cantaor alternately. He is decided, amused by the passing scene, full of the gestures of a flamenco singer whose role is to vocalize the emotions called forth from the guitar and the dancers. When he bursts into the ritual of the dancers with a copla, their attitudes change, their hitherto blind, inward-seeking eyes see and they listen as he tells them what they feel, what love will bring, what life will bring, what gives life its shape, Death. What his voice lacks in color and nuance, he makes up with his embellishmnents. He is a most manly and direct singer...
Stay tuned for the answer tomorrow.

Spontaneous fiesta
(Wednesday December 19, 2001) You never know when a juerga will happen.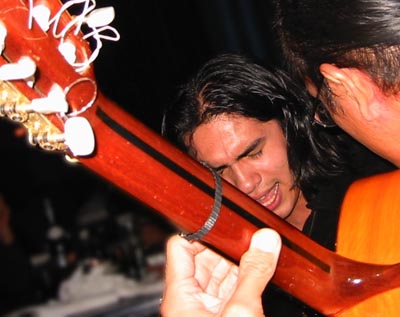 Last night at Guarapo (703-528-6500), I pulled out my guitar and started playing some bulerías.
Duende Camarón guitarist José Oretea was inspired to sing a few letras while everyone provided palmas.
I didn't know which letras he was going to sing so I just listened carefully and tried my best to follow his tones and phrasing. Of course, our little performance was technically imperfect but very satisfying. It had a certain energy and level of excitement that you can never achieve with something rehearsed.
I've noticed that when I accompany something I have seen or heard before, I sometimes tune out and "fall back" into my routine. But when I'm put on the spot to accompany something I've never seen or heard before, I am more focused. I am more sensitive to the subtleties of the cante or dance in a way that allows me to accompany at my best. Athletes know what I'm talking about--it's like being "in the zone."
I'm not putting down the idea of rehearsing. I still enjoy the process of putting together a clean polished piece, but I especially love it when I occasionally surprise myself in a situation where I don't know what's coming next.
Hmmmm....this sounds like a metaphor for "living in the moment." Don't you agree?
(Photo by Michael Long)

New Year's Eve events
(Tuesday December 18, 2001) I called all the local venues that regularly feature either flamenco or rumba. This is what's going on New Year's Eve, Monday December 31, 2001:
Maxim Restaurant
flamenco show with dancers, special menu
(202)962-0280
Las Tapas
rumba guitar music by Duende Camarón, special menu
(703)836-4000

Taberna del Alabardero
around midnight, rumba guitar music by Ramin, Amilcar and Gerárd and percussionist Jason Vera y Aragón and singer Kivanc (around 1am), special menu, dj
(202)429-2200

Sole
rumba guitar music by Richard and Kivanc, special menu
(202)625-7653

Café Milano
rumba guitar music by Manolo and Lito
(202)333-6183

Bambule
from 8-11pm, rumba guitar music by Ramin and Michael Bard, special menu, dj
(202)966-0300

Meze
Turkish music, special menu
(202)797-0017
Toro Tapas
no live entertainment, regular menu
(703)379-0502
Jaleo Bethesda
no live entertainment, special menu
(301)913-0003
Jaleo DC
no live entertainment, regular menu
(202)628-7949
Guarapo
dj, special menu
(703)528-6500
Chi-Cha
dj
(202)234-8400
Cafe Citrón
special menu, dj
(202)530-8844
Andalucía Rockville
no live entertainment, special menu
301)770-1880
Andalucía Bethesda
no live entertainment, special menu
(301)907-0052
The above information is current as of today, but is subject to unannounced last-minute changes. When making plans, PLEASE call the restaurants to confirm!
Make your reservations early. And don't forget to ask about the dress code--seriously, some of these places will refuse entry if you are not suitably attired.
If you hear of any new developments, please let me know.
---
NOTE: On New Year's Eve, there's absolutely no reason for anyone to drive home drunk. Thanks to the SoberRide program, you can always get a free taxi ride home. Call 800-200-TAXI.