It's Manolo Leiva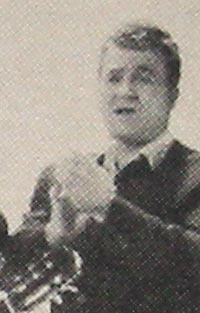 (Saturday December 22, 2001)

G

uessng who this mystery singer probably wasn't that much of a challenge considering that we don't have many of them in the DC area. (Some might even insist that Manolo is the only authentic cantaor around here.)

In any case, we are very very fortunate to have a virtual walking encyclopedia of flamenco--someone who knew and worked with many of the famous names most of us have only read about.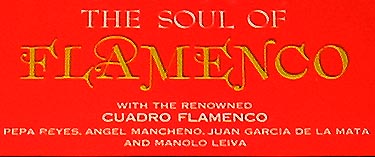 Unfortunately, I no longer have a record player so I can't tell you about the performance on this recording. For now, you'll have to settle for a listing of the tracks:


La Isla (Tanguillo)
Aires de la Caleta (Malagueña)
Tacón Flamenco (Farruca)
Punta Humbría (Fandangos de Huelva)
Llanto Andaluz (Soleares)
La Macarena (Saeta)
En la Cueva (Bulerías)
Los Aljibes (Granadina)
Tu Pelo Negro (Siguiriya y Martinete)
The catalog number is Nonesuch Records HS-72002 (formerly issued as Cuadro Flamenco on Elektra Records EKL159). Roger Lapierre, from Montreal, writes:
Well I looked up both versions of CUADRO FLAMENCO records that I have (the Nonesuch and the Elektra). Your numbers are OK , but unfortunately nowhere is there any mention of the year in which it was taped . I looked everywhere, re-read the entire text by Cynthia Gooding, checked the liners, and the vinyl record itself which has a lot of etched-in scribblings on it. Nothing!

The only thing I can tell you is that we got this record (the Elektra one) brand new in 1965 in Montreal and it was advertised as a novelty. Something new on the market. The actual taping which was done in the US could not have been done any later then I would assume 1960?

Something else came up . I found a very old 33rpm record featuring Manolo and Roman El Granaino.It was taped in France in the 50's(?) and was given to me by Manolo in August 1974 when I was playing in Washington . He was then singing at the Bodegón with Carlos Ramos. Need I say how sensational this is?!

Plus I have the Ximenes y Vargas record featuring Manolo again and Juan García on the guitar...

Anyway all this to say that if anyone out there would want copies of these recordings I will gladly provide them . Be warned though that I learned most of what I know in Flamenco from these records ...they screetch and scratch a bit if you know what I mean!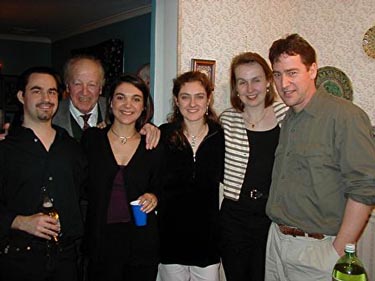 This is the most recent picture I have of Manolo. This was taken at Arte Flamenco's cast party on March 10, 2001. Pictured from left to right are DC Flamencos guitarist Richard Marlow, dancer Anna Menendez, guitarist-singer Marija Temo, dancer Lenore Boulet and her husband guitarist John Boulet.
Ethnomusicologist Gerard Moreno is assembling a biography on Manolo on his website. Take a look at what he has gathered and published so far.