Saturday Night Flamenco at Cafe Citron. May 8, 2010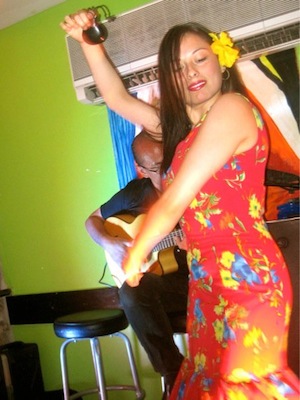 Flamenco dancer Ginette performing Sevillanas at Cafe Ciron. May 8, 2010 (photo by Jani)
It's almost 2pm on Saturday as I type these words. The weather's sunny and breezy now but I'm indoors at my local Barnes and Noble cranking out a quickie blog. Not to worry, I promise I'll get some fresh air for a bit before getting ready for my flamenco gig tonight at Cafe Citron.
So yeah it's been a while since my dancer friend Ginette has performed at Cafe Citron. As you might imagine the past year or so, she's been busy with work and finishing up college. In fact, by the time you read this she'll have graduated by then...congrats Ginette!
Tonight's show (assuming you're reading this on Saturday) at Cafe Citron will also feature a dancer that hasn't been in my blog for awhile: Sara Candela. She recently moved back to the DC area from Chile and has been getting settled back in to the local flamenco scene again, teaching at Joe's Movement Emporium in Mount Ranier, Maryland and dancing here and there but mostly at El Manantial in Reston, Virginia.
There's a lot of stuff going flamenco-wise this weekend that is of interest to you my readers. But believe it or not, not all of it is here in DC. Read on...
Continue reading "Saturday Night Flamenco at Cafe Citron. May 8, 2010" »