Manuel Liñán Masterclass at DC Dance Collective. September 23, 2010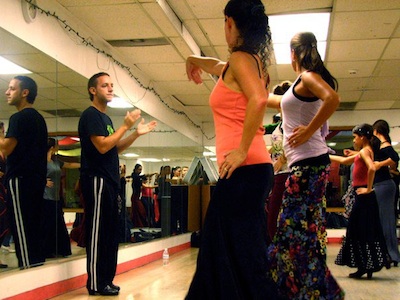 Manuel Liñán at DC Dance Collective. September 23, 2010
It's 9-something pm on Sunday as I type these words. Between rehearsals, private gigs and my usual fun Saturday night gig at Cafe Citron, it's been a busy couple of days for me. But I finally got a day with nothing on the schedule so I "unplugged," stayed-in and seriously caught up on sleep! I'm up now so I might as well crank out a quick blog entry.
So this past Thursday, I decided to drop by DC Dance Collective to check out Manuel Liñán's ongoing masterclass and also say hello to the many dancers that I know but don't see on a regular basis. I checked my blog archives and it turns out that I did meet Manuel briefly at a post-concert party during Lisner's flamenco festival in February 2007. But that was years ago so I can't expect him to remember me.
I arrived at the dance studio about 20 minutes before the class started and gave the dancers a heads up that I was going to take pics. Met Manuel for moment and got the OK to bring my camera into the studio. Got caught up in a few conversations, time flew by and before I knew it the class started and I got to work!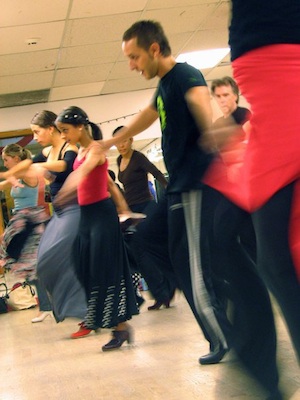 Manuel demonstrating a step. September 23, 2010
I realize that sometimes people get a bit nervous when someone's taking their pics. So I have this way of holding the camera in my lap and discreetly have the adjustable display viewfinder screen pointing up so I can see what I'm taking pics of. Sneaky? Perhaps. But my intent is to document the class and at the same time, not make anyone feel self-conscious. Y'know what I mean?
Of course there are a few dancers I know that feel completely comfortable in front of the camera. In fact, there is one that seems to always sense when my lens is pointing in her direction. It's Mariana (pictured below) who took a second to pose so I could capture this moment. Thanks Mariana! ;-)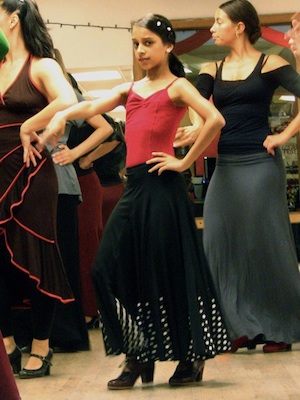 Dancer Mariana. September 23, 2010
The masterclass went on for eight days from September 18th through the 26th. Each day there was a class for the beginner/intermediate level which worked on bulerías and the advanced level which worked on alegrías. Most of the people that night took both classes. The first night of the masterclass, the studio was filled to capacity with 25 dancers! And usually for the weeknight classes attendance typically drops slightly—not everyone can afford take class on a "school" night I presume. But I counted 15 dancers which is not bad at all for a Thursday night.
Accompaniment was provided by guitarist Behzad Habibzai who did an amazing job of coming up with inspiring modern falsetas that musically meshed with the choreography. Manuel would occasionally look in Behzad's direction and ask, "¿Tienes algo?" and Behzad would usually reply in English, "Almost" until he finally worked out the music. A couple of times, Manuel walked over to Behzad and was very impressed. Go Behzad! :-)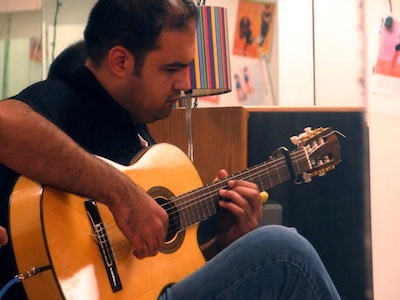 Guitarist Behzad Habibzai. September 23, 2010
As for the dance students, of course if you didn't understand Spanish, you missed a few details when Manuel went into lengthy verbal explanations. But he was always checking if everyone was keeping up, "Sí o no?" As expected Manuel's choreographic material is very creative and musical and of course very challenging and so it took a few or sometimes quite a few repetitions before there was a unanimous "Sí!"
What I liked was that Manuel gave the "back row" students just as much attention as the "front row." There was a lot of detail in the choreography, enough to make anyone's head explode, but he patiently took the time to answer questions. It's very easy in workshops to focus too much on the footwork patterns at the expense of the upper body. But Manuel covered it all, upper body and lower body.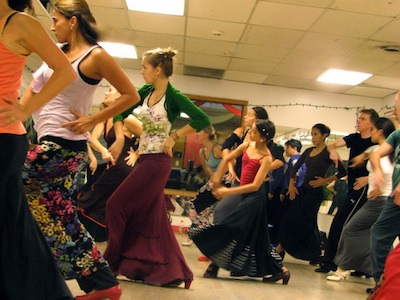 An almost filled-to-capacity class at DC Dance Collective. September 23, 2010
Anywayz, I'd love to go on and on about the masterclass, but it would be better to get some commentary from the dance students themselves. Feel free to email me at michael@dcflamenco.com and I'll be glad to publish a few quotes here. Thanks!
If you want to learn more about Manuel Linan, you can visit his website at www.manuellinan.com
Kudos and thanks of course to Edwin Aparicio for setting up this masterclass!
PS this is my 500th blog entry since January 2006! Not that prolific as far as blogging goes, but most definitely more than any other flamenco blogger, the very few that are out there!
« The History of Tablao Construction in DC | Main | Same flamenco blog...just a new look! »