Flamenco at Las Tapas - September 21, 2010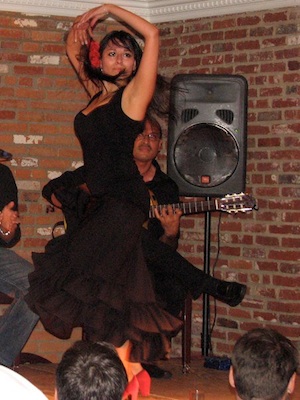 Ginette dancing soleá accompanied by Miguelito at Las Tapas. September 21, 2010 (photo by Даша)
It's almost midnight on Tuesday as I type these words. Got home about an hour ago. I really should go to bed at a decent hour for a change. I have an early day tomorrow and I can't afford to show up at the gig half awake. It wouldn't be fair to the dancers and the singer not to mention our audience! But since I'm up I might as well crank out a quick blog for now and make myself productive.
For the longest time, the Tuesday night manager at Las Tapas, Даша (pronounced DA-sha) has been offering to take pics of the show. I finally took her up on it for this evening's show featuring dancer Ginette. Thank you Даша!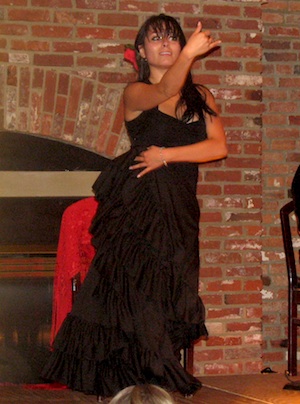 September 21, 2010 (photo by Даша)
My usual routine for Tuesdays is to arrive a couple of hours before showtime. Here's the thing: I have more than 100 pounds of sound gear that I cart around on the metro. And it's not really practical for me to do it during rush hour when the trains get seriously packed with people. It's not a total waste of time to arrive a few hours early though. I can take my time setting up my sound system, warm-up my hands properly and relax a bit before the show.
But I must've been a little distracted this afternoon because I forgot to adjust the EQ. It's not disastrous when it's a bit off, but it's just not as inspiring for me as a performer when my guitar doesn't sound its best through the sound system. I don't want to get into the technical details, but the thing is that each venue has different acoustics and so I have to do a sound check every single time I set up. And today I forgot to do that. Bad Miguelito, bad bad bad! :-)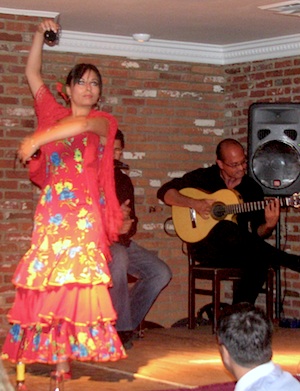 Ginette dancing Sevillanas. September 21, 2010 (photo by Даша)
Despite the minor EQ problem the show was still pretty good. Ginette danced wonderfully as always. On the other hand, my mental focus drifted several times when I would catch myself having a mental conversation with myself: "Ugh...what's the matter with the sound??? Just let it go. It sounds good enough. Relax and have fun with the show!"
It's easier said than done. But eventually I did just let it go and had fun. After the show, I was pleasantly surprised by the many compliments from the audience as we made our way across the dining room. Even though I was still a bit unsatisfied with how my guitar sounded this evening, the inspirational energy Ginette and I shared onstage more than made up for it.
Sometimes, I get great sound on certain nights, but the audience response is so-so. And other times sound is so-so and the audience response is great. Tonight was the latter. OK...time for me to stop whining now. In the grand scheme of things, it's all good.
Flamenco shows at Las Tapas are on Tuesdays and Wednesdays at 8:00pm. Thursdays at 8:00pm and 9:00pm. Call 703-836-4000.
« Duende Camaron at Vinoteca - September 19, 2010 | Main | The History of Tablao Construction in DC »