Flamenco at El Manantial, painting edition. ;-)
It's Monday around 1:00pm as I type these words. I'm sitting in the cafe at Barnes and Noble in Georgetown. Man the competition for tables here is fierce! Here I am working on my flamenco blog while others, presumably college students, are hovering nearby ready to pounce upon the first sign of someone leaving a table! No guilt on my part though. My work here is just as important as a term paper, thesis or dissertation anyway.
This will be a quickie blog so I can go back outside to enjoy the gorgeous weather while it lasts.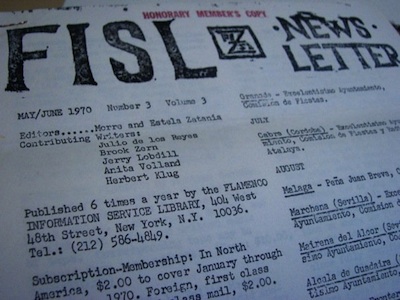 Flamenco Information Service Library newsletter May/June 1970 issue. Among the contributing writers is Jerry Lobdill, a former DC area flamenco guitarist!
Latest news is that a flamenco friend is entrusting me with her archive of the Flamenco Information Service Library (FISL) newsletters from the 60's and 70's. In addition I have a few issues of the Journal of Flamenco Artistry from the late 80's and early 90's. I suppose nowadays, thanks to people like me who document their respective local flamenco scenes online, newsletters (the paper version at least) are not really necessary. But in my self-appointed quest to explore and document the DC and East Coast flamenco scene before my arrival in 1991, these FISL newsletters will prove to be very useful!
Here's a little tidbit of info from the Current Events section of the May/June 1970 issue of FISL. Recognize any names and places?
MARYLAND:
Maria Morales, Spanish dancer, teacher, and choreographer, has been appointed faculty member of the Peabody Conservatory of Music in Baltimore. Classes start in September 1970...

WASHINGTON, D.C.:
Dancer Lola Moreno, singer Manolo Leiva, and guitarist Carlos Ramos are at El Bodegon regularly.

Dancer Antonio Vega and guitarist Torcuato Zamora are at El Tio Pepe.

Occasional flamenco entertainment at El Toledo Restaurant.
(A. Coleman--correspondent)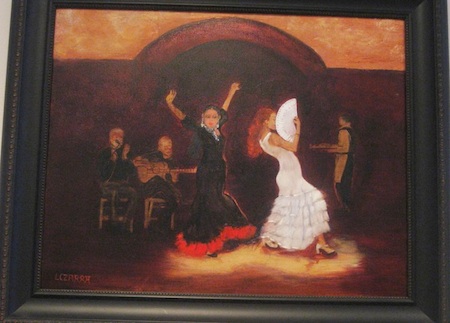 Flamenco at El Manantial. Painting by Linda Czarra.
So a couple of days ago, I received a photo of a painting from one of my shows that you see above. It's by a local artist named Linda Czarra. Depicted are singer Gerard Moreno, guitarist Miguelito (that's me!) and dancers Pam de Ocampo and Sara Candela at El Manantial in Reston, Virginia. It's not like this sort of thing happens all the time but it's still pretty cool to know that we inspired someone in our audience enough to want to make a painting.
[UPDATE: Just heard that the next show at El Manantial will be on Thursday September 30, 2010 at 7:00pm featuring singer Gerard Moreno, guitarist Miguelito and dancers Ginette and Pam de Ocampo.]
You know how the dancer, guitarist and singer inspire each other onstage? Well the creation of a work of art by a member of the audience, be it a painting, a photo or a poem is kind of the same thing: a transmission of inspirational energy from one artist to another. To be fair, applause and shouts of Olé count too, but I just get a kick when someone such as Linda Czarra put so much time and energy into returning the favor and inspiring us performers with a beautiful painting. Thank you Linda!
Coming up this Saturday September 11, 2010, Sidney Harman Hall (in Chinatown) is presenting brief dance performances all day as part of the Arts on Foot Festival 2010:
3:00pm Furia Flamenca
6:00pm Flamenco Aparicio
Tickets are FREE but are made available one hour before each performance! First come first served! More info.
« Another reason to go out and support your fellow flamencos! | Main | Lazy Sunday afternoon with Miguelito. September 19, 2010 »