Duende Camaron at Vinoteca - September 19, 2010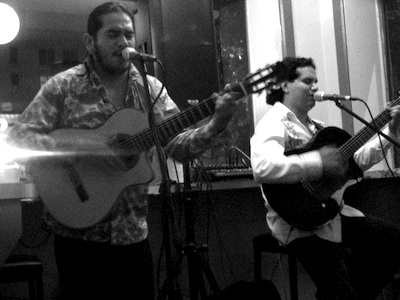 José and César Oretea aka Duende Camarón at Vinoteca. September 19, 2010 10:43pm
It's 2-something pm on Monday as I type these words. And yes I'm proud to say I just arrived home after a fun night at Vinoteca. Things never seem to go as planned. This always happens. I promised myself I'd only have one beer and leave early. Don't get me wrong, the show was excellent...I just didn't want to stick around too long and be tempted have a couple more drinks and spend more than my struggling artist budget would allow.
As I was about to leave, I got a text from a flamenco fan who saw my Twitter update (announcing that I was going to Vinoteca) and so she decided to drop by. I hadn't seen my friend in a while, so I decided it wouldn't hurt to stick around for just one more drink. We split a bottle of Spanish wine, which by the way are half-off during Flamenco Sundays! $32 bottle slashed to $16 split between two came to $8 each plus tip.
Next thing you know it's 11:00pm. The show's over and I was about to rush off to catch the 11:23pm metro home. So as I was saying goodbye to everyone, I was introduced to this Italian girl who apparently is a regular. She asked, "Where are you going?"
And I jokingly replied, "We're going to your house to party all night!"
"OK! Let's do it!" Wow...this totally caught me off guard. But I went with the flow.
"Allright let's go!
So scratch the idea of catching the last train. I worked out another ride home and we headed to my new Italian friend's house for a few drinks with the Oretea brothers and friends.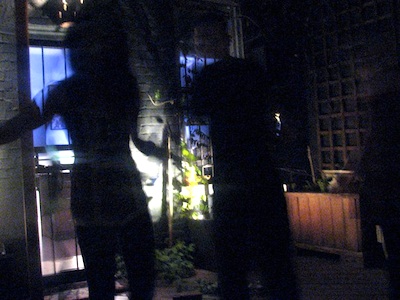 After-party at our Italian friend's house. September 19, 2010 11:54pm
So after a few drinks, it was time to leave. Didn't want to overstay our welcome, y'know? César offered to drive me home which was totally in the opposite direction, but José said, "Why don't you just crash at my place?" I didn't have any plans in the morning, so I said, "OK!" And just like the old days (back in 2004) José and I sat out on the porch at his house, being the late night vampires that we are, and talked about music, life etc until who knows what time.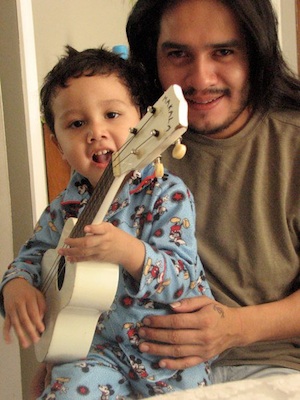 Monday morning hanging out with José and his nephew. September 20, 2010 11:46am
Next morning I was woken up when someone came in the room and announced, "Come upstairs for breakfast." So I joined the Oretea family for some coffee, bacon, eggs and some picante empanadas, yum! Got to meet José's nephew who seems to already have a headstart on decent rasgueo technique! No surprise.
So what's the point of all of this? Well, as much fun as I have doing flamenco for a living, I still need a vacation like everyone else. But I can't afford it right now. So the closest thing to a vacation is to leave the guitar at home, not think about work, go out and relax and go with the flow which is exactly what I did. Did I spend more money than I should have? Yeah. Is it the end of the world if I did. No. I'll figure somethin' out. But am I more relaxed now? Yes. Mission accomplished!
« Lazy Sunday afternoon with Miguelito. September 19, 2010 | Main | Flamenco at Las Tapas - September 21, 2010 »