Almost 20 years in the DC flamenco scene!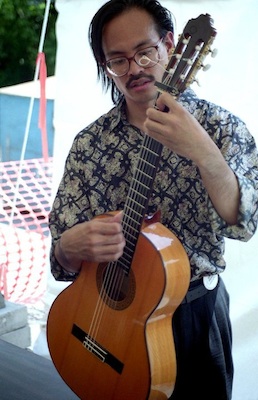 That's me, Miguelito, in June 1995 at the Washington Folk Festival (photo by Stan Peters).
It's 11:55am on Monday as I type these words. I'm not going to lie. Summer has been fun so far, but not much to report flamenco-wise. I mean over the past few months I could've easily cranked numerous blog entries about the the same people, places and events you've read about before. Come to think of it, that's pretty much what I do most of the time anyway.:-) But regardless I've been sticking to my primary mission: to keep the local community of what's going on (even if there isn't much going on).
Lately, my longtime photographer friend Stan Peters has been uploading some old flamenco pics to Facebook. "Old" is relative term of course. But I mean old as in from the 90's. That pic of me you see above was taken in 1995 at the Washington Folk Festival. I was 28 at the time and having the time of my life. I was pretty much the only young 20-something guitarist in the DC area at the time.
The other "young flamenco guitarists" at the time like Richard Marlow, Ramin Rad and Behzad Habibzai didn't arrive on the DC flamenco scene until a few years later. In the meantime I was getting calls left and right and doing everything from the low-paying and non-paying street festival gigs to the full-fledged theatre performances. (Full-disclosure: I had a full-time office job too so I could afford to take on low paying and free gigs at the time.)
While I was thrilled with the idea of getting paid for doing what I love, money wasn't my main motivation. It was, and still is, a lot of fun playing guitar for dancers (and singers too when we are lucky to have them). And it's an added bonus to perform for a live audience. The idea of sharing this most beautiful art form with others motivates me again and again each time I'm about go onstage.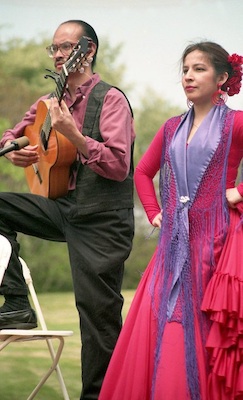 [photo on the right by Stan Peters, taken at the DC Feria de Sevilla in 1997]
Fast forward to current day and things are pretty much the same. I'm a little older and presumably a little wiser too. :-) I still get that thrill each time I go onstage (I'm not exaggerating...I really do!) and money, despite the hard economic times, is still not a motivational factor.
But 2011 is approaching and June 1st of that year will mark 20 years that I've been involved in the DC flamenco scene! So while 20 is just an arbitrary number, it's a good time as any to reflect on where I've been and where I'm going and to think about how the DC flamenco scene has evolved.
Yeah I admit that seeing pictures of myself from the 90's has got me in a nostalgic mood. But enough about me. What do I have in store for you, my loyal readers? Well for starters I'm scheduling interviews with some of the older generation of DC flamencos some of whom were active in the scene long before I arrived in 1991! It'll be very interesting to get their take on how things have evolved, how things have changed and how things have remained the same over the past 20 years.
And while I'm at it, I'll start interviewing some of the current younger generation of flamencos and not just the performers and teachers, but also the local students and aficionados. Not all of us are destined or striving to become full-time artists but in a way being an amateur is in a way a more noble approach: when the amateur does flamenco, it's purely for the love of the art and etymologically, amateur does mean lover anyway.
Anywayz, let's get back to the regular blogging format and let me talk about the pics you see here from my gigs the past week or so...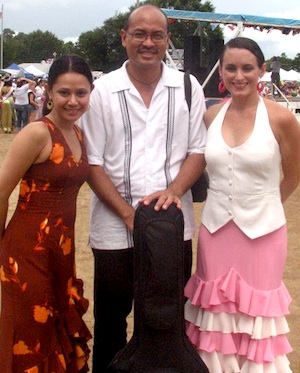 Pam de Ocampo, Miguelito and Jen at Hispano Fest 2010 in Millsboro, Delaware. August 22, 2010 (photo by Richard)
I've been doing the Hispano Fest in Delaware for a long time mostly at the invitation of my dancer friend Micaela, but previously a few times with Arte Flamenco. I know what you're probably thinking: that I probably squeezed in a visit to the beach or made a whole beach weekend out of the gig. But sorry to disappoint you but I didn't. A few times over the years I did go, but this time around I went out for some margaritas afterwards with Micaela and the other dancers to relax and catch up.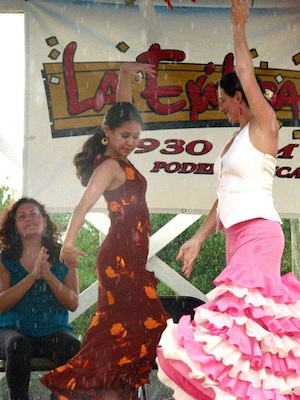 Pam and Jen dancing Sevillanas as Micaela Moreno provides palmas. August 22, 2010 (photo by Richard)
If you think you see raindrops in the above pic, you are right. It did rain and it poured. As luck would have it, it happened during our show. But at the same time, our audience braved the rain, at least those who were lucky enough to have umbrellas.
And while we had a roof over the stage, us performers got a little wet too! But what can I say? We're experienced pros and we went on without losing a beat, so to speak. I think at one point I was laughing so much on stage. We all were. I can only speak for myself, but I was laughing with joy seeing all the audience members that braved the rain and I was laughing with joy that despite the rain we were all feeling especially inspired.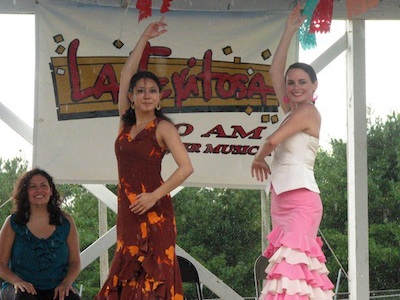 August 22, 2010 (photo by Richard)
Of course, I've worked with dancers Pam de Ocampo and Jen many times over the years, but I was thrilled to have Micaela join us onstage. She's a very close friend and unfortunately for us in DC she lives all the way out in Delaware so I don't get to see her very often.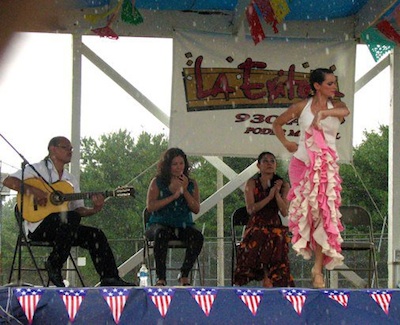 Jen dancing tientos/tangos. August 22, 2010 (photo by Richard)
A few days later, I was performing at El Manantial in Reston, Virginia. It's been a couple of months since the last time I think. I've been performing at this venue on and off since 2005. My friend RJ was first to get this gig going back then. So a big thank you to RJ for taking the initiative.
Many of my colleagues have performed here at El Manantial, but this particular Friday, I had the pleasure of working with dancers Ginette and Pam de Ocampo and singer Gerard Moreno.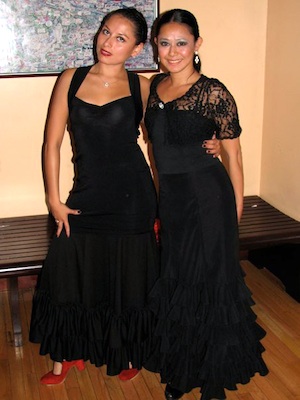 Dancers Ginette and Pam de Ocampo at El Manantial in Reston, Virginia. August 27, 2010
Attendance could've been slightly better but we had a very appreciative audience. One lady came up afterwards to show us a photo of a painting she did a while back. Depicted in painting were dancers Pam de Ocampo, Sara Candela, singer Gerard Moreno and yours truly Miguelito! I gave her my card and asked to her email me digital photo that I hope to share with you here very soon.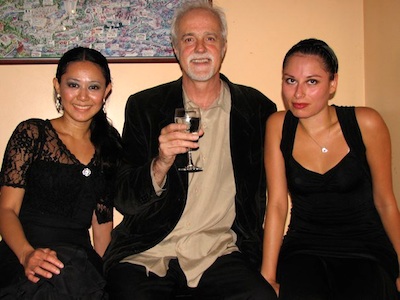 Singer Gerard Moreno with Pam and Ginette. August 27, 2010
I'm not going to lie, while I'm into flamenco for the art, I do enjoy the little perks of being a performer. After we changed into street clothes, we walked through dining room to get some dinner, the audience gave a us another round of applause. Loved it!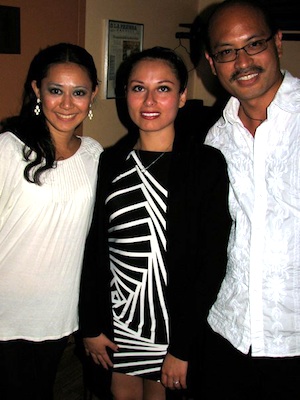 Show's over. Time to get some dinner! Pam, Ginette and Miguelito. August 27, 2010
Of course, I'll love it even more if they tell their friends to come out to see the show next time at El Manantial. I'm sure I'll have a specific date for the next one coming up in September!
Speaking of September, it's going to be a busy month! Here's a quick rundown of what's coming up:
September 1, 2010 Ziva's Spanish Dance Ensemble at Village of Friendship Heights in Chevy Chase, Maryland
September 11, 2010 Furia Flamenca in the Arts on Foot Festival at Harman Center for the Arts
September 11, 2010 Flamenco Aparicio Dance Company in the Arts on Foot Festival at Harman Center for the Arts
September 16, 2010 Natalia Monteleón's Arte Flamenco at Jalapeño's in Annapolis, Maryland
September 17, 2010 Flamenco Aparicio Dance Company in "Alma Flamenca" at the Creative Alliance in Baltimore
September 18, 2010 Furia Flamenca in the H St Festival
September 18-26, 2010 Manuel Liñán Flamenco Master Class at DC Dance Collective
September 18, 2010 Furia Flamenca in the "Here I Stand Award" presented to Rita Moreno at the Lincoln Theatre
September 19, 2010 Furia Flamenca at the International Children's Festival at Wolf Trap's Global Stage in Vienna, Virginia
September 25, 2010 Furia Flamenca at the Reston Multicultural Festival in Reston, Virginia
For further details, visit my calendar page at DCFlamenco.com!
« Flamenco at L2 Lounge in Georgetown. July 1, 2010 | Main | Another reason to go out and support your fellow flamencos! »