Flamenco at L2 Lounge in Georgetown. July 1, 2010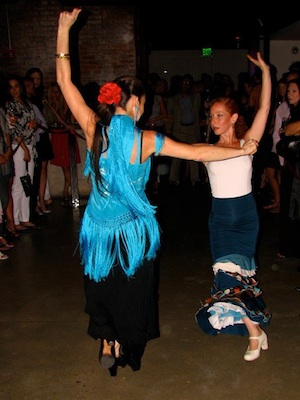 Flamenco dancers Emily Mazzotti and Sara Candela performing Sevillanas at L2 Lounge in Georgetown. July 1, 2010
It's almost 11pm on Monday as I type these words...my second blog entry in one day! This past Thursday International Club of DC hosted "An Evening in Madrid: Flamenco and Paso Doble Dance Performance" at L2 Lounge in Georgetown.
For the flamenco portion of the evening the featured artists were Emily Mazzotti and Sara Candela, both of whom danced beautifully!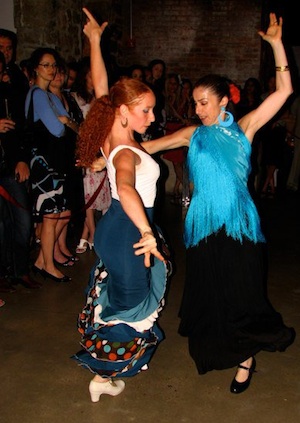 Sara and Emily. July 1, 2010
The music wasn't live however. They used CD's. But I'm not going to make too big a deal about this. Although, it felt a little strange that someone who was fully capable of accompanying these dancers on guitar, that's me, instead was standing right in front of them watching the show. But the reality is that it's a matter of economics and it's cheaper to use a recording instead of live musicians. Still a very enjoyable show nonetheless! And I suppose any opportunity to present a flamenco show to a new audience is a good thing for the flamenco community as a whole.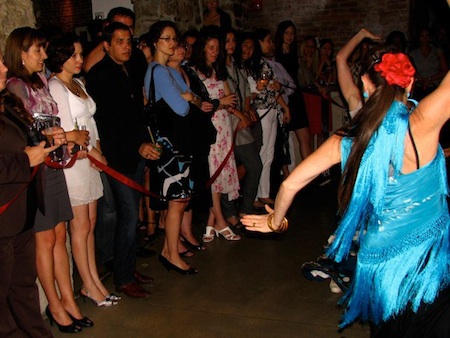 Interesting concept: a ribbon to establish a boundary between the audience and the performance space. It worked! July 1, 2010
So for the past couple of months, International Club of DC (ICDC) has been hosting these Spanish-themed evenings and featuring flamenco performances at L2 Lounge and at other venues including Cafe Citron's third floor VIP lounge. There's always a modest cover charge, but it's for a good cause. According to their website ICDC is "Washington's premiere organization for internationally-minded professionals who enjoy international cultural experiences as well as social, educational, and outdoor events while helping the community."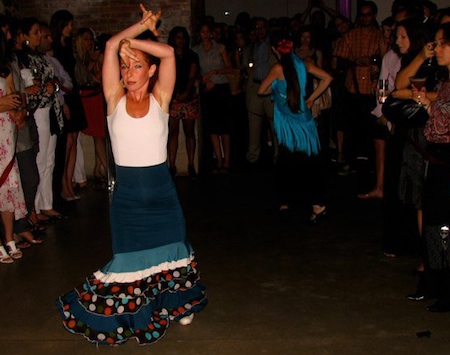 Sara. July 1, 2010
When I arrived, I ran into some of my Romanian friends, Sandra and Diana. Of course, they've known me for years and they knew why I was there: to take pictures of the show. They stood by closeby assuming I knew where the show was going to take place. Truth is that I didn't know. This was my first time to see the flamenco show at L2 Lounge.
ICDC has done cultural events for years in venues ranging from embassies to clubs like L2. So right before the show started, one of the organizers, Marina, cordoned off the performance space with a ribbon...an ingenious idea if you ask me. It discouraged people from walking across the "stage" during the show. And it worked!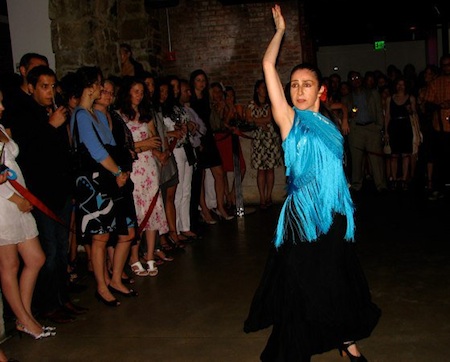 Emily. July 1, 2010
The next Spanish-themed party will be August 5, 2010: A Chocolate Feast in Spain: 12 exquisite Chocolates and Truffles masterfully pared with Cava, Red, and White Wines from Spain which includes FREE admission to Flamenco party at L2 Lounge.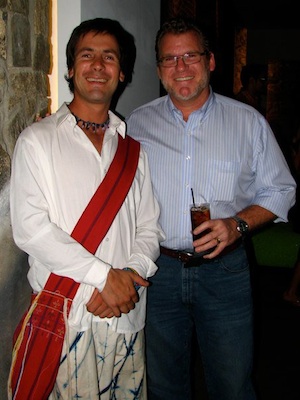 Domingo and Chris, the dancers' most loyal supporters: their husbands! July 1, 2010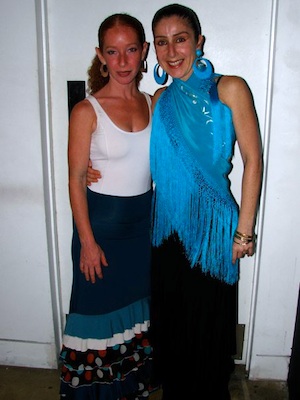 Sara and Emily. July 1, 2010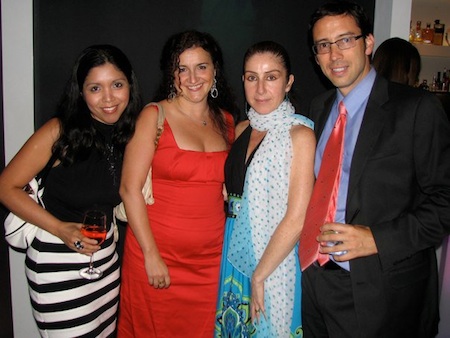 Dancer Emily Mazzotti with a few of my fashionably-dressed friends: Diana, Sandra and Lloyd. July 1, 2010
I hope you enjoyed these pics. I'm going to try and get started on a third blog entry for today. Ciao for now!
« Furia Flamenca at The Forum at Harman Center for the Arts - June 30, 2010 | Main | Almost 20 years in the DC flamenco scene! »