Natalia Monteleon's Arte Flamenco at Jalapeno's in Annapolis - June 17, 2010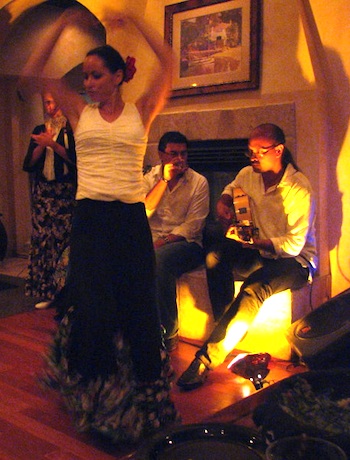 Cori Bernal dancing a soleá accompanied by guitarist Miguelito and singer Hector Márquez. June 17, 2010 (photo by Franciska)
With the struggling economy, business for us flamencos has been slow the past year and while it is picking up little by little, we're all still struggling. But every now and then I get a whole string of gigs one after the other...when it rains it pours, as the saying goes. And last week was one of those weeks! Besides rehearsing everyday for the Hurricane Whispers gig with Helena Lalita, and my usual weekly gigs at Las Tapas and Cafe Citron, I was also tapped to join Natalia Monteleón's Arte Flamenco for their monthly show at Jalapeño's Restaurant in Annapolis, Maryland last Thursday.
I have played for Arte Flamenco for more than 10 years and I am one of their regular guitarists, but this was my first time to perform at Jalapeño's so I was especially excited. It's not too often I get out to Annapolis, other than driving through on my way to the beaches in Delaware.
Don't let the strip mall exterior fool you. Upon first pulling into the parking lot, my impression was that this was a tiny fast food restaurant, but once you get past the bar, you're greeted by a fancy glass wall fountain. The hostess then leads you to the dining area with fancy classic wooden chairs, white linen-covered tables and murals depicting presumably the Spanish countryside.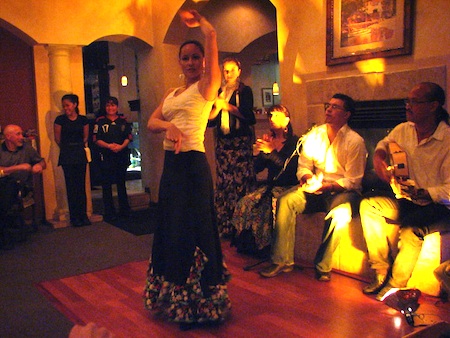 Cori Bernal and musicians with Claudia Román and Natalia Monteleón providing palmas. June 17, 2010 (photo by Franciska)
The stage is in front of the fireplace where us musicians sat. Thankfully there was no roaring fire at our backs on such a hot day! Arte Flamenco director Natalia Monteleón and I arrived an hour early and I ordered a Tecate to cool myself off. My head wasn't in the game, and I made the rookie mistake of not ordering some food before the show. Experienced restaurant performers know that between setting up sound and lights, warming up with the dancers and singer, doing the show and putting your equipment away afterwards, there literally is no time to grab a bite. I did get some tasty tapas afterwards but I left with more Tecate in my tummy than food. Not a good thing! :-)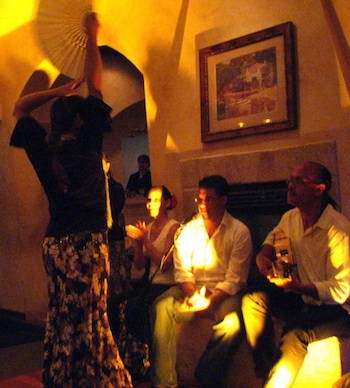 Claudia Román dancing Guajiras. June 17, 2010 (photo by Francika)
I had performed with Arte Flamenco just a few days earlier at the DC Feria de Sevilla, so a rehearsal wasn't necessary. Besides we were doing tablao-style flamenco. No group numbers. Just solo dance numbers so we were all free to give and take with changes in choreography, letras and falsetas in the spur of the moment...the way I like it!
As I expected, the show went really well. We had a quite a contingent of Arte Flamenco dance students, fans and supporters. We filled the dining room to capacity or close to it, so I'm sure the restaurant owner was pleased. I've been asked to come and play at Jalapeño's again next month on July 15th, yay! So if you can make it out to Annapolis on a Thursday night, the show starts around 8:30pm (subject to last minute change, so call ahead at 410-266-7580).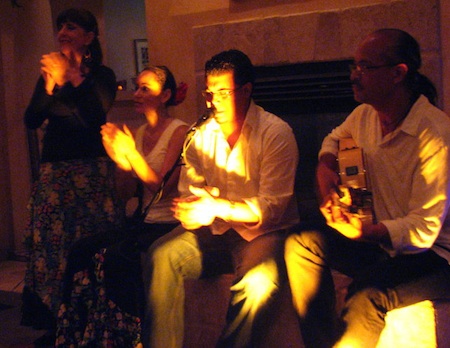 Closeup of the musicians. June 17, 2010 (photo by Franciska)
Visit the Jalapeño's website for directions, menu and more information and see you next month!
« Hurricane Whispers at Wonderbox: collaboration with Helena Lalita et al - June 20, 2010 | Main | Furia Flamenca at The Forum at Harman Center for the Arts - June 30, 2010 »