Hurricane Whispers at Wonderbox: collaboration with Helena Lalita et al - June 20, 2010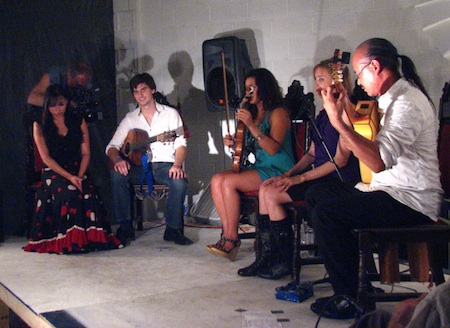 Dancer Ginette, videographer Seanie Blue, guitarist Michael Leuchtenberger, singer/violinist Helena Lalita, singer Sandra Bishop, guitarist Miguelito and sitar/tabla player John Protopapas. June 20, 2010 (photo by Jani)
It's 2-something pm on Thursday as I type these words. It's been almost two weeks since the DC Feria and I still haven't published pics. So much catching up to do! But to be honest I'm drowning in a sea of pics (many of them gorgeous!) so it'll take me some time to sort through them. In the meantime, I'll catch up on blogging by publishing a few short entries starting with the most recent flamenco-related event this past Sunday at the Wonderbox.
My friend Seanie Blue and I have known each other since 1991, the year I first arrived to live in the DC area. He's one of the masterminds behind Wonderbox, an artspace based here in DC. While on a recent trip to Southern California he stumbled upon a young musician named Helena Lalita and was so intrigued by her talent he decided to bring her to DC to adapt a suite of songs (authored by himself, Peter Fox and Steve McCormick) and have her collaborate with me on flamenco guitar, singer Sandra Bishop, tabla/sitar player John Protopapas, guitarist Michael Leuchtenberger and flamenco dancer Ginette Perea.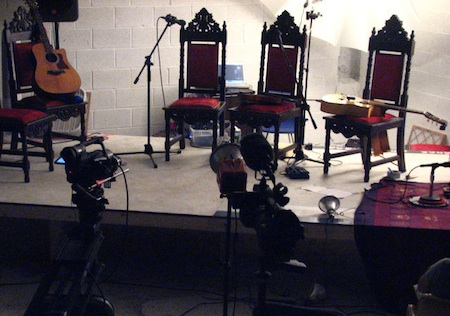 The movie set. We were surrounded by lighting umbrellas, video and still cameras. June 20, 2010 (photo by Jani)
For the six intense days leading up the the performance/videoshoot, Helena, Sandra and I rehearsed at the Wonderbox. Seanie, one of the writers, gave us license to adapt the songs as we pleased. It was my first time to work with a singer like Helena who's voice kind of reminds me of Norah Jones. And I believe it was her first time to work with a flamenco guitarist. I'm not going to lie. While I was surrounded by such great talent, I was wondering what I got myself into. But while I was a bit overwhelmed it was also a good feeling. It meant that I was stretching myself artistically by exploring something new for me.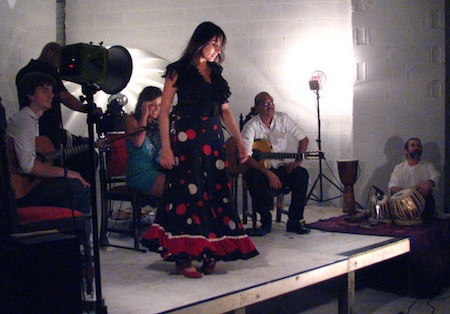 Dancer Ginette testing out the floor during a break. I duct-taped a lavalier microphone underneath to pick up her footwork on the recording. June 20, 2010 (photo by Jani)
So I listened to a recording of the original version of the songs that Helena and I were comissioned to adapt. And the song most closely resembling anything flamenco to my ears was "Namaste Papi" for the simple reason that it ventured at times into the Phrygian mode.
While the compás was mostly in 4's, I did include a section of 12's por bulerías to give our dancer Ginette a chance to expose our presumably non-flamenco audience to something interesting and different. Fortunately, I didn't have to explain bulerías compás to Helena. She has great ears and picked up it quickly. Same goes for tabla player John Protopapas (incidentally Helena's father!) who being well-versed in Indian music probably deals with rhythmic patterns vastly more complex than something in 12's!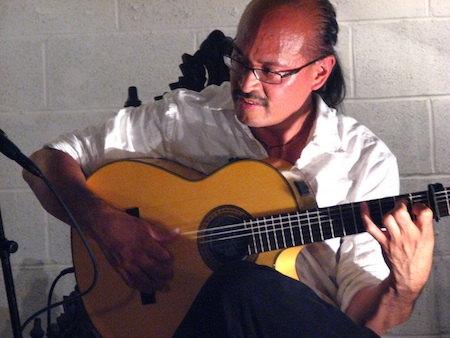 This is me, Miguelito, trying my best to look comfortable but suffering a bit from the heat of the lights. :-) June 20, 2010 (photo by Jani)
So the day of the videoshoot, the air-conditioning wasn't working as well as we had hoped. It was scorching hot outside and it wasn't that much cooler in the Wonderbox. With the small crowd of people half of whom was the production crew manning cameras, lighting and sound there was a bit more natural body heat and electronics-generated heat than we planned for. We did have some industrial-strength fans (aka wind machines) on hand, but during the shoot we turned them off for the sake of being able to properly record the live music.
So yeah, we were all sweating on stage. And I must say, that it probably did add a bit of drama to the video. Sweat is a good thing in this case. Poor Ginette was one doing the real work though. I thought I was feeling pretty hot just sitting there playing my guitar. But she was dancing in this heat!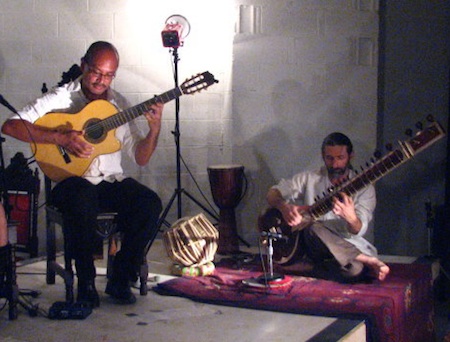 Me again with sitar player John Protopapas.June 20, 2010 (photo by Jani)
I should mention of course that Ginette was also exploring new ground. On the day of the show, with no rehearsal she was requested to come up with some choreography not only for the bulerías of "Namaste Papi," but also for some of the other not-quite-flamenco songs on our set list for the evening!
Ginette said to Seanie, "...At first I was so confused at what was going on, I always seem to enter the wonderbox wondering what will happen there...I never know. This suspense gives me the motivation I need to make things happen."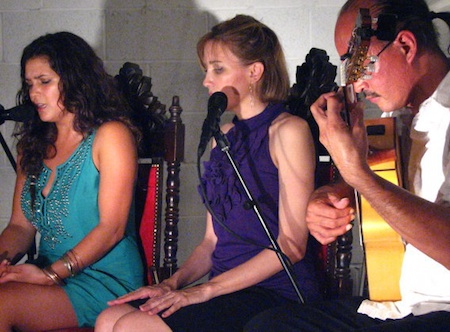 Closeup of singers Helena Lalita and Sandra Bishop accompanied by me on guitar. June 20, 2010 (photo by Jani)
I can't wait to see the videos and photos coming out of this production. It was a pleasure to work with such talented people and I know there will be more opportunities like this coming again soon. My thanks to Seanie Blue and all the wonderfully creative people at Wonderbox for their support and for pushing me to try something new!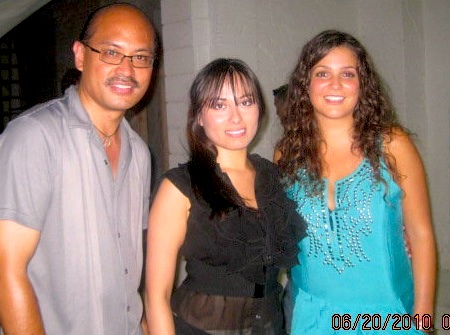 Posing after the video shoot with Ginette and Helena. June 20, 2010 (photo by Jani)
In the meantime, checkout Helena's page on MySpace.
« Jovenes Flamencos at St Michael Archangel Catholic Church. May 28, 2010 | Main | Natalia Monteleon's Arte Flamenco at Jalapeno's in Annapolis - June 17, 2010 »