Photoshoot at The Wonderbox with Seanie Blue. May 29, 2010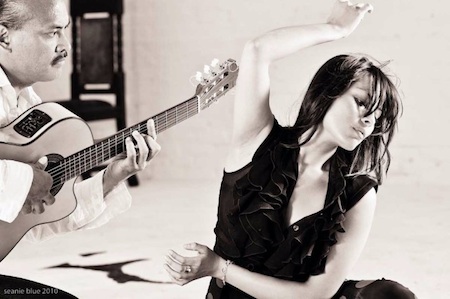 Flamenco guitarist Miguelito and dancer Ginette. Seanie comments, "Study of Ginette, dancing from the waist up: She is sprawled on the floor, and Pérez crouches beside her as Blue shoots from a distance to compress the focal plane. Shot on a 185mm zoom MF Nikkor lens which is the favorite of model train enthusiasts." May 29, 2010 (photo by Seanie Blue)
It's 1-something am on Monday as I type these words..the last day of the Memorial Day holiday weekend. Just got home after spending the evening at the Georgetown Waterfront with a friend. Of course we stopped by Bodega and after consuming a very potent pitcher-and-a-half of white sangría I seriously had to lie down. But that was an hour ago and now I'm sobered up and wide awake!
So this past Saturday my flamenco dancer friend Ginette and I returned to the new arts/music space "The Wonderbox" but this time to do a shoot with photographer Seanie Blue. Although we had been to the "Box" only once before, it was already feeling like home mostly because Seanie, being an artist himself, had a pretty good idea of what to say and do to make us feel comfortable.
Seanie comments, "...the session goes for 3.5 hours, has five costume changes, and consumes 1,238 photographs. Manual lenses, focused each time, dancing subject! But the results are cool."
I'm a performer and I'm onstage in front of people on a weekly basis, so you'd think, OK, so being in front of a camera in a photo shoot is no big deal. I'm not saying it was traumatic. It was just something new for me, being told which direction to turn my head, where to focus my eyes, shift my body weight, chin up. Hmmm...these kinds of directions do sound familiar: they're what dancers are used to hearing all the time!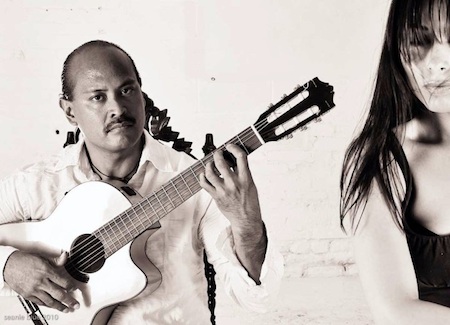 Miguelito with Ginette. May 29, 2010 (photo by Seanie Blue)
But I'm not a dancer. I'm a flamenco guitarist and while I do think about "getting into character" when I'm onstage, most of my energy goes into playing the guitar, getting into the mood for each palo and accompanying the dancer and singer to the best of my ability. And if I look a little less than photogenic from time to time, it doesn't really matter all that much since the audience is drawn visually to the dancer, most of the time, right?
So Ginette and I arrive at The Wonderbox and we chat awhile with Seanie, get an idea of his vision and eventually we walk over to the studio. There were these fancy lights with shiny umbrellas on them which I expected to see. What I didn't expect was that these were all daisy-chained by a cable that terminated at Sean's camera. I think the way it works is that the lights give him illumination so he can focus his camera and when he presses the shutter button all the lights (three separate ones) go off with a flash.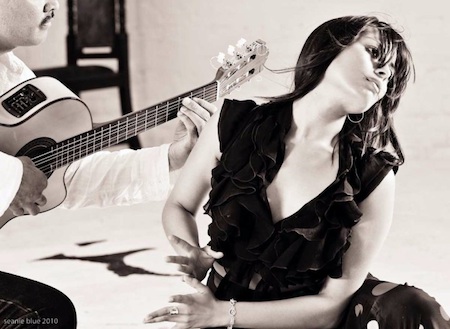 Another study of Ginette. May 29, 2010 (photo by Seanie Blue)
But the flash is more than just to brighten things up of course. It allows Seanie to manipulate the direction and intensity of the light to achieve whatever his vision is. One thing he mentioned to us afterwards was that he had to compensate for the fact that I had darker skin tone than Ginette's...yeah I spend a lot of time outdoors. Not that he wanted us to look the same but so that I didn't appear excessively dark or that Ginette didn't appear ghostly white. So he had me closer to the lights most of the time.
Anywayz, I don't know that much about the technical side of studio photography. But my job that day was to be one of the photographic subjects. He knew that Ginette would take to this naturally since being a dancer she was accustomed to painting a picture through the movement of dance. I on the other hand, was very dependent on direction from Seanie. And while most of the time, he'd ask me do things that I didn't naturally do (like look away from the dancer) or remind me to raise my chin (I'm used to chin down from watching my hands), he assured me that his job was to make us look good.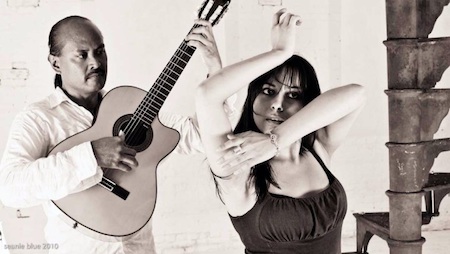 Miguelito and Ginette. Seanie comments, "The staircase was pulled from the old Tivoli Theatre, loaned by Ron at the Brass Knob Warehouse, and structured by Andy Cassatt." May 29, 2010 (photo by Seanie Blue)
Seanie comments poetically about one of the photos, "One of perhaps 10,000 poses Gin struck during a tiresome but thrilling shoot. She is a bundle of energy, a gyro of wills and unexpressed dreams; in the shadows of Michael's icy determination to make the instrument his perfect horse, leaping at a whisper instead of a touch, she is like a spill of lava into a nighttime of possibility. Working with these guys was utter pleasure."
The feeling is mutual Seanie!
« Flamenco at The Wonderbox. May 23, 2010 | Main | Jovenes Flamencos at St Michael Archangel Catholic Church. May 28, 2010 »