Jovenes Flamencos at St Michael Archangel Catholic Church. May 28, 2010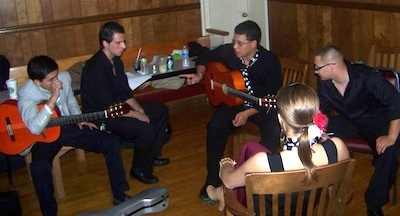 Discussing the program. From left: guitarist Wilver Hernández, singer Naíto, guitarist Hector Márquez, percussionist Mateo Romero and dancer Sarah Hart. May 28, 2010
It's 1-something pm on Monday...a mere 12 hours since I last published a blog entry today! It's 85° F and sunny outside and yes, I am indoors in front of my Mac, but I can't help it. The sacrifices I make for the DC flamenco community! :-) Seriously though I'm in the mood to publish something so here goes...
This past Friday, a group of some friends of mine that I like to call "Los Jovenes Flamencos," who all happen to be in their early 20's, performed in a fundraiser concert at St Michael Archangel Catholic Church in Silver Spring. I wasn't able to go, but fortunately Hector's sister Marylin and members of Wilver's family took pics. Enjoy!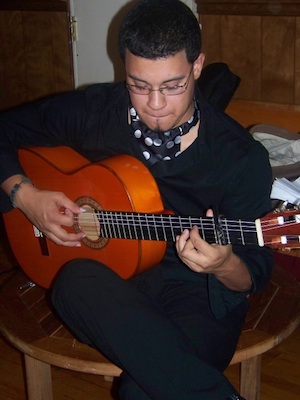 Hector. May 28, 2010
Hector writes: "It was a night of flamenco and tapas to help raise money for the youth to go to the pilgrimage in Madrid, Spain in 2011. The show started off with Wilver playing a minera, next an alegría, fandango libre, and tientos to finish the first set. Mateo started off the second set with a tarantas then a tangos, soleá, and we finished off with a bulería! The event overall was a success and they treated us very well. It was a lot of fun performing with flamencos around the same age. We are all young and still learning about flamenco as we go along. The fact that there were three guitarists on stage and everyone took on a different role to play was interesting and proves that we don't just limit ourselves to just one aspect of flamenco."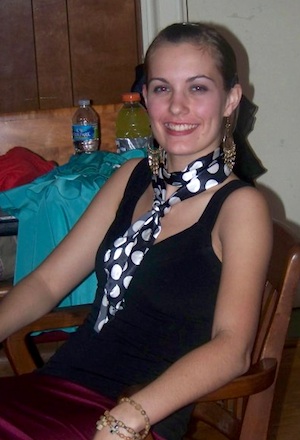 Sarah. May 28, 2010
I had a chance to talk briefly with Hector on the phone...
Miguelito: So do you think you will all work together again in the near future?
Hector: Hell yeah!
M: Cool...so this was the first time with this combination of artists?
H: Yeah.
M: I remember you had more or less the same group in 2008 but with dancer Ginette Perea. It's good to see you all continuing to work, learn and grow together. So did you guys do a lot of rehearsal? Or did you wing it most of the way? Or a little of both?
H: A little of both.
M: What would say was the highlight of the show...the part that you're most proud of?
H: Everything to be honest, everything.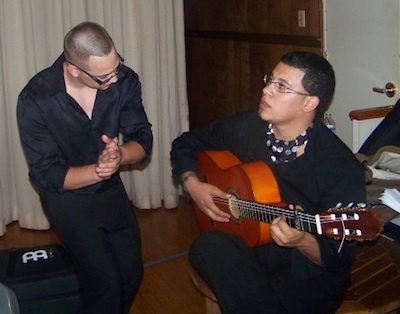 Mateo and Hector. May 28, 2010
Hector went on to explain that the night before they all celebrated Naíto's birthday. Knowing Hector and his friends they probably had an all-night juerga. And, I'm willing to bet they slept-in late and arrived at the gig with just enough time to discuss the program, get dressed and warmed-up and go onstage.
Of course being good friends and young flamenco artists with more or less the same level of accomplishment they already have mutual respect and camaraderie which is usually good for chemistry onstage. Without a doubt, these guys love to play and sing all night long and although I wasn't there for the performance last Friday, I'm sure what the audience saw was a bunch of friends having a good time expressing themselves the way they know best through the art of flamenco.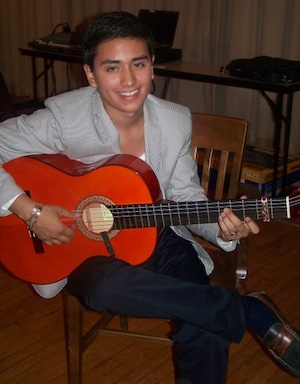 Wilver warming up. May 28, 2010
A little digression: I started performing in flamenco shows when I was 24, a late starter I guess you could say. I was the dance class guitarist for the Blanca Luz Dance Academy in Buena Park, California. Sure enough I was recruited to do shows early on. And while I did acquire some knowledge sitting alongside veteran flamencos at juergas in the Los Angeles area I really didn't know that much but went out and performed anyway. Not in a disrespectful way of course. I prepared as much as I could. Some things you can only learn with experience.
Thing is that there's only so much you can learn in a lesson and perfect in the practice room. You have to go out there and put yourself under the pressure of the stage. There are no do-overs. And things can and will go wrong and you have to deal with them and go on with the show.
I'm sure there were people saying things about me in the beginning (probably still to this day...haha) when I was putting myself out there in performance despite my inexperience. And some would say it to my face...not very pleasant I admit. But I learned from those encounters and am still learning. It's part of the initiation of becoming a performer.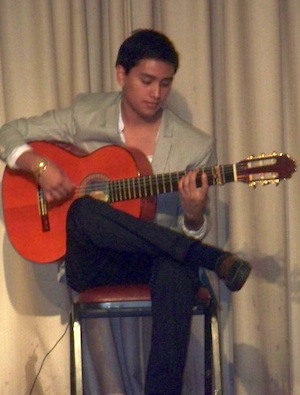 Wilver onstage opening the show with a minera. May 28, 2010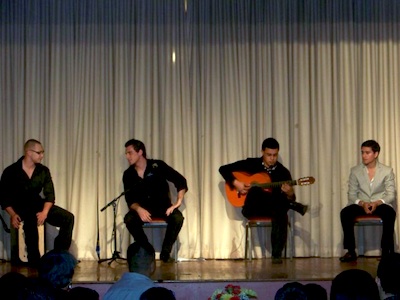 Mateo, Naíto, Hector and Wilver. May 28, 2010
Being a veteran flamenco here in DC, it pleases me to see these young flamencos growing and learning very much in the same way I did when I was their age. They're actively studying on their own of course. And while I've passed on bits and pieces of wisdom over the years, I know that deep down inside it's better for them to learn from experience. And I better be nice to them, because they'll be the ones taking over my tablao shows when I get old and have arthritis!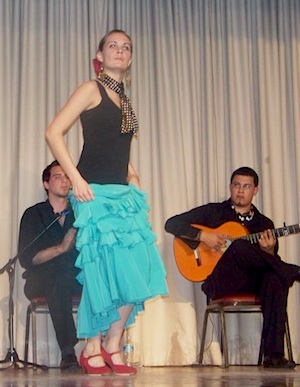 Naíto, Sarah and Hector. May 28, 2010
Mateo, Naíto and Sarah. May 28, 2010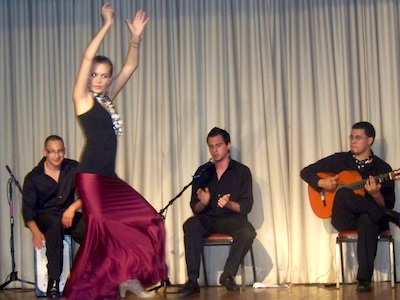 Mateo, Sarah, Naíto, Hector. May 28, 2010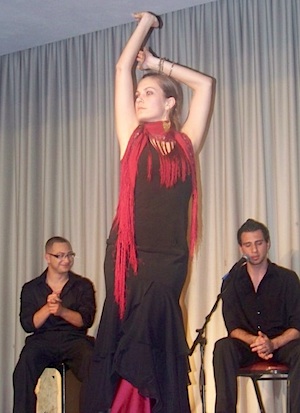 Mateo, Sarah and Naíto. May 28, 2010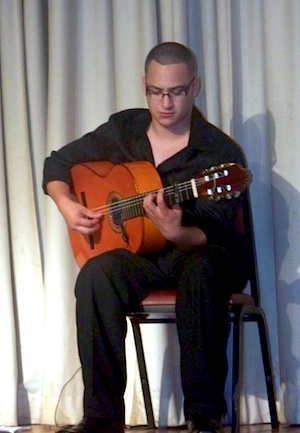 Mateo playing tarantas. May 28, 2010
Naíto and Hector. May 28, 2010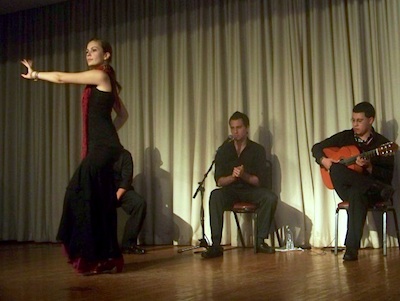 Sarah, Naíto and Hector. May 28, 2010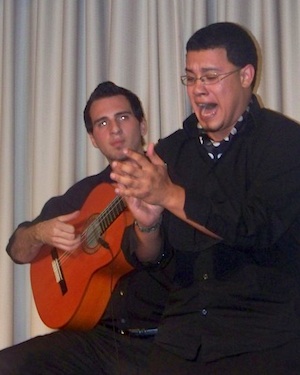 Naíto accompanying Hector in the fin de fiesta bulerías. May 28, 2010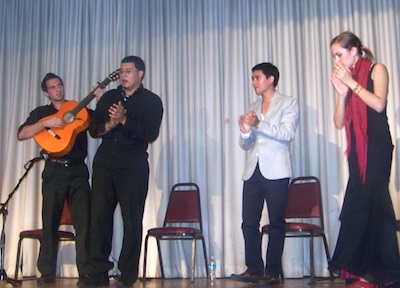 Naíto, Hector, Wilver and Sarah. May 28, 2010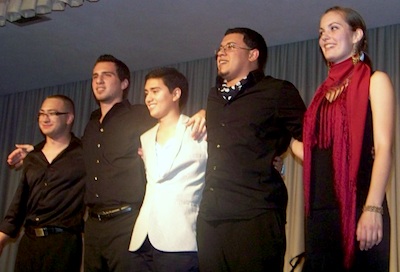 Mateo, Naíto, Wilver, Hector and Sarah. May 28, 2010
Congrats to Los Jovenes Flamencos! I'll definitely announce future performances. But in the meantime, stop by Bodega on the weekends and head back to the Matador Room. That's where you'll usually find Hector, Naíto, Wilver and Mateo playing and singing flamenco late at night. Be sure to tell them Miguelito sent you! ;-)
« Photoshoot at The Wonderbox with Seanie Blue. May 29, 2010 | Main | Hurricane Whispers at Wonderbox: collaboration with Helena Lalita et al - June 20, 2010 »