Hangin' out with Chicago flamencos at Taberna del Alabardero. May 4, 2010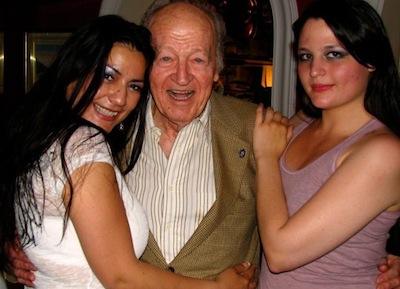 DC-based flamenco singer Maestro Manolo Leiva with visiting Chicago flamenco dancers Cristina Gutierrez (left) and Grey Kelley. May 4, 2010
It's 10-something pm on Thursday as I type these words. Yeah I chose to stay in and catch up on sleep but at this rate I'll be up for a couple of hours working on this blog and maybe a second one later tonight.
So last week on May 3rd and 4th, the DC area's most prestigious and expensive Spanish restaurant, Taberna del Alabardero, presented a two-night run of the show, Forever Flamenco by artists from Chicago namely: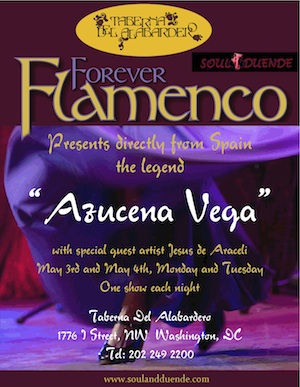 Dancer/director Azucena Vega
Cristina Gutierrez, dancer
Grey Kelley, dancer
Ricardo Santiago, dancer
and guitarist David Chiriboga.
The poster announces Jesús de Araceli but he couldn't make it at the last minute (I heard it was due to visa problems) so guitarist David Chiriboga took his place.
Soul & Duende is a flamenco dance company based in Chicago and Madrid, Spain
Of course, being a performer myself, I was busy both nights the Taberna show took place. But after I finished up my show at Las Tapas on Tuesday, I rushed on over to say hello, take a few pics and hang out with the flamencos from Chicago.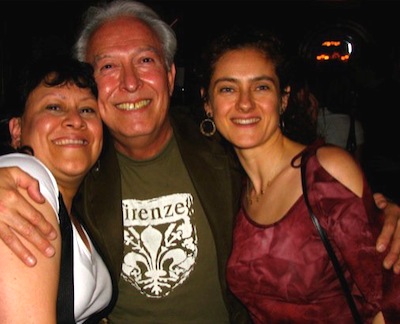 Dancer Debra Belo and singer/guitarist Marija Temo with Pablo Rodarte who literally just flew in from Colorado to give a workshop in DC. May 4, 2010
Saw a couple of familiar faces as soon as I walked in such as Sarah Hart, Jason Vera y Aragón, Marija Temo and a few others who wish to remain anonymous, wink wink. ;-) I heard that Edwin Aparicio stopped by earlier.
Anywayz, I said a quick hello to the locals and welcomed the artists visiting from out-of-town but not just the Chicagoans. Dancer Ricardo Santiago came down from New York. Dancer Pablo Rodarte flew in from Denver and came straight to Taberna from the airport! Local legendary singer Manolo Leiva even came out...as it turns out his picture is on the wall of celebrities here at Taberna.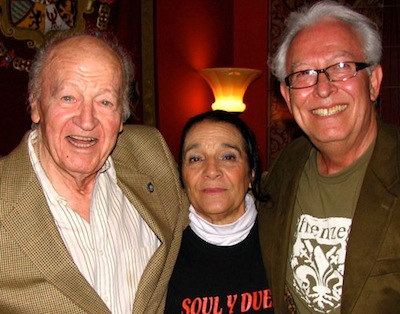 Maestro Manolo Leiva and Pablo Rodarte with Chicago-based dancer Azucena Vega. May 4, 2010
Although I did miss the show, at least I got to make a few new friends. And yeah I added them all on Facebook as soon as I got home that night. Haha. As for Azucena Vega, I did play for a workshop she gave more than ten years ago at Joana del Río's home studio in Vienna, Virginia.
It was my first time to meet Pablo Rodarte. If you visit his website, you'll read on the very first page: "Pablo Rodarte and Gloria Mandelik are the only Americans who have been recognized and honored in the celebrated film documentary 'Rito y Geografia del Baile Flamenco.'"
Wow...that's quite an honor! Anywayz, I heard that the workshop he gave at Joy of Motion studio was a success. One class focused on palmas and contratiempo and other I think was a class to learn choreography for tangos and bulerías.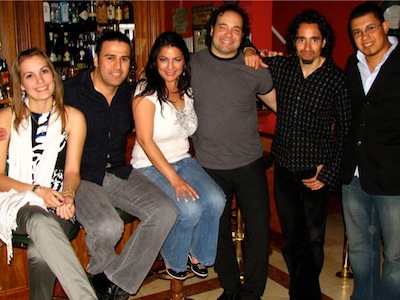 From left...DC-based dancers Sarah Hart and Jason Vera y Aragón with Cristina Gutierrez, Ricardo Santiago (really from New York but comes to DC so often he's one of us now), Chicago-based guitarist David Chiriboga and DC based-singer Hector Márquez. May 4, 2010
So that's about it. Just a quick report of what went on at Taberna in case you didn't make it. Stay tuned...I'm going to crank out another quick blog later tonight. Ciao for now!
« Dance showcase with students of Marsha Bonet-Savchenko. April 24, 2010 | Main | Flamenco at the University of Maryland College Park. May 6, 2010 »