Flamenco at the University of Maryland College Park. May 6, 2010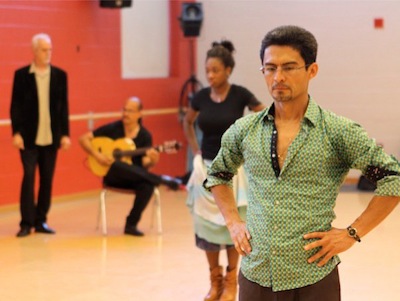 Singer Gerard Moreno and Miguelito rehearsing with the students in the dance class studio. May 6, 2010 (photo by Nikki Everette)
It's midnight on Thursday as I type these words. Yup and this'll be the second blog entry tonight!
After about a year-and-a-half "sabbatical" I got back into playing for dance classes again in the Spring of 2010.
I was already playing for Marsha Bonet-Savchenko's classes at Regan Dance Center (in Landmark Mall, Alexandria, Virginia). I mentioned Marsha already in a blog a few weeks ago.
Then my singer/guitarist friend Gerard Moreno referred me to professor Miriam Phillips aka "La Miri" who teaches flamenco at the University of Maryland, College Park.
When I showed up for La Miri's class for the first time I was actually a few minutes late. Of course I had played for hundreds of dance classes over the years (I've probably been to more dance classes than your average flamenco dance student!) with many different teachers, so I was pretty confident that I could handle whatever she asked me to play.
It was also my first time to meet La Miri in person so I didn't really set myself up for making a good first impression. Grrr...but as I walked in she was in the middle of making some introductory remarks about the history of flamenco so I quietly grabbed a chair, picked a suitable place to sit, tuned my guitar and waited for her cue.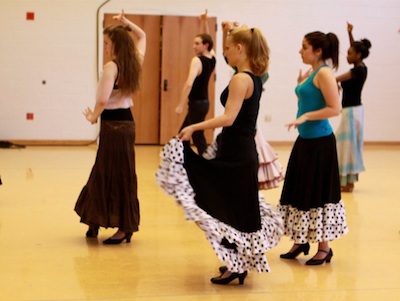 Working on individual interpretation. May 6, 2010 (photo by Nikki Everette)
She asked me to tell the class about myself, so I did. But it turned out that they knew about me anyway because she had referred her students to my website, DCFlamenco.com already, yay! Long story short...my reputation preceded me, so to speak, La Miri and I "clicked" right away and things got off to a good start on the very first day.
The class is an upper division course geared towards dance majors but there were auditors. So basically it was a mix of levels and abilities. Bearing that in mind, professor Phillips kept it simple by focusing on a palo with an easy-to-grasp compás: Farruca. So just about every Tuesday and Thursday for 13 weeks that's what we worked on: basic flamenco technique and choreography for Farruca.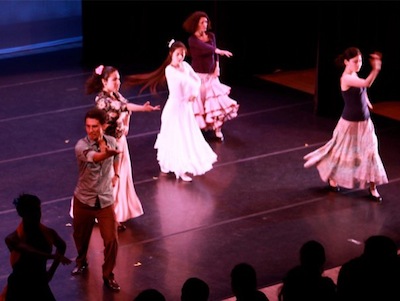 In performance: final pose of the Farruca. May 6, 2010 (photo by Nikki Everette)
I'm not going to lie to you. Playing the same compás of Farruca over and over again can be very tedious, but my role as the class dance accompanist is still very important. For one thing, I'm helping the students learn to associate specific routines in the choreography with specific musical sounds. So that when they're at home working on it (or at least thinking about it) they're also hearing the music in their heads.
Also, when professor Phillips is breaking down the more complicated steps at a slower tempo, I'm also providing accompaniment at that slower tempo customizing the music to best support rhythm of the step. Of course you can do that too, to a certain extent, with Solo Compás recordings which present the rhythms of flamenco at various speeds for instructional purposes. But it's so much more efficient with a live experienced accompanist! No need to press play or find a track on a CD or iPod...pffft! Most of the time I could read the professor's mind and knew exactly what she wanted me to play and what tempo and she didn't have to even cue me!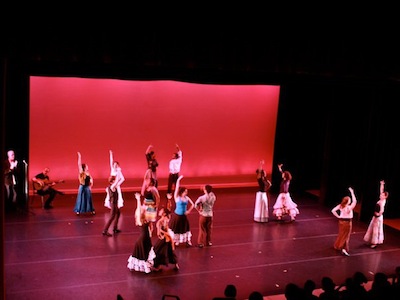 In performance: Sevillanas. That's Gerard and I in the back on the left. This is in the Dance Theater at the Clarice Smith Performing Arts Center. May 6, 2010 (photo by Nikki Everette)
Fast forward 13 weeks later...professor Philllips' flamenco class had the exciting opportunity to participate in an informal works-in-progress concert sharing the program with other dance student performances. Singer Gerard Moreno joined us onstage which added so much to capturing the mood of the Farruca and the Sevillanas.
I had a blast and I'm pretty sure the students did too. Hopefully at least of few of them have been inspired to explore flamenco further. But I know what the other flamencos in the DC community are wondering: are there some future performers aka competitors amongst these students? I do see some potential, but I'm not going to elaborate. ;-)
Yeah, that's one of the perks of playing for dance classes: you get to see students progress and you can keep an eye out for prospective talent, nurture them and recruit the more talented ones for my roster of dancers for my shows! Muahahaha!!! Just kidding...kinda sorta. :-)
« Hangin' out with Chicago flamencos at Taberna del Alabardero. May 4, 2010 | Main | Saturday Night Flamenco at Cafe Citron. May 8, 2010 »