Dance showcase with students of Marsha Bonet-Savchenko. April 24, 2010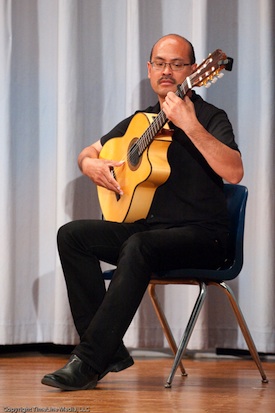 Miguelito at a dance showcase organized by Marsha Bonet-Savchenko. April 24, 2010 (photo by Gerasimo Borneo)
I'm just going to come out and say it: yeah, I've been slacking on the blogging lately. It's been more than two weeks since my last entry. But I have a good excuse: I've been busy with flamenco gigs left and right!
So what have I been up to? The usual weekly tablao gigs of course, plus school shows, private shows, dance classes, going to my colleagues' shows too! So much to cover but let me begin with last night's gig since it's still fresh in my mind.
Do you remember Marsha Bonet-Savchenko? I met her about five years ago when she first arrived from Orlando, Florida to check out the flamenco scene here in DC. Life happened, she got married and focused on her ballroom career and we lost touch for a few years. But a few months ago, we reestablished contact and I started playing for her flamenco dance classes again and was invited to perform in a dance showcase.
The above pic was from the dress rehearsal but the show pics will be coming soon. Look carefully. Notice anything unusual in the pic?
If you're a working musician, you probably noticed this right away: there is no microphone stand or instrument cable. So yeah, I've gone wireless. Actually I have been going wireless for the past few weeks in less formal situations like dance classes and tablao gigs just to test and work out the bugs of using the digital version of wireless technology for musicians.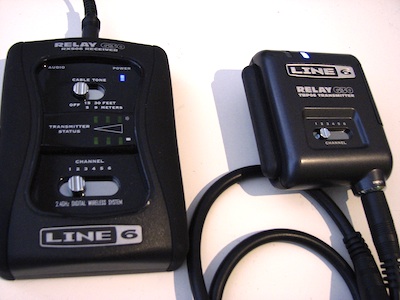 The Line 6 Relay G30 Wireless Guitar System
Of course, wireless for musicians has been around for decades. I got my first wireless lavalier microphone way back in 1996, that's 14 years ago! But back then it was the analog kind. The signal from the microphone had to be compressed before sending out over the airwaves and then expanded back when it reached the receiver. The result was that the sound was changed...usually not in a good way. Not to mention the fact that it was subject to occasional interference from nearby TV and radio stations.
But the maker of the wireless system I just got, Line 6, converts the microphone signal to digital instead so the sound of my guitar is faithfully reproduced (as far as digital is concerned) back in the receiver without the "squashed" effect of companding (compression and expansion) that is typical of analog wireless.
Don't worry, I'm not going to bore you with more techno babble. The point is that wireless for musicians has improved greatly and it just makes my job a whole lot easier. For example, at last night's gig I didn't have to think about setting up a microphone stand or worry about whether the microphone cable would be in the way of the dancers.
All I had to do was plug my wireless receiver into the mixer, plug in my guitar into the transmitter and I was set. Free to roam wherever I wanted to sit onstage! Not only did my guitar sound great but also the dancers loved the fact that the stage looked much cleaner without the clutter of stands and cables.
On another note, flamenco dancers have been known to use wireless microphones in their shoes, really! But that's another topic altogether for some other time.
Wow...I seriously digressed didn't I? Back to talking about Marsha's showcase from last night.
So the portion of the program that included live music (that's me!) was for two dances. The first one, an alegrías, was with Marsha's students: Lorena, Gretchen and Elena. Being a group number it was all choreographed but still allowed room for personality most especially in the opening where I played a falseta phrased to coincide with their individual entrances.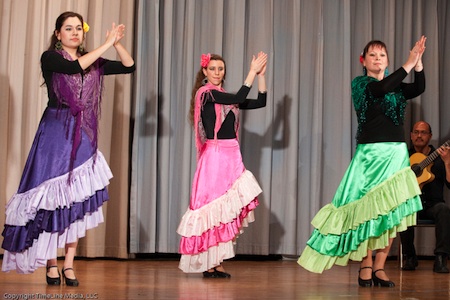 Lorena, Gretchen and Elena in alegrías. April 24, 2010 (photo by Gerasimo Borneo)
Over the past few months leading up to the showcase, I played for their class once or twice a week as they learned the choreography. So they were used to working with live music. And while I could've played it the same way every time, I didn't. I always varied it a little bit...kind of my way of teaching them to hear the basic pulse of the music regardless of what chords or notes are being played. And it paid off! They were able to relax and enjoy themselves and put on a good performance. Congrats ladies!
Next up was Marsha's solo, a soleá. Just as in my past performances with her, I'd say that half of the dance is choreographed and the rest is improvised which actually makes it more fun than something that is all worked-out and over-rehearsed. Of course, neither one of us knew exactly how it would turn out but that's the beauty of it: you have to take some risk to allow room for the spontaneous energy of a live performance to do its magic.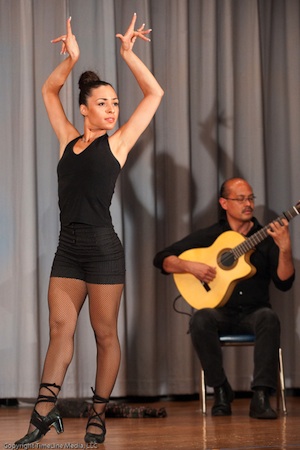 Marsha Bonet-Savchenko in soleá. April 24, 2010 (photo by Gerasimo Borneo)
There was a bit of theatre injected into the performance too...a little dramatic twist that the audience wasn't expecting but before they could figure out that it was really part of the show, Marsha had already moved on to the next section of the soleá. Of course, we ended with a bulería and the audience loved it.
Marsha's students also performed a Fandangos de Huelva and a classical Spanish dance to a recording. And of course there was some very impressive ballroom dancing! All in all a very fun evening.
Hmmm...my original intention was to write about all the stuff I'd been doing the past two weeks, but I think I'll end this blog entry here and save the rest for another time. In any case, if you want to know more about Marsha and her classes you can contact her through the DanceFlame website.
PS Here's a flashback from when Marsha and I performed in our first showcase together in 2006.
PPS Someone just emailed me asking about the black thing clipped to the headstock of my guitar. Here it is...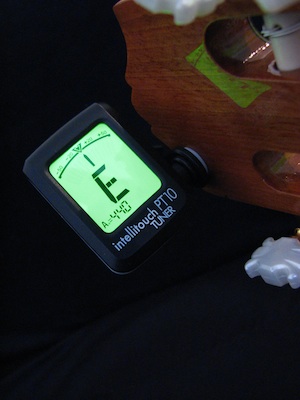 « Only bad thing about classical guitars is that the neck is too wide. [Are you serious?] | Main | Hangin' out with Chicago flamencos at Taberna del Alabardero. May 4, 2010 »