Flamenco at Las Tapas. January 31, 2010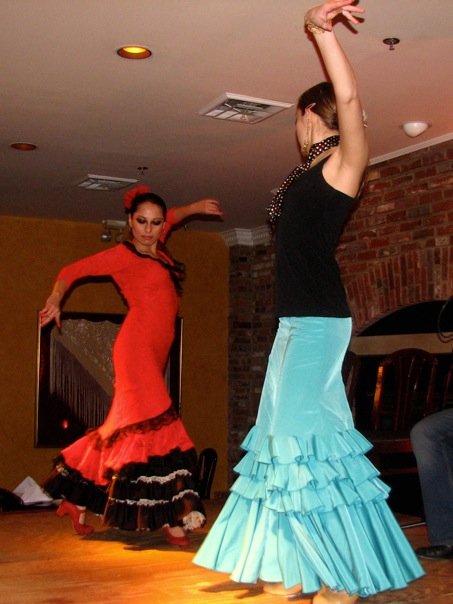 Ginettte and Sara Hart dancing Sevillanas at Las Tapas. January 31, 2010 (photo by Rachel)
It's 5-something pm on Friday as I type these words. I know I'm behind schedule on my weekly-promised blog quota but I have this past week's Snowpocalypse (aka snOMG2) here in DC as an excuse! Nearly the whole metropolitan area shut down for a week, not to mention the fact that we broke the historical record for snowfall for DC!
Anywayz, most of my readers I imagine are from the Nation's capital so I don't need to rehash what went on this past week. Question is: how did it affect the flamenco scene?
Well...just about all the venues canceled their shows. Although some, like Cafe Citron and Vinoteca took a chance and stayed open on the weekend (despite the record-breaking snow accumulation), they canceled the flamenco anyway. And although I could've used the money and would've enjoyed getting out of the house and performing, I would've dreaded dragging 100 pounds of sound equipment in the snow.
Enough about the snow! Let's look at some flamenco pics!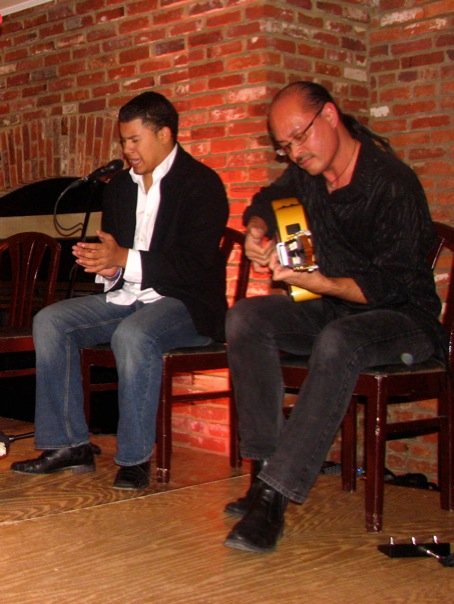 Singer Hector Márquez and guitarist Miguelito. January 31, 2010 (photo by Rachel)
So like almost two weeks ago, I was doing a private gig at Las Tapas for an organization called Things To Do DC that puts together events where young professionals can network and socialize. It had been a while since I've worked with dancers Ginette and Sarah Hart so I decided to call them to join me for this gig. As an added bonus, singer Hector Márquez joined us onstage.
Sarah Hart dancing tientos/tangos. January 31, 2010 (photo by Rachel)
When I think about it, Ginette, Sarah and Hector are all pretty much half my age. They are literally part of the younger generation of flamencos here in the DC area. But don't let their youthfulness fool you: they've all got quite a bit of performing experience, mostly tablao.
Let's see...the first time I did a tablao gig with Ginette was in 2004 at the Andalucía Restaurant—that's about six years ago! Sarah Hart made her tablao debut in 2006, also at the Andalucía Restaurant. And the first time Hector worked with me was in 2007 at Tapeo.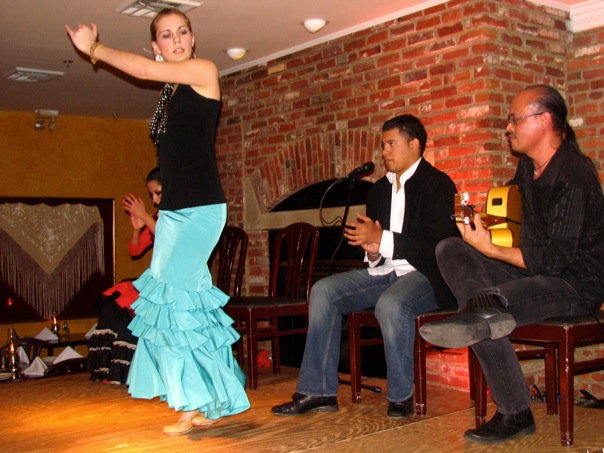 January 31, 2010 (photo by Rachel)
When I was part of the younger generation of DC flamencos, playing regularly in tablaos for the first time in 1995, I can remember veteran guitarists Paco de Málaga and Torcuato Zamora acting as my mentors, giving me tips and advice. Thanks Paco and Torcuato! As for myself, almost 15 years later, I wouldn't go so far as to call myself a mentor, but I can definitely say I gave Ginette, Sarah and Hector all kinds of practical tips and advice over the years.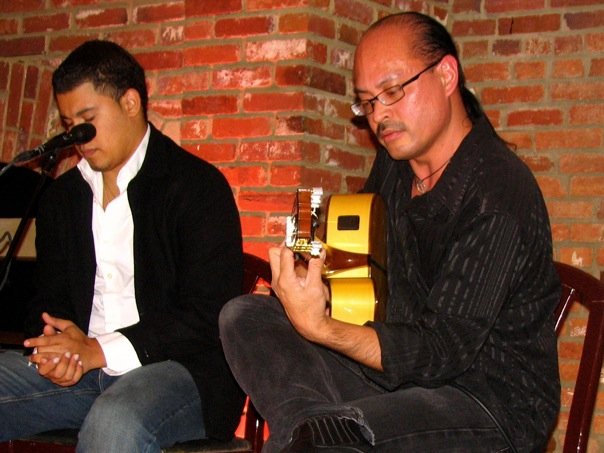 January 31, 2010 (photo by Rachel)
One thing that I can say they picked up that can't be learned in a dance class environment is the confidence that comes from performing on a weekly basis. Yeah I know—performing in tablao isn't always the ideal performing situation with the waiters walking around and customers chatting away and babies crying as you pour out your heart and soul onstage.
But you learn how to tune them out or better yet, focus on your performance to the point where nothing will distract you. A good book to read on this topic is Barry Green's Inner Game of Music. It's not easy, but with experience you learn!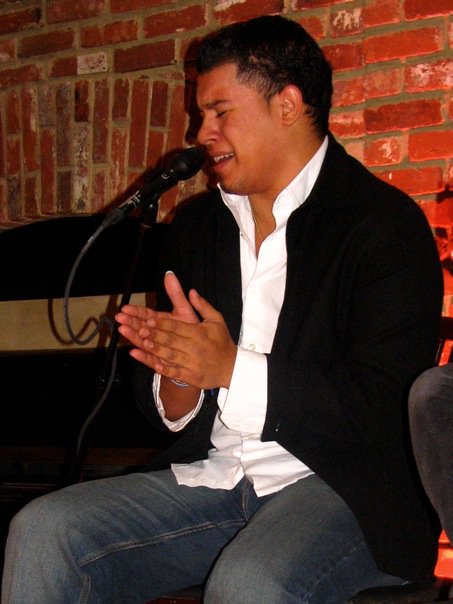 Singer Hector Márquez. January 31, 2010 (photo by Rachel)
They've all come a long way from when I first played for them years ago. So I'm proud to be sharing the stage with them today! They're not the only ones though. The list of dancers that I've grown with over the years is too long for me to mention here, but you all know who you are!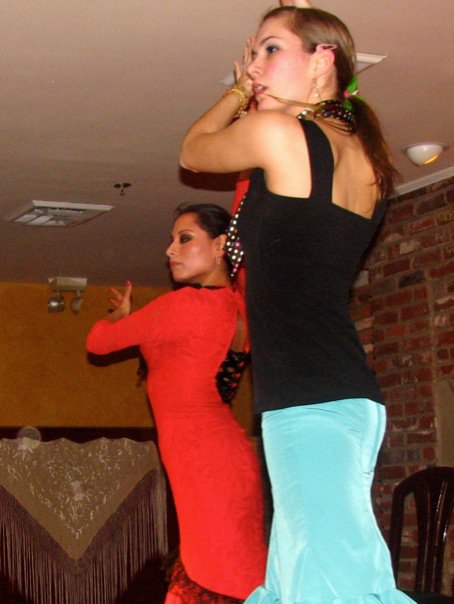 Ginette and Sarah Hart in bulerías. January 31, 2010 (photo by Rachel)
Fast forward to today...I'm at home on a Friday night. Kinda sucks because my private gig last night was rescheduled and I was counting on that extra cash to make up for the gigs that got canceled the week before thanks to the DC Snowpocalypse. Plus my gig that I had scheduled tonight was canceled, again thanks to the snow. Grrr!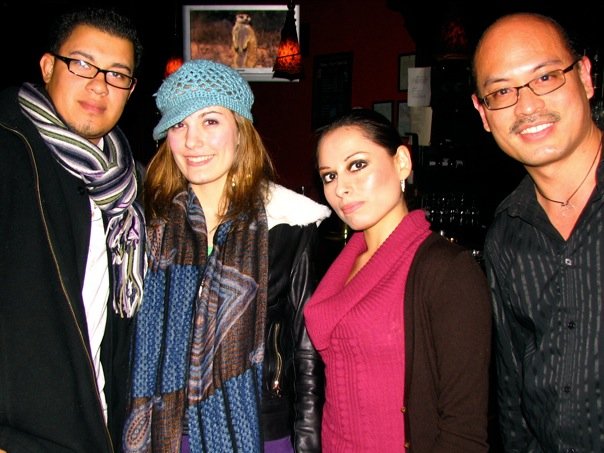 Hector Márquez, Sarah Hart, Ginette and Miguelito. January 31, 2010 (photo by Rachel)
I so wanted to go see the Compañía Rocío Molina concert in Lisner Auditorium's 10th Annual Flamenco Festival this Sunday. And while I do have the cash right now to buy a ticket, common sense dictates that I should be saving it for essentials like food. And besides, I just got a call to do a rumba gig that night. It is Valentine's night after all, so I'm making some money (thankfully I'm doing something I love to do: play guitar).
My apologies to Rocío (not that she knows me personally), but I'm going to have to work instead of enjoy what will surely be a very inspiring show. Do go if you are free that night. More info at Lisner's website. And someone please do me a favor, and take some backstage photos with Rocío posing with some DC flamencos.
I can say that I did meet Rocío before she made it big. In January 2002, I was invited to a reception at the Embassy of Spain. At the time, she was a member of the prestigious company of María Pagés—not too shabby! Little did I know that she would come back to Lisner three years later as a soloist in Los 4 Elementos! This Sunday she's bringing her own dance company to Lisner at the ripe "old" age of 25!
All I can say is keep an eye on the young flamencos! They are the future!
« Flamenco at Las Tapas. January 28, 2010 | Main | Marina Heredia at Lisner Auditorium. February 21, 2010 »