Flamenco at Cafe Citron. August 10, 2009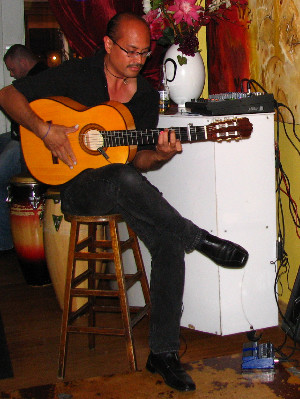 Miguelito playing a rumba to open the show. August 10, 2009 8:15pm (photo by Rachel Hart)
Wow...it's been like two months since my last blog entry! What can I say? It's been a slow summer business-wise. Just about all the flamenco shows in the DC area have had to cut back on their budget. For example, at Café Citrón, I had to let go of my singer. The show is still pretty good without cante, but trust me on this: live singing brings the performance to a whole other level!
The flamenco shows at Las Tapas and Cabanas also had to cut back. The rumba shows have also been affected too. The Monday night Ozio show has been canceled. Same with the Thursday night show at Aroma.
So that's the latest update on the scene in general. But I'm not going get into why business is slow. Please don't say, "It's the economy." I've heard that too many times. But as they say, the show must go on. And so it is with my flamenco show at Café Citrón.
This past Monday was dancer Sarah Hart's first time to perform at Citrón. Although she has already been actively performing in just about every flamenco tablao in the DC area for years, for whatever reason she never got around to the Dupont Circle area until now. Welcome Sarah! (Not to be confused with dancer Sara Jerez who performs most Mondays at Cafe Citron. Yeah it can be confusing having two dancers named Sarah but they're both very talented and beautiful!)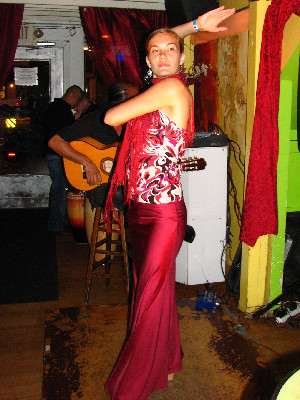 Sarah Hart. August 10, 2009 8:21pm (photo by Rachel Hart)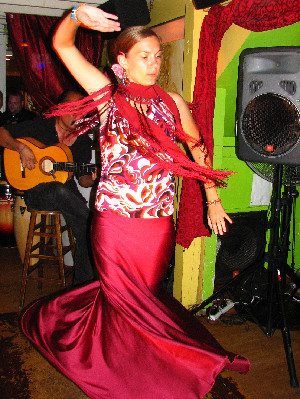 Sarah. August 10, 2009 8:22pm (photo by Rachel Hart)
These are pics from the second performance of the evening where Sarah danced Sevillanas, tientos/tangos and bulerías. When we had a singer, we would normally fill-out the program with a couple of upbeat rumbas to contrast with the more serious side of flamenco. So nowadays I play a couple of rumba instrumentals which isn't that easy for solo guitar so I have to use a loop machine which basically plays MP3 files of rhythm guitar, bass and percussion so I can improvise melodies on top. My guitarist colleagues have already been doing this for years at the other venues that focus more on rumba like Bambule, Ozio, La Tasca, Guarapo, Vinoteca etc.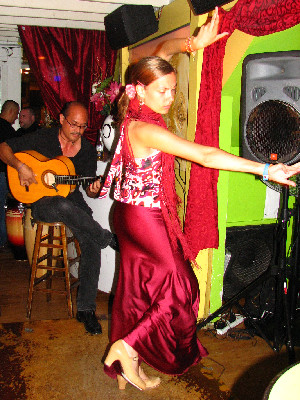 Sarah. August 10, 2009 8:23pm (photo by Rachel Hart)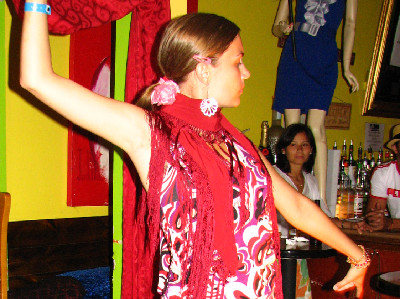 Sarah. August 10, 2009 8:29pm (photo by Rachel Hart)
Not surprisingly, Sarah made quite an impression on the audience, some of whom came up to her after the show to inquire about dance classes. Last I heard, Sarah teaches at Roda Movements in Takoma Park, Maryland.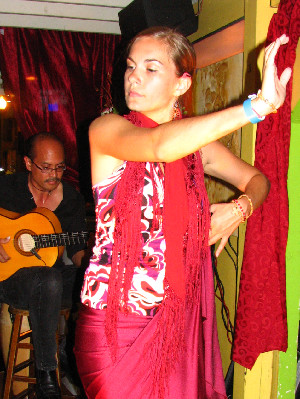 Sarah. August 10, 2009 8:32pm (photo by Rachel Hart)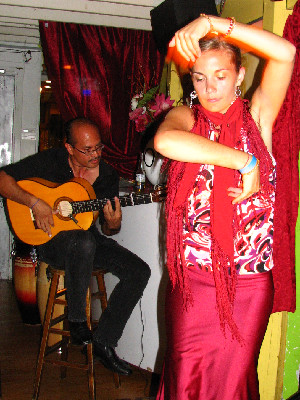 Sarah. August 10, 2009 8:37pm (photo by Rachel Hart)
Sarah. August 10, 2009 8:38pm (photo by Rachel Hart)
Please note that the Monday night flamenco shows at Café Citrón are at about 7:00pm and 8:00pm. I know it seems early, but that's the schedule for now.
Business seems, little by little, to be picking up again (knock on wood) at most of the local venues in the DC area--I can't speak up for the flamenco scenes in the other parts of the USA. Do support your local flamenco performers and come out to one of the shows sometime soon!
I don't say this for the sole reason of packing the places where I perform. Think about it. The flamenco shows at clubs and restaurants are where a lot of people see and experience flamenco for the first time. If I'm able to introduce one new person to flamenco each time I perform that's enough to make me feel I'm doing my part to sharing this wonderful art form.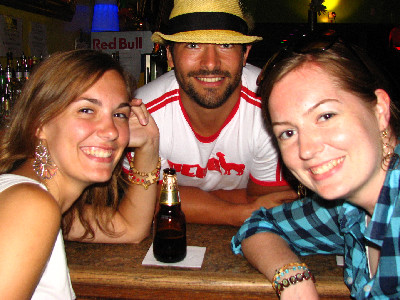 Sarah and her sister Rachel relaxing at the bar with our Monday night bartender "Gato." August 10, 2009 9:00pm (photo by Miguelito)
This Saturday August 15, 2009, Furia Flamenca will be performing in a program titled "Metro DC Dances" at the Carter Barron Amphitheatre. Details in the calendar. Marija Temo is offering a cante workshop on Sunday August 16, 2009 at Roda Movements in Takoma Park, Maryland.
« Verano Flamenco at DC Dance Collective. June 6, 2009 | Main | DC flamenco update for September 2009...I haven't fallen off the face of the Earth. :-) »