Flamenco Friday at Cabanas. March 20, 2009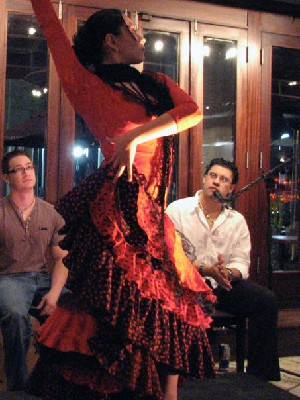 Dancer Ginette performing alegrías with singer Hector Márquez and Mateo Romero on cajón, March 20, 2009 (photo by Bella)
It's 11-something am on Monday as I type these words. I'm loving the freedom of mobile computing: right now I'm at a Starbucks sipping a tall café americano and nibbling a blueberry muffin as I work on this blog. :-) I get two hours of free WiFi here which is a perfect motivator for me to finish up my web-related work quickly. So let's get to it.
As you already know so well, it's been a rough winter business-wise: customer turnout has been pretty low at a lot of flamenco venues. Fortunately, these venues have simply cut back on the budget instead of dropping the shows altogether. While it does cost money to hire flamenco artists, we do bring in business. Goes with the saying: "You gotta spend money to make money!"
The pics you see here are from a few weeks ago at Cabanas where I've been performing since September 2005...that's almost 4 years! This is one of those venues where the budget has been cut back temporarily. It's a one dancer show for now and as business picks up, we'll go back to the two dancer format. In the warmer months, the Georgetown Harbour is the place to be. I can't wait until the temperature gets high enough that we can open up the patio doors and feel the warm breeze onstage as we perform!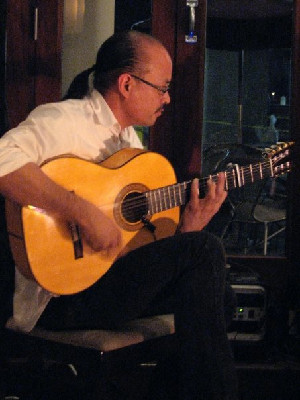 Guitarist Miguelito playing the intro to bulerías. March 20, 2009 (photo by Bella)
Mateo and Hector warming before the second show. March 20, 2009 (photo by Bella)
The past couple of years have been especially good artistically for the DC flamenco community. While we've always had flamenco singers in the area, we've never had as many as we do now...well, not that many. But enough that we have flamenco singers at just about all the shows on a more or less consistent basis. In case you're new to the area, some of the singers that you can typically find performing at a DC area tablao include Gerard Moreno, Carlton Ashton, José Oretea, Hector Márquez and Nazareno "Naíto" Meli.
I don't have to explain to you how inspiring it is to have flamenco singing in a show. But it's good and bad. Thing is: once you get used to having cante, it feels, shall we say, less inspiring when there is no singer. And we still do have occasional shows in DC without cante. For years, us DC area flamenco guitarists had to carry the whole musical load for flamenco shows because there just weren't enough singers to go around—or as was the case most of the time, there was no entertainment budget that included a singer because until recently, the audience seemed to like the show without cante anyway and sadly they sometimes still do. But in a way, it made us guitarists stronger as musicians.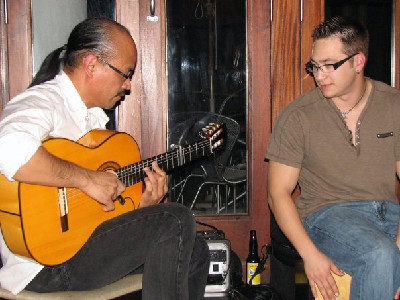 Miguelito playing the intro to Sevillanas accompanied by Mateo on cajón. March 20, 2009 (photo by Bella)
But as the years go by, everything changes. And now that we have flamenco singers performing just about everywhere here in DC, it's not very likely we can ever go back to the guitarist/dancer show format. But occasionally whenever I have to perform without cante, thanks to my previous onstage experience, I can deal with it just fine.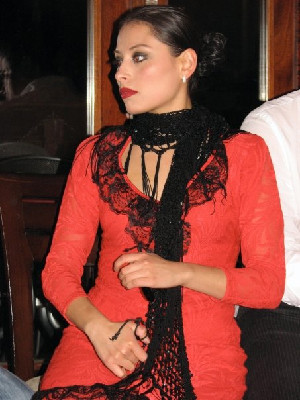 A beautiful portrait of Ginette playing the castanets. March 20, 2009 (photo by Bella)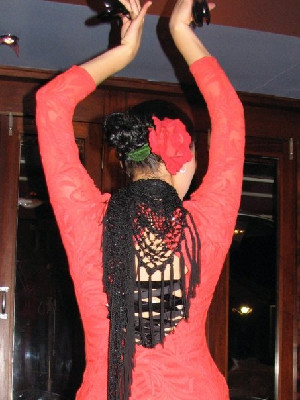 Ginette dancing Sevillanas. March 20, 2009 (photo by Bella)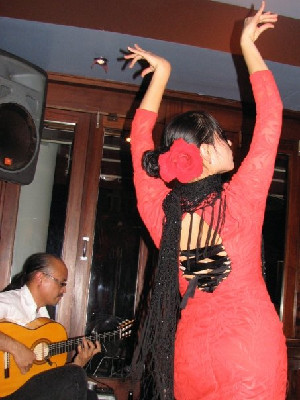 Ginette dancing soleá accompanied by guitarist Miguelito. March 20, 2009 (photo by Bella)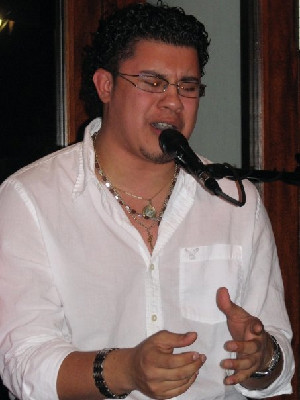 Hector singing soleá. March 20, 2009 (photo by Bella)
One other thing that I'm enjoying now, after being active in the DC flamenco scene for 17 years (!!!) is seeing a new younger generation of flamencos grow up. As you can see in the next pic, I'm sharing the stage with performers who are (almost) half my age. I love it. Surrounding myself with younger flamencos is always inspiring. Reminds me of how I was when I first got into flamenco as a college student.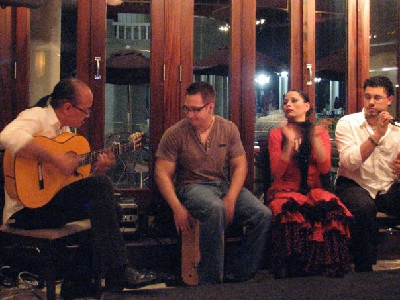 Miguelito and Los Jovenes Flamencos: Mateo, Ginette and Hector. March 20, 2009 (photo by Bella)
OK, my free WiFi time is about to run out, so I better wrap it up. I've already said this before, but we need your support at local flamenco shows. While business is picking up, it's still relatively slow. Even if you can't come regularly, please spread the word and tell your friends about DC area flamenco shows. We need all the help we can get. Thanks!
PS tonight, I'm performing at Cafe Citron (shows at 7:30pm and 8:30pm) with dancer Sara Jerez and singer José Oretea. Ciao for now!