Paco de Malaga and Ana Martinez receive La Cruz de Oficial de la Orden de Isabel la Católica. November 24, 2008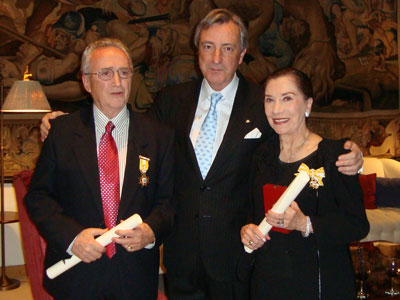 Paco de Málaga, Ambassador Jorge Dezcallar de Mazarredo and Ana Martínez. (photo courtesy of Natasha)
When I first arrived in the Washington DC area in June 1991, I used whatever resources that I could (there was no Internet for civilians back then!) to find out where to see some tablao-style flamenco. And I was pointed in the direction of a Spanish restaurant called El Bódegon where a couple of highly-respected local flamenco artists performed several nights a week. It was guitarist Paco de Málaga and his wife dancer Ana Martínez.
I was already playing and performing at the time (got my start in flamenco in Los Angeles in 1990 with the Blanca Luz Dance Academy in Buena Park) and as an eager student of flamenco, I took it upon myself to visit El Bódegon as often as I could to learn from the masters.
Fast forward almost 18 years later, I've come a long way and learned a lot about flamenco from Paco in particular as I attended his many many performances, took a few guitar lessons and hung out at his store the Guitar Gallery and "talked shop" and occasionally gossiped about flamencos—hey who doesn't? :-)
Just this morning, I received an email from my dancer friend Natasha alerting me that Paco and Ana were presented with La Cruz de Oficial de la Orden de Isabel la Católica by the Ambassador of Spain Jorge Dezcallar de Mazarredo this past Monday. From what I've read on the Internet, receiving La Cruz is one of Spain's highest honors, recognizes outstanding achievement in promoting Spanish culture and is the equivalent of being knighted! Please join me in congratulating Paco and Ana!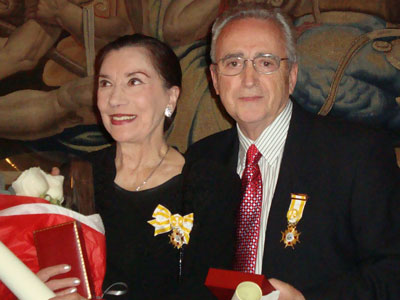 Ana Martínez and Paco de Málaga. (photo courtesy of Natasha)
« It's me, Miguelito, just checking in so you know I'm still alive. :-) | Main | Flamenco at Las Tapas - December 4, 2008 »