Flamenco at Cafe Citron. June 2, 2008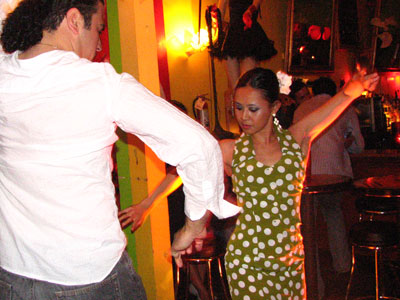 Jason Vera y Aragón and Pam de Campo dancing Sevillanas at Cafe Citron. June 2, 2008 9:40pm (photo by Mauricio Velarde)
Astronomically speaking, the summer official started with the summer solstice on Friday June 20th. For me, it began on June 2nd at Cafe Citron: it was first time in a long time that after the flamenco show, my friends and I stayed out pretty much all night...the weather was warm, people were more in a partying mood than usual, it seemed summer was already in the air!
My friend Mauricio Velarde happily volunteered to be my photographer during my second set. The dancer for the evening was Pam de Ocampo.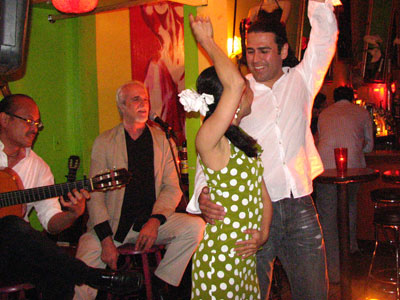 Miguelito, Gerard Moreno, Pam and Jason. June 2, 2008 9:40pm (photo by Mauricio Velarde)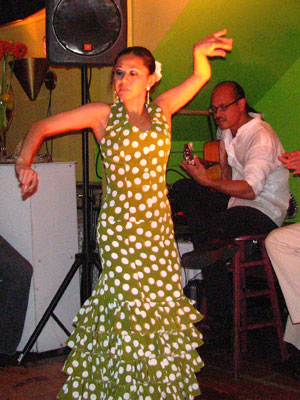 Pam dancing alegrías. June 2, 2008 9:52pm (photo by Mauricio Velarde)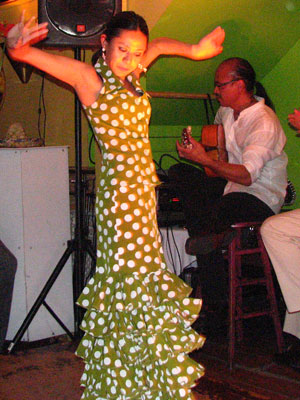 Pam. June 2, 2008 9:52pm (photo by Mauricio Velarde)
Several members of Mauricio's band came out support us...
Mauricio Velarde, Beth Loosmore, Paco and Gabriel Lora. June 2, 2008 10:03pm
A couple of my dancer friends from Furia Flamenca showed up too...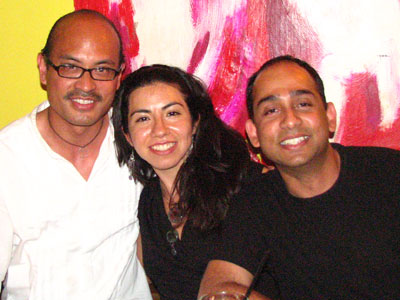 Miguelito, Karina Valverde and Bala. June 2, 2008 10:05pm (photo by Mauricio Velarde)
Plus my singer friend Hector Márquez came out too...
Pam and Hector Márquez. June 2, 2008 10:26pm
Afterwards, we took a walk down the street to Ozio to support our fellow musicians and came back to Citron around 1:00am...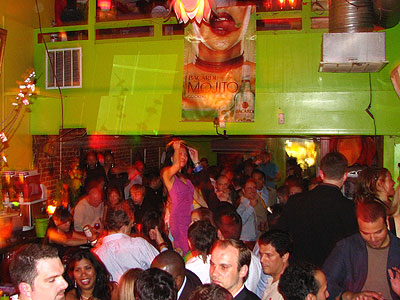 A few hours later, the party continues at Citron! June 3, 2008 1:20am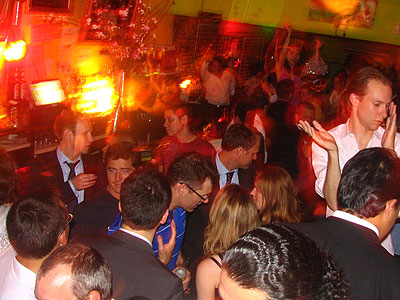 June 3, 2008 1:45am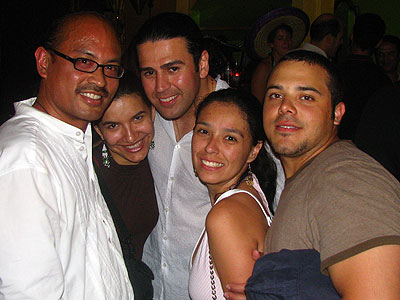 Miguelito, Josefina, Jason, Laura and Mauricio. June 3, 2008 2:02am
We stayed until last call and decided to get a late night dinner in Chinatown. And yeah, we took this pic in the middle of the street. It was 3-something am, and it seemed like a good idea at the time since there was practically no traffic. :-) But check it out: the car is driving around us!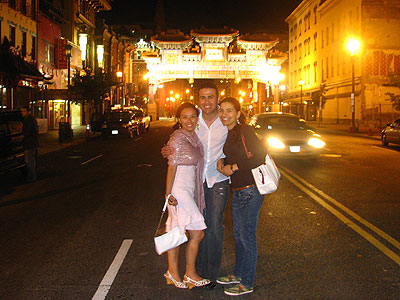 Laura, Jason and Josefina. June 2, 2008 3:34am
I realize this blog is kinda late and out of sequence, but what can I say? I've been busy! There was a LOT of stuff that went on this past week that I couldn't attend. That's not to say the other events were not important, but c'mon...I can't be in two places at the same time!
Stuff I missed last week:
Marija Temo's Tangos fiesta workshop
Barbara Martinez's performance at Cafe Bonaparte with Behzad Habibzai
Tino van der Sman's guitar workshop
Carmen de Vicente's annual concert at Gunston
Arte Flamenco's performance at Latino Fest in Baltimore
If you have pics from any of the above events, please email me a few good ones, and I'll publish a blog about it soon.
As for tonight (Monday), I'll be performing at Cafe Citron with singer Gerard Moreno and dancer TBA. As usual I'm sleep deprived and my common sense tells me I should get a decent night's rest, but knowing me that's not going to happen...yet again! :-) Ciao for now!
« Flamenco at Cafe Citron. June 16, 2008 | Main | Flamenco at Las Tapas. June 24, 2008 »