Flamenco Friday at Cabanas. October 19, 2007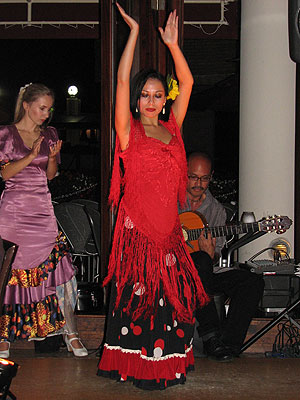 Ginette in soleá por bulerías with María and Miguelito at Cabanas. October 19, 2007 9:55pm (photo by Monica)
It's 2:53pm on Sunday as I type these words. Yeah, I stayed out late with friends last night (Saturday) and right now they're at the Renaissance Festival having a blast--I would've joined them, but I know I wouldn't make it back to DC in time for my evening private gig.
I caught up on some sleep this morning and I'm still a bit groggy so I got some trance music going in the background to wake me up and get me in a productive state of mind--don't ask me why, but it works. Speaking of trance, I do get teased by some of my flamenco friends for listening to electronic music. I even get chided for listening to Chambao--so called "flamenco chill." Oh whatever. All I have to say is that I have musical tastes beyond flamenco and in a way, listening to a wide variety of other kinds of music broadens my musical horizons and gives my ears a break, so I can come back to flamenco with a fresh perspective. Y'know what I mean?
So yeah, I know it's been more than a week since I last blogged. And a number of my regular readers have been bugging me about cranking out something out to satisfy their flamenco blogging fix.
Well, trust me on this: just about everyday the past week and a half, I have honestly been trying to get inspired to publish photos and write and it just hasn't been happening. For one thing, I have some personal issues that I'm working out that have me a bit distracted. Not to worry. It's just a temporary phase I'm going through while I work stuff out--for lack of a better explanation, let's just chalk it up to middle age crisis--I am 40-something anyway.
So Friday night was especially fun. Besides having Ginette and María performing regularly at Cabanas again, we had a special guest artist joining us...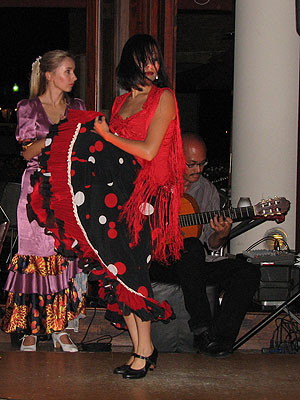 October 19, 2007 9:57pm (photo by Monica)
The scheduling of the first show got off to a rough start thanks to the protest march on M St--Georgetown's main thoroughfare. A trip that normally takes ten minutes from Rosslyn to Cabanas turned into 45 minutes as we were redirected by DC cops to a take an unusually long detour. Ugh. That and the metro had a mechanical breakdown which added further to making me late for work.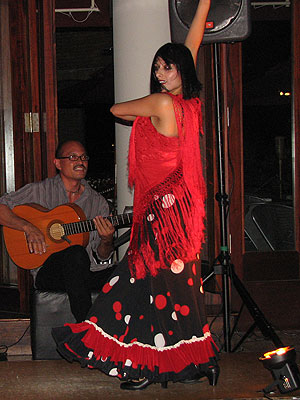 October 19, 2007 9:58pm (photo by Monica)
But once we arrived at Cabanas, I was able to quickly shrug off the stress of the delays and focus on loosening myself up for the show. Got myself an ice cold Corona to aid in the process as I setup the stage and sound system.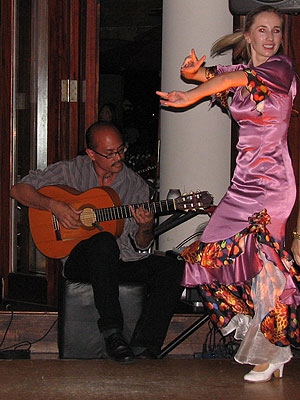 María in alegrías with Miguelito. October 19, 2007 10:03pm (photo by Monica)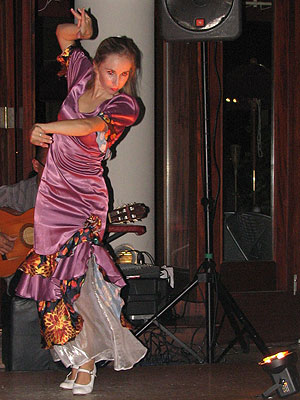 October 19, 2007 10:07pm (photo by Monica)
My friend Hector Márquez was in the audience. Having jammed with him last month at Las Tapas, I had some idea of what he was capable of, so I waved him over to have him join us onstage to sing some bulerías.
Singer Hector Márquez with Ginette, María and Miguelito. October 19, 2007 10:11pm (photo by Monica)
We do a decent job of putting on a show without cante--just something we here in DC have to deal with since we have very few singers. But having Hector joining us kicked up the energy of the show to another level. Even the manager of the restaurant took time to stop and watch for a few minutes--and this was a particularly busy night with lots of customers.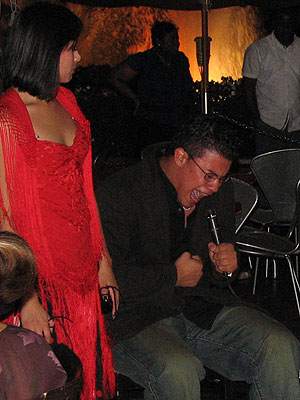 October 19, 2007 10:11pm (photo by Monica)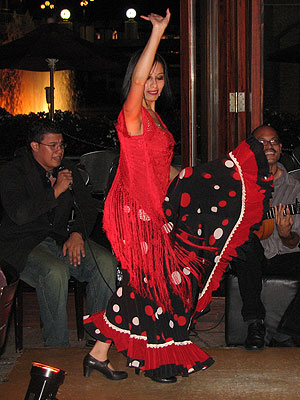 Ginette dancing bulerías. October 19, 2007 10:16pm (photo by Monica)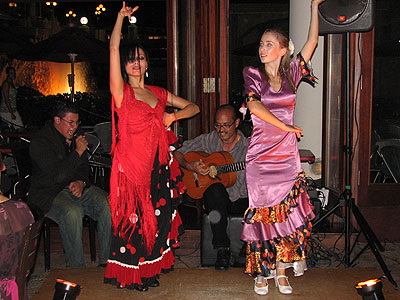 Hector, Ginette, Miguelito and María. October 19, 2007 10:16pm (photo by Monica)
After the show, we hung out until a little after midnight, got a quick pizza snack on the way to the car before we all went our separate ways for the night. I met up with a friend and went to a couple of clubs in Adams-Morgan: first stop at Bossa to hear Grupo Palenque led by my friend Jaime (he's one of the bartenders at Citron on Mondays), then we headed over to Rumba Cafe and said hello to a friend of mine who works there, then finally we ended up at Meze and hung out with friends and got a late night snack of Turkish-style tapas and called it a night.
OK, next up: a second blog entry for the day, believe it or not! Check back in a little bit for some pics from last night (Saturday) at Tapeo.
« Monday night is party night for DC flamencos. ;-) | Main | Flamenco Saturday at Tapeo. October 20, 2007 »