Flamenco at Freedom Plaza. October 7, 2007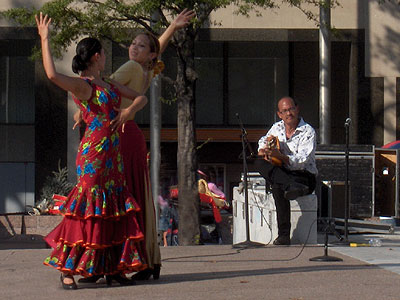 Ginette and Isabel Otero with Miguelito at Freedom Plaza in downtown Washington DC. October 7, 2007 (photo by Dejan)
It's 10:37am on Tuesday as I type these words for this quick blog entry. Dejan, a friend of Ginette's, took a picture of us performing at Freedom Plaza last Sunday to celebrate Día de la Raza aka Columbus Day. The dancers were Ginette and Isabel and yes, as you can see, they are dancing not on a wooden stage, but on cement!
But that didn't stop them from putting on a great performance despite the conditions. So what do we do in a situation like this? First of all, I requested a microphone for the floor and whenever Ginette and Isabel had a footwork section they would do it right next to the microphone itself. It did pick up the sound enough that the audience could hear the musical interaction of the footwork with my guitar playing.
Secondly, I took a moment to explain to the audience the importance of being able to hear and appreciate the footwork in flamenco. The important thing was not to blame anyone for the less-than-ideal conditions. (The audience doesn't really want to know who to blame--they just want to be entertained.) I believe that once you make the audience aware of what we performers are challenged with, they are likely to be impressed to see how we overcome the challenge or how we shift the focus to some other aspect of the show that they eventually forget the fact that they were supposed to hear footwork.
Thirdly, I requested for another microphone that we could use for palmas and jaleo. These are very important in a flamenco performance as you know. And in this case, it was a way for us to include some kind of rhythmic percussive element to make up for the lack of clearly audible footwork.
Fourthly, after doing all we could given the limited time and available resources, we just had to let go and enjoy yourselves because flamenco is supposed to be fun and the audience can pick up on it when you truly are having a good time. And we did!
Actually writing this blog was my way of taking a break from editing photos from last night's show at Cafe Citron. So stay tuned. Later today, I'll have lots of beautiful pics courtesy of my friend (and former Pink Flamenco housemate) Bethany. Ciao for now!
« Edwin Aparicio's birthday at Ozio. October 1, 2007 | Main | Monday night is party night for DC flamencos. ;-) »