Sala Rociera at the Pink Flamenco. October 27, 2007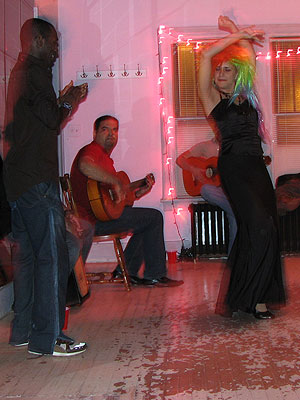 Tamara Sol dancing bulerías at the Pink Flamenco with singer Carlton Ashton, percussionist Jason Vera y Aragó and guitarists Behzad Habibzai and Matteo Romero. October 28, 2007 12:52am
It's 5:27am on Wednesday as I type these words. After arriving home from Las Tapas (where I performed with Tamara and Pam), I went back to work teaching myself Macromedia Flash. It's just one of several steps that I'm taking as I redesign my website, hopefully in time for launch on January 10, 2008 (the 12th anniversary of this website!).
A number of my readers have been inquiring about what's up with the delay in website updates lately. I've already mentioned that I'm dealing with personal issues, but that's not the whole story. Each night I sit in front of my computer and begin writing a blog and stop halfway or don't even start at all. Thing is that I've been publishing pics of the same places and mostly the same people week after week. I love publishing pics of y'all of course but I need to do something different, for me.
You could compare this to performing onstage. As you know, I work several nights a week. And when you perform as much as I do, you strive to keep up a certain level of emotional energy because the audience expects more than a technically superb performance. They want something that will touch their hearts and move them in some way. Truth is that there are nights when us artists just aren't in the mood and it's nothing to be ashamed of. We're all human so we have to acknowledge that sometimes we might put out a few percentage points less artistry (I know you can't numerically quantify artistry, but just work with me here) than we're typically capable of.
Sometimes the dancers will admit to me after the show that they were feeling a bit tired and wanted to apologize or explain themselves about why their performance was less than 110%.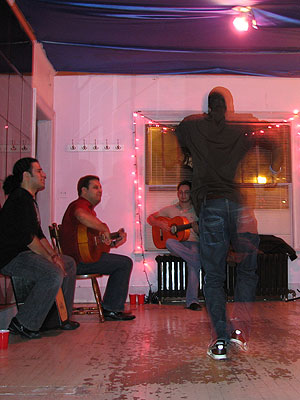 Jason, Behzad, Matteo and Carlton (dancing). October 28, 2007 12:54am
I'll notice of course but I try to not let it affect me. Subconsciously I'll just acknowledge to myself "OK, this dancer is having a slightly off night." then I'll just move on and get back to "being in the moment." And no, I'm not singling dancers out, because trust me on this: I have my own share of off nights too. But as professionals, we're still expected to put on a good performance no matter what. And if that's not possible, at least make it look like we've got everything under control.
And while this mental game in the name of peak performance works to a certain degree, us artists most importantly have to ask ourselves: "Is what I'm doing artistically satisfying?" It's sort of the same thing with my website right now. I mean yeah, I can still crank out blogs and publish updates and articles as I have for many years. But right now I'm just not "feeling it." Hence the current situation. But be patient. I haven't given up and in fact I've been hanging out at Barnes and Noble and reading just about all the web design books and magazines I can get my hands on. Did you know there are some books that focus specifically on website redesign?
Anywayz, I have to thank a couple of dancer friends who have been very helpful in giving me advice and feedback on some of my redesign ideas, and basically helping getting me out of my rut. You know you are!
I was chatting with one of them early this morning, and she was giving me a pep talk, she wrote:
I miss your blog Miguelito. There are some people out there that don't know you in person that love to read your blogs. I considered one myself one of them. They are so much fun!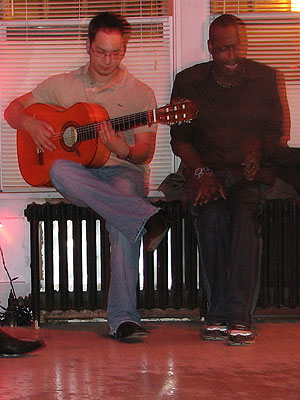 Matteo and Carlton. October 28, 2007 12:56am
So this past Saturday was the Sala Rociera which if you don't already know is our semi-regular flamenco party which is open to the whole community. The focus is on creating a fun and friendly atmosphere where student dancers and guitarists can dance Sevillanas all night and try out their dances with live music performed by local professional artists.
We were a bit concerned about the turnout since there were a lot of Halloween parties going on this past Saturday--yeah I know Halloween is officially today (Wednesday). But you know how it is: nightclubs especially want to maximize their profits by hosting their Halloween party on the weekend instead.
But we had a decent amount of people. Then again, what do I know? I didn't arrive until midnightish anyway--I always arrive at that hour since I have a gig on Saturday nights. The party was going strong when I got there: Sevillanas music was playing (from a new Ipod sound system provided personally by one of the organizers) and many of our guests were dancing, socializing and generally having a great time.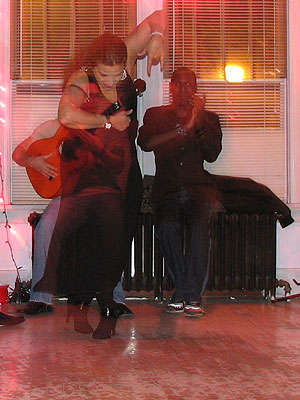 Sohaila. October 28, 2007 12:57am
I brought along a couple of friends who were first-timers here at the Sala Rociera: my guitar student Matteo and a couple of employees from Tapeo one of whom is a serious ballroom dance student with a new interest in flamenco, yay!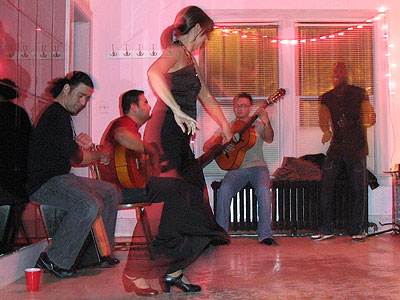 Tamara. October 28, 2007 12:59am
Traditionally we begin the live music portion of the evening around midnight as us professional musicians finish our Saturday nights gigs around 11:00pm anyway. So we had a little bulerías session. It's not like we have a set program--it almost always starts out with this palo. Just the way it is: in my experience flamenco parties consist of 80% bulerías, 10% tangos and 10% everything else.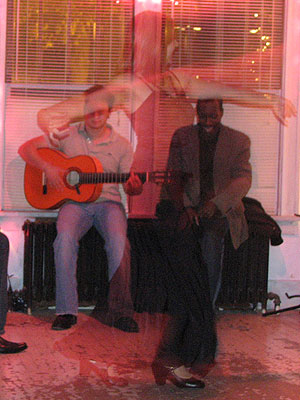 Tamara dancing alegrías. October 28, 2007 1:16am (photo by Bethany)
Dance students are encouraged to try out whatever choreographies they're working on. Local professional dancer Tamara Sol treated the guests to a performance of alegrías.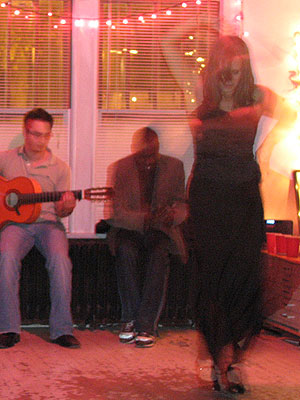 October 28, 2007 1:17am (photo by Bethany)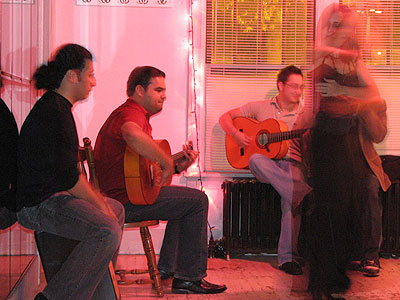 October 28, 2007 1:18am (photo by Bethany)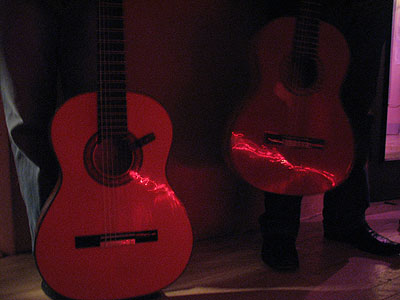 Guitarras. October 28, 2007 1:23am (photo by Bethany)
We had the special treat of having another flamenco singer in attendance: my new friend Hector Márquez. He and his malagueño friends having been coming to quite a few of my shows lately. I usually invite Hector to come up and sing a few letras por bulerías. (I even got him to sing a little last night, Tuesday, at Las Tapas). And so we had a spontaneous little juerga in the corner of the studio by the kitchen...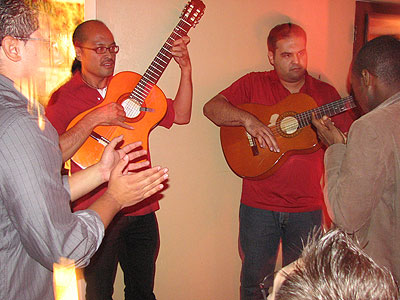 Hector Márquez, Miguelito, Behzad and Carlton. October 28, 2007 1:30am (photo by Bethany)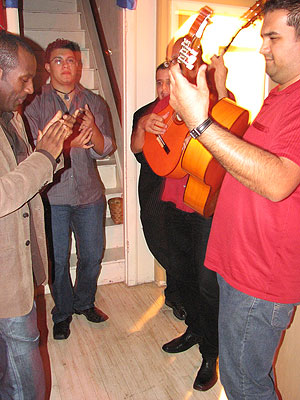 Carlton, Hector, Samuel, Miguelito and Behzad. October 28, 2007 1:31am (photo by Bethany)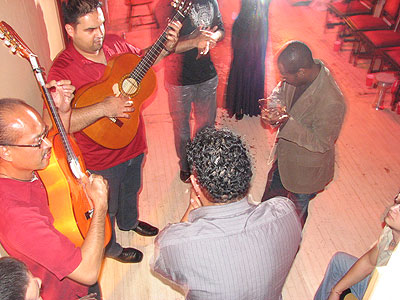 Miguelito, Behzad, Jason, Tamara, Carlton and Hector. October 28, 2007 1:32am (photo by Bethany)
Later in the evening, I accompanied some of our guests to their cars and when I came back I took this shot through the window...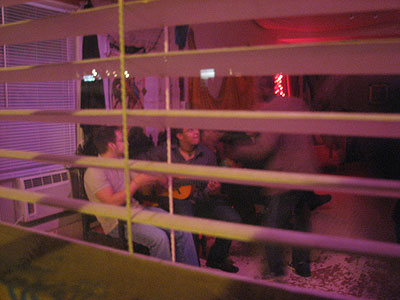 Matteo, Hector and Carlton. October 28, 2007 2:02am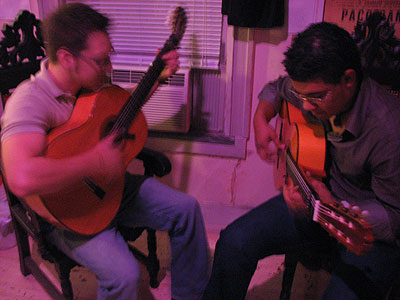 Jóvenes flamencos: Matteo and Hector. October 28, 2007 2:24am
OK, it's 6:29am and now that I've finished this blog, I'm going to bed. Sunrise is around 7:30am and you know how it is with us vampires.
I just want to be asleep while it's still dark outside--it's weird but I just find it harder to catch some Z's when the sun is already up.
When I get up (probably around noon or 1:00pm) I'll very likely start working on another blog entry for you--got some pics from Monday at Ozio again. Ciao for now and oh I almost forgot: Happy Halloween!