Time for a short break.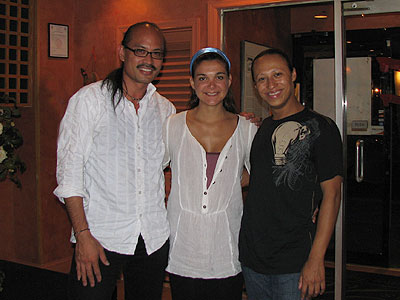 Miguelito, Anna Menendez and Edwin Aparicio at Las Tapas. August 7, 2007 10:46pm
It's 10:46am on Wednesday as I type these words. Last night (Tuesday) I had the pleasure of performing with two of the DC area's best flamenco dancers: Edwin Aparicio and Anna Menendez. As you know, I've worked with both of them regularly for a long time although in the past year or so, they've taken on outside projects that kept them so busy or out of town so often they've frequently had to send substitute dancers in their place here at Las Tapas. It was a nice change for everyone. Edwin and Anna got to stretch themselves creatively by dancing in other venues with other artists and I had the privilege of assisting a number of up-and-coming dancers make the transition to tablao performing.
Last night was the first time in a long time that Anna, Edwin and myself performed together here at Las Tapas on a Tuesday night. And it also turned out that this will be the last week (at least for the year 2007) that Anna will be dancing here (or anywhere). Why you ask?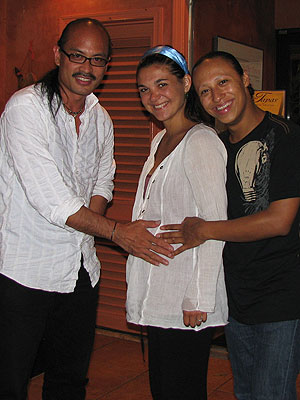 August 7, 2007 10:47pm
Well, if you haven't figured it out already, Anna will very soon be a mother. And while she may be taking a break from dancing onstage for the rest of 2007, she will still be teaching at the American Dance Institute in Rockville, Maryland.
If you're not doing anything this Thursday, go to Las Tapas to catch Anna in performance and wish her well on her journey to motherhood.
« Kinda like a Flamenco Family. | Main | Bambule school of rumba. ;-) »