Tapeo August 4, 2007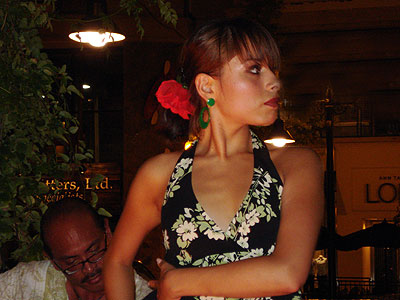 Ginette dancing at Tapeo. August 4, 2007 9:52pm
Just a quick blog before heading out. Last Saturday I did my usual gig at Tapeo with dancers Ginette and Claudia. Despite the humidity we performed on the outdoor stage. Once the show got started more and more people filled-up the patio seating--not quite full but a decent-size crowd.
Great night overall. Each of us had our special moments of inspiration, especially in the second set when we warmed-up and the humidity and heat went down a bit. But we had the added treat of a guest in the audience: a flamenco dancer originally from Perú named Emily Mazzotti. I first met her and her husband Chris last Monday at Cafe Citron and asked her to join us onstage for Sevillanas. It was just for fun of course--Citron has the festive kind of ambience that you don't find at the other tablaos so before each set, I'm always going around the room asking strangers if they dance flamenco. But when Sara Jerez (the dancer that night) and I could see that she could really dance, our eyes lit up and we didn't waste any time in getting her contact info afterwards. hehe
I jokingly said to Sara, "So she passed the audition, huh?" The audition being the Sevillanas.
So you can expect to see Emily in upcoming tablao and Sevillanas gigs in the coming weeks. Checkout her website to learn more about her.
Here are a few more pics from Saturday's show at Tapeo...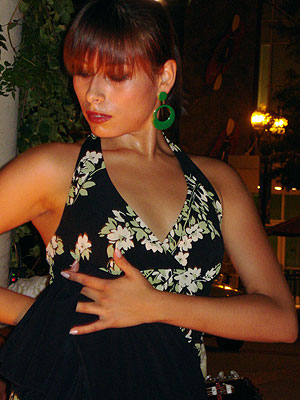 August 4, 2007 9:55pm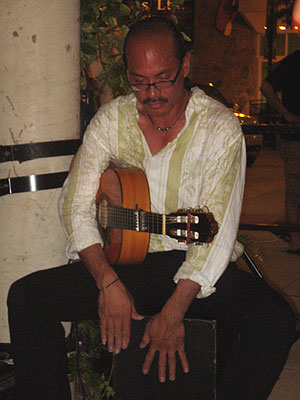 Miguelito playing the cajón. August 4, 2007 9:56pm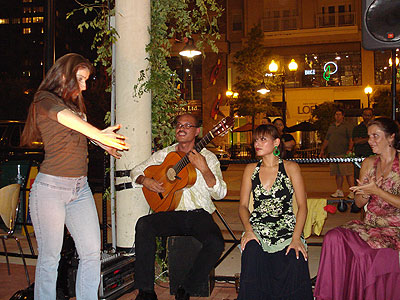 Emily Mazzotti dancing bulerías. August 4, 2007 10:07pm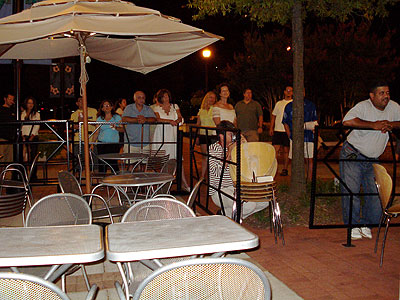 People, if you like the show enough to watch, you should at least buy a drink or a tapa. Ugh.
August 4, 2007 10:09pm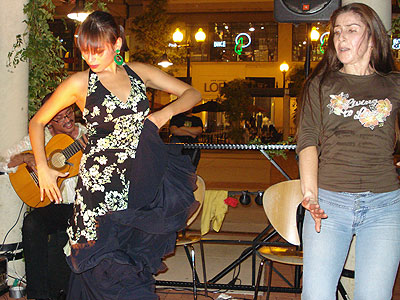 Ginette and Emily. August 4, 2007 10:09pm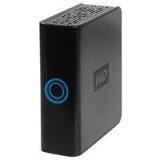 Yeah, last week I finally did get around to buying a new external hard drive to free up space on my computer for new photos. That's why I was able to publish a new photo diary entry today. I'm going to start migrating all my photos etc to this new hard drive which will make the transition to a Mac a lot easier. Yeah I'm going to buy a Mac later this year---it's about time, no?
As for tonight, I'll be performing at Cafe Citron with singer Gerard Moreno and dancer Mariya. See you there!
« Thank you Ginette and Isabel! | Main | Kinda like a Flamenco Family. »