Keeping up a flamenco community website is a lonely job.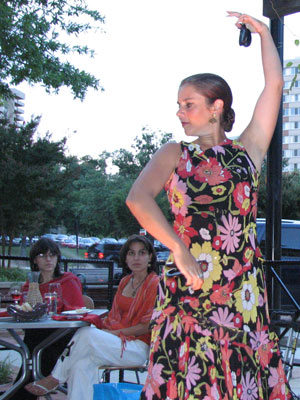 Claudia dancing Sevillanas at Tapeo. August 18, 2007 7:47pm (photo by Milvia)
It's around 4:00am on Saturday as I type these words. I got home a while ago--obviously I decided not to go out despite the gorgeous summer evening weather. Just not in the mood plus the thing is that I have a couple of important meetings on Sunday and I need to get a decent night's rest for change--and ironically, here I am blogging in the middle of the night.
I'm just going to publish a few pics from my gig at Tapeo from Saturday night, but I'm going to talk about what's on my mind.
One of my guitar students just got back in town after studying flamenco intensively in Spain for part of the summer. And he was so excited about getting back into his weekly lessons with me on Sundays at noon. I'm pretty excited too because his enthusiasm and dedication reminds me of myself when I first got into flamenco many years ago. So I need to make sure I'm well-rested and mentally alert so I can give him my best. Then afterwards I have tentative plans to meet up with a very cool close friend of mine who I met just a couple of months ago who unfortunately for me will be moving away from the Washington DC area (if not for good, at least for a while).
Last week I thought I was getting back into my usual blogging groove and in fact I did write several consecutive entries. Then I fell back into a rut and let a whole week go by with no writing whatsoever. It's not like I really have to do this blog thing. By the same token, I guess I don't really have to do this whole flamenco website thing either. Trust me, I will continue to publish this blog and website as I have for the past 11 years. I just gotta work some problems out.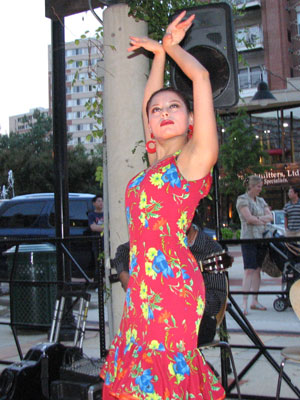 Ginette Perea dancing alegrías. August 18, 2007 7:52pm (photo by Milvia)
I'll get into the problems in another post, but I'd thought I'd give you a little history about the website so you know where I'm coming from...
Last year, I turned 40 and it was really wasn't a big deal for me. I don't feel 40 and I certainly don't look it and it's just a number. Still, I can't help but stop and think about what I have accomplished in my life thus far. I won't bore you with my whole life story, but I'll just touch upon the part that relates to this blog and the website.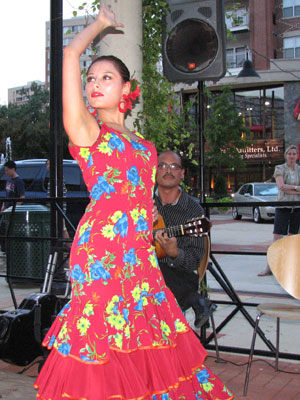 August 18, 2007 7:52pm (photo by Milvia)
It's not like I sat down in front of my computer 11 years ago, and said to myself: "I will create a website that will be the center of information for the Washington DC flamenco community." That's truly what it is today and I'm very proud of it, but that's not at all what was going through my mind at the time of its creation. It was more like: "I got this brand new AOL account, so I'll just play around with all the features. Cool, what's this thing called Personal Publisher?" Bear in mind that this was in 1996. At the time, if you typed in the search term "flamenco" you pretty much got the same 10-15 websites in the results and that was it. And getting my flamenco website listed in Yahoo took only one day. Boy have things changed!
The original website was a boring (by today's standards) one page template. But it was cool, because I could personalize it any way I wanted and it was out there, live on the World Wide Web (who actually says World Wide Web these days?) for all the world to see. Eventually, I checked out every HTML book at the local library where I worked at the time and learned about web publishing the old school way: by writing the code by hand. While there was HTML editing software at the time, there was no getting around it, you still had to know HTML syntax. Shortly after that Microsoft Front Page came out and nowadays Dreamweaver is what everyone uses to create and edit websites, in some cases, without ever seeing a line of code. Nothing wrong with that mind you. I just take pride in being able to create a webpage from scratch with nothing more than a text editor like NotePad. While I have used Dreamweaver, believe it or not, I still do my minor cosmetic touch-ups and frequent text updates using nothing more than NotePad!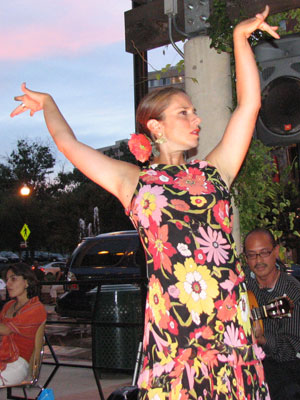 Claudia dancing tientos. August 18, 2007 8:02pm (photo by Milvia)
At first my website was just a listing of all the flamenco shows I was doing. At the time, I was the busiest flamenco guitarist in DC (actually come to think of it, I still am) but I was mostly playing for dance classes several nights a week and doing the occasional theater show with the Spanish Dance Society, the first dance company I worked with here in DC (I actually got my start with a flamenco academy in Los Angeles, but that's another story).
Eventually I started playing for a number of other companies including Joana del Río's Danza del Río, Ziva's Spanish Dance Ensemble, Natalia Monteleón's Arte Flamenco and with Ana Martinez's group and a couple of other groups that were formed by students of various dance schools. So since I played for all these various people and had all the insider information, every dance company would come to me to find out what the others were doing. I knew about all the upcoming shows and we all know how notoriously bad we flamencos are at promoting ourselves--I think the mindset is that "We are artists not businesspeople." Not that I am a master of promotion and publicity, but I was (and still am) a central source of info, so I took it upon myself to promote all the dance companies I played for by publishing the info on my tiny humble website on AOL. A local flamenco scoffed at my idea of a flamenco website for the DC flamenco scene. "Flamenco scene in DC? What flamenco scene?" I guess neither one of us really knew how much the scene would grow 11 years later.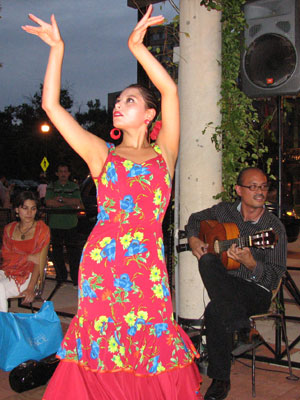 Ginette dancing bulerías. August 18, 2007 8:09pm (photo by Milvia)
With the more expanded flamenco scene coverage and the fact that my website was listed on the first page of results (nowadays I have a very respectable page two listing on Google) for the search term "flamenco," one of the most popular questions I got was "Where can I take flamenco dance classes?" When I kept getting the same question again and again, it finally came to me that I should just publish the contact info for the teachers. Easier said than done. Not all the teachers were familiar with the Web at the time or trusted me enough to publish their contact info. For many of the teachers, their only contact info was their home number. And to them, the idea of publishing that number for all the world to see was pretty scary. Needless to say, it was a long process acquiring all the contact information because I had to convince each teacher about the advantages of having this info published on my website and had to then get their permission. Nowadays things are much different. My website is well-known and the teachers come to me to ask me to publish their info.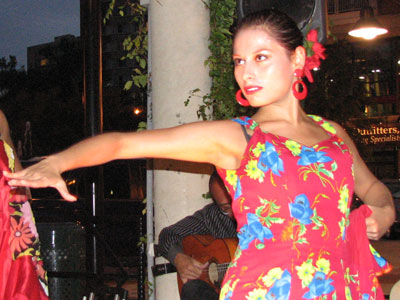 August 18, 2007 8:12pm (photo by Milvia)
But nowadays my website is so huge (consisting of several hundred pages with thousands of photos) that keeping every little detail up-to-date can be very overwhelming. Recently, a personal friend of mine asked me a huge favor that I'm still working on. She wanted me to remove all mentions of her name from my website. Nowadays you just do a "Global Search and Replace" and you're done usually in a matter of minutes depending on how many webpages make up your website. But there are a couple of technical hurdles I have to conquer before I can get this done. I won't get into the boring technical details, but just wanted to make you aware that I have a long list of things I'd like to update, delete or completely overhaul from my website in general.
OK, well I try to explain a little bit of what's going on. Over the past 11 years, I've changed webhosts quite a few times and each time I had a different format for the HTML. In fact I still have some of my old webpages hosted on some of the old webhosts. I'm getting a headache just thinking about having to transfer them all to my current webhost, not to mention having to change file paths and reformat to fit into the overall look and feel of my current website. Ugh.
For the first few years, I used to give my website a makeover on the anniversary (January 10th), but that was before it grew to consist of several hundred webpages! Another very close friend of mine, convinced me that it's about time for me to do another makeover. Yeah it's going to be a lot of work, but it's something I got to do. I mean I do have a lot of frequently updated content to keep my regular readers coming back, but it's still important to have that cutting edge look to impress first-time visitors.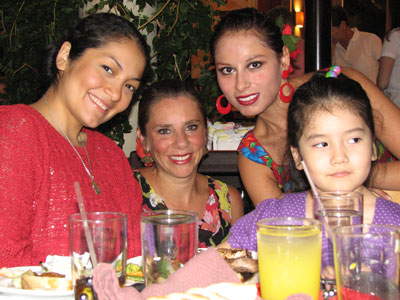 Milvia, Claudia, Ginette and Evangelina. August 18, 2007 8:18pm (photo by Miguelito)
But I didn't spend all my time behind the computer all these years. I was out there doing shows, playing for dance classes and schmoozing at flamenco events telling people to come to my website for more info. This is not to mention the website promo flyers (I'm guessing a few thousand) that I've personally printed and cut during many late nights at Kinko's. There were quite a few times when I'd leave them on cars outside flamenco events for the audience members to see when they returned to their vehicles at the end of the night. One year, I forked out the cash to purchase 5000 promo postcards which eventually I distributed at every Tower Records (remember that store?) in the DC area, plus I regularly stopped by a number of private dance studios and college dance departments and posted my postcard on their bulletin boards.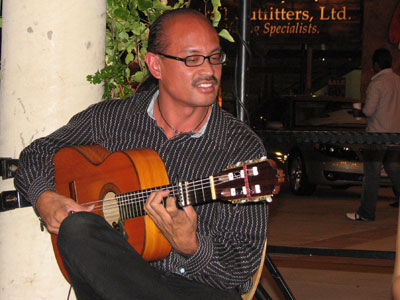 Miguelito. August 18, 2007 8:55pm (photo by Matt)
Nowadays it's so easy to start a website. You can get some very professional results with the web design software that's available today. The real challenge in web publishing is keeping the information interesting and up-to-date. If I may so, I've done a pretty good job thus far, but I'm starting to reach that point where I can barely keep up.
Thank God many local artists, dance schools and companies have created their own websites so I can usually get away with simply mentioning their URL's instead of actually announcing their news and events on my website. Am I being lazy? Nah, not in the least. Hello? The underlying principle of the Web is having links to other website that contain more information about the word or phrase that is underlined. I still keep up with things although I try to find ways to be more efficient in my work. But ideally I'd still like to mention all the details of news and events in full.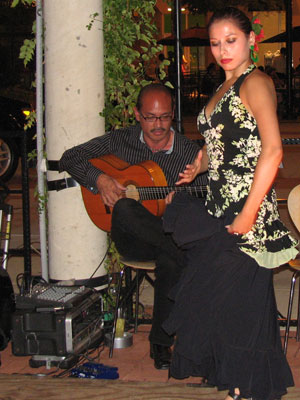 Miguelito and Ginette. August 18, 2007 9:10pm (photo by Matt)
I've had some of my colleagues suggest, "Hey Miguelito, you should charge for advertising." And actually I have been doing that for the past few years and generated a nice little extra income, thank you very much! But regardless of how much money I take in, the workload is the still the same and growing. Perhaps I should hire a few technologically literate assistants to handle my website updates while I continue to work on the blog and major articles. Hmm...that thought just came to me right now. I'll have to look into that. Don't really have much money to offer as compensation, but perhaps I can find some volunteers willing to put in some work for the good of the local flamenco community.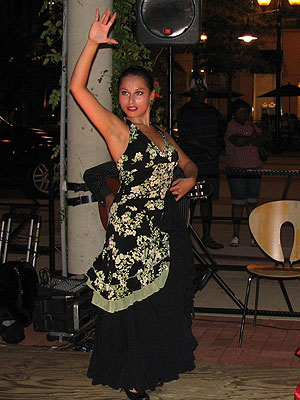 Ginette. August 18, 2007 9:20pm (photo by Matt)
I guess my current frustration here aside from not being able to keep up with the workload is that it's a pretty lonely job. Not that I don't have friends. C'mon of course I have quite a few. But I don't know too many people that do what I do: promote a local arts community in general. There a lots of people who promote themselves as individual artists or companies or dance schools. But there are very few that promote a whole local community like I do. It's not easy if you've been involved in the local flamenco community as long as I have, because no matter how hard you try to avoid it, you still end up getting involved in the politics. There's always that one person who will accuse me of promoting this person more than that other person etc. What can I do? I truly want to promote everyone and I have published at least a few in-depth interviews with local artists. But trust me, it's a lot of work arranging a meeting, recording the interview and later transcribing it and editing the text for publication. My inner voice is telling me, "Excuses! Excuses!"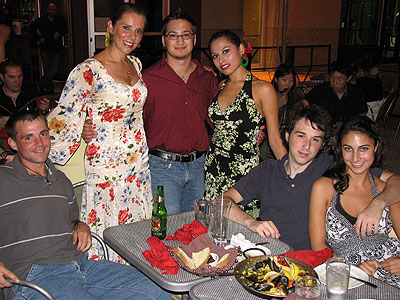 James, Claudia, Matt, Ginette, Chris and his girlfriend. August 18, 2007 9:27pm (photo by Miguelito)
Don't get me wrong. I get compliments for my website and I truly appreciate all of them. I just don't think that most people truly understand the breadth and depth of all my work over the years. So yeah, it's lonely job. And c'mon, performing flamenco onstage is a lot of fun. The website certainly helps all of us local artists get more gigs so that certainly motivates me for the most part, but it would be cool if I could easily do what most people do in other professions when they're having the occasional bad week: call up a colleague, get a cup of coffee or a beer and just rant for bit and have him/her truthfully reply, "Yeah, I know exactly what you're talking about!" In the meantime, I guess I'll settle for someone who's just willing to listen.
OK, I have a guitar student coming at noon, so I should go to bed. Ciao for now!
« Grupo Zhandalo's debut at Frascati | Main | Monday night at Ozio. August 20, 2007 »