Precious musical moments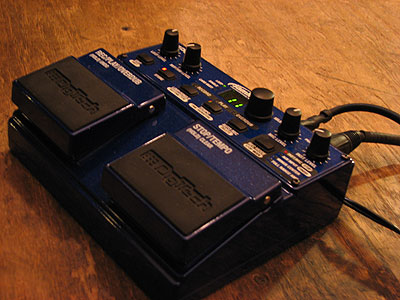 DigiTech Jamman
is part of my stage setup at Las Tapas. August 21, 2007
It's 2:56am on Wednesday as I type these words. After my usual Tuesday night gig at Las Tapas, I headed over to an acoustic rock open mike in Arlington to support a fellow guitarist as he played his set around 11:30pm.
Got home around 12:30am, changed into some comfortable clothes and practiced guitar for about two hours until I heard a vigorous knock on my door. Who could that be at 2:30am? I quickly opened the door and it turned to be, I assume, one of my next door neighbors. He looked like he dragged himself out of bed and put on whatever clothes he could grab in a hurry...
"Are you playing some music?"
In the background was blaring the sounds of bulerías Sólo Compás playing really really loud---probably annoyingly loud for someone who doesn't know what flamenco is.
"Um, yeah. I'll try to keep it down."
Instinctively I shut the door before my neighbor could squeeze in another word. Oops! It's not that I'm intentionally rude to my neighbors. But before I was interrupted by the knock on the door, I totally was "in the zone," really getting into the groove jamming away on the guitar with the Sólo Compás track.
Thing is that I treasure those fleetingly precious moments when I'm "at one" with my guitar whether I'm onstage or practicing at home. And now my neighbor without realizing it totally killed the mood. Ugh. So yeah, I was kind of annoyed and although I didn't express it verbally, I'm sure my neighbor could pick up on it my body language.
So what do I do when this happens? It varies, but this time I just chilled for a while watching guitar-related videos on YouTube. I'll pick up the guitar in a little while although this time I'll keep the volume level of the stereo down. I'm pretty sure it was the Sólo Compás that my neighbor heard. Can't be sure though.
When I first moved to the DC area 16 years ago and got my first apartment, I didn't have much furniture for the first few days: just a mattress, a TV, my clothes and guitar. I had just graduated from college and pretty much stuck to my college practice routine which basically meant I practiced from midnight until I fell asleep which was usually 3 or 4am. What was cool about an almost empty apartment with bare wood floors was that the acoustics were awesome. My guitar sounded big and loud!
Surprisingly, I never got a single complaint for the 8 years that I lived in that first apartment. But I did get to meet my next door neighbors although it was NOT through a late night knock on the door. When I arrived home as the same time as my neighbors they'd see me unlocking my door and say something like: "So you're the one playing guitar late at night."
I'd say, "Yeah, sorry about that. Too loud?"
They'd say something along the lines of, "No not at all. Actually it's very soothing. Please feel free to play guitar anytime!"
Cool!
Anywayz, the pic above was taken onstage at Las Tapas. It's my loop machine which I've had for a little more than a year now but haven't really started incorporating in to my live shows until now. It's a very cool piece of 21st-century technology that lets me create multiple layers of music that I record on the spot onstage! In fact one of my dancers at last night's gig at Las Tapas asked me if I played some new musical material, which I did. Yay! Somebody was paying attention! That made my night.
« Flamenco and Belly Dance: what's the connection | Main | Flamenco and mathematics »