Kinda like a Flamenco Family.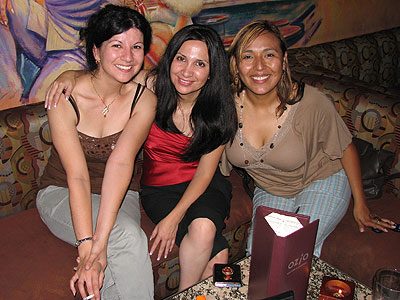 Roxy, Roxana and Indira at Ozio. August 7, 2007 1:11am
It's 2:45am on Tuesday morning. Got home about an hour ago and the funny thing is that when I left my gig at Cafe Citron around 10:30pm, my intent was just to stop by for five minutes and say hello to my fellow musician friends at Ozio--I needed to go straight home and catch up on sleep. But of course, 5 minutes turned into half an hour, and half an hour turned into three hours. As it turned out, my friend Roxy was celebrating her birthday too. Happy birthday Roxy!
The other night I was talking with the owner of one of the restaurants where I have a flamenco gig. Unfortunately, the one night he decided to drop in and check on business was a night when things were slow. Could've been the oppressively humid weather that discouraged customers from coming. Who knows? But he mentioned to me that I should do something to help get out the word out about the show. Obviously he was unaware of my website. I was about to tell him about all the publicity that I do and have been doing for a long time. But given the slow business that particular night, I didn't have much tangible proof of the effectiveness of my publicity. Oh well.
Occasionally we do have those nights where we literally pack the place. I notice some of our regulars and I can probably assume that a good number of the others I see filling up the place very likely heard about the show via my website.
Anywayz, earlier this evening at Ozio, I was talking to my fellow musician friend José and he was telling me that if it wasn't for our flamenco friends coming out to the show, the place would be dead. He also mentioned that my website does a lot to get the word out. (Thanks José!) Well, OK, Ozio is a small space at least where the band Duende Camarón performs. But when us flamencos show up and do our contratiempo palmas, jaleos and get up and dance, we add a lot to the ambience--and people walking by see the party going on and come into the bar and increase the business. Of course, before all this can happen you gotta have high quality entertainment. And Duende Camarón does an outstanding job at that!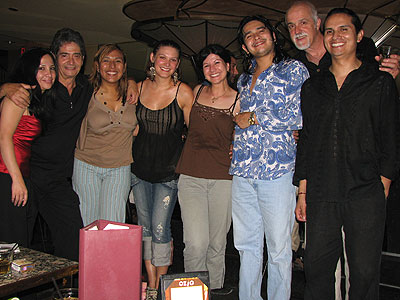 Members of our family: Roxana, Armand, Indira, Valerie, Roxy, José, Gerard and César. August 7, 2007 1:13am
As full-time performing artists, we do want to attract lots of customers and generate lots of business so we can keep our jobs---and our jobs, if you want to call them that, are a lot of fun. We have our occasional bad days like in any other profession, but the rest of the time we're having a blast. And when our friends show up we have even more fun.
It's like 3:29am right now as I type these words, and I'm a little delirious from sleep deprivation since I should've been in bed more than an hour ago. The point I'm trying to make here is that is that if you do go to a lot of local flamenco shows on a regular basis, thank you thank you! You're doing a lot to support flamenco in the community and having a good time doing it. If you're quite busy as it is and can only go from time to time, thanks for coming out whenever you can. If you're just so overwhelmed that you can't go out at all, at least encourage your friends to go check out the local shows.
Through my website, I can only do so much with getting the word out and us local artists could always use a little help. Business generally is good in the summertime, but things typically slow down little by little as we get closer to Winter, and I just want to encourage you and the rest of the local community to help get the momentum going now to ensure business is good through the colder months. I've blabbed enough. You get the point. Thanks for listening!
« Tapeo August 4, 2007 | Main | Time for a short break. »