Flamenco and Belly Dance: what's the connection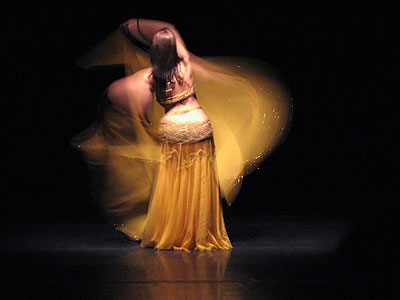 Uncredited dancer performing a piece titled Bendição. August 26, 2007 7:07pm
It's 11:46pm on Sunday as I type these words. Got home a short while ago. One of my flamenco friends, who also does belly dance with a company called U Street Caravan, performed at Joy of Motion's Jack Guidone Theatre. It was a sold out concert and she was kind enough to reserve a ticket for me! Thank you K!
It's always challenging taking dance performance photos when the lighting is very dim, which it was for most of the concert. Don't get me wrong. The dim lighting suited the mood of the dances very well--it just didn't make it any easier for me to get some good photos. Out of 160 pics I took, only a handful were usable and I only chose to publish three.
I've been making an effort to bring my camera everywhere I go with the intent of getting lots of practice taking photos especially at performances. Sometimes I get plenty of good shots and other days I only get a few. But each time I learn something new. For example, I just gotta use at least an ISO (digital film sensitivity) of 400 and even then I still get some graininess in the resulting photo but at least it's fast enough to somewhat freeze the motion of the dancers. I still haven't found the perfect combination of aperture and shutter speed that I could apply in every situation. Most of the time, the first few shots at a performance are trial and error.
I'm very proud of the pics I took of Edwin's concert a little more than a month ago. So I tried to use the same camera settings that I used that night for this past evening's belly dance performance, but they didn't quite work. Oh well, it's a challenge, which I love, but I'm confident that it's just a matter of more practice and experience before I'm able to get more consistent higher quality pics.
So I suppose now you're wondering why I'm publishing belly dance pics in a blog about flamenco?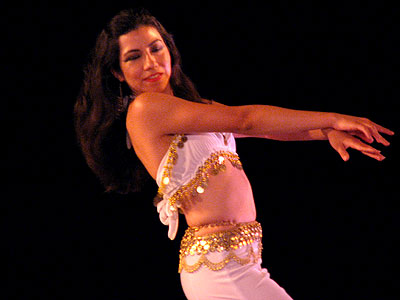 My friend performing in an ensemble piece titled Tabla. August 26, 2007 7:29pm
I have profiles on many social network services including MySpace, Friendster etc. And last year, when I setup an account on Tribe.net and searched for people with an interest in flamenco, surprisingly the search results included more belly dancers than flamencos. I suppose for belly dancers, part of the attraction is that flamenco has a very strong Middle Eastern influence. I remember last year, this belly dancer named Najmah totally felt comfortable getting up and dancing onstage when I accompanied my singer Gerard Moreno in a tangos one night at Cafe Citron.
Plus of course, being a flamenco guitarist, I've seen a lot of flamenco dance and I noticed its influence in the movements of the belly dancers in this evening's performance. Hold on. Actually, I'm not a dance historian so I can't really say for sure if belly dance influenced flamenco or if flamenco influenced belly dance or if they both just evolved separately drawing upon a third party source.
What I do know from seeing belly dance performances accompanied by live musicians is that there is a rhythmic "conversation" between the dancer and the drummer, very much like the interaction between a dancer and guitarist in flamenco.
Anywayz, the recorded music used in each of the 14 dance numbers ranged from Beyoncé's Get Me Bodied to Ishtar's Alabina to the downtempo Facing East by the Thievery Corporation to the Turkish sound of Tarkan's Bounce. Variety is good. Not that it wouldn't have been interesting if they only used "traditional" belly dance music the whole time.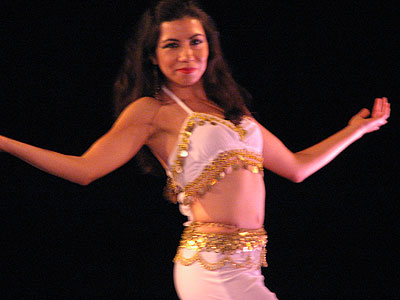 August 26, 2007 7:30pm
OK, so they didn't use live music, but the important thing was that they connected with the music in another way. The dance movements weren't a separate entity. What do I know? Then again I spend way more time hanging around dancers than your average person, so I probably know quite a bit about how dancers think. Thing is that most of the time the dance movements and emotional energy reflected the feeling of the music. There was a connection, not quite on the same level as interacting with live musicians, but still a very strong connection nevertheless. Kudos to the choreographers and to the dancers and of course to the recording artists!
I didn't really come up with an original idea about the connection between flamenco and belly dance. So sue me!
But I just wanted to get the "conversation" started. So if you have some of your own ideas, feel free to use the comment form below.
It's 2:14am right now and although I'm not going to bed yet (I'm a vampire remember?), I'm going to say "Ciao for now." As for tonight (Monday), I'll be at Cafe Citron performing with singer Gerard Moreno and dancer Sara Jerez. See you there. Oh...there's a possibility my belly dancer friend may stop by and join us for some Sevillanas. Interesting thing is that when I met her here at Citron 3 years ago, I promised her I'd get her dancing on my stage and now it's becoming a reality!
« Thursday night flamenco at Taste of Jerusalem in Silver Spring | Main | Precious musical moments »