DCFlamenco is getting a facelift!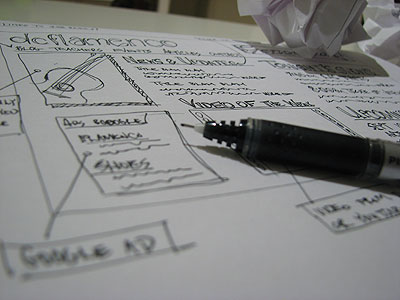 Sketch of one of many redesign ideas. August 30, 2007 11:15pm
Long time readers of DCFlamenco know that I used to do a redesign of the website once a year and would unveil the new look on or about the anniversary (January 10th). Nowadays with more than 500 pages in the site, a redesign gets to be a major task. Not that I don't want to do it, but I have to go beyond just adding a few fancy graphics here and there. When I do a redesign that affects my whole site, I have to think it through carefully and balance the considerations between achieving a more modern look and making it easy to navigate and most importantly: making it easy for me to keep up to date. Let's face it, I'm a busy guy and if updating the site is a pain in the butt, I'm going to procrastinate and eventually fall behind on my work and we don't want that!
I'm just thinking out loud here cuz I just want you to understand that this is a major undertaking that will be very exciting as I explore some of the latest web technologies (mostly to help me automate what I used to do manually) and as I experiment with different layouts, color schemes and graphic ideas.
Some of my long time readers are probably wondering, "Why fix something that isn't broke?"
Good question. I'd like to give the site a fresh new look to give a better first impression to entice new visitors to click away and explore the DCFlamenco.com website beyond the home page. Plus the web content trends are constantly changing. For example, over the past year, I've toyed with the idea of including some video and podcast content. And some of my business-minded friends have proposed some ideas to help me make a little more money so that I could at least cover the financial and labor costs of keeping up the website. Content will always be the number one priority, but how the site looks and "feels" matters too!
Here's a useful article titled Good Designers Redesign, Great Designers Realign.
Anywayz, it's 11:54pm on Thursday and yeah, I'm staying in tonight. Why? Well, last night a friend and I caught a late night movie titled Invasion and I ended up going to bed around 4am and got up around 8am to meet a friend for breakfast and haven't had a good chunk of time to rest since then! Part of the reason for that is that I had a rehearsal this past afternoon and I know that if I did lay down, I probably would've seriously dozed off to the point that I wouldn't wake up in time to make it to the dance studio. Thank God for energy drinks to keep me awake and mentally alert. At this point, I can't put off sleeping any longer. Not complaining though. Cuz I know I'll get a good night's rest tonight. Buenas noches!