Thank you Ginette and Isabel!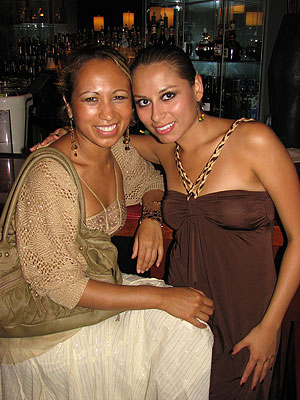 It's 5:23am on Sunday as I type these words. Been a long time since I last blogged. Some of my regular blog readers have been persistently reminding me that I've got a major backlog of pics to publish.
And guess what? Ever since I got my new camera a few months ago, I've been taking more photos than ever before and saving them to my computer almost everyday and the inevitable finally happened: I maxed out the space on my hard drive. Now I'm constantly getting an annoying warning message popping up that says: "Low Disk Space." Grrr!
Anywayz, I had just enough disk space left to edit and save the one photo that you see here. You know who these beautiful ladies are, but in case you don't know, they're Isabel Otero (on the left) and Ginette, two of my closest friends who happen to also be among my favorite local flamenco dancers and the ones who put together the awesome birthday party at Tapeo last night in my honor. Thank you ladies!
My deepest gratitude to all my friends who could attend or tried. Thanks also for the dozens of phone calls, emails, text messages and MySpace comments wishing me a happy birthday. I feel like a celebrity with all this lavish attention
but I guess I am one, in a small sort of way. Speaking of which, I received a MySpace message from a dancer friend in California who writes:

"Hey, don't knock yourself down about the DC scene & your work. Do you know that it's highly respected around here as a place to 'be' for flamenco? It might single handedly be driven by your frequent web postings but I just want to let you know that people genuinely are interested and care about what's happening over there. AND the main thing they talk about are the killer guitarists (you being one of them) in that area."
She didn't realize it, but her kind words were a little birthday present.
Of course, I'll be publishing more pics from the birthday party and the show and get back into my regular blogging groove, but this week I'm going to have to shop for an external hard drive with tons of memory before my computer finally explodes.
In the meantime, thanks for your patience!
OK, it's like a little after 6am and I should get some sleep before a birthday brunch at 11am and then a birthday dinner tonight at 7pm. Loving the attention. Hehe. Ciao for now.
« Edwin Aparicio: Selected Works. July 15, 2007--second batch of photos. | Main | Tapeo August 4, 2007 »