Flamenco gig at Frascati in Bethesda. June 30, 2007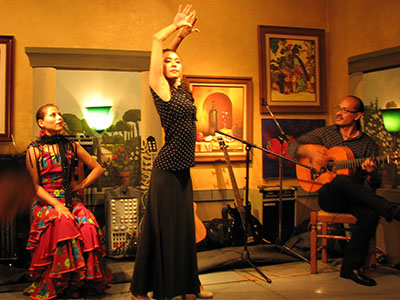 Ginette Perea, Pam de Ocampo and Miguelito onstage at Frascati in Bethesda. June 30, 2007 11:37pm (photo by Aref)
Yeah, it's been one week since I last blogged. Between the Fourth of July holiday, extensive gigging and hanging out with friends the past few days and nights, I just haven't been able to come home with enough energy to work on photos and do some writing.
Oh man, at the moment, the weather is perfect.
As you can imagine, right now this is taking a real effort making myself stay indoors long enough just to crank out these few photos before getting dressed and rushing outside to start my day. They're from a gig I did last Saturday with dancers Ginette Perea and Pam de Ocampo at an Italian restaurant in Bethesda. The gig was setup by my friend Aref who volunteered to be the photographer. Check it out...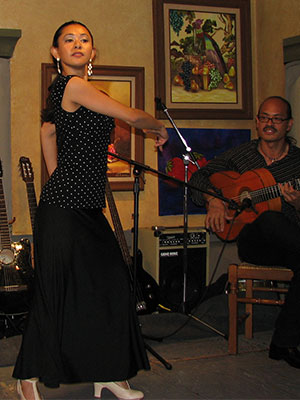 June 30, 2007 11:38pm (photo by Aref)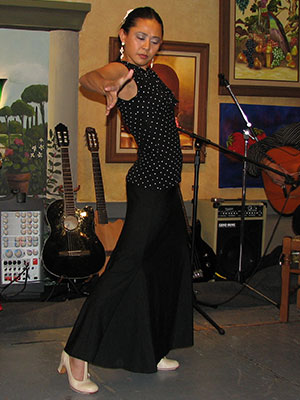 June 30, 2007 11:40pm (photo by Aref)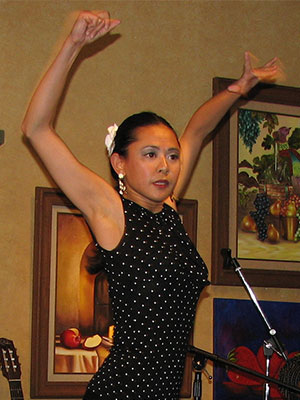 June 30, 2007 11:18pm (photo by Aref)
Saturday was quite a busy day: started off with accompanying Anna Menendez's flamenco classes at American Dance Institute then my usual Saturday night gig at Tapeo (with dancers Ginette Perea and Sara Candela), then this private gig at Frascati in Bethesda followed by the Sala Rociera party which we didn't get to until 1:30am. Whew!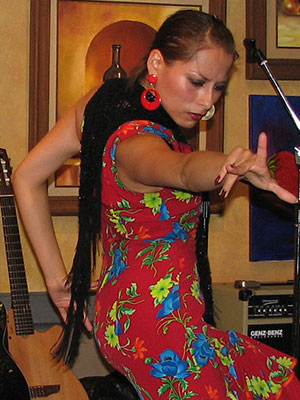 June 30, 2007 11:43pm (photo by Aref)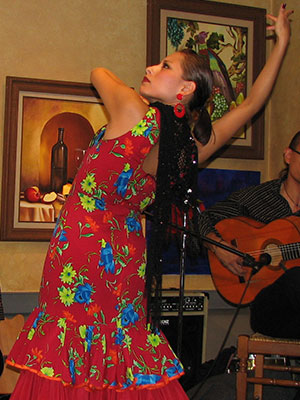 June 30, 2007 11:42pm (photo by Aref)
Needless to say, we barely made it in time. In fact when we finished our second show at Tapeo I didn't waste any time in starting to pack up my sound system so that we could head off to Bethesda for our next gig that night. Thankfully I didn't have to setup my sound system there so that saved me some stress and time. But in the rush to go on stage, I neglected to tighten the microphone stand, so during the opening Sevillanas, the boom stand clamp loosened up and the microphone moved down little by little and I had to adjust my seating position lower and lower so that my guitar was still in front of the microphone. It was almost comical and I kinda laughed and hoped that someone in the front row would see my predicament and readjust my microphone, but nope.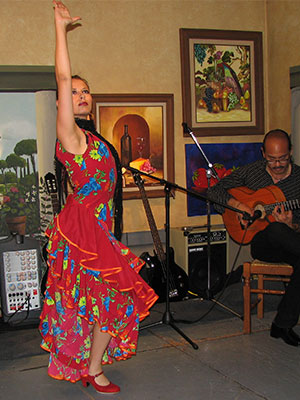 June 30, 2007 11:42pm (photo by Aref)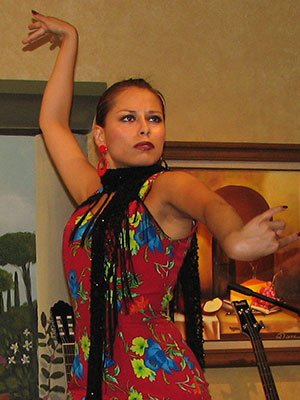 June 30, 2007 11:43pm (photo by Aref)
The sound system wasn't bad, but if I did have enough time, I would've preferred to setup my own system. At least with my own system, I know how to make my guitar sound its best. The sound person at the Bethesda gig was just as rushed as I was and didn't quite get the sound the way I liked it. Oh well. What to do? Just focus on keeping up the emotional energy in the show which was quite easy considering we had a very responsive crowd.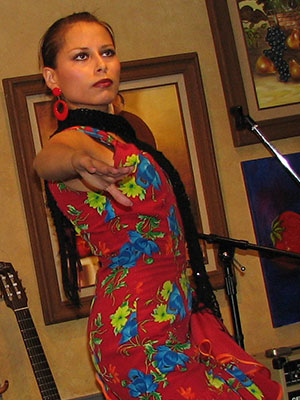 June 30, 2007 11:45pm (photo by Aref)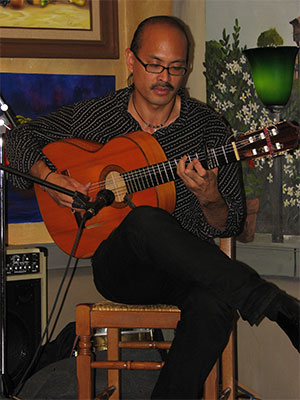 June 30, 2007 11:49pm (photo by Aref)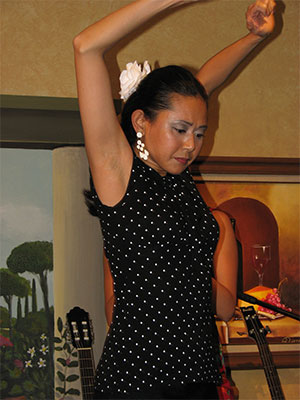 June 30, 2007 11:50pm (photo by Aref)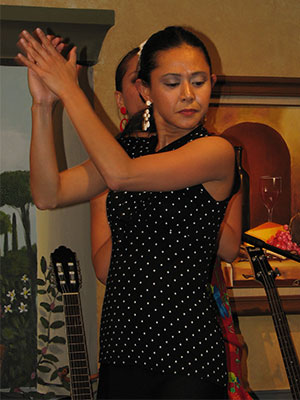 June 30, 2007 11:50pm (photo by Aref)
It's 1:26pm on Friday now. Time for me to get outta da house, get some fresh air, sun and do a couple of errands including buy a new stage light at Guitar Center--some over-inebriated dork on Monday night spilled a drink on one of my lights at my gig at Citron in the middle of the show. Ugh. Seeing the thick white smoke coming from the light, I almost went ballistic. The light costs about $25! I stopped playing, got up from my chair and unplugged the light and made a ripping sound as I yanked the damaged light off the stage and placed it gently behind my chair (I was tempted to throw it) and continued the show. Yeah I know these things happen in bars and I just got back into the show and just let it go, but when I think about it now, I realize the dork didn't even apologize for the damaged light.
Anywayz, tonight I'll be at Cabanas with dancers Ginette Perea and Pam de Ocampo. See you there!
« Miguelito's new place in Virginia | Main | Random pics from Flamenco Friday at Cabanas. July 6, 2007 »