Sala Rociera at the Pink Flamenco February 24, 2007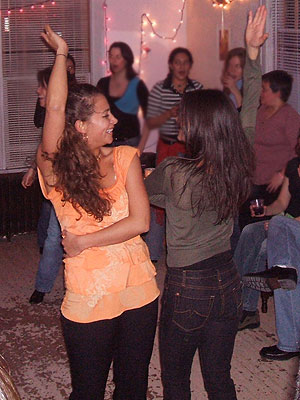 Genoveva and Anna Menendez in Sevillanas. February 24, 2007 11:41pm
It's 3:04pm on Sunday as I type these words. Despite going to bed at around 5:00am, I got up at 10. When I looked out the window, at first I was pleasantly surprised to see snowfall. A minute or so later, the pleasantness was replaced by dread: I realized that I had better go out NOW and start shoveling cuz you know what happens when it rains later and then freezes overnight: you get dangerously slippery rock hard ice which is practically impossible to manually remove.
I like to think of myself as a good citizen having done my part to make the sidewalk in front of my house clean of snow, but I did the shoveling for selfish ol' me for the reason that it would be less of a pain in the butt for me to enter and exit the house with my hundred pounds or so of sound equipment later this week.
Anywayz, last night after my gig at Tapeo (which was a LOT of fun, by the way--I love the combination of dancers Ginette Perea and Samantha Zerpa!), we had the Sala Rociera flamenco party at my house. I arrived early for a change (around 11:00pm) so I had time to chill and socialize a bit before having to set up my sound system and start the live music portion of the evening.
I was very pleased to finally see both Genoveva and Anna Menendez at the party.
It was Genoveva's first time here at the Pink Flamenco--although I did remember inviting her here for the DC Flamenco 10th anniversary party last year when she had just arrived in the area and was looking to meet and network with the local flamencos. Now of course, Genoveva is well-established in the community and making a quite a name for herself as a teacher, not to mention the fact she's also an amazing dancer too!
I don't remember exactly when I last saw Anna here for a Sala Rociera party. And although it had been awhile she still has done her part over the past year to encourage her own dance students to attend this great opportunity to dance with live music (provided by yours truly and other local professionals), meet other flamencos and just have an overall good time.
I'm kinda chatty right now cuz I'm a bit delirious from the serious cardio workout I got shovelin' snow. Plus I have a feelin' I'm going to be stuck in the house for the rest of the day, ugh. So if you're on my buddy list, buzz me cuz I'm definitely in da mood to chat!! But I'll just shut up for a few minutes and let you enjoy the rest of da pics...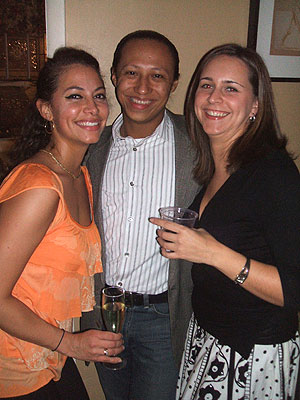 Genoveva, Edwin Aparicio and Tamara Sol. February 24, 2007 11:43pm
Here a few random pics from the Grand Ballroom at the Pink Flamenco.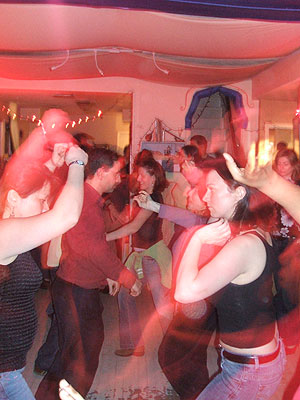 Sevillanas line dancing. February 25, 2007 12:13am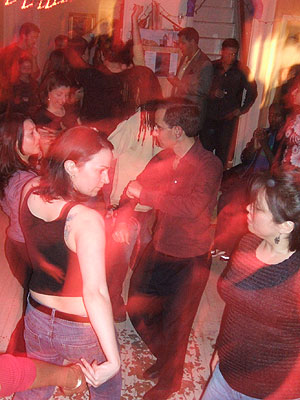 February 25, 2007 12:13am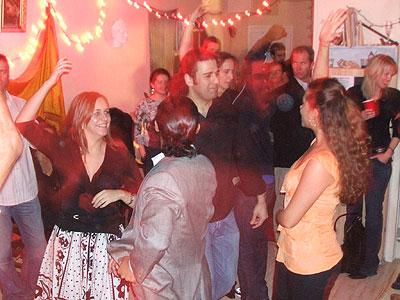 February 25, 2007 12:18am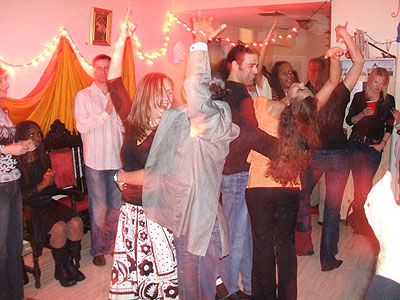 February 25, 2007 12:19am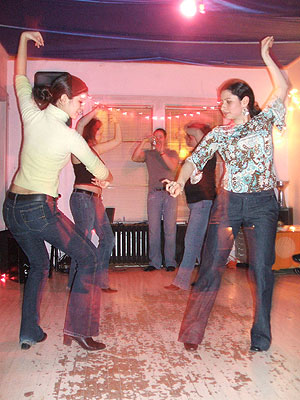 Samantha Zerpa and Guadalupe Cerritos in Sevillanas. February 25, 2007 12:34am
We had a raffle ticket drawing for the prize of a free class in Edwin Aparicio's upcoming workshop.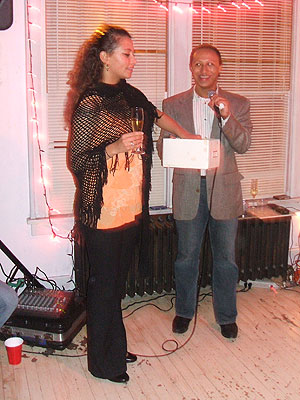 Vanna White, um I mean Genoveva, drawing a raffle ticket.
February 25, 2007 12:40am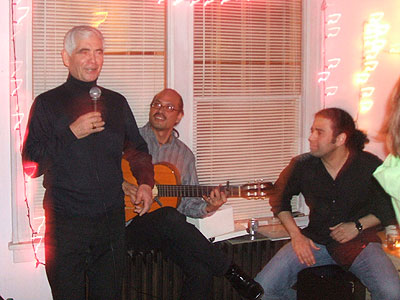 Torcuato, Miguelito and Jason providing Sevillanas music. February 25, 2007 12:56am (photo by EdwinAparicio)
More Sevillanas line dancing. February 25, 2007 1:27am
My housemate got home around 3:00am and caught the tail end of our party. A couple of us flamencos stuck around awhile so I asked Beth to bring her laptop down so we could plug it into the sound system and get some swing music going. She's a serious swing dancer and since I had learned the basics when I was regularly working at the Alliance Dance Institute last year, I thought that I might as well put my lessons to use for the first time in awhile.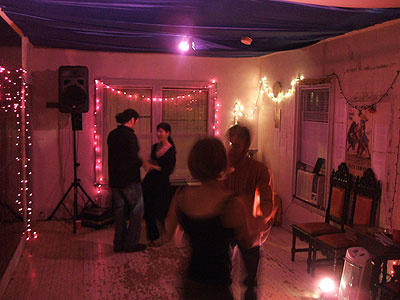 Swing dancing. February 25, 2007 3:32am
Don't know how long we kept at it, but it was probably another half and hour or so. I even remembered the basic step for the Fox Trot (that I learned last year in ballroom class) which worked with some of the Big Band swing music! And Beth gladly got us all started with the basic swing step and got the party vibe going again with a different feel--it wasn't flamenco but it was still good. Must've been 4:00am or so and eventually even us late night party people have to go to bed sooner or later. Someone took the initiative and eventually we called it a night.
I'll probably crank out another blog entry later today. Stay tuned and stay warm and dry!
P.S. in the craziness of last night I seemed to have misplaced my mobile phone, or maybe it fell out of my jacket while I was shoveling snow and it's probably now buried in one of the five-foot tall mounds of snow I made. So if you need to reach me, send me an email or an instant message to dcflamenco at Yahoo! Messenger or Google Talk.
Better yet, put on your tire chains and drive up to the Pink Flamenco and bring me a Tupperware full of hot chicken noodle soup (or chupe de camaron) or a venti hot chocolate from Starbucks. I'll be your best friend forever. Hehe. Well, maybe just for the afternoon.
« Backstage after Rafaela Carrasco's "Una mirada del flamenco" at Lisner Auditorium | Main | Flamencos, teddy bears, mini-guitars and the art of gift giving »