Flamencos, teddy bears, mini-guitars and the art of gift giving
OK, it's like 1:18am on Monday as I type these words. No, I'm not at home. But there is a computer here with Internet access, yay! I really should go to bed soon, but while I'm here, I might as well write a quick blog before calling it a night.
Everyone likes receiving gifts, right? I certainly do. But while I do appreciate the finer things in life, it's the thought behind the gift that really matters. Oh and let's not forget the presentation.
So the other day, I was hanging out with this dancer friend of mine and we were working out some rhythmic ideas for one of her dances--just the usual rehearsal kind of routine. But you know how it is, coming up with new contras and variations takes a lot of concentration so you gotta take a break. So we sat on the couch and talked for a while.
At one point, I needed to excuse myself, so I set my guitar down on the couch and a few minutes later, I returned but instead of picking up my instrument and sitting next to her, I just grabbed a nearby stool, sat down and picked up where our conversation left off.
We talked for a little while longer, and then totally out of the blue, she says, "Miguelito, teach me something new on the guitar."
"Sure. OK." I was caught a little off guard but I just shrugged it off, got up and picked up the guitar and found a little surprise...
On the seat of the couch was a small teddy bear tied with a ribbon to a box. "What is this?"
She smiled and gestured me to open it. So I untied the ribbon, released the teddy bear, removed the box lid and carefully peeled away the layer of tissue paper to reveal the contents: inside was this beautiful gold-plated miniature-guitar. I was very pleasantly surprised and touched. I mean it's not Christmas or my birthday or anything so this little gift was totally unexpected.
Apparently, she saw this in the store a few months ago and being that I am guitarist, she thought of me and decided to buy it and hold on to it, until she could find just the right time to give it to me.
Of course I totally love this little gift, but more importantly it's the thought behind it that really counts. There doesn't have to be a special occasion. It's just a way a saying, "You're a good friend and I appreciate what you do for me."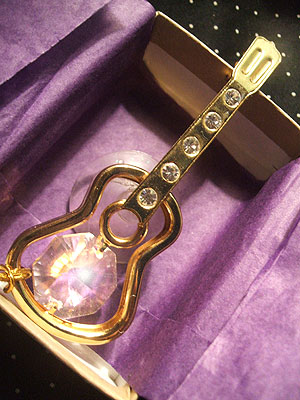 February 25, 2007
Every now and then when I step back and look at the big picture I realize that while flamenco is my way of making a living, it's also something very important to me personally. Many (but not all) of my flamenco colleagues usually end up working the most with artists who are or eventually become their closest friends. That's the way it is for me. I figure that if I'm going to be spending a lot of time involved in the art of flamenco, I should do it with people that I get along with very well on a personal level.
Conventional wisdom says that it's not good to mix business and friendships. Oh well, what can I say? Art is all about exploring boundaries and taking risks. This way of thinking does not always give perfect predictable results but it leaves one open to greater creative possibilities.
« Sala Rociera at the Pink Flamenco February 24, 2007 | Main | Things to do in Baltimore: Introductory Flamenco Workshop by Tamara Sol »